Praia Collection: Indoor-To-Outdoor Porcelain Tile
June 27, 2020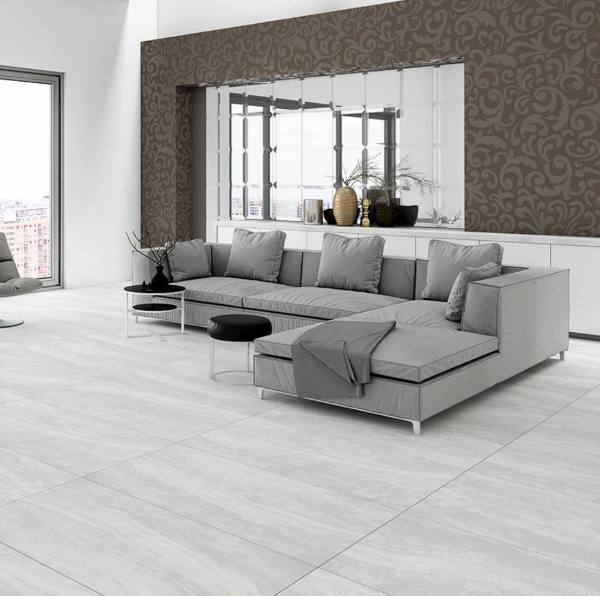 Today's homeowners are enjoying their outdoor spaces like never before, turning mundane backyard patios into stylish outdoor living spaces – with kitchens, sumptuous furnishings, fire features, and more. Since you'll be spending more time enjoying the fresh air and natural surroundings, you'll want a flooring choice that reflects this lifestyle change, both indoors and out. Now you can create a smooth transition by using porcelain tile, which is equally at home indoors and out.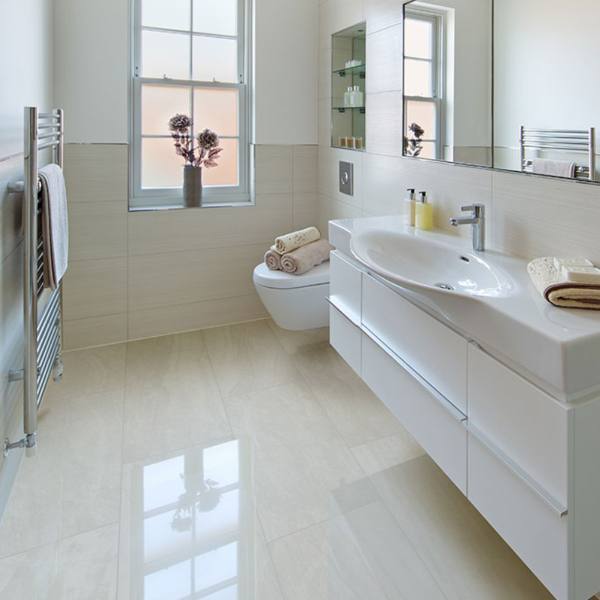 Featured: Praia Crema
Porcelain tile is the perfect choice for outdoor use. It's incredibly strong and durable so that it can withstand damage from patio furniture and extreme weather conditions. It won't absorb water, so it's easy to keep clean. Even better, those who love the look of natural stone pavers can enjoy that look with porcelain pavers instead, without the work that natural stone requires. Its matte surface is slip-resistant, like the natural stone that inspired it, and that's an essential factor in picking outdoor flooring. It's just as much of a plus inside the house, too!
Porcelain Praia Crema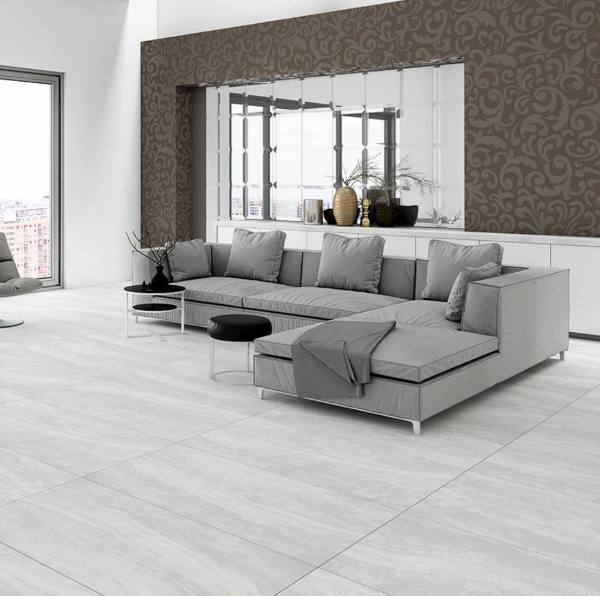 One way to enjoy outdoor-grade porcelain tile is to use it as an indoor tile. This is an especially good idea for rooms that need a more rugged or durable flooring, such as laundry rooms, workrooms, mudrooms, or busy bathrooms. This mudroom – laundry room combo, done with Porcelain Praia Crema, is ready for decades of use. High traffic, leaking pipes, muddy dog paws, and spills won't keep this flooring from looking great. Consider installing in a bathroom as well, because it's easy to clean and resists mold and mildew.
Porcelain Praia Grey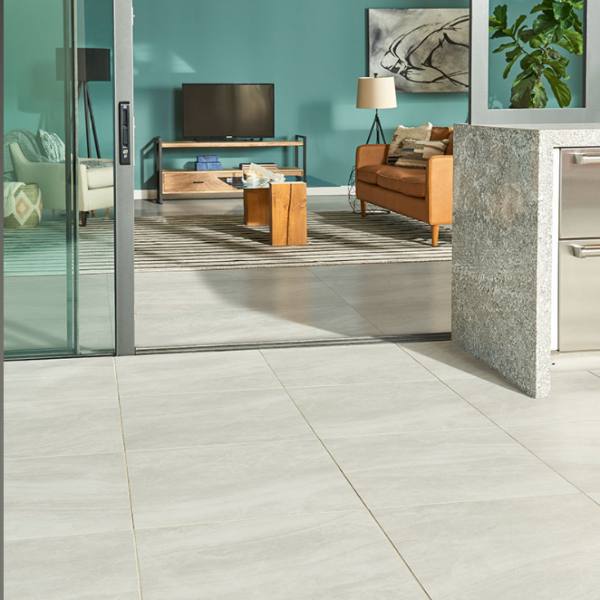 Another way to make the most of porcelain tile is to continuously extend the installation from indoors to outdoors. Installing the same outdoor patio tiles in both spaces can dramatically expand the look and feel of the living area. We may not all be fortunate enough to have floor-to-ceiling windows, but the same balanced transition can be achieved with sliding or French doors. With neutral, delicate tile patterns such as Porcelain Praia Grey, your indoor living space can be just as elegant as the space outdoors.
Porcelain Praia Carrara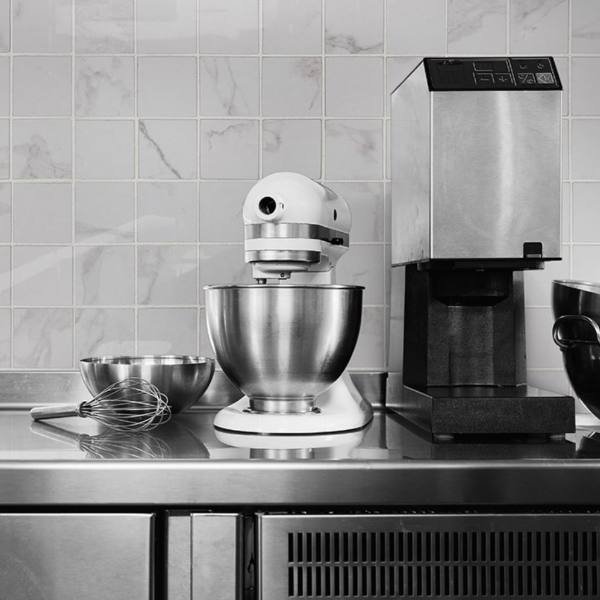 Just as home designers are using porcelain tile meant for outdoor use into the home's interior, another trend is to bring looks typically reserved for indoor use into the outdoors. One example is the luxurious look of marble – not a usual stone choice for outdoor flooring, due to its high maintenance needs. With Porcelain Praia Carrara, the appearance and performance make it possible to have an indoor marble look even in the great outdoors.
Whether you are installing a small outside patio, a large pool deck, an outdoor kitchen, or a covered lanai, the Praia collection lets you enjoy the look of natural stone in shades of gray or beige, or a realistic marble lookalike. Conversely, though porcelain tile is tough enough for outdoor extremes, it's also an excellent choice for any room indoors. Check out MSI's flooring visualizer to see how our porcelain tile can make both indoor and outdoor spaces spectacular.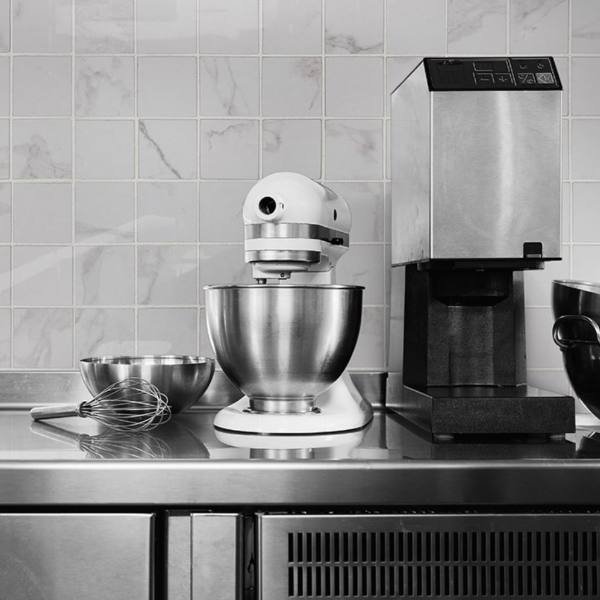 READ MORE ABOUT OUTDOOR SPACES with PAVERS AND PORCELAIN TILE:
Porcelain Pavers Vs. Natural Stone Pavers
The Advantages of Porcelain Pavers
Your Guide to Pavers – Porcelain, Travertine, Slate & Quartzite
Outdoor Tile Guide — Porcelain, Slate, Travertine And Quartzite