5 Unique Glass Tiles For Your Kitchen Backsplash
July 12, 2023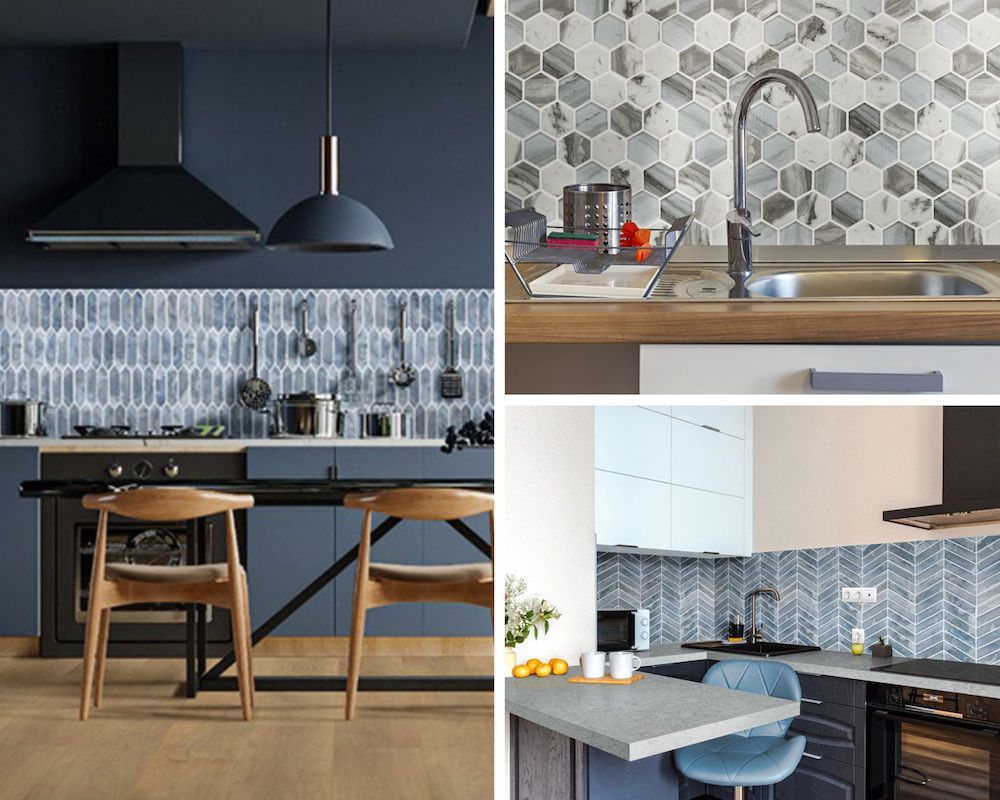 Looking to add a touch of elegance and modernity to your kitchen? Look no further than glass tile. Its unique characteristics and stunning visual appeal offer many benefits for your kitchen backsplash. From its reflective properties that enhance natural light to its versatility in design, incorporating glass tile can effortlessly transform your culinary space into a captivating haven of style and sophistication.
Why Use Glass Tile for Your Kitchen Backsplash?
Glass backsplash tiles have become preferred among designers and homeowners because it is easy to maintain and versatile while providing aesthetic appeal and durability. Its non-porous and stain-resistant properties make it easy to clean and disinfect. Our wide range of colors, patterns, and textures offers design versatility, allowing you to perfectly customize your kitchen's aesthetic.
Additionally, glass tiles reflect and amplify light, brightening the space and enhancing the appeal of your kitchen. Beyond its beauty, it is also durable, boasting water and fire resistance.
The installation process is straightforward, making it a convenient choice for homeowners seeking functionality and a breathtaking focal point.
Explore 5 Unique Glass Tiles for Your Kitchen Backsplash
Glass has long been revered for its delicate, light-refracting beauty, whether showcased in a stained-glass window or a polished, vintage glassware display. Now, you can harness the mesmerizing luminosity with our tiles.
Let's explore five of our new glass tiles that will effortlessly enchant and inspire boundless design possibilities.


Akoya Pearl 3" Hexagon Mosaic Tile reimagines the classic hexagon shape, featuring an intriguing blend of dusty blues, creamy whites, and soft grays. Perfect for kitchens, it effortlessly infuses contemporary charm into any space.
The strategically arranged tiles on mesh-backed sheets ensure easy installation and a professional finish. Its intriguing hexagonal shape sets this tile apart, filling the space with equal-sized units and minimizing wastage. Elevate your space with this stunning hexagon tile, where warm elegance and brilliance combine seamlessly.


An attractive option for residential and commercial spaces, Blue Shimmer Chevron Pattern Tile is a striking statement piece on walls and countertops. The chevron pattern, characterized by V-shaped stripes, has become a popular motif in various interior design elements, from pillows to wallpaper, making this tile a fashionable choice for those seeking a stylish and versatile aesthetic.
Whether you're seeking to revamp a contemporary space or enhance a traditional one, the chevron pattern in this tile effortlessly infuses your design with charm and style, making it the perfect choice for creating a visually mesmerizing ambiance.


Featuring classy swirling shades of blue and an elongated hexagonal pattern, Blue Shimmer Picket Glass Tile exudes sleekness and individuality. With its refined and modern aesthetic, these picket tiles breathe life into your design, making it stand out.
Enhance the cool-toned aesthetic of your kitchen or add pops of color to complement this mesmerizing Blue Shimmer Picket design. The swirling shades of blue in the mosaic tile create an enthralling visual impact.


Experience the delightful beauty of a reinvented classic with Esperanza 2" Hexagon Mosaic Tile. The hexagon shape takes on a new dimension, featuring a delightful fusion of dusty blues, creamy whites, and soft grays complemented by the subtle striations of the tiles. This mosaic tile is the perfect choice for adding a touch of contemporary charm.
Transform your kitchen into a space of intrigue with this beautiful hexagon tile. The muted color palette creates a visually appealing aesthetic that breathes life into your kitchen. Whether you start with a cool and contemporary vibe or more vibrant colors, it will effortlessly complement the existing aesthetics, becoming an astonishing centerpiece that elevates the overall ambiance.


This exquisite Ice Beveled 3" Hexagon Mosaic Tile creates a calm, understated yet sophisticated look that enhances any kitchen. With its cool white tones and modern geometric shape, this stunning glass tile brings a touch of elegance to your surroundings.
Whether used as a striking accent wall tile, a sleek countertop, or an enchanting kitchen backsplash, this tile transforms your space with its timeless charm. It is also a perfect option for shower walls and other areas where a touch of sophistication is desired.
Let MSI Bring Your Kitchen To Life!
Ready to embark on your kitchen project? Look no further, we are here to assist you every step of the way! Whether you are seeking expert guidance, design inspiration, or simply need to explore incredible glass tile options, our team is ready to help!
Chat with us online now, visit an MSI showroom near you, or contact an authorized MSI retailer. Let's bring your dream kitchen to life!