9 Popular Black Granite Countertops
November 10, 2015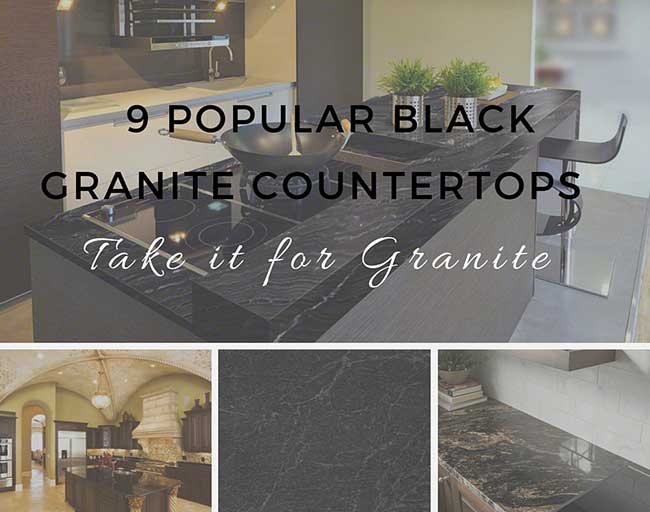 From solid black to gold flecked, MSI's elite collection of black granite countertops can be used for a multitude of styles and designs. And now with two more premium natural stone choices, Nero Mist, and Agatha Black, sleek black is back and in your kitchen.
1. Nero Mist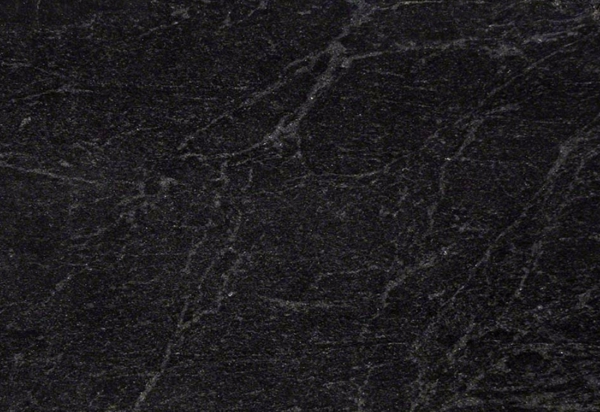 Featured:Nero Mist
Rightfully and regally named, Nero Mist exudes the audacious splendor of Roman design. Fit for a king's court, Nero Mist is a dramatic black granite with slight speckles and veins of white that give it its characteristic "misty" appearance. Enduring and exquisite for a variety of uses, from countertops, floors, and backsplashes, one simply cannot fail with Nero Mist Granite.
2. Agatha Black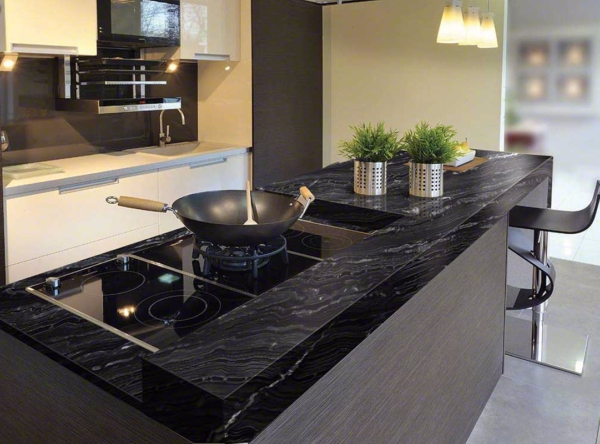 Featured: Agatha Black
Known for its effortless and stunning elegance, Agatha Black's bold appeal is softened with delicate flowing veins of white throughout the pristine granite. Reminiscent of gentle waves in a dark and serene pool, this cool and crisp granite can add a touch of zen to a variety of living spaces like countertops or flooring, and is durable enough for commercial application as well.
3. Black Galaxy Granite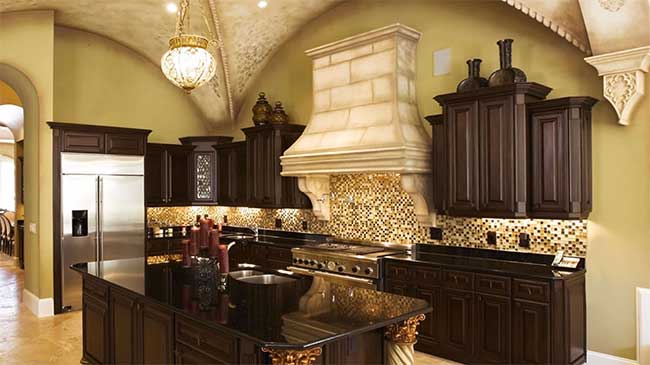 Featured: Black Galaxy Granite
Black Galaxy, speckled with flecks of gold or white, creates a starry-eyed look in any space. This granite is ideal for countertops, floors, and walls/backsplashes in a range of commercial and residential applications, transforming any space into a universe of your own. To suit a range of design aesthetics, this granite is available in a number of finishes and formats—including polished and honed, and slabs and tiles.
4. Black Pearl Granite
A pearl symbolizes all things rare, cherished, and valuable. Like a shimmering treasure on the ocean's floor, Black Pearl granite is lustrous and beautiful. This breathtaking countertop is comprised of a semi-solid color tone, with delicate flecks of black, gold, silver, brown, green, and shades of gray. This durable granite countertop is recommended for both indoor and outdoor use and is available in a variety of finishes.
5. Absolute Black Granite
Absolute Black granite, hailing from the far corners of India, is reminiscent of a pitch-black night sky. Like the walls of a great, Indian palace, this design exudes a simple, understated elegance with a consistent color and texture. A great fit for both indoor and outdoor usage, this exquisite granite can be used on countertops, floors, and outdoor cladding.
6. Ubatuba Granite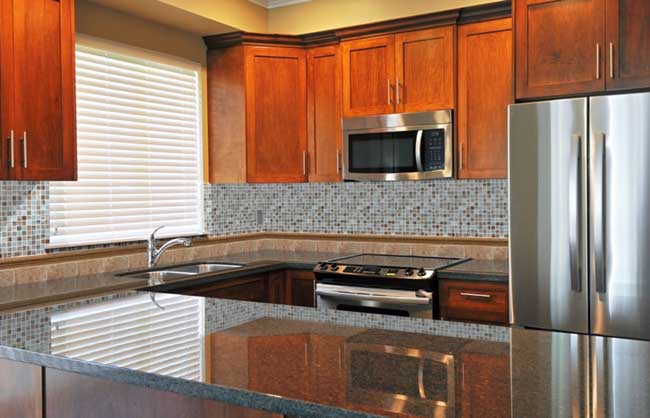 Featured: Ubatuba Granite
Ubatuba granite from Brazil is a finely textured granite that makes a perfect statement piece for a variety of indoor and outdoor applications, from countertops to floors and backsplashes. With black, gold, gray, and green speckles reminiscent of a shimmering seaside landscape, this design is equal parts mysterious and beautiful.
7. Impala Black Granite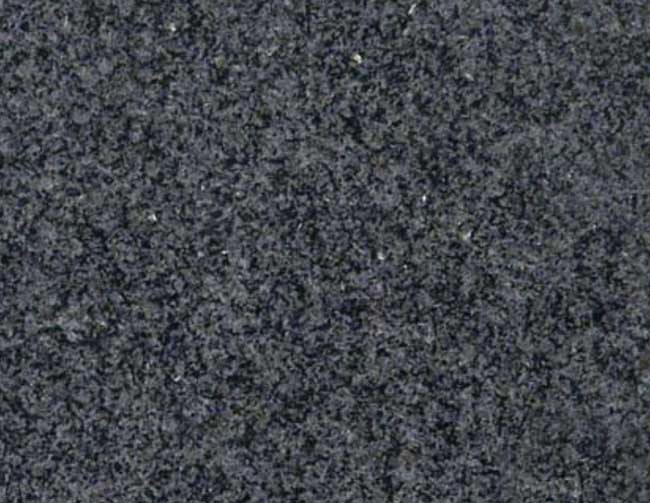 Featured: Impala Black Granite
Return to the motherland with Impala Black granite from South Africa. Like the shadow cast downward from a thick tree cover—with shades of dark grays and blacks, and low variation in pattern—Impala Black granite playfully balances light and dark. This durable granite is ideal for use in indoor and outdoor applications for a variety of projects, including flooring, walls, countertops and landscaping projects.
8. Black Beauty Granite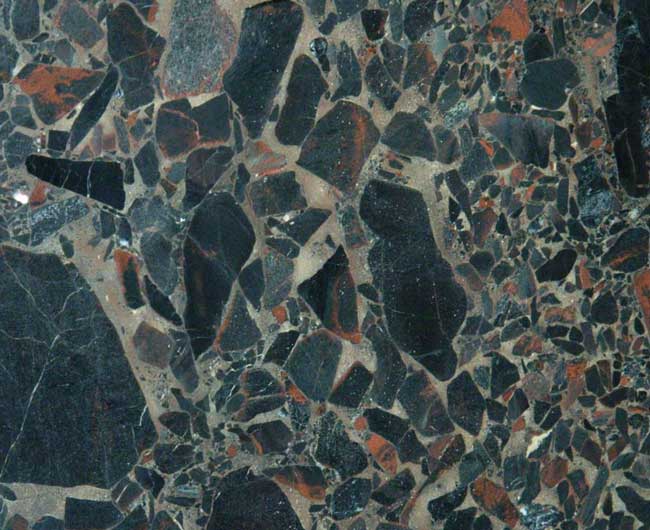 Featured: Black Beauty Granite
Like a piece of ancient mosaic art, Black Beauty granite tiles exquisitely blend hues of black and gray, with hints of rust and white. Recommended for both residential and commercial applications—from flooring to countertops, landscaping projects, and walls—this Italian, polished-slab granite creates an eclectic, vibrant look.
9. Black Marinace Granite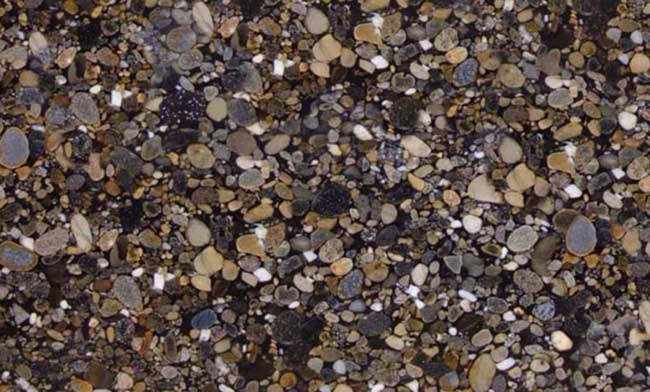 Featured: Black Marinace Granite
Pave your way to style with Black Marinace granite, a one-of-a-kind countertop that exudes the quiet charm of a timeworn, cobblestone road. With blends of blacks, grays, and golds, this simply dramatic countertop creates a unique, polished look. This durable, polished slab granite is a great fit in a variety of residential and commercial settings, including exterior wall cladding, countertops, flooring, and landscape features.
Whether you're looking for something tried-and-true or modern, black granite countertops don't have to be boring or basic. Ideal for a variety of residential and commercial applications, a beautiful granite countertop from MSI creates an air of extravagance in any space.
Learn More about Popular Granite Colors
Why Granite Tile Is a Popular Flooring Choice
Gorgeous Granite Countertops That Are Easy to Come By
The Latest Marble & Granite Countertop Trends
On-Trend and Timeless Natural Granite Countertop Colors
READ MORE ABOUT GRANITE COUNTERTOPS
7 Granite Slab Backsplashes For An Inspired Kitchen Design
7 Vibrant Granite Colors That Turn Up the Heat In the Kitchen
A Guide to Maintaining Granite Countertops
Are Granite Countertops Ok to Use In the Bathroom?