It's A Wonderful Life With Winter White Quartz Countertops
January 04, 2021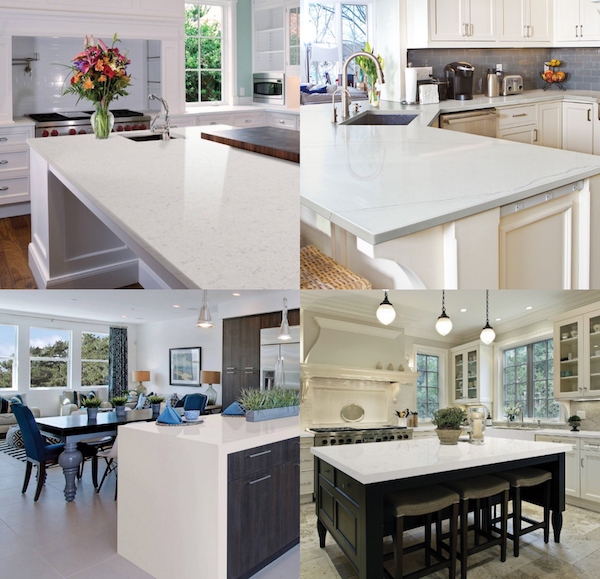 From cozy hoodies to the smell of fresh pine in the air, the winter season truly is one of the most joyful times of the year. The brilliance of winter is exemplified in MSI's new Lumaluxe quartz countertop collection. These slabs are made with unique and exclusive MSI enhancements that alter the way light interacts with the slab. The result is an engineered luxury surface that is closer than ever to mimicking real stone slabs. Although the Lumaluxe collection has cream and smokey colors, this post features bright white countertop colors- some of which also look like marble.
Read on to learn about Lumaluxe quartz countertops and why they are the perfect choice to brighten up your space!
Perla White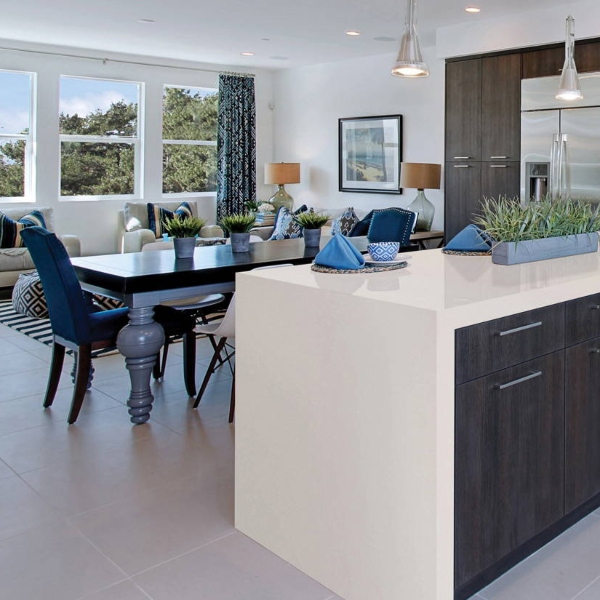 The first of our premium surfaces that you might like to consider is Perla White. This cool white slab is subtle in its elegance, featuring a nearly-solid white slab. If you look more closely, you will find light speckles and veins throughout the surface. This slab is one of the cleanest and most contemporary offerings in the Lumaluxe collection, so it can go with any decor scheme.
It works especially well in contemporary kitchens and bathrooms since its cool undertones are brought out well by fluorescent lighting. Add in a bit of contrast with stainless steel appliances and accents, and you have the perfect modern space for a contemporary and tasteful homeowner.
Although Perla White and other Lumaluxe countertops are slightly different in the formulation, the performance remains as dependable as all MSI quartz counters. This is especially important since staining and etching is a significant concern when it comes to white counters. Although not 100% indestructible, white quartz counters can take a lot more "whoopsies" than white granite or marble slabs, making them an ideal choice for those that want white without the worry.
Calacatta Trevi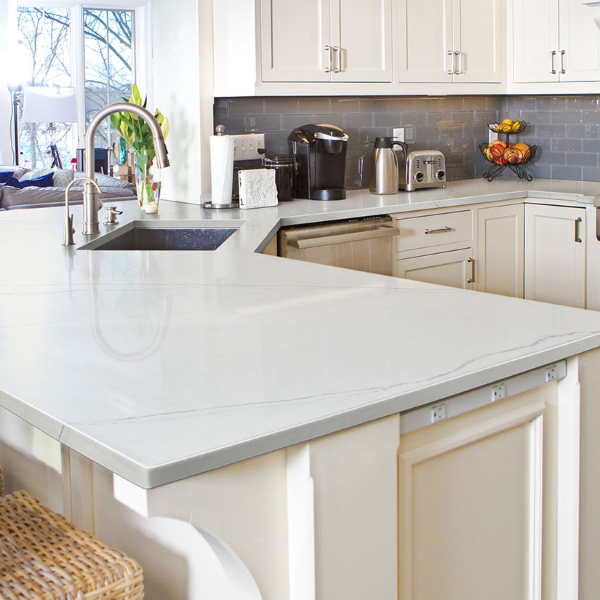 If you want traditional quartz that looks like marble, nothing can compete with Calacatta Trevi. This warm white slab is primarily made up of one solid hue, but it contains contrasting black veins that make a statement against the entire surface.
Because these veins are thin but of the highest contrast, Calacatta Trevi is the perfect choice for those who want to showcase subtle yet bold sophistication in their design schemes.
Calacatta Trevi is made to look like traditional Italian marble, which makes them the perfect choice for those who desire more antique-inspired design schemes. This slab looks amazing when paired with warm lighting, deep reds and blues, and heavy oak cabinets or furniture. While it goes well with contemporary design schemes as well, nothing can compete with Calacatta Trevi as a traditional slab.
Cashmere Carrara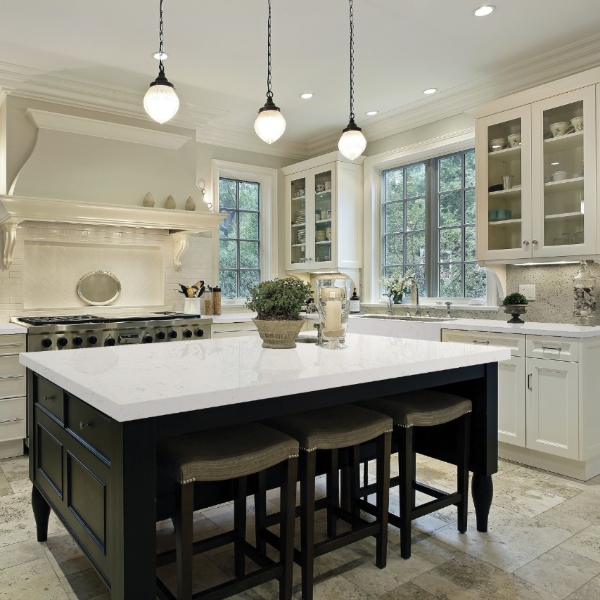 White quartz is a delightful choice for any room because it goes with everything. Its design is both beautiful and versatile, so you never need to worry about what other accents and elements you choose to pair with it.
Cashmere Carrara is one of the most versatile white countertop options on the market. Its cream color is ideal for anyone who wants to design a welcoming space and add some warmth to their room. The gorgeous cream backdrop is offset by extremely subtle gray veins that are sprinkled naturally throughout the slab.
Rather than being long and bold in the manner of Calacatta Trevi's veining, these gray accents are shaped like tiny organic shapes and squiggles. Each slab is therefore unique so that you can notice new aspects of its beauty each time you get close to it. As a result, it is the perfect choice for a kitchen or bathroom backsplash. You will spend time looking at it as you wash your hands or brush your teeth, giving you time to admire the organic flair that it brings to your home.
Glacier White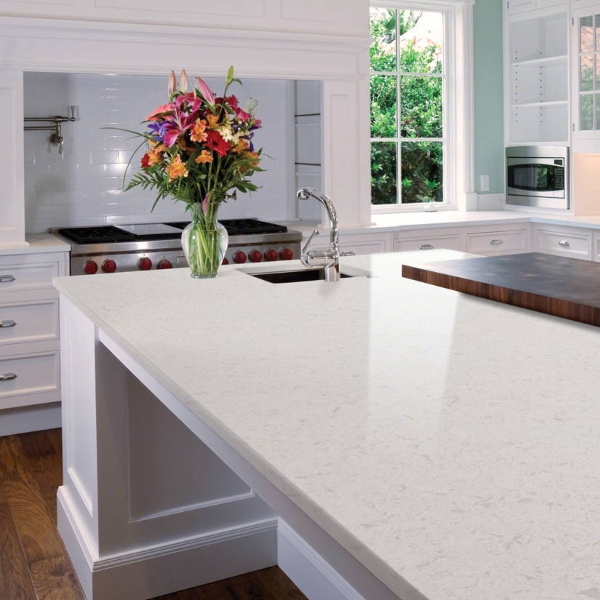 If you want diverse quartz countertop colors within a single slab, Glacier White is likely the slab for you. Like Cashmere Carrara, this warm white slab is sprinkled with organically-shaped veining and speckles.
Unlike Cashmere Carrara, however, these accents are a brownish-gray that makes a bold statement by contrasting with the backdrop. One look at this design will show you near-circular shapes, freckle-look dots, and tiny lines that occur naturally within the quartz. This makes Glacier White the perfect choice for those that want more pronounced uniqueness for their countertops, backsplashes, and accent walls.
Like all Lumaluxe slabs, Glacier White is available in both 2cm and 3cm thicknesses. It also is incredibly durable in that it is scratch-resistant, does not chip during food preparation, and is completely heat-proof. This ensures that your slab will last for many years to come without the need for professional maintenance or replacement.
Calacatta Arno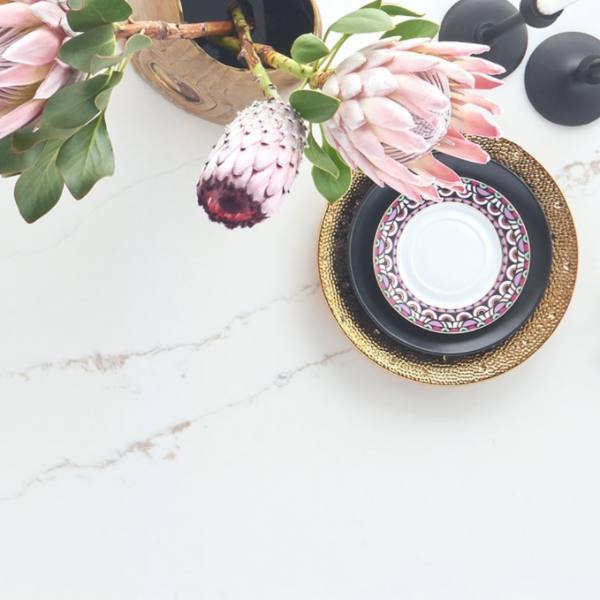 Calacatta Arno is a part of the same collection as Calacatta Trevi, meaning that it has some similar features. One of these is stark veining that stands out against a white backdrop. Instead of having bold black veins, Calacatta Arno has thinner, more subtle brown ones. These veins are also a bit fuzzier than those on Calacatta Trevi, which gives the slab a much softer look.
You can use MSI's countertop visualizer to see what Calacatta Arno (or any other Lumaluxe slab) will look like when applied to your space. This will give you a better idea as to which marble-look quartz is the best choice for you.
Install Premium Quartz Countertops Today
Now that you know some of the quartz countertops that capture the magic of winter within your home, it's time to begin shopping for the best slab to fit your individual needs. Contact MSI with any remaining questions about using our Lumaluxe slabs in your home. Our experts are excited to help you make your space as comfortable and expressive as possible. We look forward to you reaching out!
More About Quartz Countertops
How to Choose the Right White Quartz Countertop for Your Kitchen or Bath
Are Quartz Countertops More Durable Than Marble?
The Ultimate Quartz Countertop Buying Guide
Where Do Quartz Countertops Come From?