How To Choose The Right White Quartz Countertop For Your Kitchen Or Bath
January 12, 2021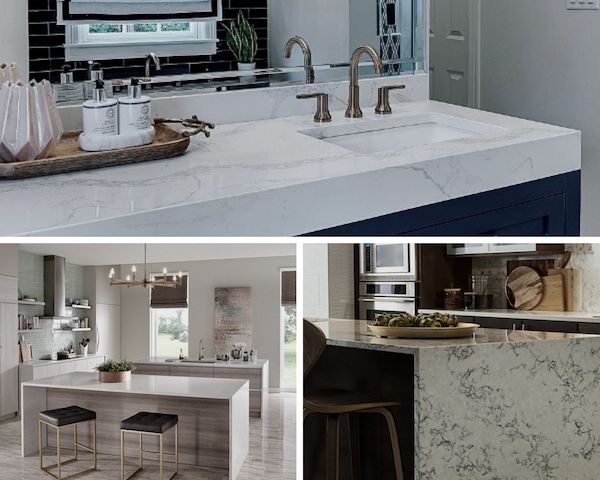 So you've decided you want to install white quartz countertops. Great choice! Now comes the tricky part — what type of white will bring together your desired look? When it comes to deciding which white quartz countertops will bring your vision to life, there are a lot of options to consider. This can make the decision overwhelming for most homeowners, but it doesn't have to be a stressful process
Before looking at a variety of white quartz slabs and trying to decide between the perfect shade, there are a few factors you should consider that can help you make a more confident choice.
Room Lighting
One of the most important elements to consider is the lighting in your kitchen or bathroom. Is your room illuminated by artificial lighting or is your space flooded with natural lighting? How many windows are in the room? Your room's lighting has a direct influence on the undertones of the quartz countertops that are going to show. When working with a room that relies heavily on artificial lighting, you might want to install white quartz countertops with a cooler undertone to help brighten up the space. If your room receives a ton of natural light, you have more flexibility in your choice and can opt for white quartz in both warm or cool undertones.
Cabinet Colors
You can't choose random elements for your kitchen or bathroom and hope that they all seamlessly blend together to create your desired aesthetic. Instead, you need to consider how your floors, countertops, cabinets, and fixtures all work together to bring out the most from your space. Because your countertops are often sandwiched between your cabinets, it's important that you consider how they work with the various tones of quartz countertops that you're considering installing. Depending on your color scheme, you might be better off selecting a warmer or a cooler tone.
Overall Aesthetic
What is your desired overall aesthetic for the room? Are your countertops going to be a contrasting element against a backdrop of dark countertops and floors? Or are you opting for a sleek, all-white kitchen? If white is a dominant color in your kitchen or bathroom elements, you will want to choose a white quartz that is a similar shade and tone. You won't want warm countertops if the rest of your white design elements are a cool tone.
Tones and Hues
The tones of your kitchen play an important role in tying together all the various elements of your kitchen from your countertops to your flooring to your cabinets and fixtures. Because quartz countertops are engineered, there are a variety of tones at your disposal. If your bathroom has blue cabinets or other design elements, you might opt for cool white countertops with blue or grey undertones. If you are aiming to have a warmer kitchen, you can install white quartz countertops with red or yellow undertones. You can select the perfect tone countertops to blend into your space — and can even consider countertops with veining throughout!
Creating Your Dream Look with White Quartz Countertops
Now that you've narrowed it down to white from a variety of quartz countertop colors, it's time to choose the ideal quartz for your home. MSI manufactures premium surfaces including a unique quartz collection, Lumaluxe, that intensifies the color brilliance through light reflection. To demonstrate the beauty of Lumaluxe, we've put together a list of our favorite white quartz countertops to help you envision them in your space. No matter the color cabinets or flooring you choose, there is perfect white out there for you. Here are some of our favorite white quartz countertops.
Blanca Arabescato Quartz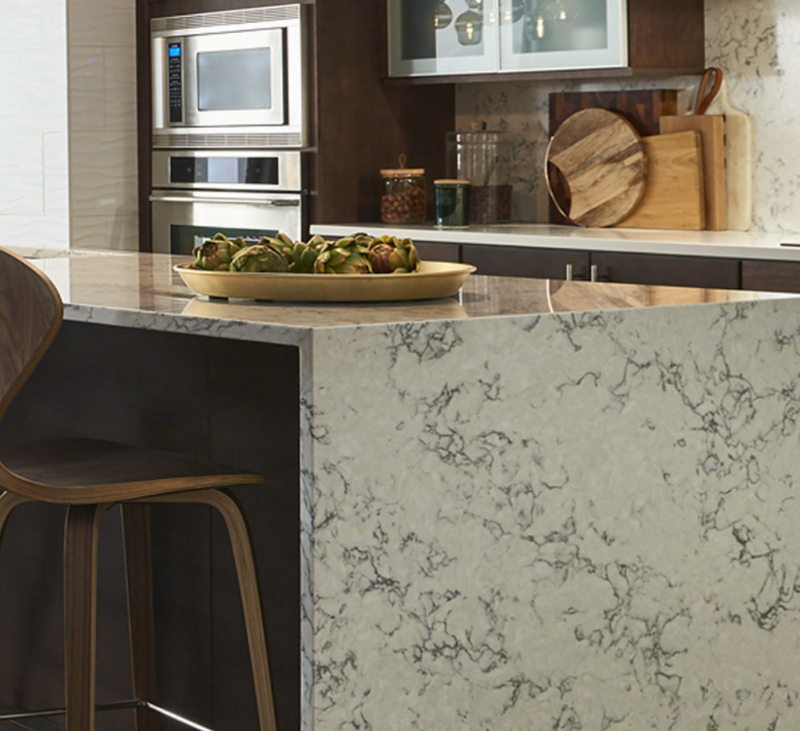 If you want a white countertop, but don't want it to be a stark white, look no further than Blanca Arabescato Quartz. This beautiful countertop option provides the white look you crave with some contrasting elements to tie into darker aspects of your kitchen or bathroom. With prominent long dark veins, your countertops will leave your guests speechless whether you install it as a countertop, backsplash, accent wall, or waterfall island. The best part? They offer a timeless look that will stand the test of time and leave your kitchen or bathroom feeling fresh and new for many years to come.
Calacatta Leon Quartz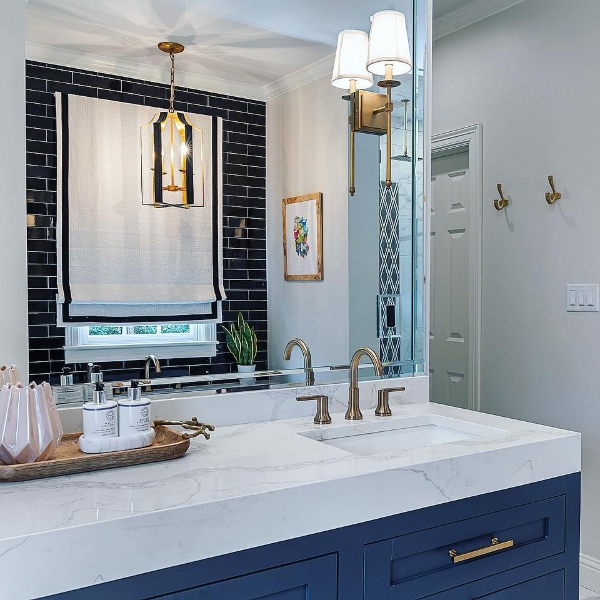 This dreamy, statement-making quartz is subtle enough for any space but dramatic enough to leave your heart racing every time you look at it. Calacatta Leon offers a soft white backdrop to any space but is anything but subtle with its dramatic grey veining featured throughout the entire slab. Whether you choose to install it in your kitchen or bathroom (or both!), it's the perfect countertop to create a dreamy waterfall island or backdrop to your walk-in shower. With its beautiful appearance and durability, this quartz is a no-brainer for homeowners.
Alabaster White Quartz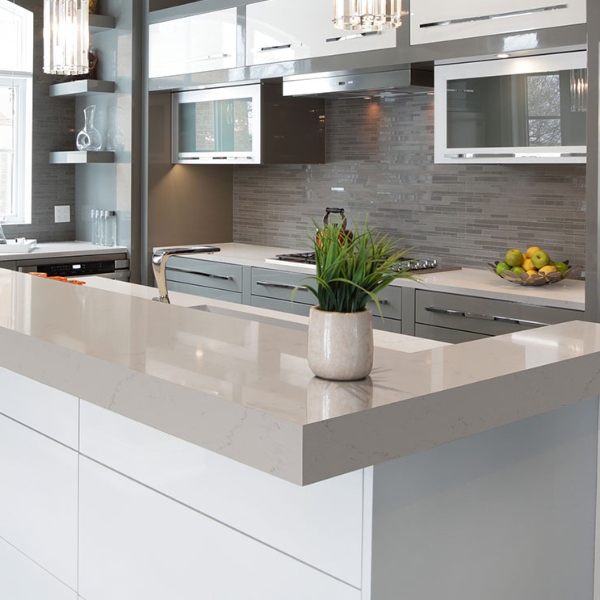 It's not even a question between granite vs. quartz when looking for the most affordable and luxurious countertop for your home. There's something refreshing about the look of a clean quartz slap with the slightest grey veins. When incorporating Alabaster White Quartz into your home, you'll enjoy a high-end marble-look but with the durability and affordable price point of quartz. Because the soft white background is so subtle, it can seamlessly blend into any space. Whether you're opting for all neutrals or contrasting kitchen cabinets, Alabaster White is the perfect choice in all environments.
Marbella White Quartz
With its cool tone, Marbella White Quartz is the ideal quartz countertop for homeowners designing a space with lots of natural light or artificial lights. It's versatile to cool down any room no matter the lighting conditions! With a soft white background that features tonal veins throughout the slab, you'll have to enjoy timeless marble-look counters that will seem like they never age. Marbella White is the perfect option for a variety of applications, including countertops, accent walls, shower surrounds, or bathroom floors. No matter where you choose to install this beautiful quartz, you'll be sure to create a wow-worthy room.
More About Quartz Countertops
Are Quartz Countertops More Durable Than Marble?
It's A Wonderful Life with Winter White Quartz Countertops
The Ultimate Quartz Countertop Buying Guide
Where Do Quartz Countertops Come From?