Garden Rock — The Best Rocks For Your Garden
September 26, 2020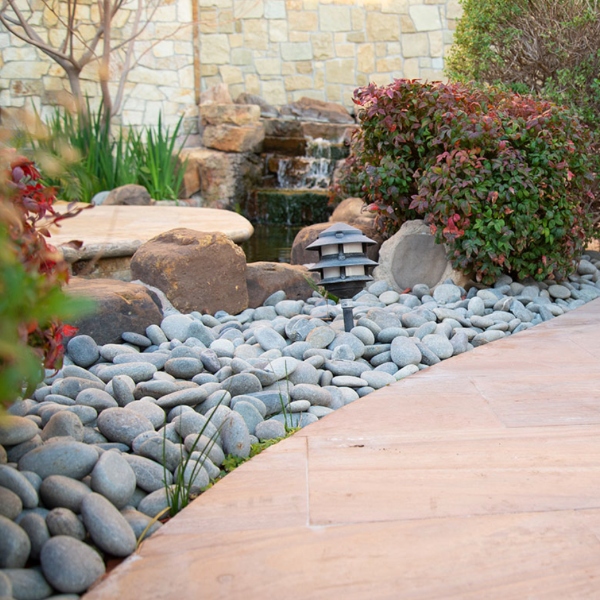 When diving into a landscaping project, most homeowners first think of the plants that will accent their lawn, garden, and patio designs. Trees, shrubs, flowers, and ground cover are all important elements in creating the perfect outdoor setting. However, hardscaping is just as important! Garden rock is an excellent way to add texture, color, and interest to your landscape — and it can be a beautiful stand-alone statement.
Here's another fact you may not have considered: When winter comes, your hardscape will become the visual dominant element. Unless you live in a sub-tropical climate or plant mostly evergreens, trees will drop their leaves, plants will turn brown and go dormant, flowers will disappear. If you're just as thoughtful in planning your landscape rock elements as you are with your plants, the hardscape choices will never look like an afterthought, and the landscape can be beautiful year-round.
In fact, with MSI's product choices, you can create an impressive rock garden with no plants at all. Be creative by mixing and matching different shapes, sizes, colors, and textures of rock, placed in parallel lines, in circular or curved shapes, or layered for maximum effect. Garden rocks are often used to create or enhance water features such as fountains and ponds. In areas where water must be conserved, however, you can't find a better xeriscaping solution than a rock garden. Instead of plants, enhance your garden's vertical space with concrete figurines, bronze sculptures, benches, or other garden art.
Niagara Yellow Pebbles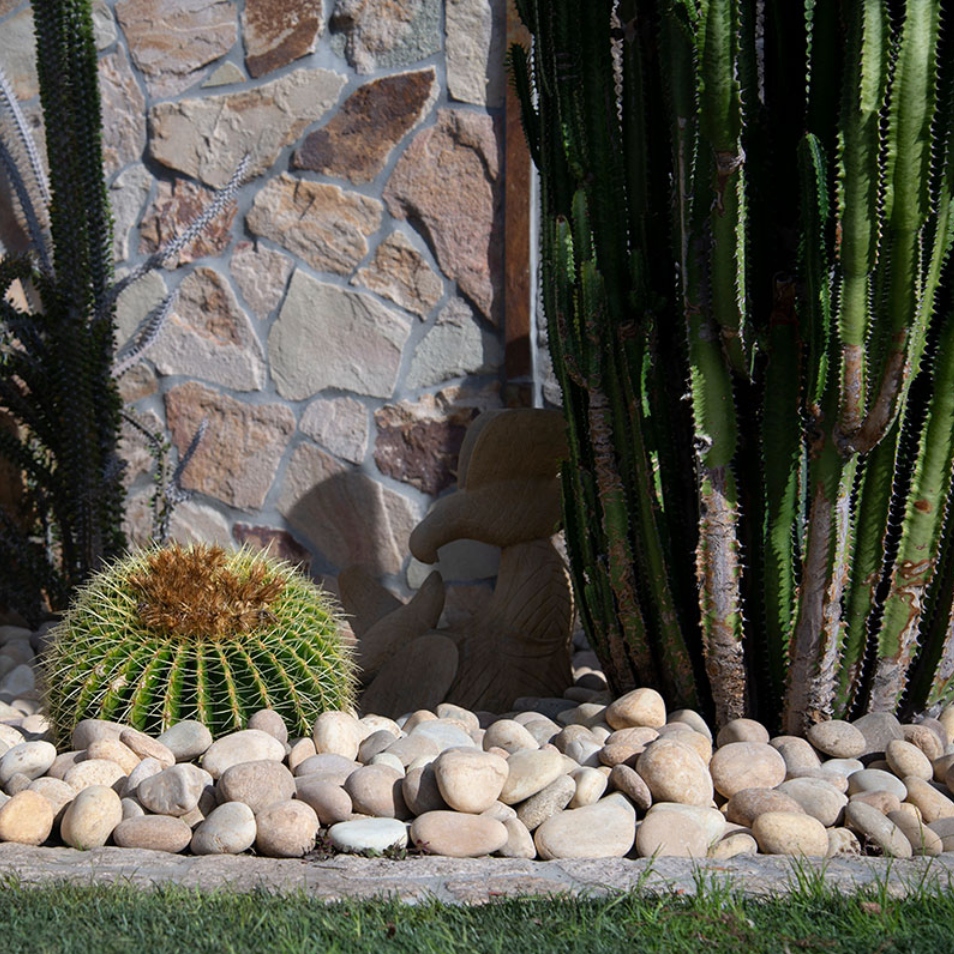 One of the reasons homeowners and designers love using pebbles in the landscape is the low maintenance. Install your plants, lay the pebbles in place, and just enjoy the beauty for years to come. This strategy works especially well with varieties of cacti, which are slow-growing and need very little care to thrive even in hot, dry weather. Pebbles act as a natural mulch, keeping out weeds and conserving moisture in the soil without smothering delicate roots. Niagara Yellow pebbles are natural quartzite with smooth, rounded shapes, similar to water-tumbled river rock, available in two sizes. Smooth, rounded pebbles are barefoot-friendly, and are also frequently used as filler in between larger stepping stones or pavers.
Himalaya White Pebbles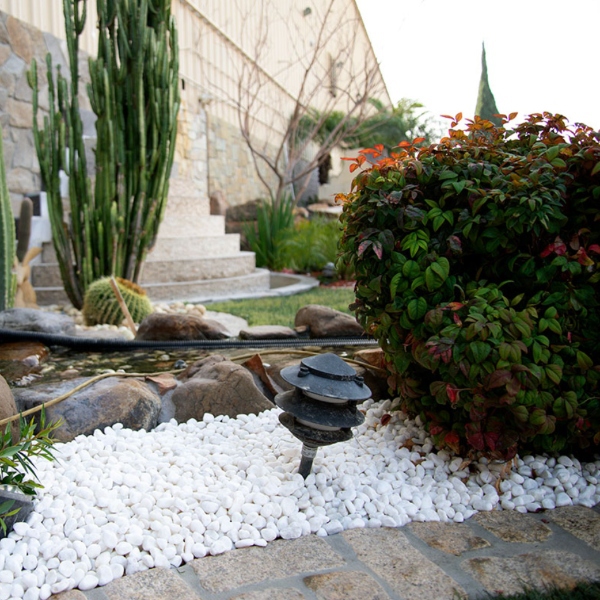 While some homeowners prefer landscaping that blends in with soft neutral tones, others love the drama of bold Himalaya White pebbles. Crafted of smooth, tumbled white marble, these pebbles are equally appropriate for a succulent garden or a landscape featuring shrubbery, anything that is slow-growing and low-maintenance. They also provide an interesting accent alongside different types of rock. Zen gardens are on-trend right now, and white marble pebbles are a natural choice for this type of installation. Another tip: Landscape lighting will seem even brighter when reflected by white pebbles.
Golden White Flagstones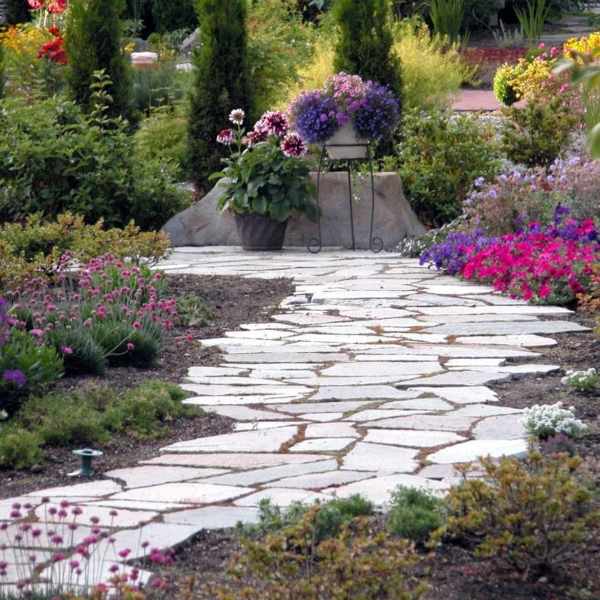 Flagstones, like pavers, are typically used to create pathways and patios. However, flagstones are randomly shaped, fitting together like puzzle pieces, and create a more natural, rustic look than formal pavers. Flagstones lend themselves to creative, non-linear installations, as shown here. Golden White Flagstones are split-face quartzite in s hades of gold, white, and gray. The spaces between them can be filled with sand, pea gravel, or permanent grout. You can also opt to simply use soil between each flagstone, and cultivate a lush carpet of moss to soften the edges of the stones.
Tuscany Porcini Pavers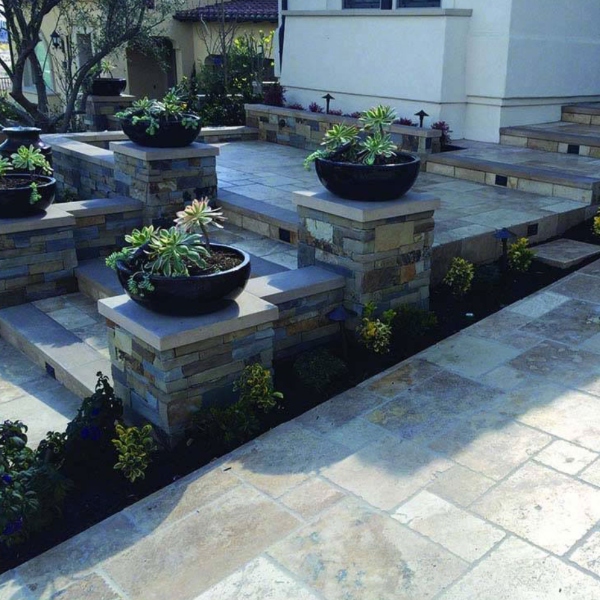 Classic, traditional landscape designs often involve the use of natural stone pavers, such as Tuscany Porcini. These tumbled travertine pavers feature shades of cream and beige with gray accents, a color scheme that is easy to blend with your other landscape elements or other types of hardscaping. Consider pavers for walkways, stairs, or atop retaining walls. Tuscany Porcini, as well as MSI's other pavers, are available in a variety of sizes and shapes, so you can create eye-catching patterns. Because these travertine pavers are naturally slip-resistant, they are an ideal choice for installation on a pool deck or patio.
Giallo Fantasia Cobbles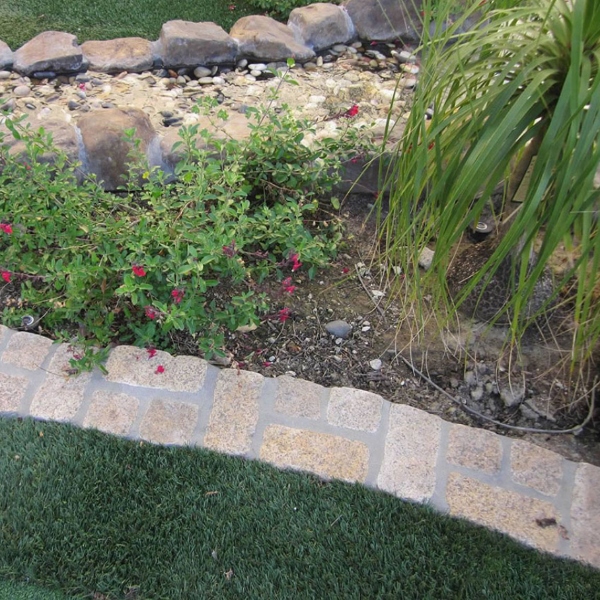 If you've admired the old-world look of a cobblestone road or pathway laid, perhaps, 100 years ago, you can replicate that timeless look on your own property with MSI's cobbles collection. Giallo Fantasia Cobbles have shades of cream, gray, and yellow, with black specks, and lend themselves to a wide variety of projects. Use them to create a classic, rustic driveway or patio with lots of character — they are weatherproof and durable, and extremely slip-resistant. These cobbles are also a great choice for retaining walls, or in a low garden border as shown here. Available in both square and rectangular shapes, you can arrange them in interesting patterns.
Rustic Canyon Stepping Stones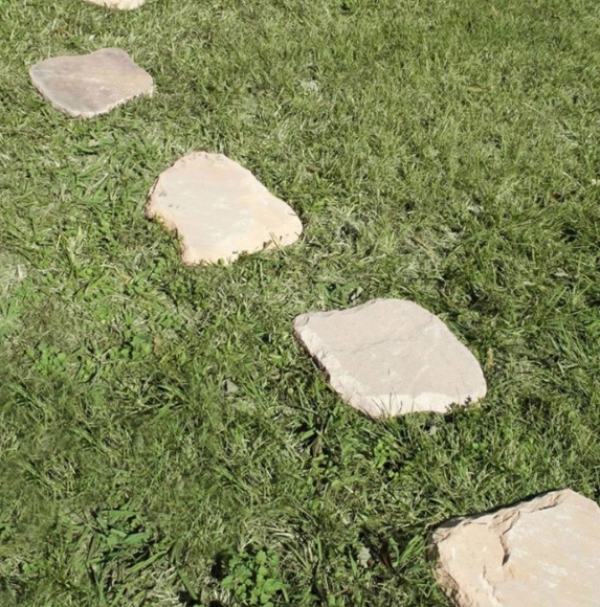 There are so many ways to use stepping stones in your landscape design. They are useful for keeping foot traffic on a designated path, preserving your carefully maintained carpet of grass. However, they can be used in so many creative ways. Use them as a pathway in the garden to encourage visitors to enjoy specific plantings or sculptures. Install a line of stones in permanent concrete to create a level pathway in a sloping yard. Create a barefoot-friendly path to a swimming pool. Rustic Canyon stepping stones are hand-cut sandstone in shades of beige that complement any hardscaping project. They even look great simply laid out on the grass, like this minimalistic path.
MSI's garden rock collections offer an easy way to add character and beauty to everyone's landscape. They can be used in simple, straightforward ways such as a garden path or patio, or you can get creative and design artistic gardens with different colors, sizes, and shapes of rock — with or without plants. The best part is that once it's in place, your installation will last for years with very little maintenance. Visit our web galleries to browse our entire collection.