Caring For Travertine Tile
March 01, 2012
The elegant travertine flooring you purchased for your office or home requires proper care and cleaning to ensure the product retains its beauty and value for years to come. Follow these simple maintenance procedures to keep your travertine looking amazing:
General Cleaning
Remove any loose dirt, dust or debris from the travertine surface with a dry, chemical-free dust mop, kitchen sponge or soft towel. Avoid using a vacuum cleaner, especially models featuring a plastic beater bar, as this can damage the flooring and leave behind small pitting and scratches.
For a more thorough cleaning, use a mixture of warm water and a pH neutral, natural-stone cleaner. Incorporate the cleaner into water according to the package directions before working it into the travertine with a standard or microfiber mop. Once complete, thoroughly rinse the flooring with a wet mop. Rinsing the travertine is crucial to ensure no stone cleaner remains, which can cause unwanted streaks and residue. Finish the project by removing the remaining liquid from the travertine with a separate dry mop or towels to further prevent streaking.
Stain Removal
Travertine is a naturally porous material, allowing liquids and other products to seep into its surface and leave behind unwanted spots and stains. To remove the stains, begin by dabbing at the liquid to remove the excess and clean the travertine surface with a mild or pH neutral cleaner. Work a product specifically formulated for travertine stain removal into the affected area according to the package directions. Avoid acidic products or those that contain ammonia, vinegar or bleach; as these can permanently damage or discolor the travertine.
Etching
You may have heard the term "etching" in regards to natural stone, including travertine, limestone and marble. Etching refers to the small scratches and imperfections that occur when the travertine is exposed to an acidic compound, including wine, tomato sauce, pet urine, or even fruit juice. Prevent etching by placing coasters or hand towels under acidic dishes and drinks. Clean up stains immediately and if minor etching does occur, work the pH neutral cleaner into the affected area with a soft cloth. If the etching persists or if you have major etching, contact a professional for assistance.
Holes and Voids
Travertine is formed from calcite organic compounds and in their natural state, can form holes and voids over time. In order to prevent holes from enlarging and collecting debris, you can fill them by using either an epoxy filler or by filling them with grout. Epoxy fillers will better match the smooth texture of the factory installed travertine filler. They are generally colored to match the lighter beige tiles.
For darker walnut versions, you can still use the beige filler but you may want to add a colored tint to better blend with the darker tile. If you choose grout as your filler of choice, it is important to use only the sanded version as it will provide more substance in order to fill the areas so they do not crack or break apart. The sand in the grout will give the filled area a course texture that does not completely match the smooth texture of the travertine tiles, but it is the simplest and easiest method.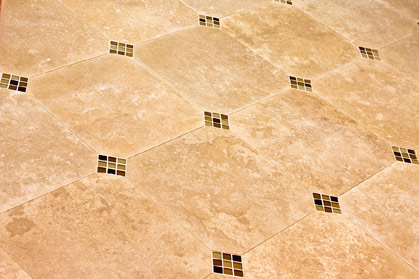 At-a-Glace:
Travertine Care Do's and Don'ts
1. Clean your travertine floors or countertops often with a dust mop, soft cloth or kitchen sponge to prevent minor scratches.
2. Use a mild or pH neutral cleaner on your travertine products and avoid abrasives, including scouring pads and steel wool.
3. Place mats or towels under hot cookware to prevent discoloration and pitting.
4. Use a coaster under your glass of wine or orange juice to prevent etching.
5. Place floor mats or runners directly in front of entrances to prevent scratches caused by dirt and loose stones.
6. Set your bathroom toiletries on a tray to avoid scratching your travertine vanity.
7. Clean your bathroom's travertine floor with a product specifically formulated for natural stone.
8. Avoid using all-purpose grout or tub & tile cleaners to prevent discoloring or damaging the travertine.
9. Never clean your travertine countertops or floors with products containing lemon, orange, ammonia, bleach or vinegar to prevent etching.
Its historical uses include travertine flooring being applied to walls as a decorative element to the Colosseum in Rome, the largest building in the world constructed mostly of travertine. Make it a routine to follow these cleaning techniques and guidelines in caring for your travertine tile so it will age well and increase its beauty over time.