Think Outside The Box With A Metal Tile Backsplash
September 11, 2017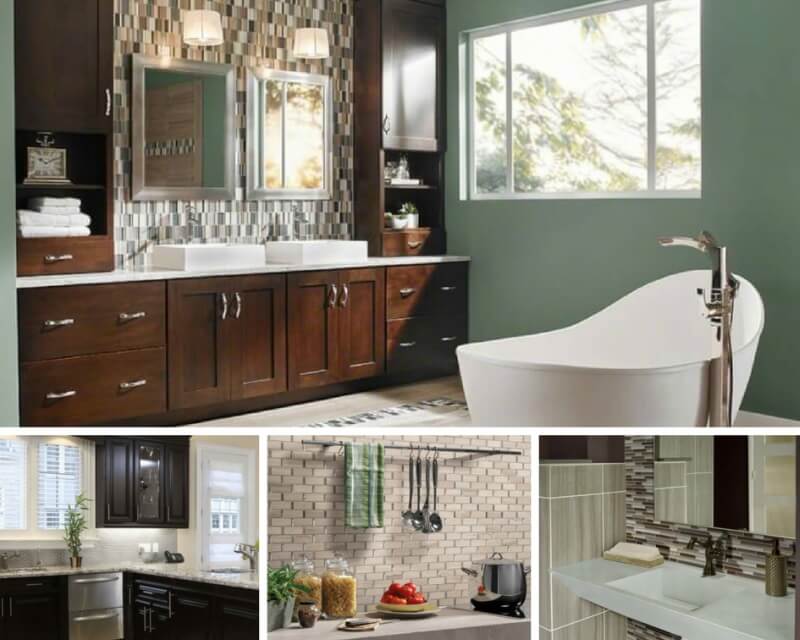 You may wonder if metal tile even has a place in a warm or nature-inspired home because of its reputation as being cold and industrial looking.
However, a modern metal tile backsplash—alone or blended with other materials—is flexible enough for a variety of home décor styles. It's also incredibly durable, easy to clean, and resistant to stains and heat.
So to create a design that's warm and vibrant, think outside the box and consider these tile backsplashes for your next project.
Niagra Interlocking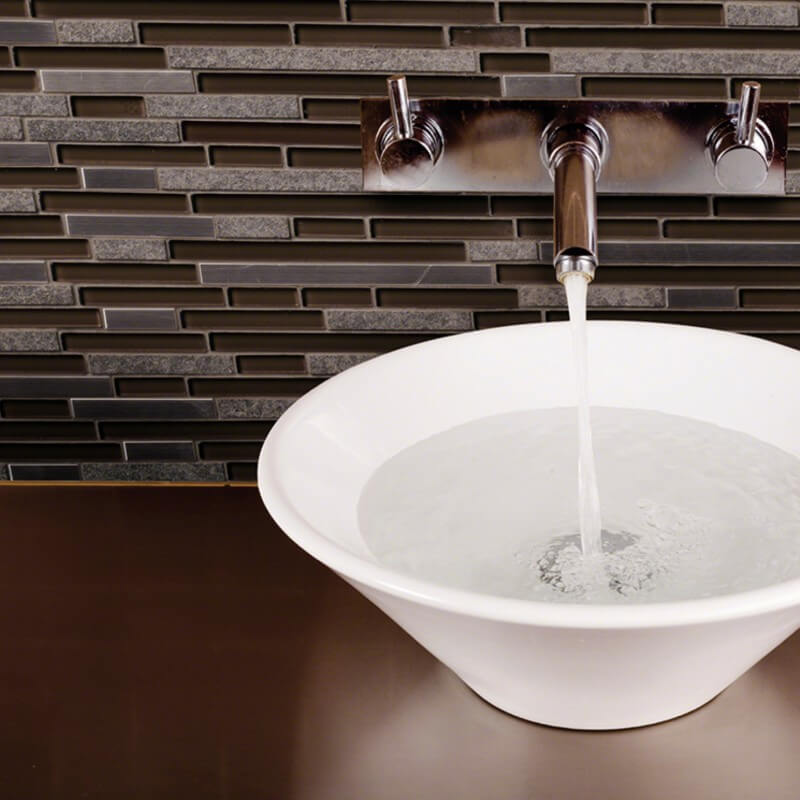 Featured: Niagra Interlocking Mosaic
You can easily add drama to your design with a metal backsplash. Niagara Interlocking Mosaic tiles feature dark gray and black tones, resulting in a modern and striking look in this sleek bathroom.
This metal tile is mixed with stone and glass, and is a great way to add a natural element to any modern space. Plus, the interlocking pattern means these sheets will be easy to install.
Paradise Bay Blend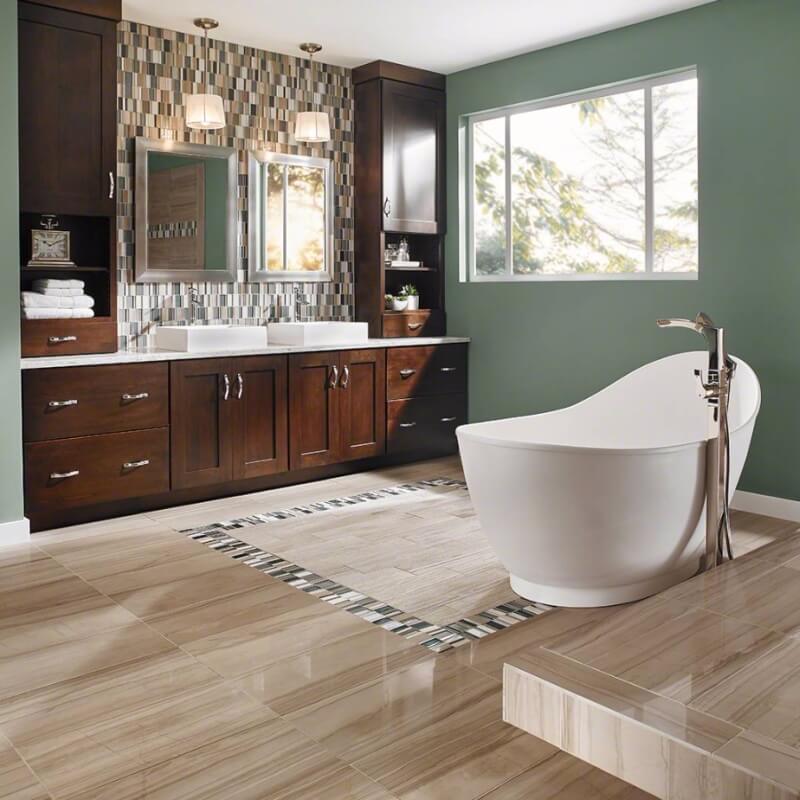 Featured: Paradise Bay Blend Mosaic
Because of its durability, a metal tile blend is a great alternative to patterned wallpaper in a bathroom. Paradise Bay Blend Mosaic is a glass, stone, and metal blend featuring warm taupes and creams, along with cool grays and blues.
The graphic nature of this wall tile creates a busy pattern, but it's the perfect focal point for this contemporary bathroom suite. It can also be featured as a flooring accent tile to keep the eye moving. The neutral color palette with varying shades makes it easy to pair with other design elements, such as the beige flooring and green accent wall.
Stella Interlocking
Featured: Stella Interlocking Mosaic
If you love the look of subway tile but want something with a modern touch, here's the perfect substitute! Stella Interlocking Mosaic tile combines glass, metal, and stone in a chic brick pattern.
Install as a bathroom or kitchen backsplash to give your design some shimmer! The cream-colored tiles with luminous gray glass and metal accents work well with any style.
Silver Metal Brick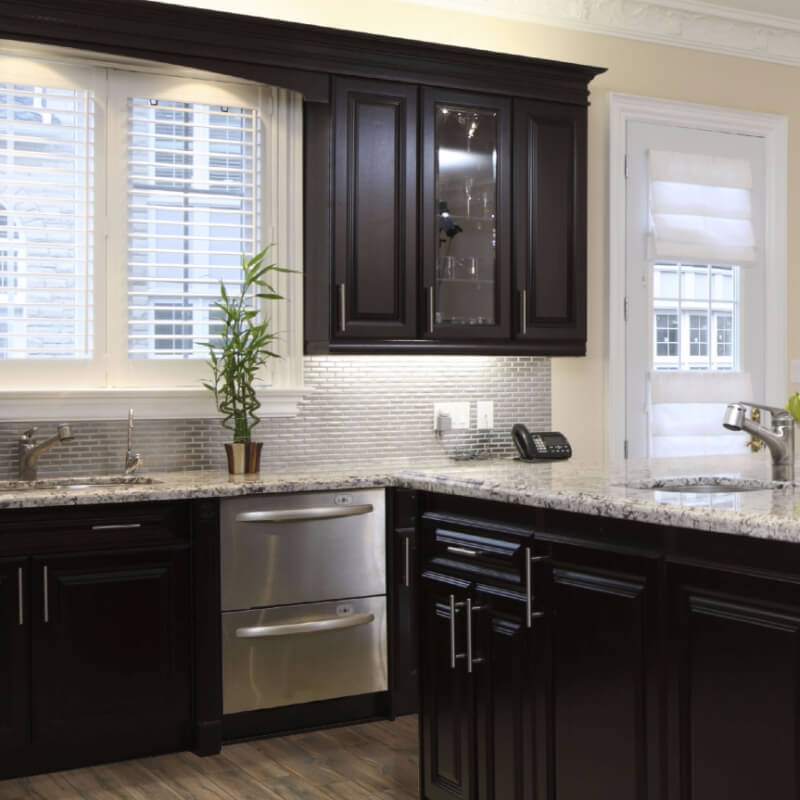 Featured: Silver Metal Brick Mosaic
Just because you choose a metal tile doesn't mean it has to be super shiny. Silver Metal Brick Mosaic tile comes in a matte steel finish, giving you a modern look that is more subtle.
This mosaic pattern is a bold, sleek choice for this more traditional kitchen. The metallic sheen ties together the stainless steel appliances, fixtures, and simple cabinet handles. In contrast to the rich espresso cabinetry, the modern tile reflects light and helps brighten up the space.
Escorial Blend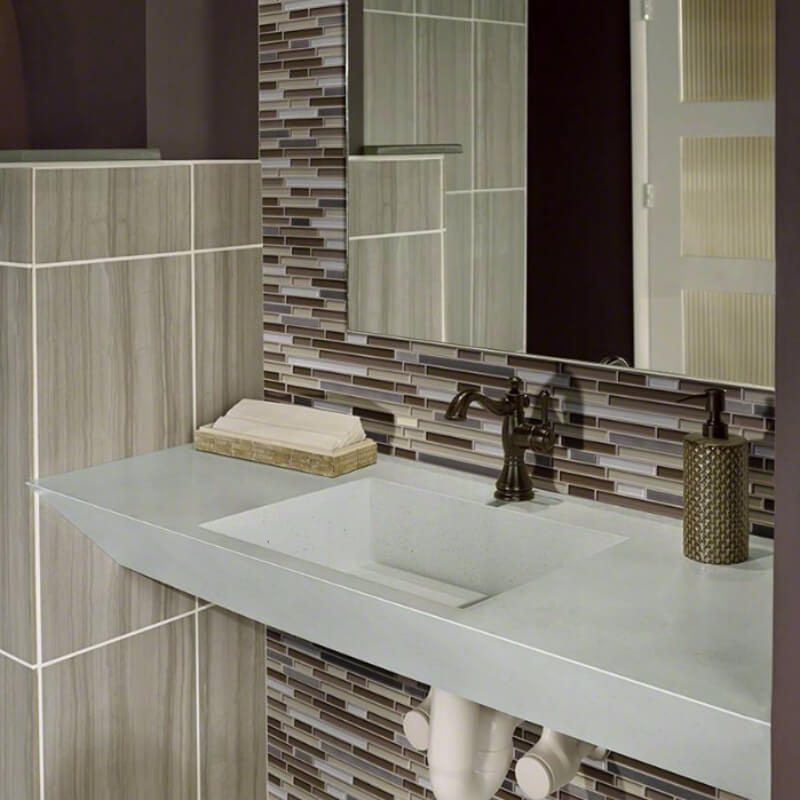 Featured: Escorial Blend Interlocking Mosaic
At first glance, you might think that Escorial Blend Interlocking Mosaic is just another glass backsplash tile, but look closely and you'll see that it also blends metal elements throughout. The unique combination of materials in rich browns, beiges, grays, and whites gives this sleek, modern bathroom the pattern power it needs to create a fabulous focal point.
Warm up and wake up your design with one of MSI's metal tiles. You can feature a metal backsplash in more than just a modern space, and the pre-assembled mosaic sheets mean you'll be able to update your kitchen or bathroom in no time flat!
Check out MSI's metal tile page to explore these featured products and much more.
READ MORE ABOUT MSI BACKSPLASH TILE
The Modern Way To Tile Your Kitchen Backsplash
Tips For Matching Your Backsplash Tile With Your Countertop