Build The Perfect Patio With Porcelain Pavers
May 14, 2021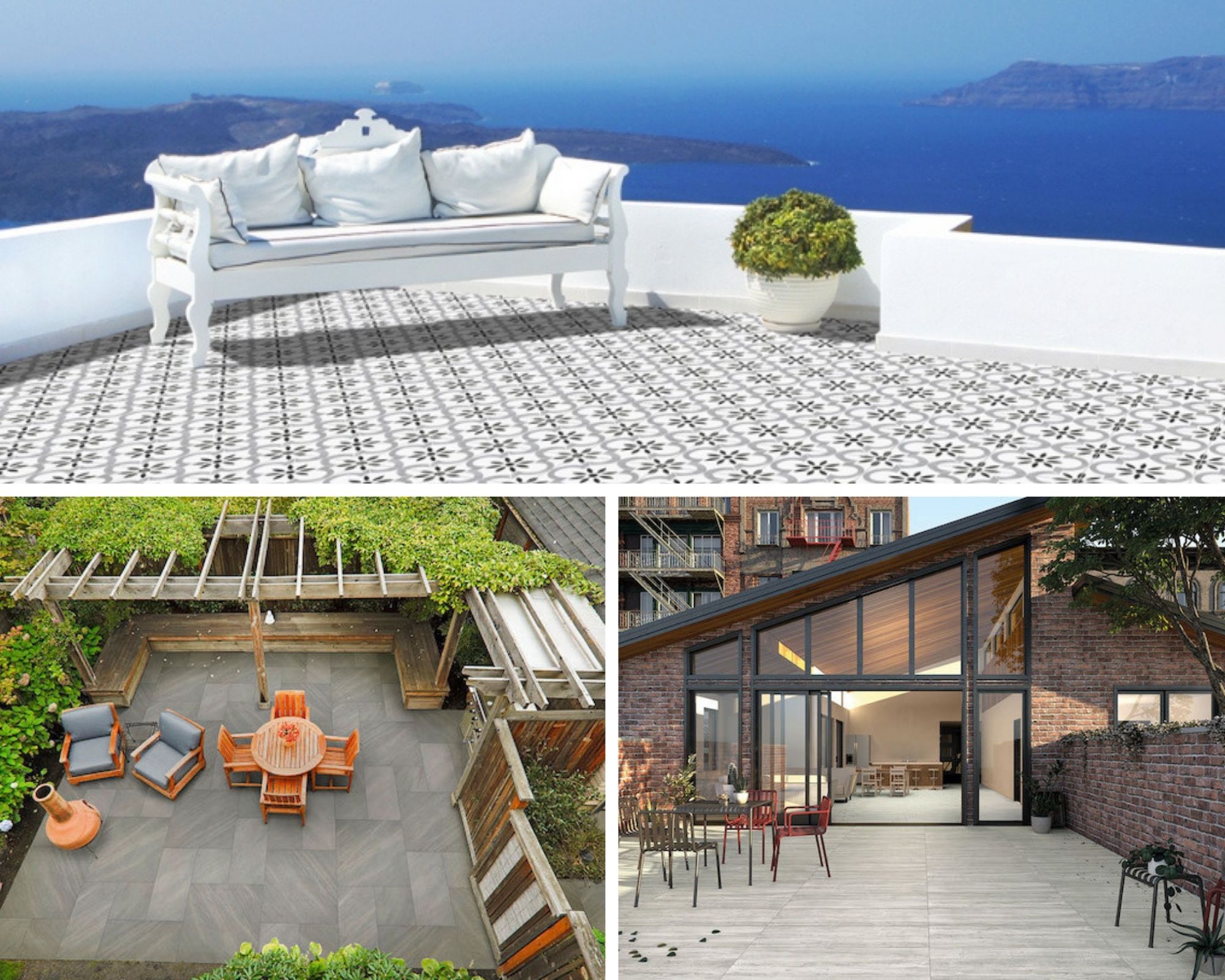 There are many different ways to design a patio. Whether you prefer something bold or understated, sophisticated or rustic, the most important element will always be the pavers beneath your feet. A patio made with porcelain pavers offers so many more design choices than ordinary concrete or paving stones.
After all, there are only so many ways to customize poured concrete. And, natural stone, as beautiful as it is, has its limitations — most importantly, one patio looks much like any other patio.
Here are many more reasons you should consider porcelain pavers to create your own, unique, stylish patio:
Strength: Porcelain teacups may be delicate and flimsy, but porcelain pavers are exactly the opposite. Porcelain tile is made from a high-quality, refined type of clay and cured in a kiln under extremely high heat. The result is one of the toughest flooring options you can buy. Although porcelain flooring is elegant enough to be used in the most sophisticated indoor spaces, it is also commonly installed in commercial spaces because it can hold up to high traffic areas.
Budget: Today's homeowners want to take their outdoor living spaces to the next level, rather than sticking to boring poured concrete. However, patios that are paved with natural stone can be gorgeous, but expensive. Porcelain tile that imitates natural stone is available for a fraction of the cost.
Style: There's a wide selection of porcelain tile to suit any taste, and any creative idea, because they come in many different styles. They are made to imitate many types of natural stone, such as travertine, marble, and slate. You can choose large-format tiles for a dramatic, nearly seamless look. You can choose petite options to create intricate tile patterns, mixing and matching colors in a creative way.
Texture and Slip Resistance: Any outdoor living space will get wet occasionally, so you want a hardscaping material that is slip-resistant, such as tile and stone. Porcelain pavers offer a textured "grip" that keeps people from slipping.
Indoor and Outdoor Use: The beauty and versatility of porcelain tile makes it just as suitable to use indoors in kitchens, bathrooms, mud rooms, laundry rooms, entry ways and more. If you have a room that opens directly onto your patio, why not match the flooring between the two spaces? Doing so can make both areas appear larger. It can make your outdoor space cozier, and the indoor space brighter.
Weather Conditions: If you live in a hot climate, you want to make sure the pavers can withstand strong sunlight year after year without fading or disintegrating. Those in cold climates need to worry about freezing and cracking. Not every type of paver is made to handle these weather extremes, but porcelain tile can do it. Porcelain outdoor patio tile is water-resistant, which makes them more resistant to cracking under freezing conditions.
Low Maintenance: When spring comes around, you don't want to spend the first glorious, sunny days scrubbing your patio tiles to prepare them for use. Applying sealer, power-washing, or otherwise maintaining your outdoor flooring is a lot of labor that you can avoid by installing porcelain tiles. They never need to be sealed to maintain their water resistance, and that means they are also less likely to stain or play host to mildew, algae, or any of the other messes Mother Nature can send your way.
Easy Installation: The difficulty level of installation for your porcelain pavers depends greatly upon your patio plans. Creating your patio may be as simple as applying gravel, placing pavers, and filling in the spaces. On the other end of the spectrum, you might want to create a more formal look, which requires more preparation and careful placement. Either way, one important benefit to using porcelain tile is their consistency. Unlike natural stone tile or cement pavers, porcelain pavers will be exactly the same size and shape, with straight edges. That makes placement much easier, especially with elaborate designs. If your patio requires professional installation, the process should go smoothly and efficiently, reducing labor costs.
Now that we've listed all of the reasons you should choose porcelain tile, here are some of our most popular varieties, along with some inspiration for fitting them into your own outdoor living spaces:
Fossil Snow Pattern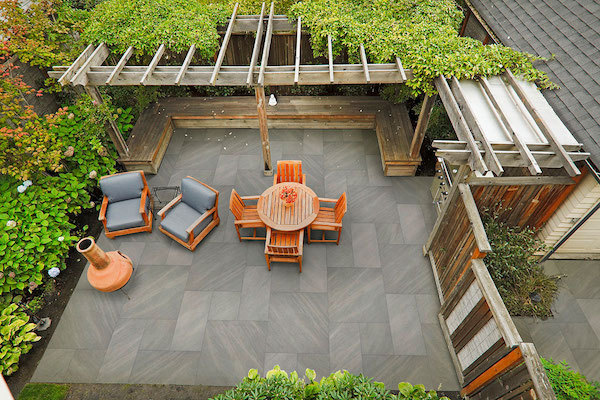 Fossil Snow Pattern quartzite-look tiles from the Arterra collection are available in large-format 24" x 24" squares, but you can also purchase sets with the different sizes and shapes needed to create an eye-catching pattern.
Praia Grey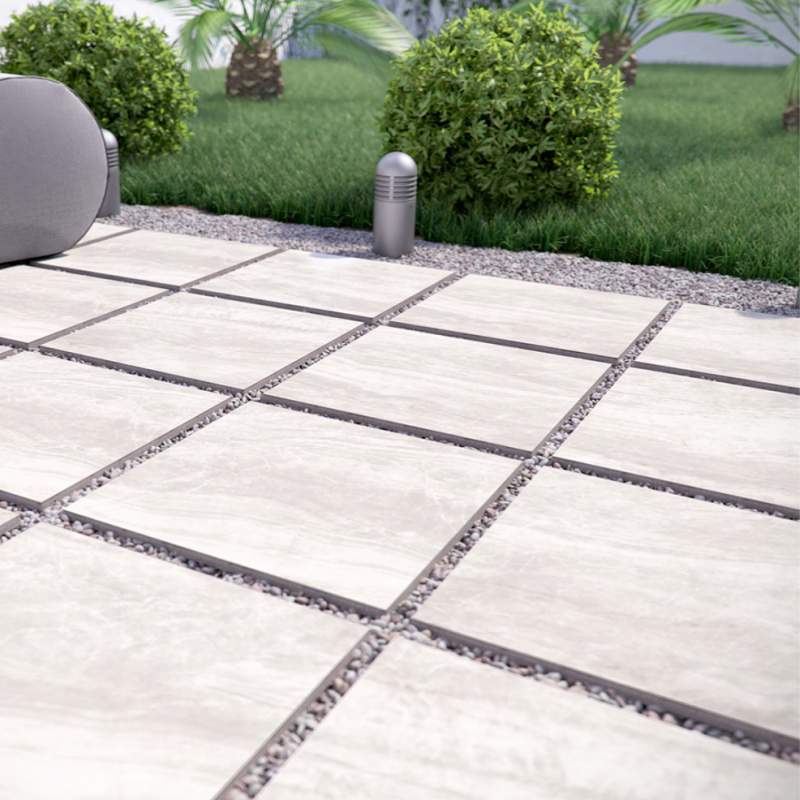 Praia Grey pavers feature soft whites and grays in a subtle tonal pattern. Use them outdoors for walkways and patios, or use them as flooring indoors to create a true indoor/outdoor lifestyle.
Praia Carrara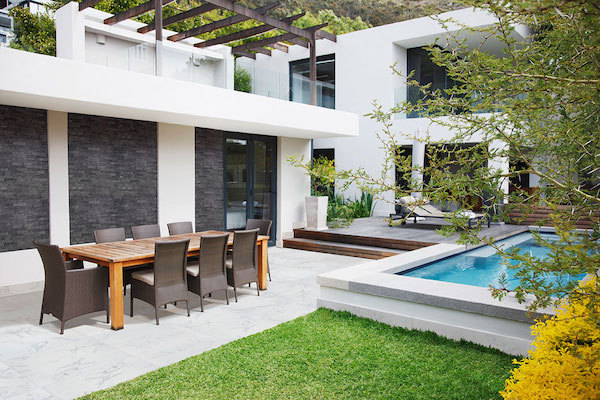 For a white marble-look tile with a matte finish, look no further than Praia Carrara. This beauty also has just enough slip resistance for safety in wet conditions. So, not only are they ideal for patios, but they can also be used for walkways and even pool areas.
LivingStyle Beige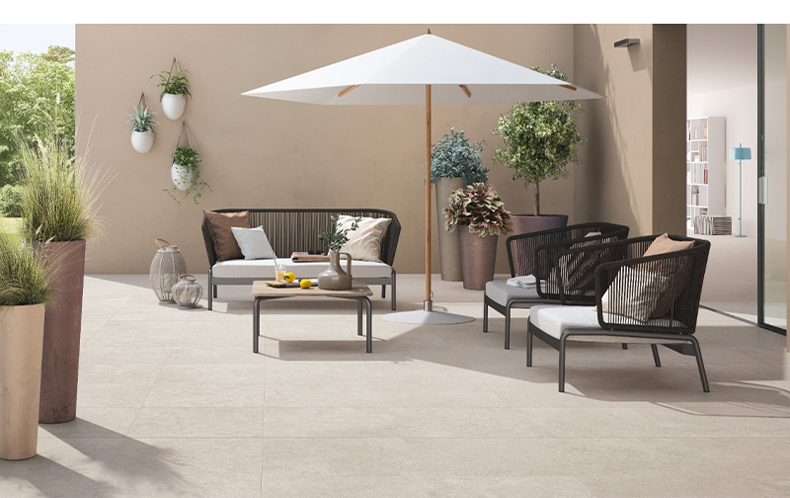 LivingStyle Beige porcelain tile imitates the soft beige pattern of natural limestone in large-format 24" x 24" squares. With these pavers, you can create a classic warm, casual look in any space.
Azila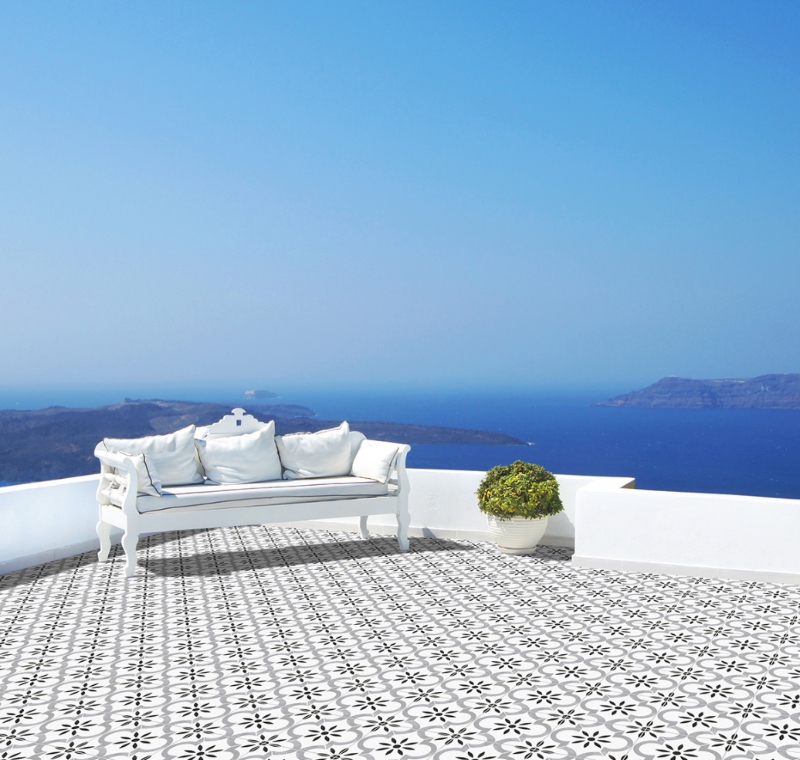 Decorative prints can spice up your patio plans and create a one-of-a-kind look, from subtle and elegant to bold and dramatic. Azila tiles from the Kenzzi collection feature an exotic gray and black print on a bright white background, and they look especially sophisticated installed in large spaces such as a patio.
Caldera Grigia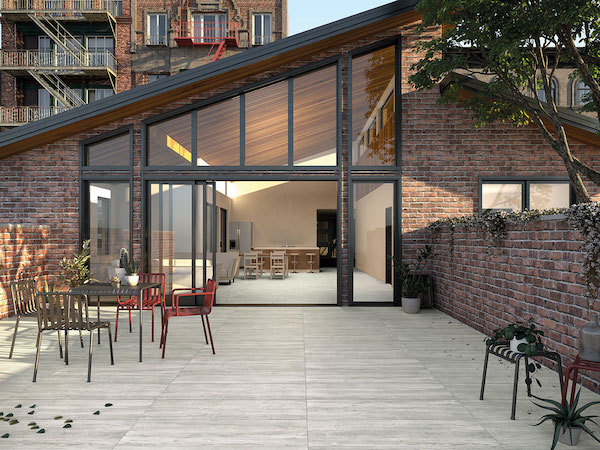 Caldera Grigia porcelain wood-look planks are another alternative, allowing you to create the look of a wood floor in areas you would never dare to place real solid hardwood. Wood-look porcelain tile planks can recreate the look of decking, without the worry about painting, sealing, or water damage.
There are so many reasons that porcelain tile pavers are ideal for patios and other outdoor living areas, not the least of which is the variety of beautiful colors and patterns available.You'll be amazed at how well today's porcelain tiles can authentically replicate other types of surfaces, allowing you to create any look you want with less worry, work, and cost.
READ MORE ABOUT CREATING OUTDOOR SPACES with PORCELAIN PAVERS
Arterra Porcelain Pavers with Zero-Slip Technology
Get the Look of Travertine with the Legions Porcelain Pavers Collection
Porcelain Pavers That Perfectly Mimic Travertine Tile