Enhance Your Home With White Quartz Countertops
April 26, 2019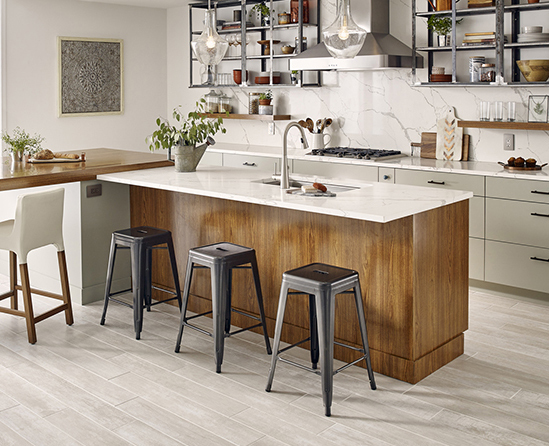 Both designers and homeowners alike know that one of the best ways to add beauty and value to your home is with quartz, and white quartz countertops continue to climb to the top of the wish list for many. Even in these luxurious light tones, you can have this man-made material installed with confidence in commonly used spaces like large kitchen islands and outdoor cooking areas to compact powder bathrooms and spacious master suites.
That is because this versatile, non-porous surface mixed with crushed quartz stone, resin, and polymers is extremely durable and requires very little maintenance. Natural quartz not only holds the title as the fourth hardest mineral, but the enhanced stone also is stain-resistant, scratch-resistant, and heat-resistant; plus, it never needs to be sealed, ever! The super hygienic counter will not harbor bacteria and can be easily cleaned with a soft cloth and warm water or some added gentle dish soap to help tackle any bigger messes.
Besides its highly sought-after durability and easy care, many are drawn to quartz because of its breathtaking beauty. The engineered countertop comes in many colors and styles, including solids, stone-inspired patterns, and modern concrete looking quartz. But, it is MSI's White Quartz Collection that provides the ultimate in design flexibility. From ethereal whites to elegant marble looks, the options available are dazzling and designed to last a lifetime. And, although you can achieve the desired mood with the right selection from more than two dozen white quartz options from MSI, we will be highlighting ten of our favorite whites below!
Wondrous Whites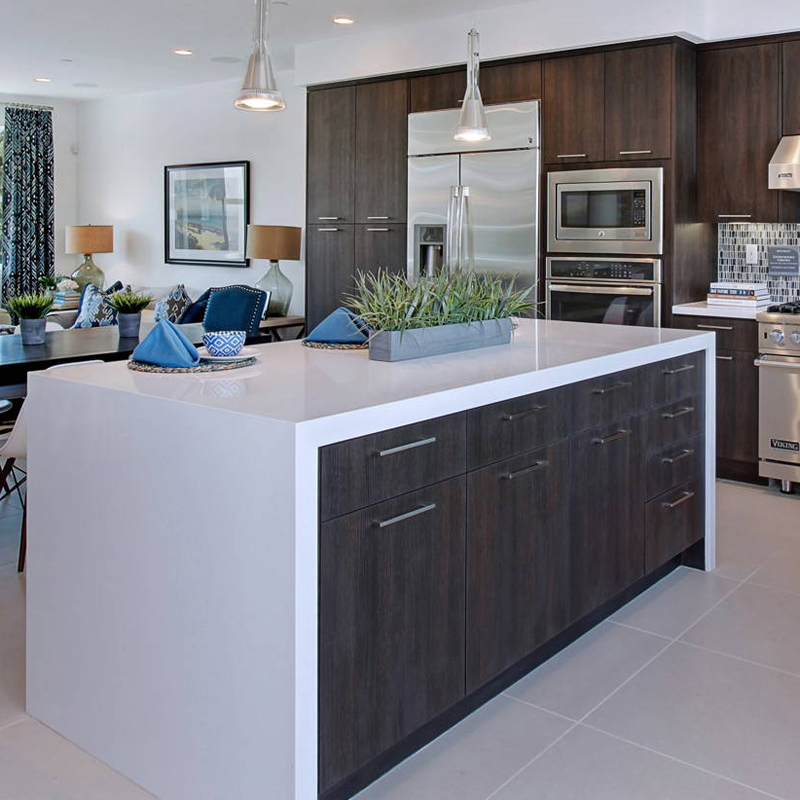 Featured: Arctic White Quartz
No matter the decade or century, white is truly timeless, and what better place to add an ageless material than a permanent countertop with MSI's White Quartz Collection. The man-made surface comes in a wide range of soft to bright whites, and these neutral hues with various undertones are perfect for modern industrial designs, all-white kitchens, or popping against colorful cabinetry.
Arctic White serves as a clean canvas with its bright white surface with no pattern or veining, and its solid color creates a timeless look to be included with any design aesthetic. Quartz is also one of the most popular surfaces for creating a spectacular waterfall island. Stellar White stuns with its soft white background and subtle gray flecks for added visual appeal, and the polished surface features a contemporary style. The airy hue is a standout against natural wood tones and pairs well with high-gloss cabinetry. Shell White comes with a dusty white background and barely there veining for an unfussy, fresh look that is easy on the eyes, and the neutral surface offers endless design opportunities.
Understated Patterns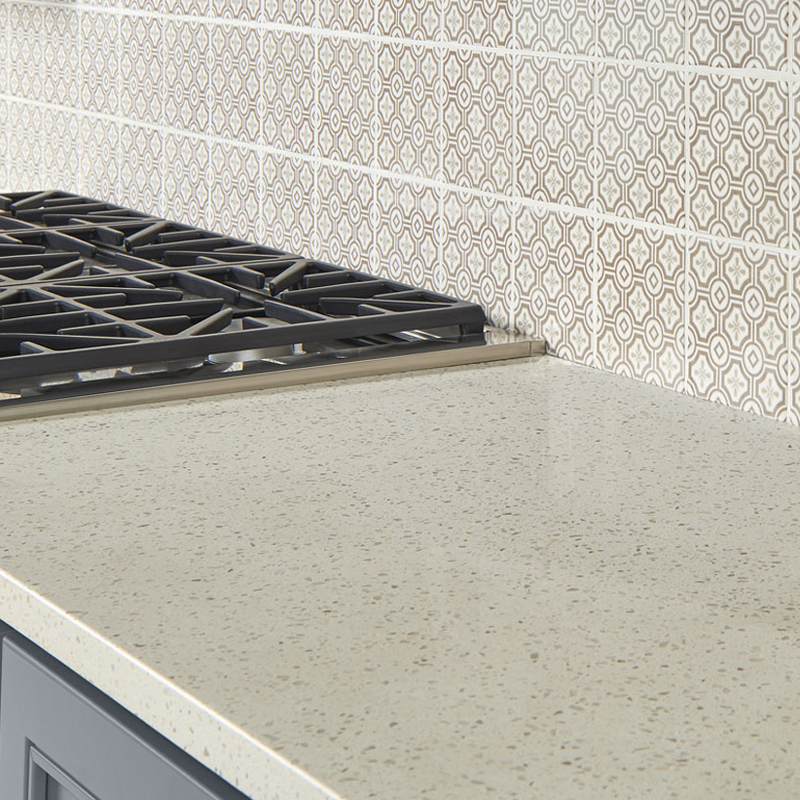 Featured: Iced White Quartz
Quartz countertop colors also come in speckled patterns that give a white surface sophisticated character. This type of quartz contributes even more to a design's successful mixture of materials, textures, and patterns. The dotted accents are an excellent place to start pulling secondary colors for cabinetry or a feature wall color.
Iced White lends an understated elegance with its soft white shades and sprinkles of grays, and the timeless design is sure to transcend trends for decades to come. When it is subtle in design or small in pattern, quartz can easily be paired with backsplashes made from larger mosaic motifs without competing for power.
Subtle Marble Style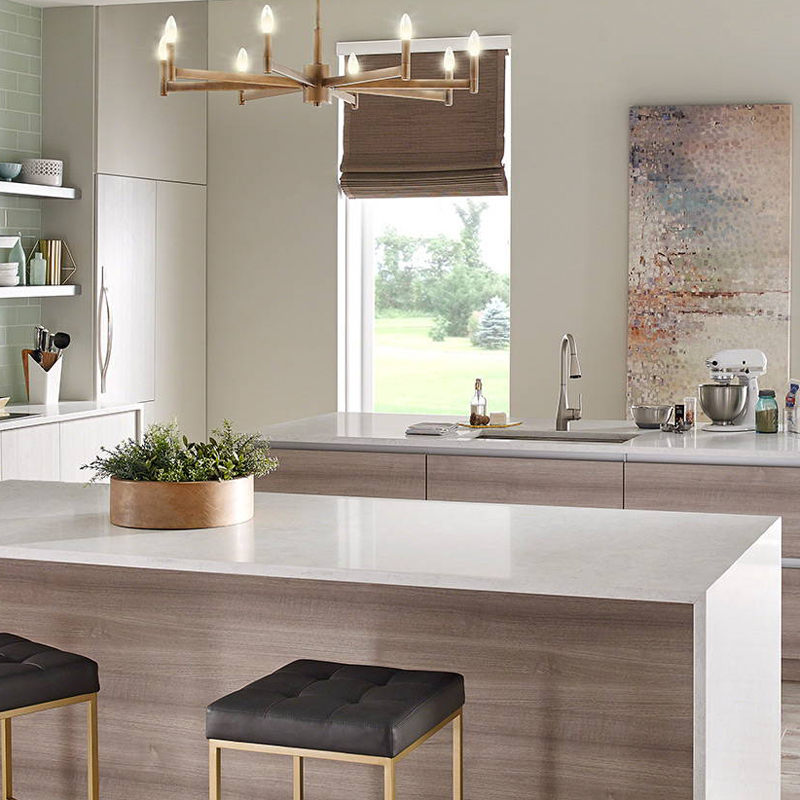 Featured: Marbella White Quartz
One of the most popular styles from MSI's White Quartz Collection is realistic quartz that looks like marble. The engineered surface does extremely well when it comes to mimicking the natural nuances and delicate details of this luxurious stone. Best of all, the durable countertop is virtually maintenance-free, especially when comparing the cleaning and sealing requirements of high-maintenance marble.
Cashmere Carrara mimics a daintier version of the traditional Italian Carrara marble with a soft white background with pinky undertones and smaller gray veining, yet this timeless classic is a go-to for traditional designs. White is also stellar at bouncing around natural light for a bright and airy feel. Similar in style, Fairy White features a porcelain background with blue undertones accented by sterling and dove gray veining, and the elegant choice is sure to enhance show-stopping spaces for homeowners. Adding fixtures in stainless steel or chrome is one way to incorporate those gray accents. Calacatta Vicenza is a top pick for designers thanks to its realistic marble look, and the elegant white background and subtle gray veins goes well with real marble mosaics and accents. Marbella White results in a marble-look quartz that is comprised of a darker white background and tonal veins, and this unmistakably classic look will instantly elevate contemporary to traditional rooms.
Marvelous Marble Veining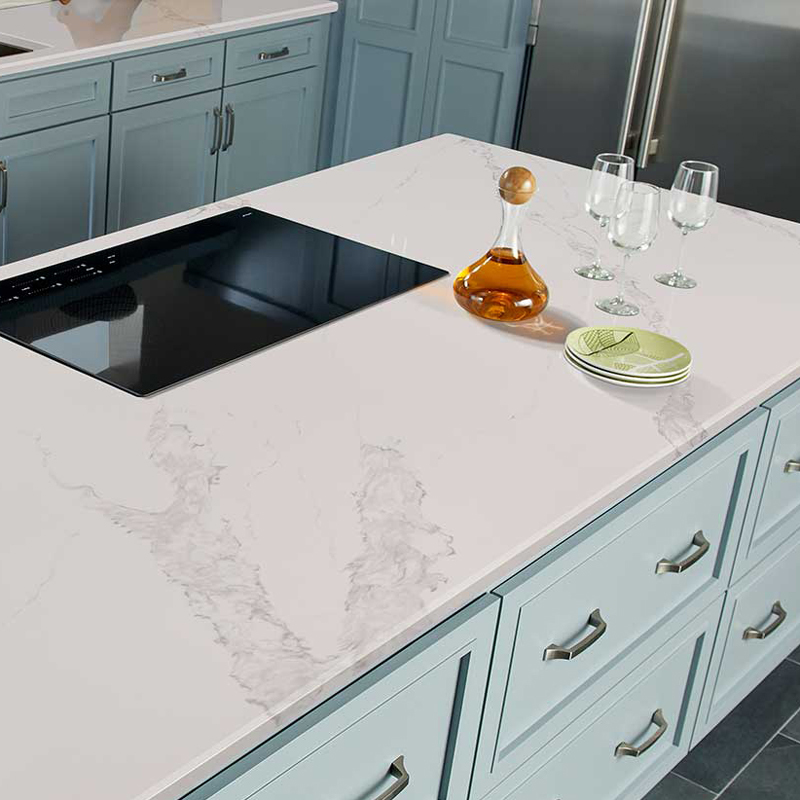 Featured: Calacatta Venice Quartz
When you want to create more drama with white quartz, opt for a surface with larger, striking veins. Even though your counter is engineered stone, the veining in these high-end, bold looks from MSI's White Quartz Collection appears so natural and not at all repetitive in pattern.
Alabaster White stuns with its skinny, long gray veining over a soft white background, and the luxurious marble-look quartz offers fierce beauty with life-long durability. It serves as a happy medium for designs with bright whites and grays. Although the veining is lighter in color, Calacatta Venice creates an artistic vibe with its oversized veins, and its classy white background with warm undertones will harmonize with any design style. To get the full effect of the large veining, it is best featured on an oversized island.
Which White Will You Choose?
MSI's White Quartz Collection will help transform your home into the traditional or modern place you always wanted. From solid whites to subtle patterns to marble-inspired motifs, you will find the exact style you need all with the same, strong durability and low-maintenance required by both busy families and working adults. While the quartz countertop costs can certainly vary depending on the thickness and type, this premium surface material is within reach and definitely worth the investment. With all of these inspirational surfaces at your fingertips, which beautiful white quartz countertop do you foresee in your future?
More On White Quartz Countertops
Marble Look a Likes with White Quartz Countertops
Check Out the Many Looks of White Quartz Countertops
What Are the Benefits and Drawbacks of White Quartz Countertops?
How To Keep Your White Quartz Countertop Stain Free
Are White Quartz Countertops More Expensive Than Marble?