Current Obsessions: Quartz Countertops That Are Kosher Certified
May 13, 2017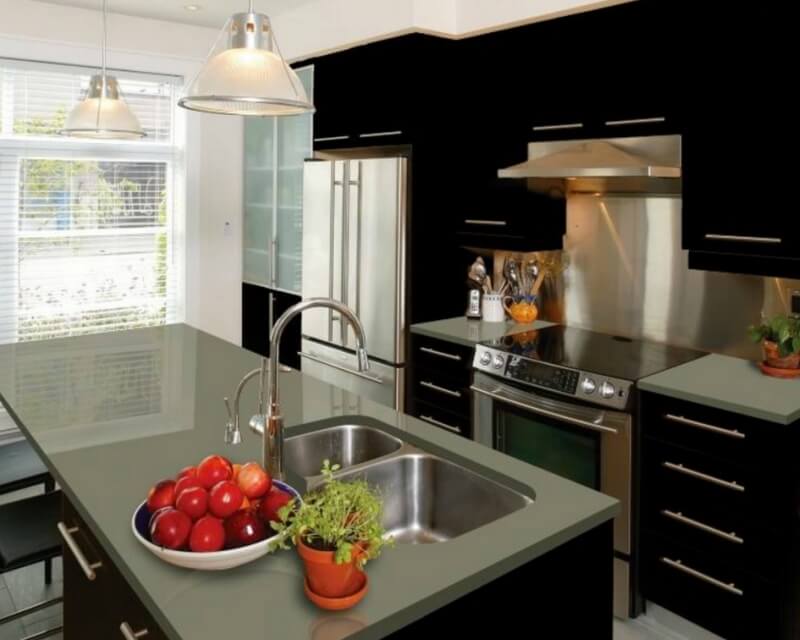 Planning any kitchen design can be a huge project, but if you and your family keep Kosher, designing a Kosher kitchen presents a new set of challenges. The main consideration is preserving cleanliness for you and your family. There are several countertop surfaces that can be made Kosher, but quartz is a particularly good choice because it does not require sealing to keep it hygienic. It's easy to clean and resistant to scratches that may harbor food residue and bacteria.
Just because you want a Kosher kitchen design doesn't mean you can't also have beauty! MSI's quartz countertops are not just good looking, they are practical too. All of MSI's quartz countertops have been certified kosher by Seal-K, a non-profit organization that provides kosher certification for product and facilities. Seal-K is widely recognized by rabbinical authorities throughout the U.S. and Europe and is one of the most respected authorities in kosher certification.
Here are just a few of our most popular quartz countertops, in kitchen designs that will inspire you to create the Kosher kitchen of your dreams. Visit MSI's countertop visualizer and quartz gallery to get some more ideas.
Cascade White
With soft, soothing tones of gray and taupe on a pale cream-white background, Cascade White Quartz countertops contribute to an overall crisp and clean feel. Quartz slabs can be cut to fit any openings you require, such as this unusual-shaped stainless steel sink, or even more than one sink so you can keep washing and food preparation separate.
Fossil Taupe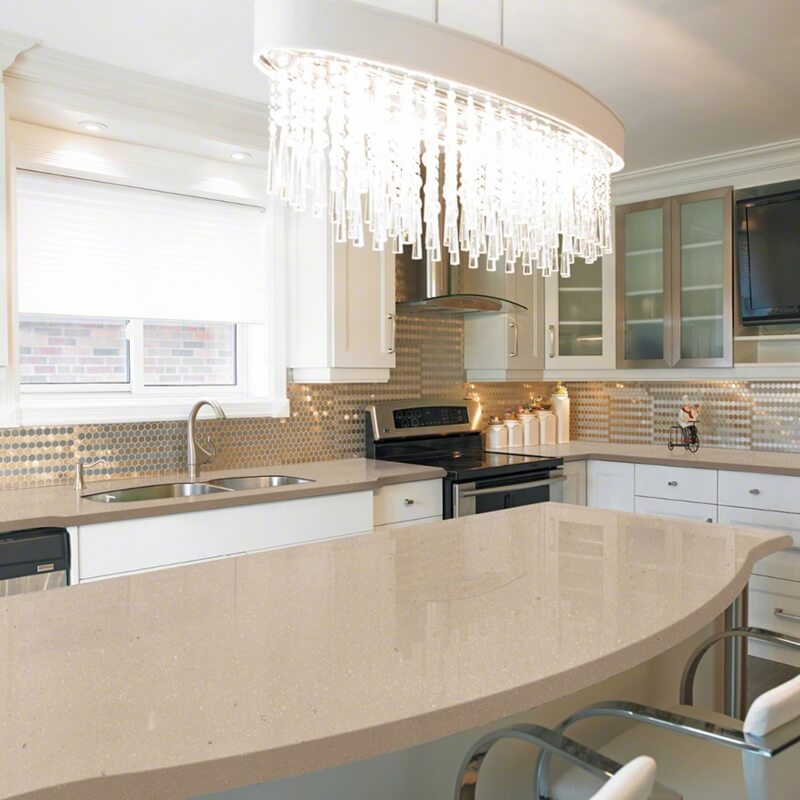 Featured: Fossil Taupe Quartz
With a mid-tone, neutral taupe shade, Fossil Taupe Quartz is easy to match with other elements in your kitchen design. Since you can be certain of your countertop's low-maintenance cleanliness, you'll enjoy getting creative with decorative items such as a mosaic tile backsplash. A wide kitchen island like the one pictured here will give you plenty of room to follow every Kosher guideline.
Fairy White
A bright white quartz kitchen countertop says "purity" like no other – it's a cinch to see just how clean your kitchen can be, full of light and cheer. Pair Fairy White Quartz countertops with a contemporary, streamlined cabinetry set with crisp angles, and create a space where you will truly enjoy both preparing Kosher food and sharing it with your friends and family.
Solare
A minimalistic kitchen design doesn't have to be plain. Solare Quartz is a soft beige quartz, with tonal specks and swirls that add movement and dimension. As shown in this scene, installing side-by-side, separate stainless-steel sinks are important to Kosher food preparation. A streamlined cooktop with a seamless counter and backsplash makes cleanup a breeze.
Lagos Azul
Your kosher kitchen isn't just about cleanliness – it is also a source of warmth and love. Consider building a center island where family and guests can pull up a chair and spend time together while experiencing food preparation and other spiritual traditions.
Lagos Azul Quartz is a medium-brown quartz with subtle specks, and adds lots of character even to the most streamlined, contemporary designs.
At MSI we believe everyone deserves to have the kitchen of their dreams – combining practicality with stunning beauty. When you need a certified Kosher countertop for your Kosher kitchen design, be assured that the label means more than just a sales device; it's truly certified by Seal-K. The rest of your Kosher tradition is up to you!
You May Also be Interested in these Quartz Countertop Topics:
Quartz Countertops: the Kid Friendly Surface That Looks Gorgeous!
Comparing Granite and Quartz Countertops
Quartz Countertops Are the Professional Home Chef Must Have
Celebrate the Luxurious Side of Quartz Countertops