The Dazzling Durability Of Quartzite Surfaces
February 04, 2017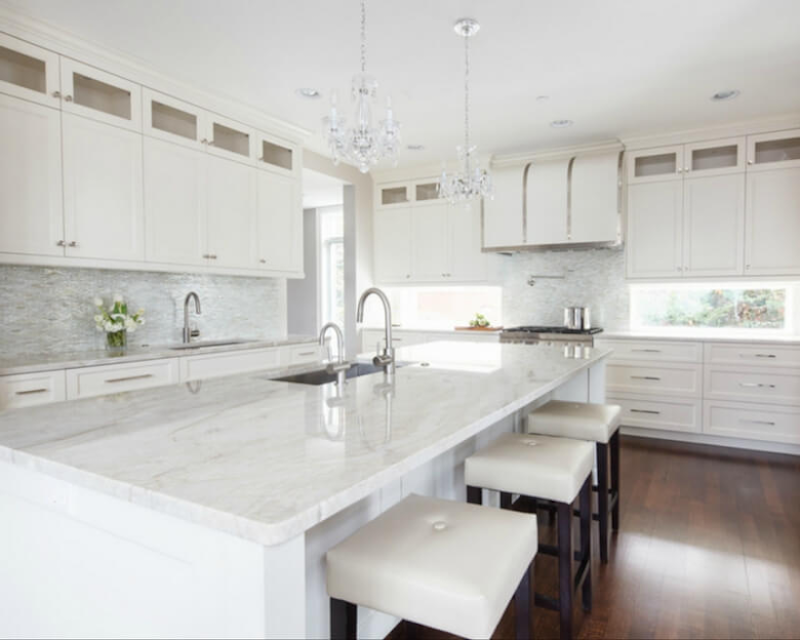 What's stunning, durable, available in a multitude of colors, textures, patterns, and finishes… and is uniquely suited to just about every room in the home (and even outdoors)? Quartzite!
Along with marble, slate, and granite, quartzite is a natural stone that is quarried and shaped to fit the application. It is available in slabs, random flagstones, tiles, and mosaics. We bet you didn't know how versatile this natural-stone product can be!
Flagstone Outdoor Patio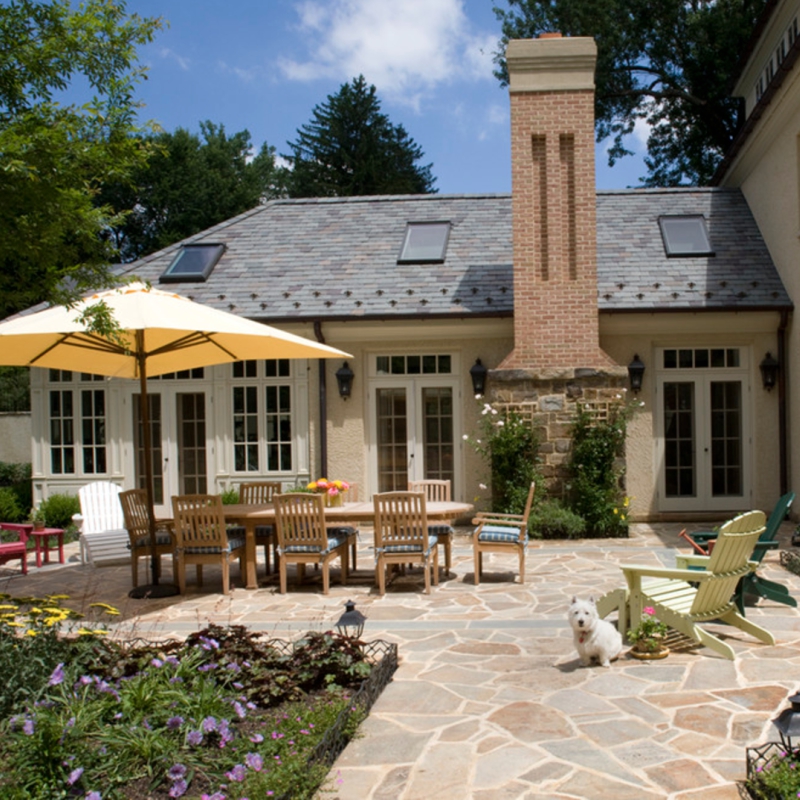 Featured: VKD Flagstone Quartzite (Photo Credit: Houzz)
Pavers for an outdoor patio need to stand up to a tough challenge: They must be easy to care for, withstand heavy foot traffic, offer a non-slip finish when wet, and stay beautiful for many years.
Quartzite is all that and more – if you live in a colder climate, you'll also need a paver that will resist cracking despite freezing and thawing. Quartzite is much better with freezing temperatures than granite, slate, or other stones. VKD Flagstone Quartzite, as shown, is a quartzite paver shaped into random flagstones, featuring shades of gold, rust, and gray.
Stacked Stone Fireplace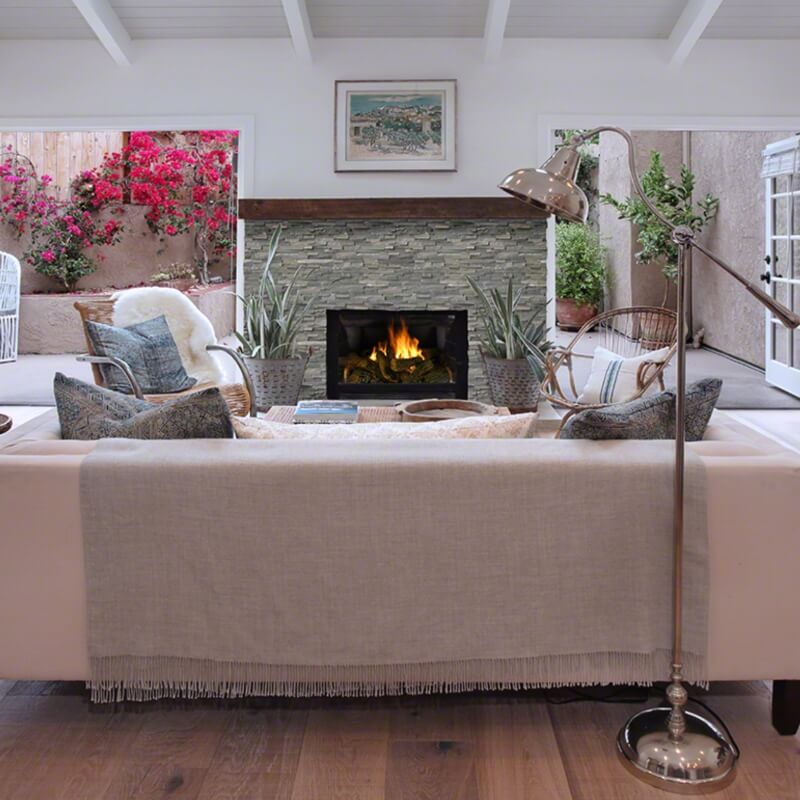 Featured: Sierra Blue Stacked Stone Quartzite
Sierra Blue Stacked Stone Quartzite creates a gorgeous stacked stone ledger panel, ideal for surrounding your fireplace – both indoors and outside. With a rustic split-face texture and 3-D arrangement, you'll love the way it captures the changing light and shadow.
Quartzite is a great material for fireplaces because of its timeless beauty, easy maintenance, and resistance to heat damage. Corner pieces are available to create a finished look, if your fireplace surround should project from the wall.
Shower Surround and Flooring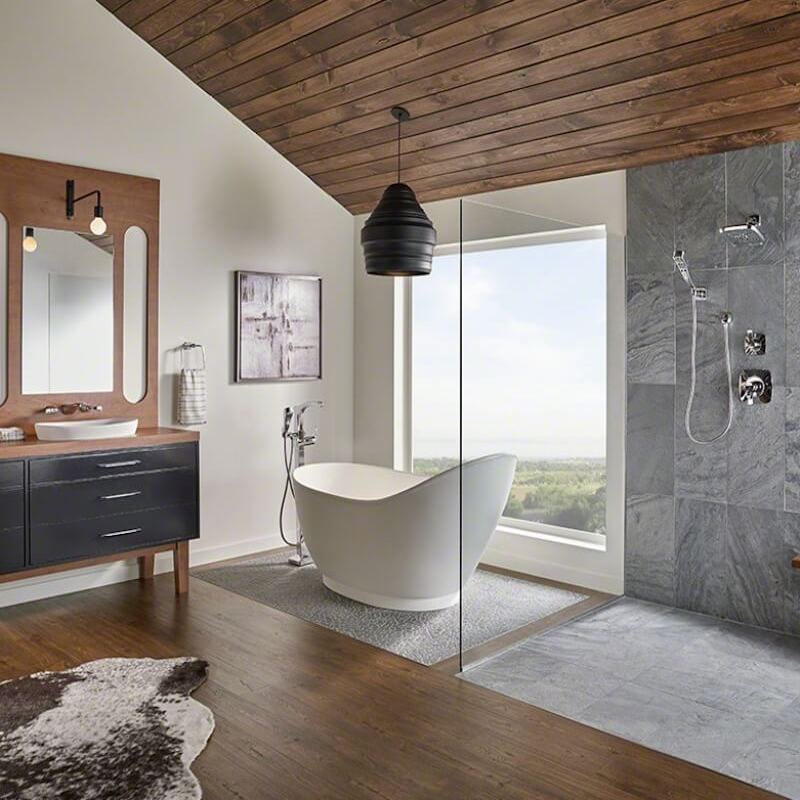 Featured: Ostrich Gray Quartzite
Wet areas such as your shower surround and bathroom flooring have requirements of their own. You'll need a surface that is water-resistant, non-slip, and a breeze to keep clean of dirt, mildew, and lime scale. Quartzite tile delivers all of this and more.
Ostrich Grey Quartzite is available in polished finish (great for walls) or honed finish (ideal for a wet quartzite floor). Regular sealing makes it nonporous and helps it to resist damage from soaps and cosmetics.
Kitchen Countertop Island for Food Prep and Gathering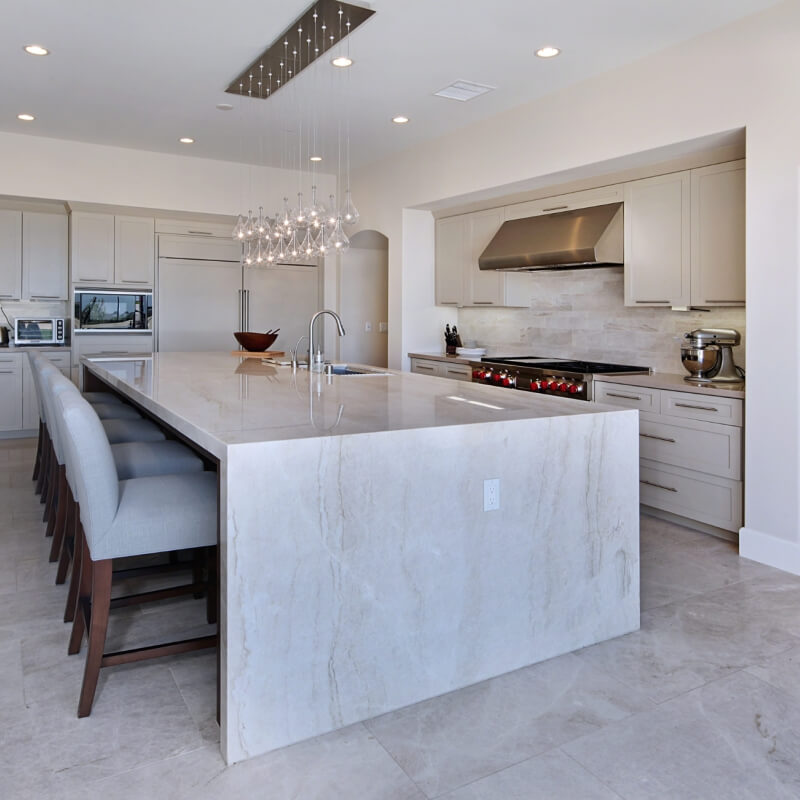 Featured: Taj Mahal Quartzite
Whether you're a take-out kind of person or you enjoy frequent home-cooked feasts, your kitchen countertops and other food prep areas need to be durable and easy-care, as well as beautiful. Quartzite is a tougher material than granite or marble, which means that if you accidentally sit a hot pan on the counter, spill marinara sauce, or someone neglects to use a cutting board, you'll still have a nice countertop (care should be taken to avoid these, however).
With a shiny, polished finish, Taj Mahal Quartzite features veins of beige and gold on a white background, resembling marble. With such a lovely countertop, your kitchen island will be a favorite gathering spot as well.
Bathroom Vanity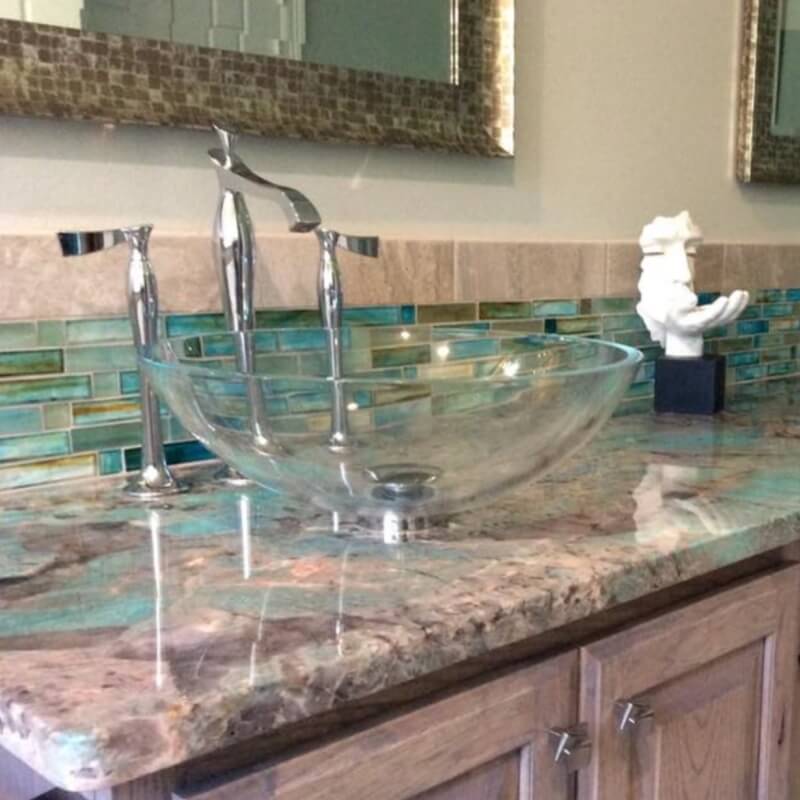 Featured: Amazonite Quartzite (Photo Credit: Houzz)
Your bathrooms are a great place to show some personality and creativity, and with the many patterns and colors of MSI's quartzite, you can be as bold or subtle as you like.
A bathroom counter also must be water-resistant, easy-care, and stand up to exposure to cosmetics and the occasional hot curling iron. Properly sealed, quartzite fits these needs perfectly. Amazonite Quartzite, shown here, offers dramatic turquoise combined with white and taupe, which is sure to make a splash.
Can Quartzite Be Used Outside?
With quartzite, you won't need to worry about its color fading in the sunlight, this makes it a great choice for an outdoor kitchen countertop. However, unlike granite, it can't withstand high temperatures. While you don't need to worry about a hot summer day damaging your quartzite surfaces, you'll need pot holders or trivets when you're dealing with a hot pan. It's recommended to seal quartzite about once a year, but the durability of this hard stone will make it last for years to come.
No matter what room you are designing or renovating, MSI's quartzite selection can help make it special – offering beauty, durability, and versatility. Your choice will depend on the room's individual needs – exposure to the weather and wet surfaces, for example.
With such a great variety in pattern and color – ranging from subtle white to dramatic blue or green, or jet black, with veins resembling marble or flecks reminiscent of granite, we know you'll find a quartzite to love.
LEARN MORE ABOUT QUARTZITE COUNTERTOPS
Quartz Vs. Quartzite - The Real Difference
Does Quartzite Need To Be Sealed?