The Latest Marble & Granite Countertop Trends – Waterfalls, Brushed Finishes, And More
August 26, 2013
The stone industry is never one to rely on the timeless beauty of
natural stones
alone.
MS International
is no exception, embracing the latest trends in granite and marble to continue reinventing the exceptional looks they can achieve.
Waterfall Counters
Also known as risers, waterfall counters extend the countertop from the horizontal surface all the way to the floor. This look can be achieved with granite or marble but is most commonly found with quartz. Long, sweeping expanses and waterfalls maximize the use of stone to allow for full appreciation of its complexity or simple elegance from multiple vantage points. Waterfalls call for stone use on the vertical surface, which means the stone can catch and reflect light in new ways.
Waterfall
countertops
are a modern addition to the kitchen or bathroom, however, they are also adaptable to theme. Waterfall counters bridge the gap between traditional and outdated, blending into the old-style kitchen with a timeless look of stone but with an updated feel that celebrates the theme without feeling out of touch. Likewise, a highly polished quartz like
Sparkling Black
in a waterfall over white or cherry cabinets instantly creates a modern appeal.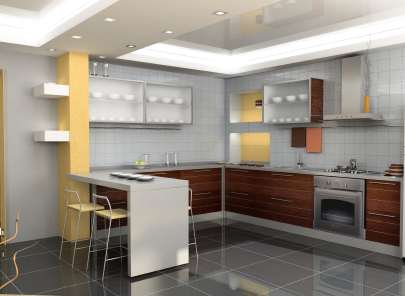 Aside from the visual benefits, waterfall counters have the added benefit of increased protection for cabinetry. A waterfall on a kitchen island protects the sides of cabinets in a high traffic area. In the bathroom, a waterfall countertop acts as an additional "backsplash", encasing cabinets and protecting them from drips and moisture along the sides.
Extra Thick Countertops
Another current trend for countertops is the use of thicker slabs. The look of a heavy
marble
or
granite countertop
appears rich and luxurious, an indulgence for any room in the home. This is usually achieved with a standard thickness of either a 2cm or 3cm countertop with a mitered frame around the sides, making the slab look thicker overall.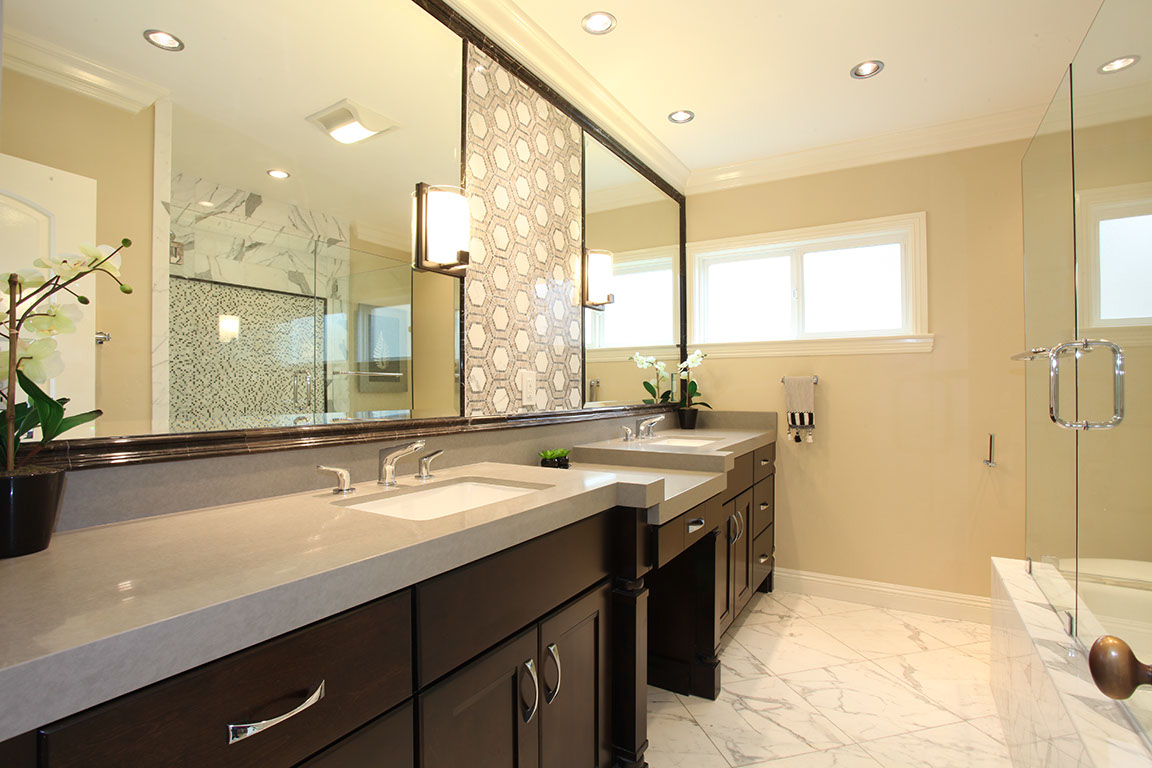 When it comes to extra thick countertops, the space itself will dictate the best fit. Larger rooms can support a thick slab look throughout, whereas a smaller room may only need installation in certain areas such as an island or a breakfast bar, as centerpieces, instead of in the entire kitchen. As an added benefit, spaces with lower cabinetry can be elevated with countertops that appear thick.
Brushed Countertops
Brushed countertops have both practical and visual appeal. They are extremely easy to maintain, as their look is raw and natural. Imperfections are disguised by the finish and are, in fact, a part of it. Homeowners can choose the level of maintenance they desire, to allow the natural stone to age and grow in character or to maintain the stone with sealing to protect the stone and keep it looking the same as the day it was installed.
Visually, these finishes embrace a unique patina, making them the perfect choice for informal spaces or "shabby" themes, appearing antiqued or leathery. Paired with distressed wood cabinets, these selections create a traditional look reminiscent of any European kitchen of old.
A brushed natural stone look, in general, serves as a more organic look. From "green" kitchens to gorgeous outdoor hardscapes, brushed stone is a versatile choice for blending any space with nature.
MS International is the leading importer of natural stone in North America. As a leader in the industry, it is important to embrace the many ways natural stone may be applied – waterfall countertops, extra thick slabs, and brushed finishes are a few of the innovations for creating distinctive granite and marble looks by design.