7 Modern Quartz Countertops For The Perfect Contemporary Kitchen
May 07, 2021

Countless materials are available for kitchen countertops, but when designing a modern or contemporary kitchen, there's only one material that meets the demand: quartz. One of the main ways that quartz countertops can achieve this is their very nature-quartz is an engineered surface that eliminates some of the most common concerns that homeowners have with countertops.
Quartz countertops are modern in both performance and appearance and do so while looking 100% luxurious. That's not easily achieved! And with finishing touches like matte or concrete and squared edges, homeowners are flocking to custom design their modern kitchen with quartz. Watch the video below and then read on to learn some of the best quartz countertop designs for your kitchen.
Soapstone Mist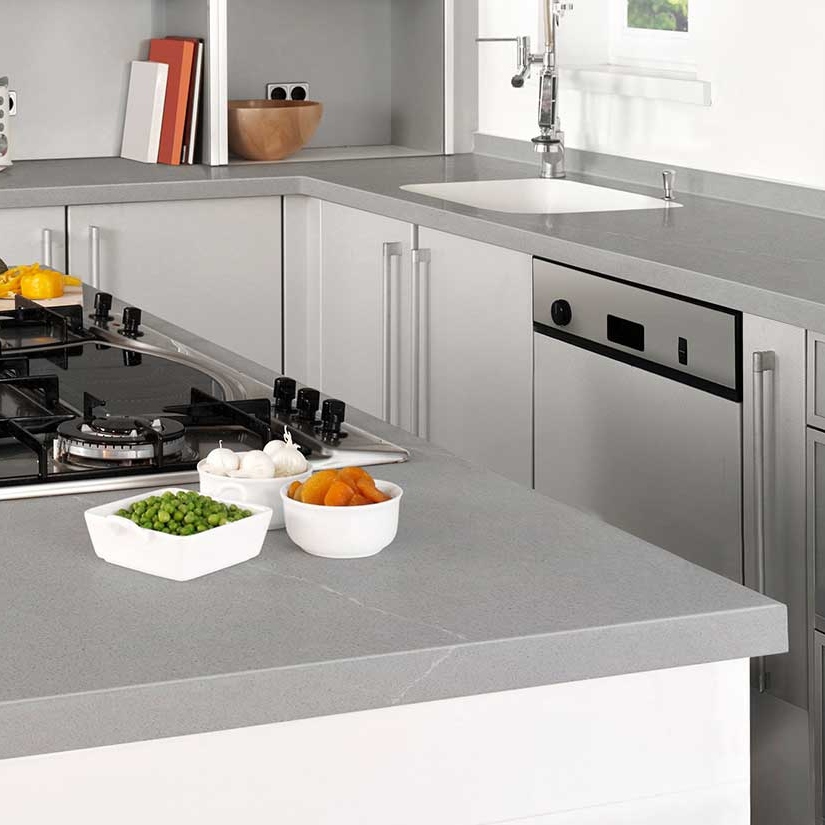 Soapstone Mist is a concrete looking quartz style with an elegant aesthetic. Its cool white-gray surface is speckled with gray dots. Thin and bold white veining is also prominent across each slab to ensure that every countertop is unique.
This engineered quartz surface is perfect for modern and contemporary design schemes. It shines under bright lighting and makes for a sophisticated kitchen accent. You can't go wrong when you select simple quartz that looks like natural concrete- it's timeless, sophisticated, and versatile.
Sparkling White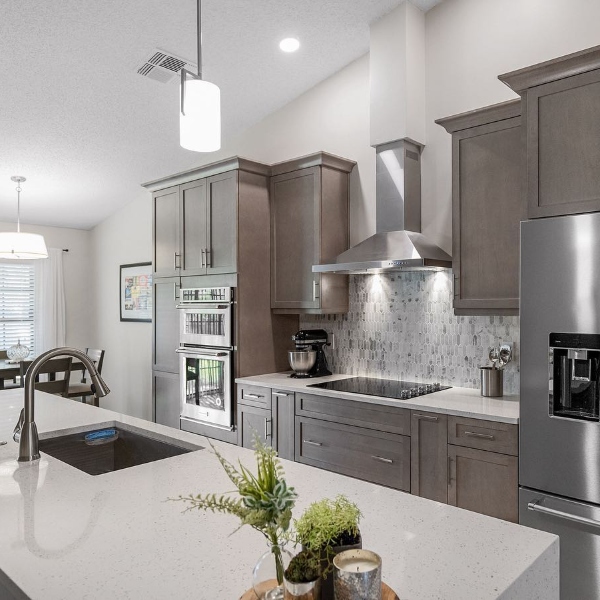 If you're looking for a cool white slab with a polished finish, Sparkling White is likely the right choice for your kitchen. This beautiful slab looks like vanilla bean ice cream with its pure background and microscopic black specks.
This is even more amazing when you remember that quartz countertops are made to remain cool to the touch. You can roll ice cream on its surface when you aren't busy chopping vegetables or mixing ingredients.
Because Sparkling White countertops are so simple, they work well with any interior design scheme. They give your room a sophisticated touch without detracting from other aspects of your decor. Even when your countertops aren't the focal point of your space, it's important that they tie everything together with an elegant bow.
Calacatta Vicenza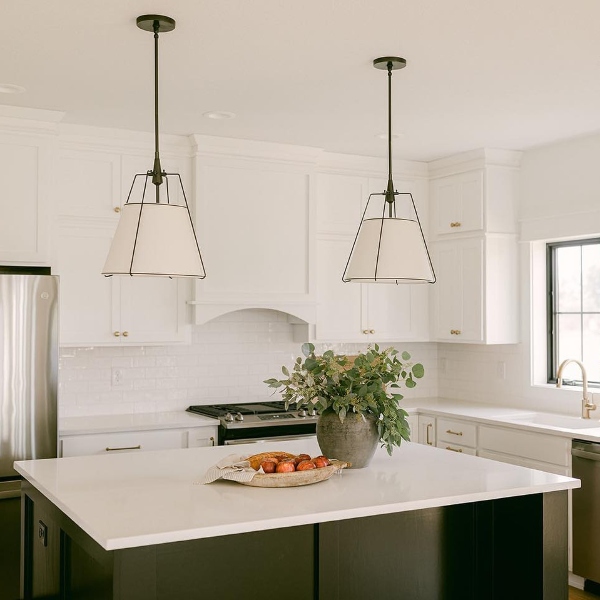 However, you may want to go with Calacatta Vicenza if you want your countertops to be the focal point of your space. Quartz that looks like marble is great for those who want their countertops to be a defining feature of their space. Vicenza's gorgeous cream backdrop provides your room with a classy look that's unmatched.
This is especially true because of the fine veining on each slab. Tiny dark gray veins move across the slab at random intervals, giving the surface the same appearance as marble columns in Greek architecture.
It's therefore the perfect choice for traditional and antique design schemes but can also adapt well in a modern kitchen design. You can use it with heavy oak cabinets and deeply-colored floor tile. Combine it with a backsplash made from another style in our Calacatta collection, and you'll always feel as though your home is an opulent haven.
Calacatta Leon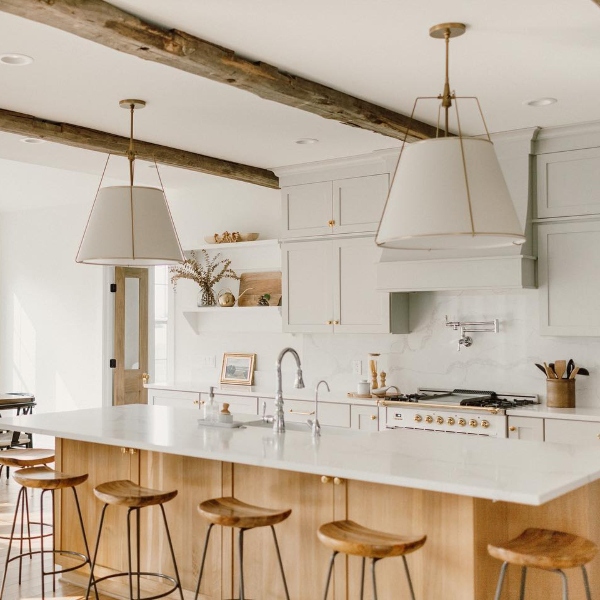 One of our favorite premium surfaces is Calacatta Leon. This is a much more eye-catching marble-look quartz than Calacatta Vicenza is because of its large, traditional marble veins. The warm white background of each slab is a backdrop for large light-gray patterns that all homeowners are sure to love.
The veining varies across each countertop. This means that hair-thin dark gray hues sit beside large organically-shaped light gray splotches. The variety within each Calacatta Leon countertop makes it the perfect choice for anyone who wants to give their home a sophisticated touch.
Like all of our countertop styles, you can get Calacatta Leon slabs installed within your kitchen as an accent wall, backsplash, or waterfall island. For the best results, consider pairing your Leon countertops with somewhat more subtle Calacatta backsplashes such as Vicenza, Laza, or Valentin.
Calacatta Laza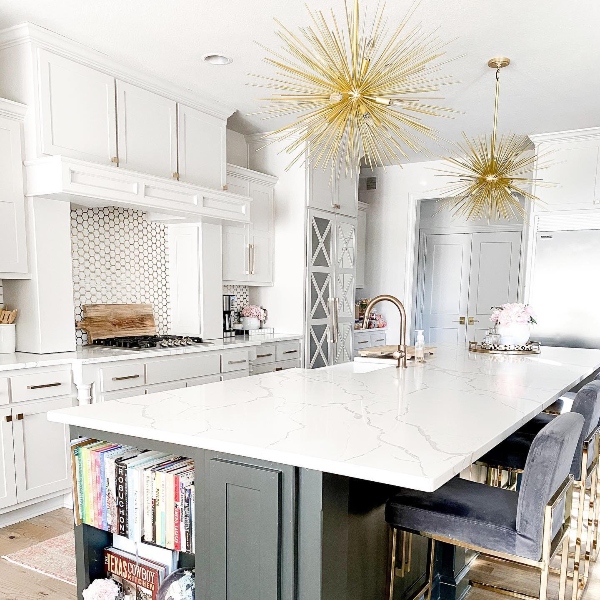 Speaking of other Calacatta designs, Calacatta Laza is an excellent choice for any modern kitchen. While it still has the elegance of both Vicenza and Leon, Calacatta Laza is both consistent and elaborate with its veining.
This slab has what is possibly the warmest base white in our Calacatta collection. It's broken up with thin veins in a subtle light gray. While these veins may look like tiny purposeful cracks in marble, the countertop itself won't dent or crack from daily use- like all quartz countertops, it's extremely durable and long-lasting.
Calacatta Valentin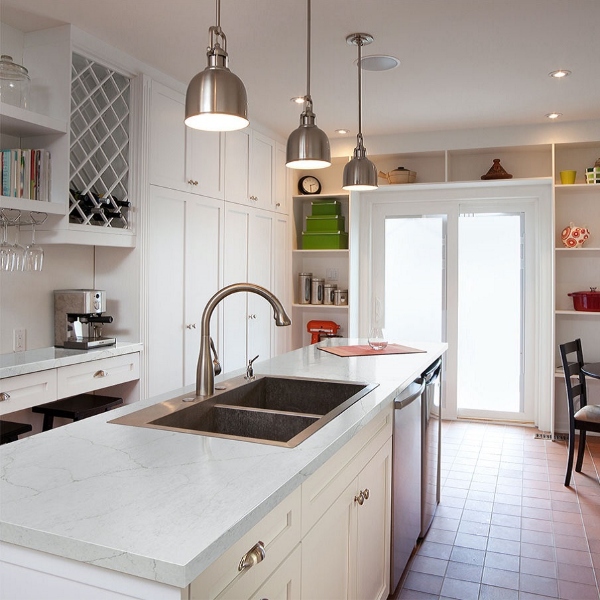 Want a marble-look countertop with a base hue that's darker than white? With its light brown and gray backdrop, Calacatta Valentin achieves this look. It then accentuates the aesthetic with extremely thin black veining that brings the slab to life.
If you think that any of the Calacatta styles- or any other countertop colors- might be right for you, you can confirm your suspicion with MSI's Virtual Kitchen Visualizer. This tool allows you to see the slab that you're considering in action by placing them in an actual kitchen space. You will then get a clearer picture of what your preferred style will look like in practice rather than simply in theory.
Midnight Corvo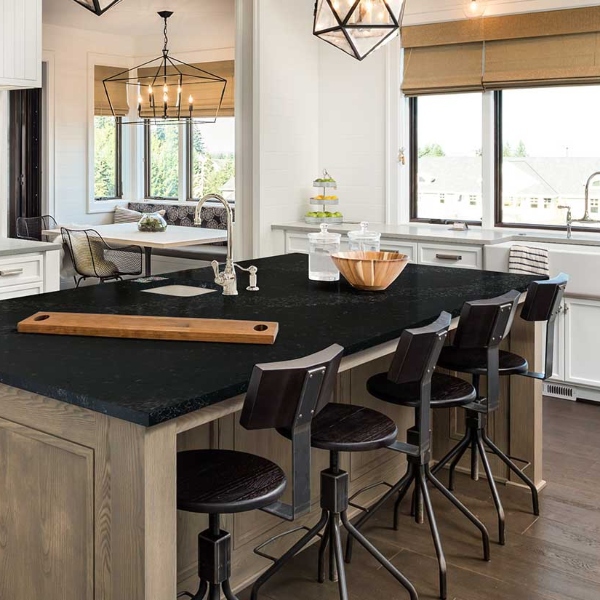 If you aren't a big fan of white quartz or simply want something that will really make your kitchen stand out, Midnight Corvo might be right for you. This slab boasts a pure ink-black hue, but it looks more like the night sky because of its accents. White veins, splotches, and dots are littered across these kitchen countertops to make them look like a starry night.
Midnight Corvo countertops are beautiful when paired with both bright fluorescent lighting or dimmer mood lighting. You can see them under the specific lighting scheme that your kitchen uses by requesting a small sample of this slab (or any other MSI countertop).
Install Modern Quartz Countertops Today
Now that you know some of the best modern quartz countertops that you can use to spruce up your space, it's time to get started.
Contact MSI with any remaining questions that you have about any of these designs or others on our website. Once you use our countertop visualizer and have a clearer picture of the design scheme that you want in your kitchen, you can discuss your vision with us. We're committed to helping you create the kitchen of your dreams, so we look forward to your reaching out.
Read More on Quartz Countertops
How to Choose the Right Backsplash Tile for Your Quartz Countertop
Can Heat Damage My Quartz Countertop?
The Most Popular Quartz Countertop Trends for White Kitchens
When to Choose Prefab Quartz Countertops
Where are MSI Quartz Countertops Manufactured?
10 Beautiful Quartz Countertops From MSI
What Is MSI's Q Premium Natural Quartz?