What Is MSI'S Q Premium Natural Quartz?
October 09, 2021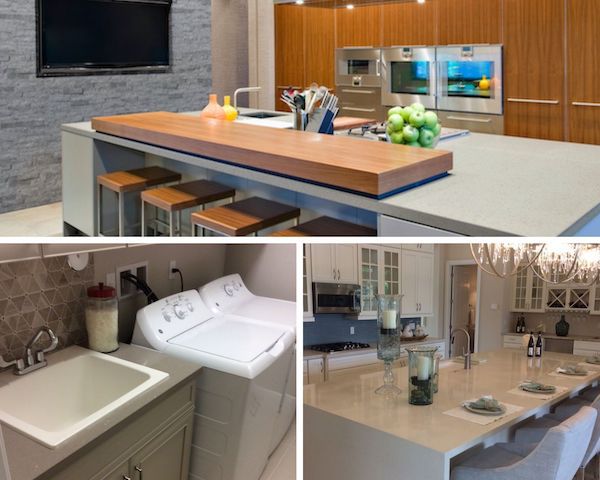 Style-conscious homeowners who thought there was nothing to compare with natural granite, marble, or other natural stone are discovering Q Premium Natural Quartz. It's an engineered surface material with many benefits over the countertop stones it replicates, and it's growing in popularity. With its incredible durability and versatility, it's easy to see why.
You might wonder if it's an engineered surface, why is it called "natural quartz?" That's because it's manufactured with real quartz, which is one of the strongest minerals on Earth. Quartz crystals are mined from the ground, then combined with other minerals and pigments to create the colors and patterns so popular with today's interior designers. It's all bonded together with a strong resin, then formed into slabs and cured.
The next step on the modern quartz countertop's journey is the fabricator, who finishes the slab to a homeowner's specifications, including edge treatments, cutouts, and a matte or polished finish. The result is an authentic look that is durable, easy-care, and hard to distinguish from the natural stone it imitates.
Here's a look at why you might want to consider MSI's Q Premium Natural Quartz for your own home improvement project.
Easy Care
One of the most important reasons for installing quartz is the easy quartz countertop care and maintenance. Granite, marble, and other natural stones are beautiful, but they have a few drawbacks when it comes to bathroom or kitchen countertops.
For one thing, they are vulnerable to stains and, especially for marble, etching from exposure to harsh chemicals and acidic liquids. This is because natural stones are porous, and absorb liquid. To prevent this, they must be coated with a sealer on a regular basis, typically once a year. Quartz, on the other hand, never needs sealing to remain 100% waterproof and resistant to stains. To clean your quartz countertop, all that's needed is a soft cloth and mild cleanser such as dish soap.
Here's a short video with more information on caring for Q Premium Natural Quartz:
Variety and Versatility
Because quartz countertops are engineered surfaces, they can be manufactured to resemble any other type of surface. Solid colors are available, which are popular with homeowners who desire a modern, contemporary kitchen design. However, most quartz countertops are manufactured to replicate natural marble, granite, quartzite, limestone, and even concrete looks. Take a look at some real-world Q applications.
If you love the look of marble, you can choose quartz that looks like marble with a white background and gray veining, ranging from subtle swirls to bold lines, resembling the finest Italian marble — but with none of the worry and labor-intensive upkeep. Granite-look quartz countertops include the crystals that give granite its distinctive look, again ranging from subtle, such as the speckled creamy-white tones of Bianco Pepper, to bolder patterns to create your kitchen's dramatic focal point.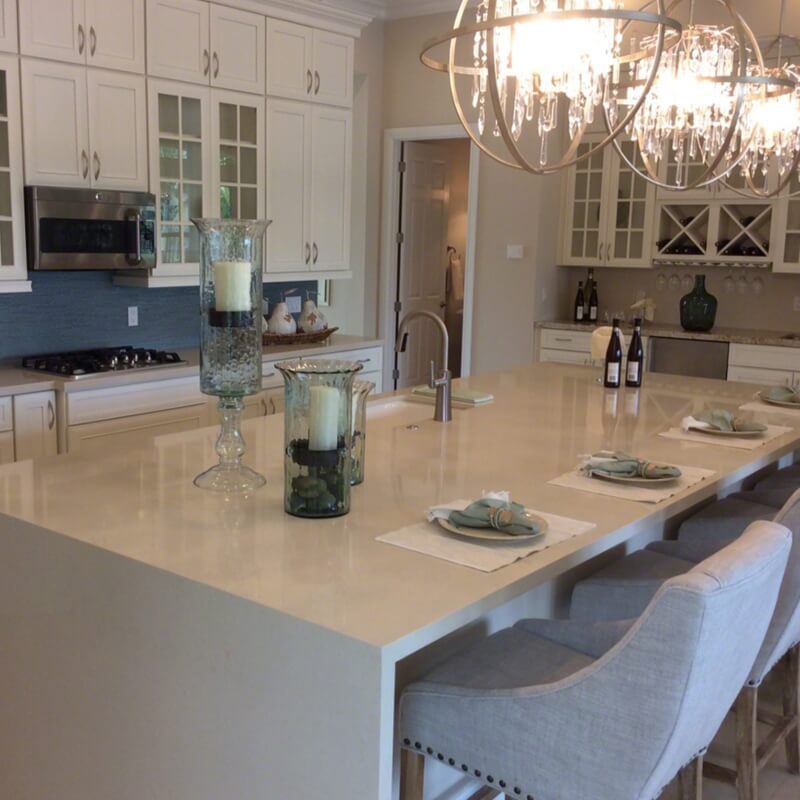 There's a quartz look for every home, every decorating style. Quartz colors such as Hazelwood Taupe, with their subtle variations, are easy to coordinate with white cabinets, natural wood cabinets, and any other color scheme you choose. The mid-tone gray shades of Stellar Gray quartz countertops match well with traditional decor as well as modern design. Check out MSI's Multi-Surface Visualizer to see how it will look in your own home, along with other decorating elements such as countertops and flooring.
Cost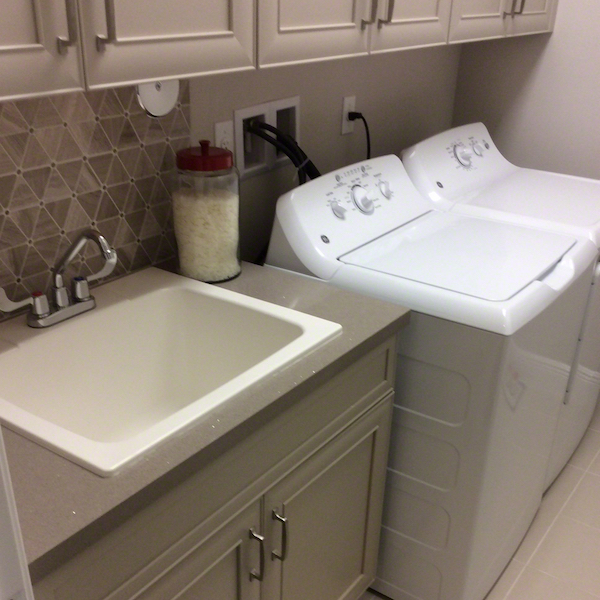 Although Q Premium Quartz is an upscale, long-lasting countertop material, it's typically available at a lower price point than the natural stones that it reproduces. Natural stone countertops' cost varies widely depending upon their quality and the distance they traveled from their quarry location, but quartz countertops are always a good value.
Return on Investment
In the past, it was well-known that marble and granite countertops added to a home's resale value, attracting potential buyers because of their durability and elegance. Most potential home buyers today understand that quartz countertops are premium surfaces, particularly those with neutral shades and subtle patterning — and due to the ease of maintenance, in many cases consider quartz a better feature than the natural stones they imitate. Therefore, quartz countertops are one of the best investments you can make in terms of increasing your home's value.
Environmentally Friendly
With so much attention being paid to eco-friendly living, it makes sense to think about how sustainable your building materials are as well when you compare quartz vs. granite and other natural stone slabs. Marble and granite are usually mined in other countries, such as Brazil, Italy, and China. The process of quarrying these materials, as well as transporting them around the world, uses a lot of fossil fuels. By comparison, many quartz countertops — including MSI's — are manufactured in the U.S. Also, quartz is readily available nearly everywhere, so it's easily sourced. Quartz countertops are manufactured using waste materials from other mining processes, rather than being mined specifically for the countertops' manufacture.
Quartz countertops are also good for your own environment because they have low emissions of volatile organic compounds (VOCs) which affect the indoor air quality in homes. MSI's quartz countertops are GreenGuard and LEED certified for their low levels of harmful emissions.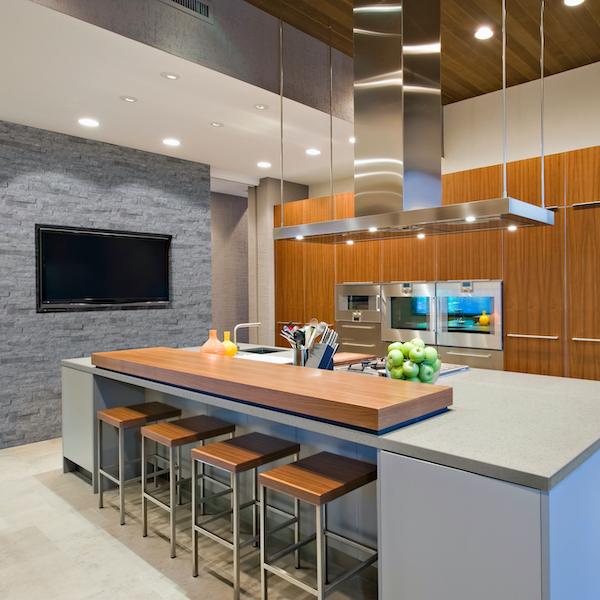 Finally, although engineered quartz countertops are extremely durable, with timeless design, eventually they may need to be replaced. It's good to know that, when that time comes, quartz countertops are recyclable. They can be ground up and used to create new countertops or other building materials.
With a better understanding of what MSI's Q Premium Natural Quartz is, you can feel more confident in your choice. It is manufactured from natural materials, has natural beauty that lasts a lifetime, and is one of the best values you'll find in home products.
Read More on Quartz Countertops
How to Choose the Right Backsplash Tile for Your Quartz Countertop
Can Heat Damage My Quartz Countertop?
The Most Popular Quartz Countertop Trends for White Kitchens
When to Choose Prefab Quartz Countertops
Where are MSI Quartz Countertops Manufactured?