Glass Backsplash Tile Inspirations For Your Kitchen
May 30, 2017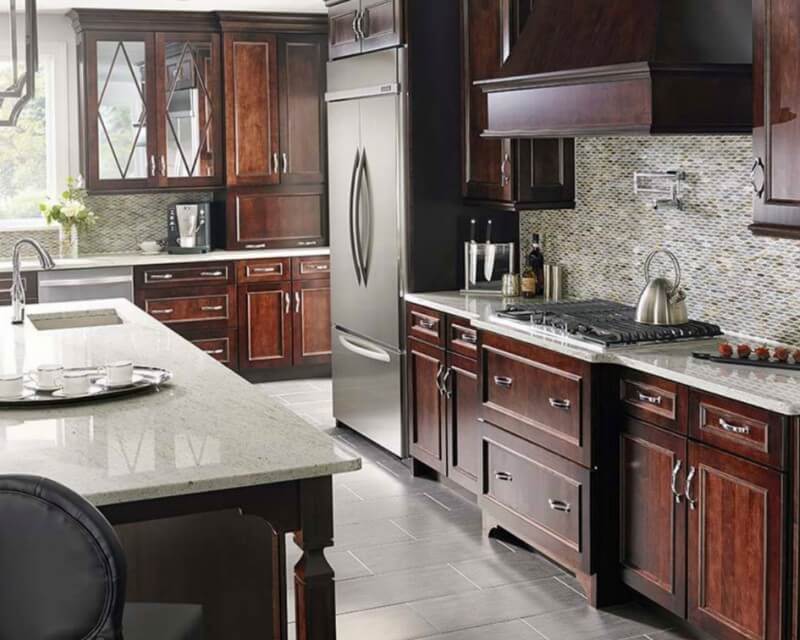 There are a number of ways to create an unforgettable kitchen design, and one of them is to add glass tile. This brilliant material is forged by fire to artistic perfection, and whether you select something neutral, muted, or brightly colored, each glass backsplash tile adds a sparkly touch and a unique upgrade to your kitchen.
Just make sure that the one you choose works well with the overall look and feel of your design. After checking out these stunning spaces that feature glorious glass tile, you won't need to dream about what your kitchen could look like, because you'll know!
Mochachino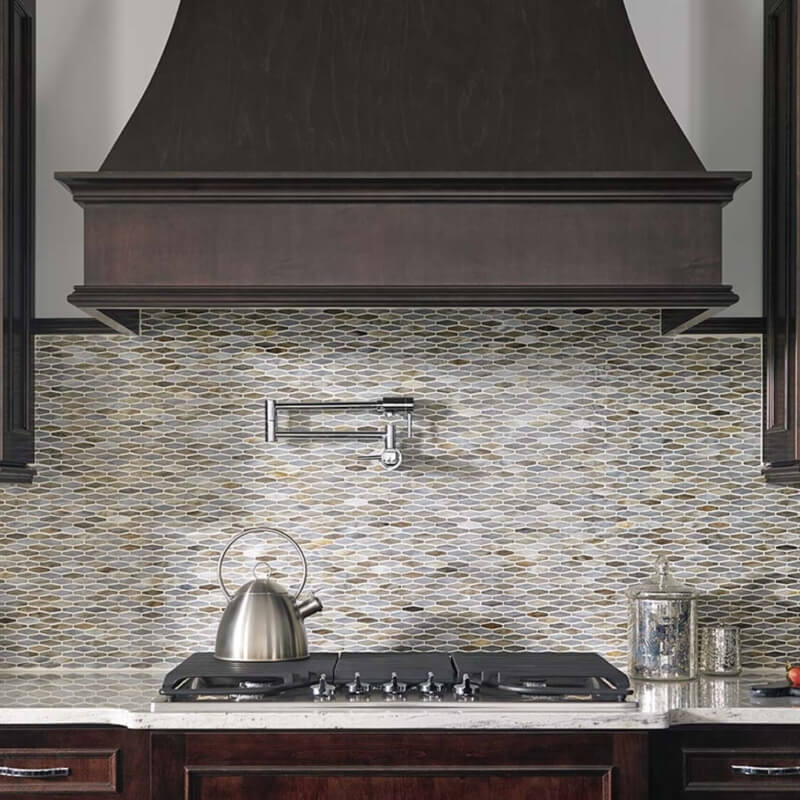 Featured: Mochachino Hexagon Mosaic
To add a little modern flair to a traditional kitchen, then consider Mochachino Hexagon Mosaic for additional character. This elongated hexagon-shaped tile is a stained glass mosaic composed of cool grays and warm golds. Because of the variation in coloring, this geometric tile also picks up on the browns and beiges in the cabinets and countertops.
Ice Glass Subway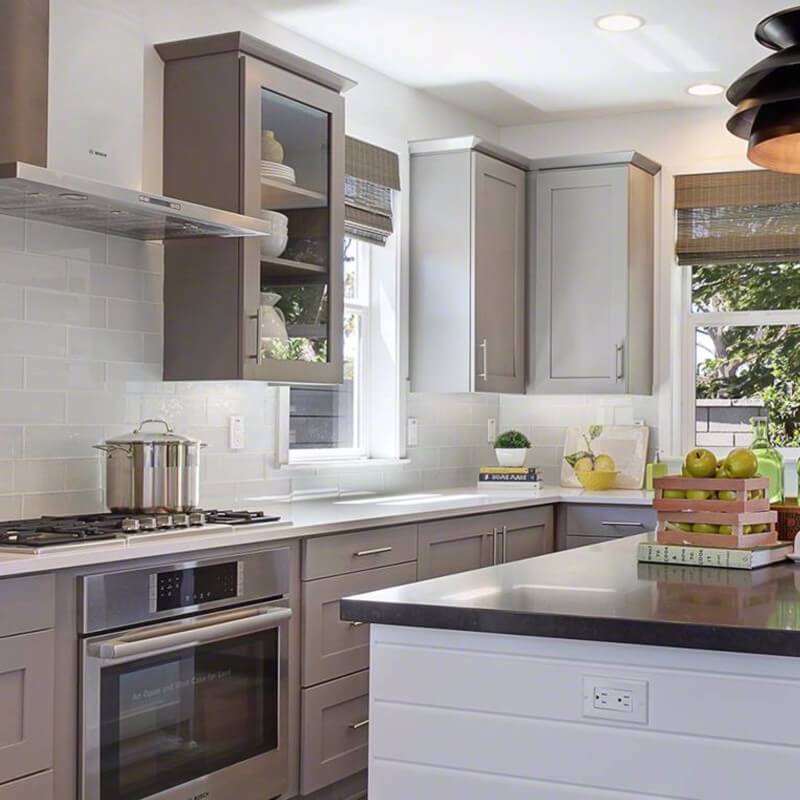 Featured: Ice Glass Subway Tile
To keep a kitchen looking light and airy, consider going with a white kitchen backsplash tile like Ice Glass Subway Tile. These crystallized glass tiles feature a soft white hue for an elegant look, while the larger size 4x12 tiles keep the look contemporary. These subway tiles help bounce the natural light around the room while blending in beautifully with the white quartz countertop.
Desert Mirage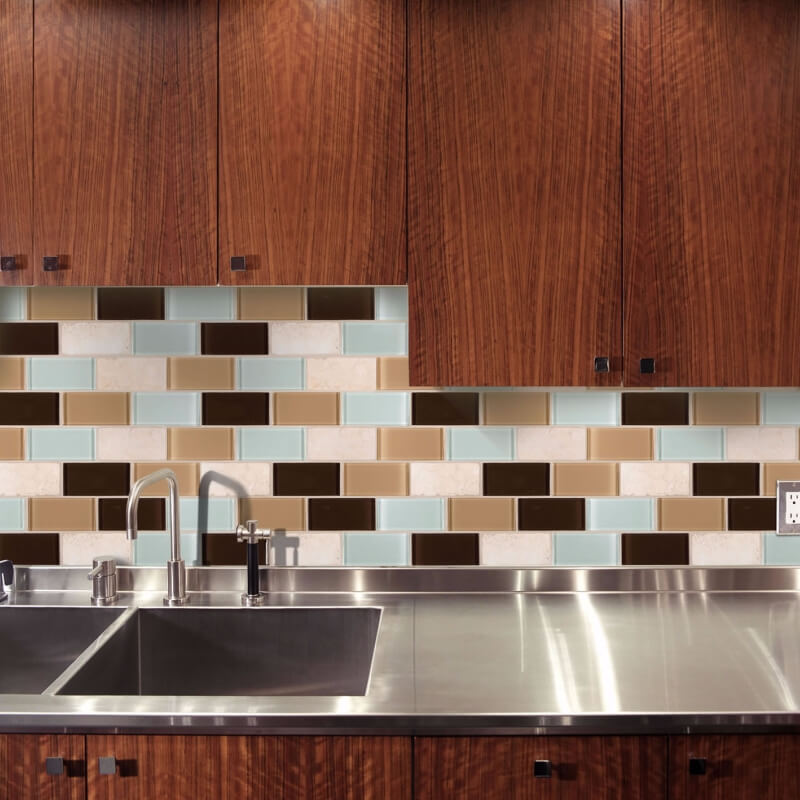 Featured: Desert Mirage Subway Tile
Not afraid to make a bold move? Desert Mirage Subway Tile might be the mosaic you need to quench your thirst for color! This glass-stone blend incorporates a cream-colored natural stone with glass tiles in beige, dark brown, and light blue. The varied placement and mixed materials add depth to the kitchen backsplash, and the vintage-inspired colors give this kitchen a punch of personality.
Monterra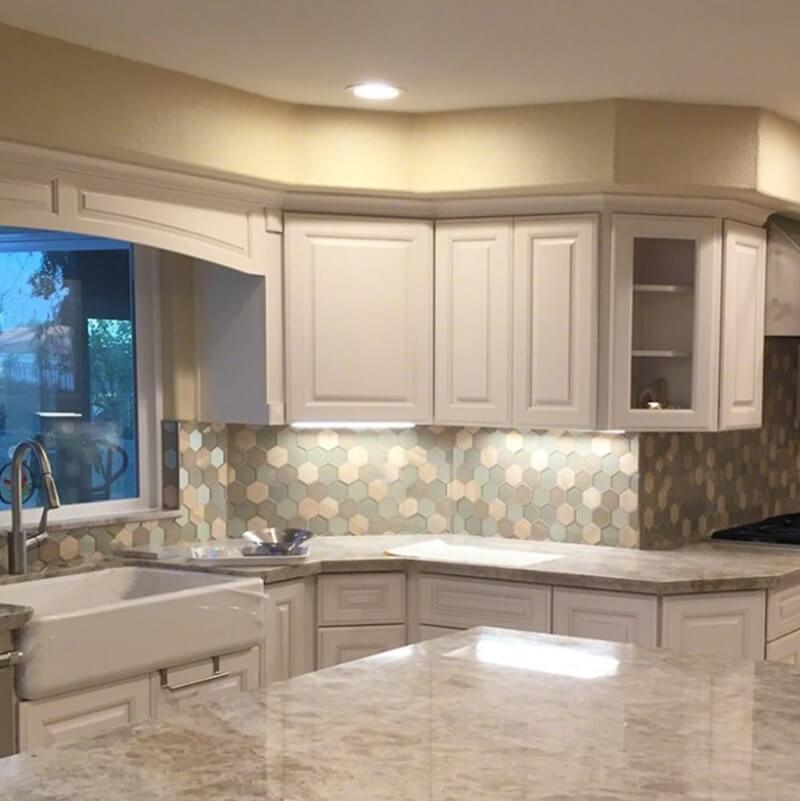 Featured: Monterra Blend Hexagon Mosaic
For a more muted look that complements a number of styles, try Monterra Blend Hexagon Mosaic. This mix of natural stone with glass tile in a hexagon shape features a pleasing combination of grays and greens with creams, beiges, and taupes. The random arrangement of colors emphasizes the pattern and gives movement and life to this rather neutral, traditional kitchen.
Metallic Gray Subway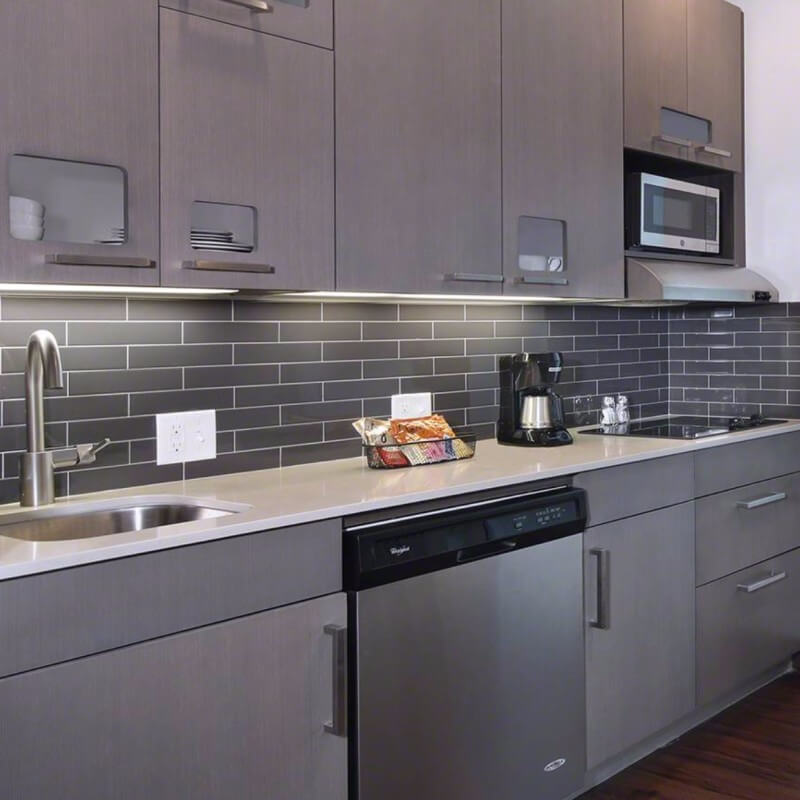 Featured: Metallic Gray Subway Tile
If your goal is to achieve a monochromatic look, your options for backsplash designs are just about endless. One way to add interest to your kitchen is to choose a glass mosaic tile and grout that are similar in tone to your cabinets and countertop.
Metallic Gray Subway Tile enhances the sleek design of this modern kitchen. The crystallized glass tiles in mid-tone gray stand out with the contrasting white grout lines, adding just enough pattern and detail to this minimalistic cooking space.
Are you feeling inspired to add a new backsplash to your kitchen? One of the best ways to find exactly what you want is to start your search online. You can find an array of glass backsplash ideas on design sites or visit MSI's kitchen gallery for even more design ideas.
READ MORE ABOUT THE DIFFERENT TYPES OF GLASS TILE
Bold and Beautiful Recycled Glass Backsplash Tiles
Does Glass Backsplash Tile Get Water Stains?
Essential Tips for Glass Backsplash Tile Installation And Care
READ MORE ABOUT THE DIFFERENT TYPES OF GLASS TILE
Recycled Glass Backsplash Installs for A Luxe Look
Recycled Glass Tile Backsplash Ideas for An Upscale Look