Seeing Double With Book Matched Quartz
March 23, 2020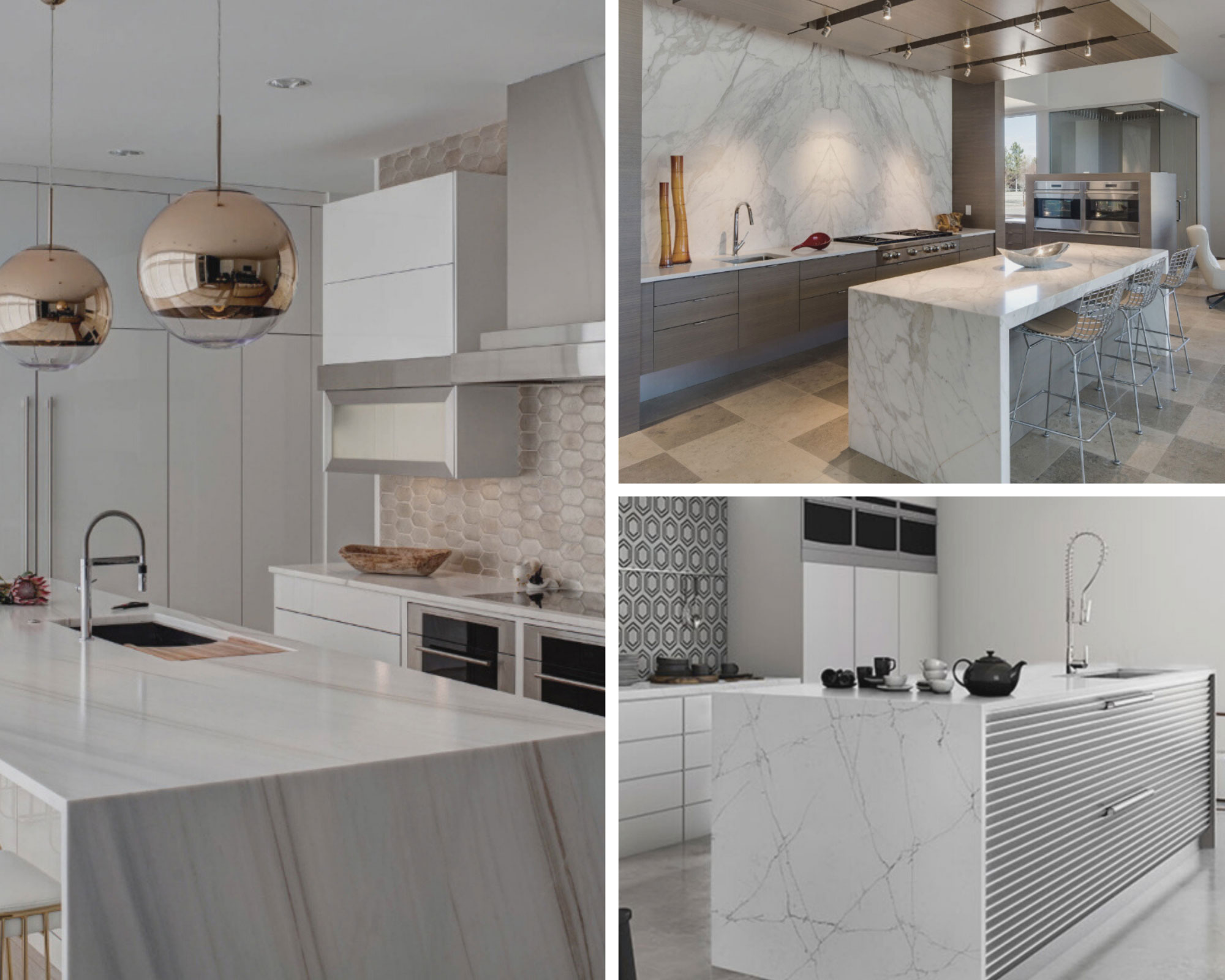 The natural patterning of stones such as marble, granite, and quartzite opens up creative opportunities in designing your home décor — including book matching. Traditionally, this involves taking two slabs of the same stone and lining up the edges so it creates a mirror image. But, what if we're not working with real stone? What if we are using engineered slabs of modern quartz?
Book matching is possible with engineered quartz countertops too! In fact, book matching is even easier with modern quartz than with natural stone. MSI's marble-look quartz replicates the veining of natural quartz, which means that it appears random, as it would in nature. However, engineered quartz does have regular patterning that repeats, an important consideration as you choose quartz vs. granite. All the homeowner needs to consider is the type and intensity of the veining they prefer, and book matching is a breeze.
Here's a tip: Book matching works best with quartz slabs that have noticeable, bold veining. It doesn't matter if it's black quartz or a marble lookalike — if you go to the trouble of lining up the edges to create a mirror image, you want it to stand out!
Feature walls, shower walls, and backsplashes are ideal places to use book matching, as the finished look can be spectacular. Countertops are also great places to showcase book matching. Some designers use book matched modern quartz as a transitional feature, lining up the edges from floor to ceiling.
Wherever you decide to use it, book matched quartz is sure to become the room's focal point. Here are a few of our most popular quartz countertop colors that are ideal for book matching.
Calacatta Classique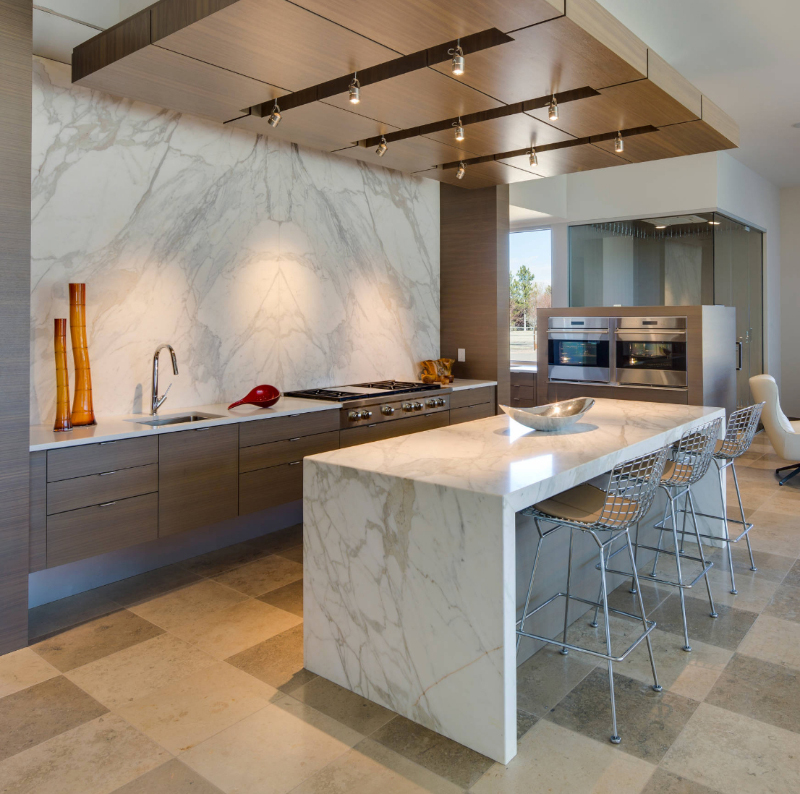 (Photo Credit: Houzz)
The neutral veining of Calacatta Classique modern quartz makes it a cinch to match with any décor, whether contemporary or traditional. It's bold enough, though, to create spectacular book matched backsplashes as shown here. The larger the space it covers, the more brilliant the effect will be.
Calacatta Montage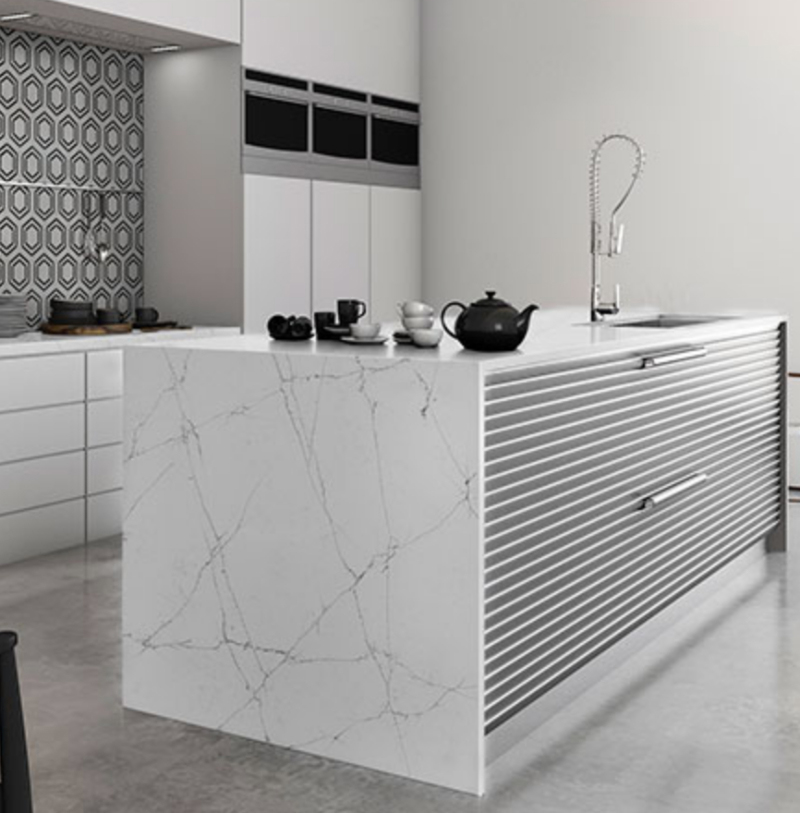 Book matching is less apparent with patterns such as Calacatta Montage, despite its bold veining. Matching the pattern in a mirror image around corners such as the counter shown here ensures consistency in the amount of movement so the look is "designer" and polished.
Calacatta Trento
Quartz slabs don't need to be lined up side-by-side for book matching. You can also book match modern quartz around corners, such as this Calacatta Trento waterfall countertop design. Lining up the edges to create a continuing pattern, with diagonal lines and streaks, creates a unified look.
Blanca Arabescato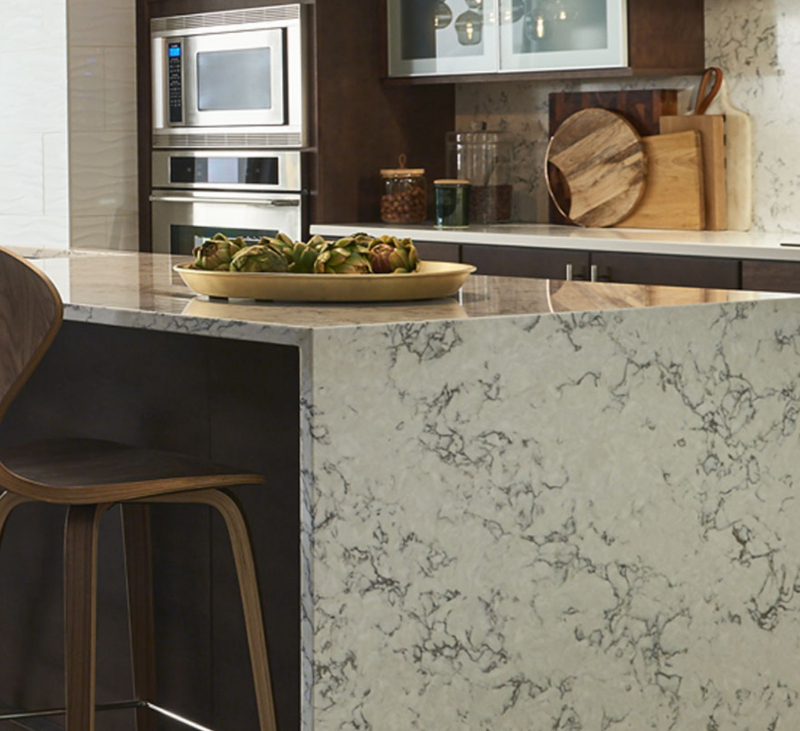 With its distinctive swirled veining, Blanca Arabescato creates book matched designs that are a bit subtler. Although it authentically mimics natural marble, there is a repeating linear quality to this modern quartz that can be matched either horizontally or, as shown here, diagonally, to great effect.
Book matching is an exceptional way to create a kitchen or bathroom with one-of-a-kind style! But don't take our word for it. Visit MSI's web galleries to see all of our quartz countertop colors, and gather some inspiration for your own work of art.