10 Standout Projects Featuring Rockmount Stacked Stone
May 24, 2022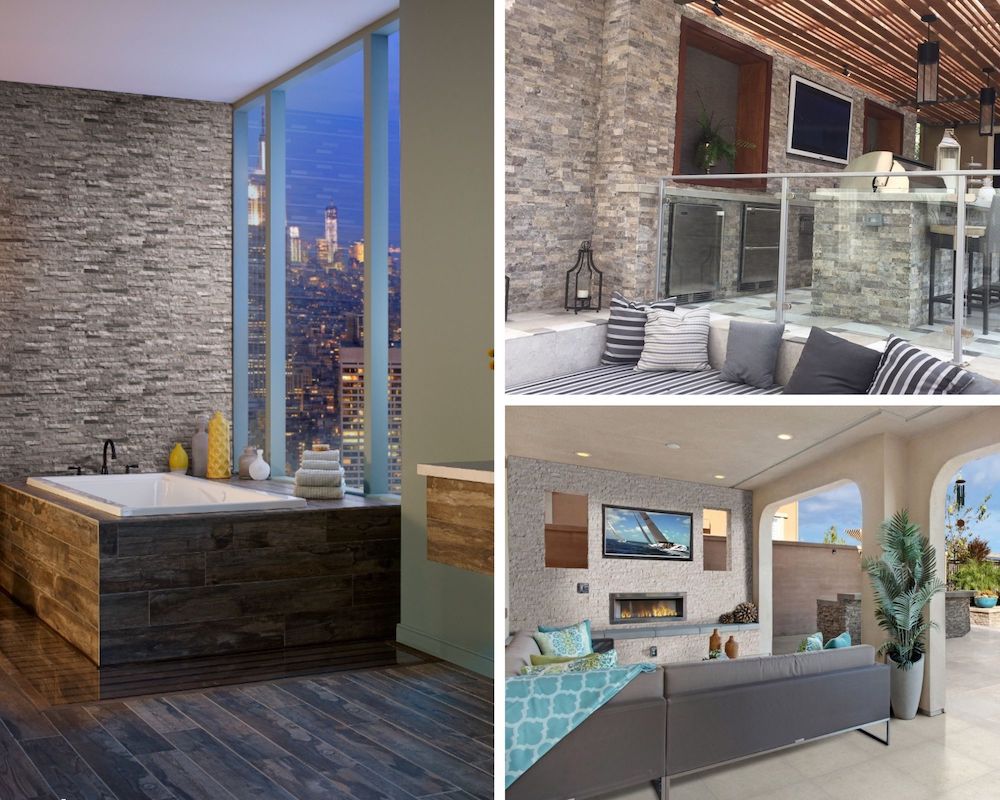 It's always a challenge to find design elements — whether indoors or outdoors — that completely transforms a living space, creating a look that's nothing short of spectacular. Even more challenging is finding those elements that won't be dated and out of style in a few years' time. Although the use of stacked stone ledger panels is a fairly recent trend, the aesthetic they create will be just as fresh and stylish decades into the future.
Today's stacked stone panels have a variety of textures, finishes, and are made from natural stone such as marble, travertine, limestone, quartzite, and more. Designers love them for creating unique backsplashes, accent walls, fireplace surrounds, and even outdoor living spaces. These elegant stone wall coverings can elevate the look and feel of any room in your home.
Here are a few ways to incorporate stacked stone ledger panels into your own home decor, featuring MSI's Rockmount collection.
COSMIC BLACK 3D WAVE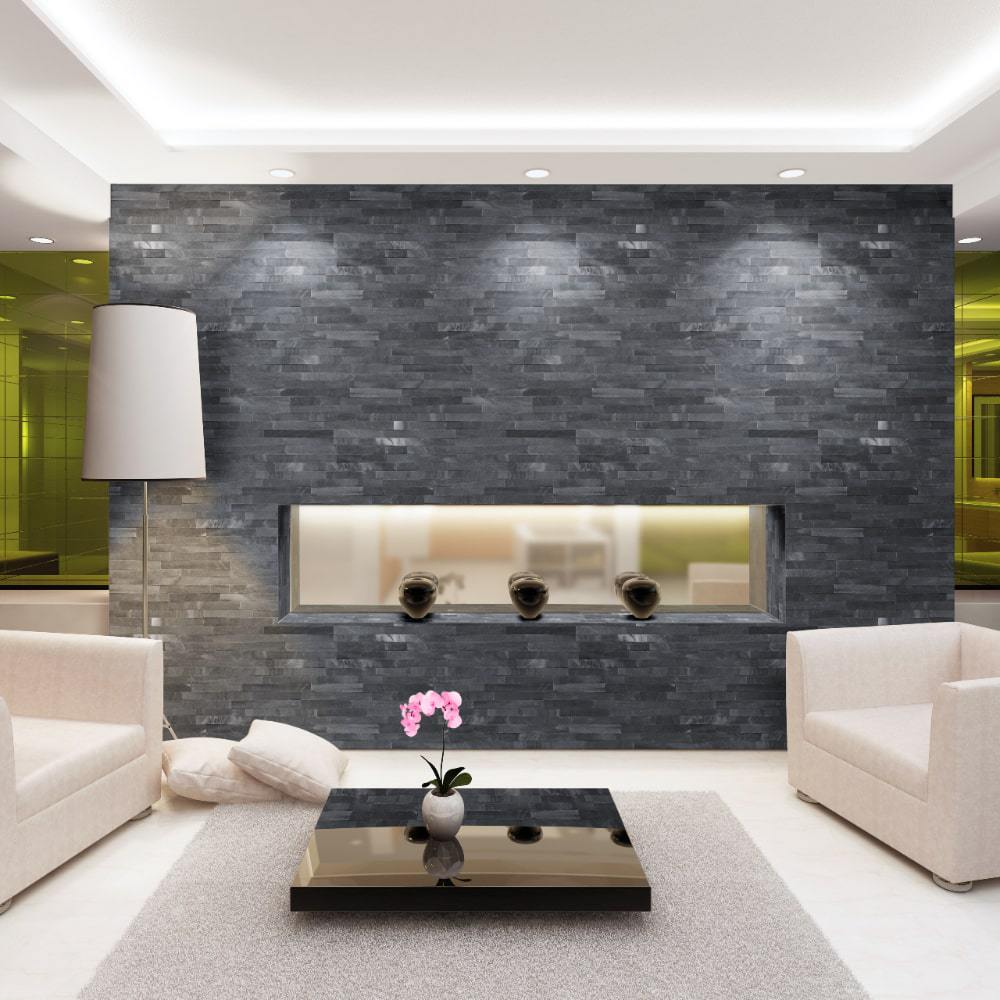 Whether it's accent walls, a fireplace surround, or a room divider, an installation of stone veneer turns a plain surface into a showpiece. Cosmic Black 3D Wave features black marble with a matte split-face finish, assembled in an alternating wave pattern that creates marvelous texture. If you never considered stacked stone for your contemporary decor, it's time to put it on your list.
ARABESCATO CARRARA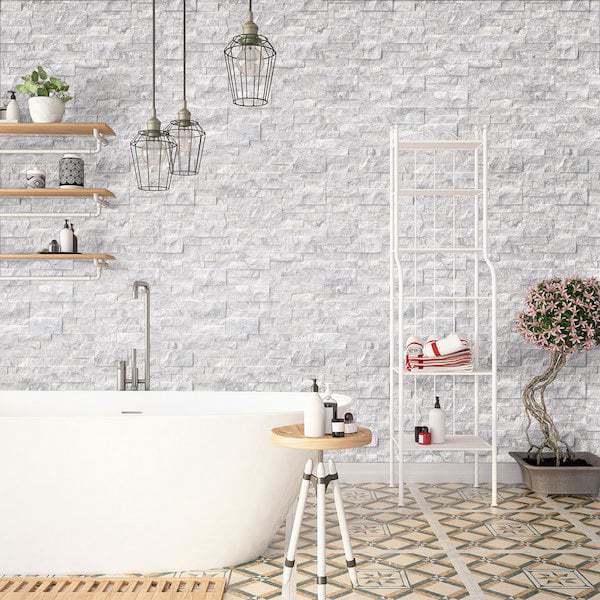 Modern decor meets old-world elegance in this designer bathroom, and the textured accent wall is the star of the show. Arabescato Carrara is crafted from split-face natural marble in soothing shades of white and gray. MSI's stone wall tile is real stone, not a lookalike — which means the end result feels like pure luxury.
ROYAL WHITE
There's nothing unusual about a stacked-stone fireplace surround, though in the past they've appeared a bit on the rustic side. Royal White ledger panels, however, are much more refined. Split-face natural quartzite in shades of warm white and beige is randomly arranged, creating beautiful texture that works just as well in a contemporary design as a more traditional style of decor.
MAYRA WHITE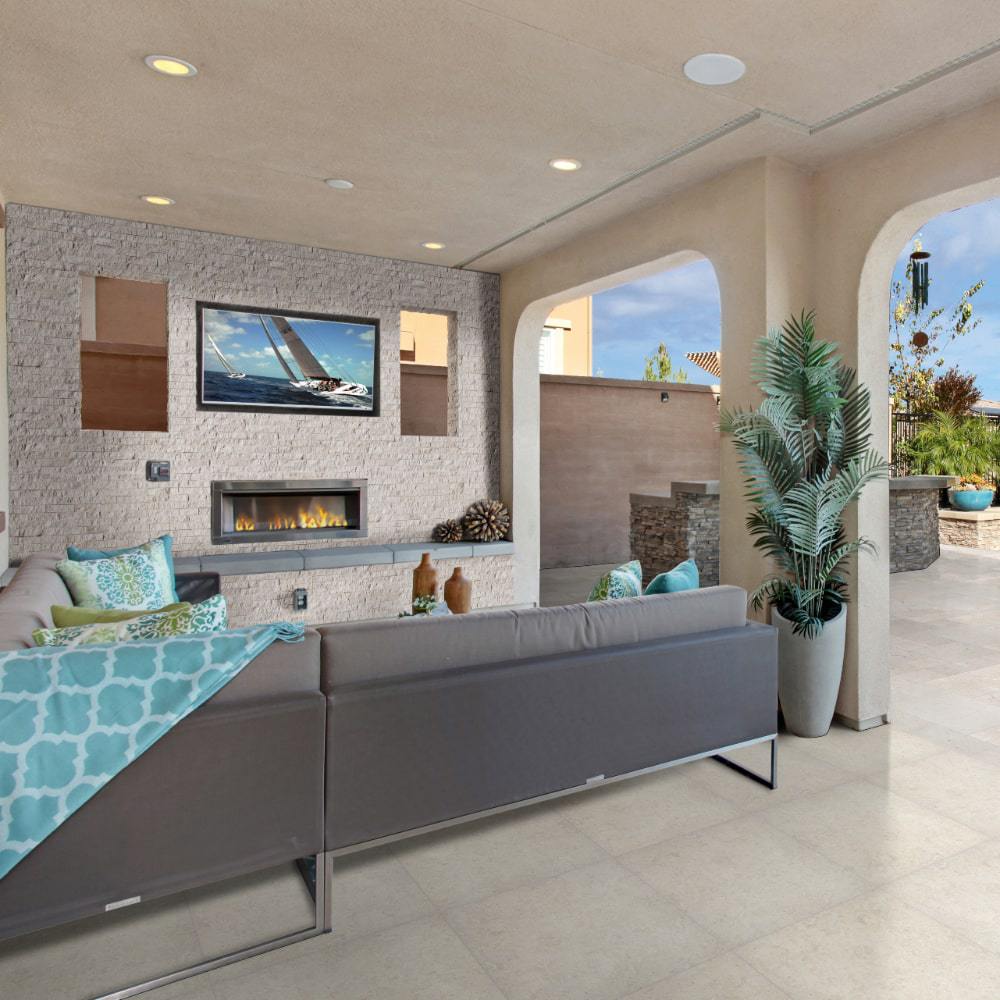 The sheltered outdoor living space trend has gained traction in recent years as homeowners find unique ways to enjoy fresh air — while still enjoying the comforts of an interior family room. Mayra White natural limestone ledger panels create the perfect transition in this in-between space, covering a feature wall that's complete with a high-def television and a cozy gas fireplace. The bright white color of the stones perfectly complements any type of furnishing, as well as the adjacent garden and patio.
SILVER TRAVERTINE
MSI's stacked stone works equally well on the home's exterior, especially when it comes to dressing up a covered patio. As shown in this photo, this versatile veneer can be used in many ways, including the vertical surfaces of counters, bars, planters, landscape rock, and more. Got corners? No problem — Silver Travertine as well as the rest of our ledger stone collection has matching corner pieces, so it's a snap to get a professional finish.
GOLDEN HONEY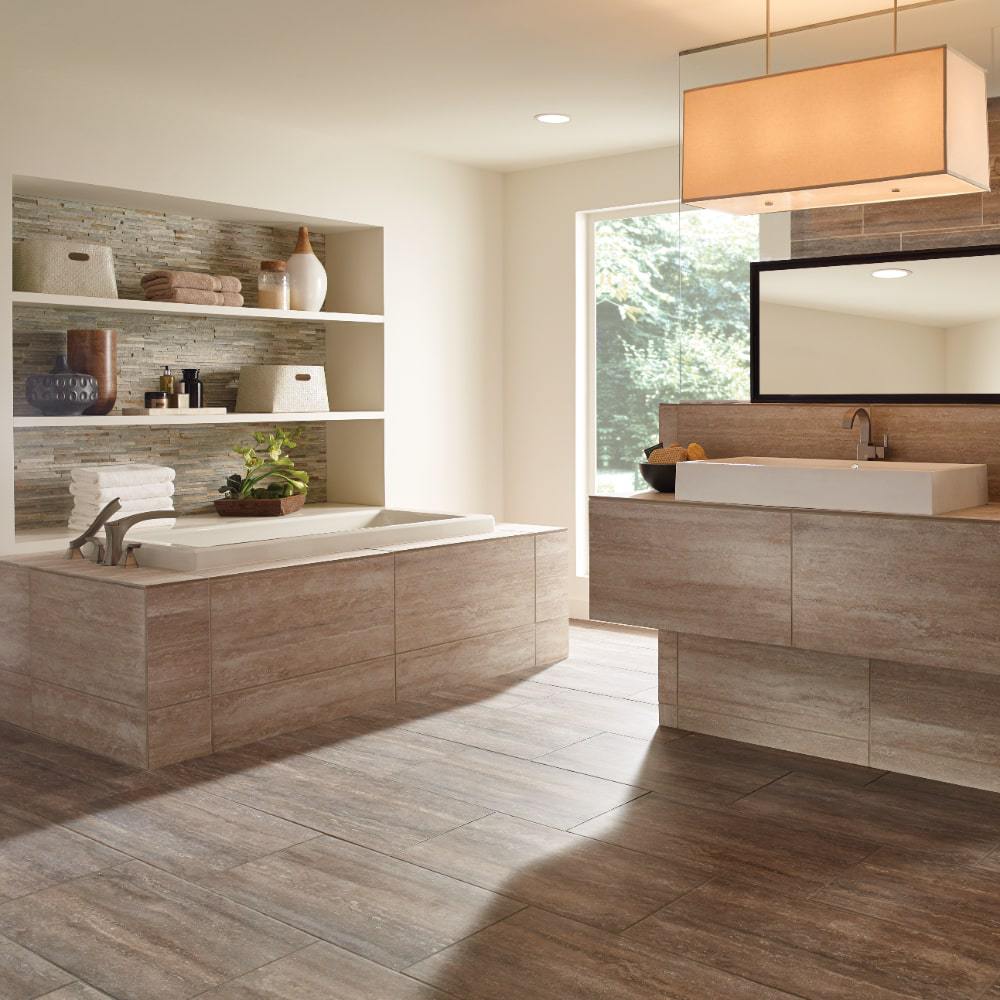 Sometimes it's the smallest details that have the biggest impact on a room's decor. This stunning, contemporary bathroom proves that even a small installation of stone veneer can showcase the homeowner's creativity. All you need to create this look is an inset wall, Golden Honey ledger panels, and some shelving — and a free weekend to DIY. Its shades of warm white, gray, and golden-beige are universally complementary.
GRAY OAK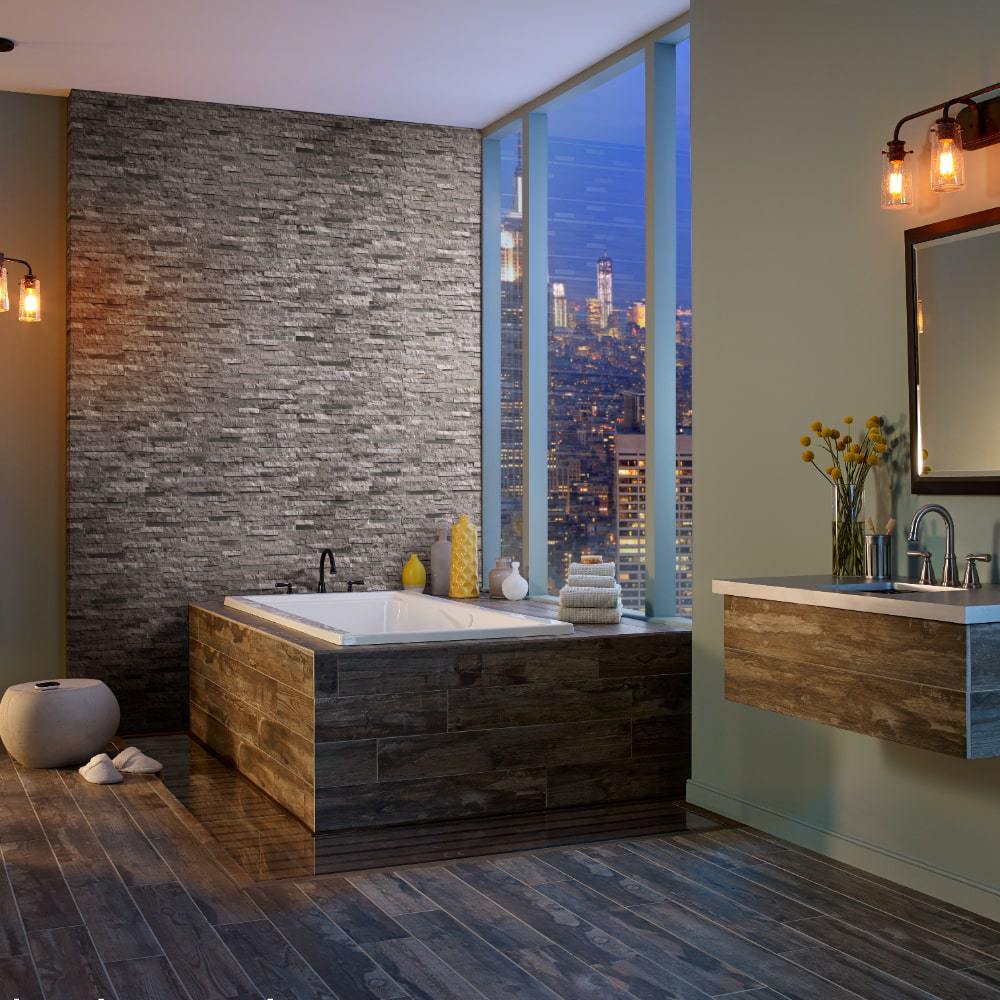 After a long workday, you deserve a relaxing soak in the tub — and what could be better than a bathtub with a lovely view? Whether your bathroom features an amazing floor-to-ceiling window overlooking the city or a tiny window in a solid wall, you can still have a lovely view by installing Gray Oak stacked stone. An accent wall like this one is inexpensive, installs quickly without using any grout, and has a textured split-face marble finish that can even stand up to a few splashes.
GRAY OAK 3D HONED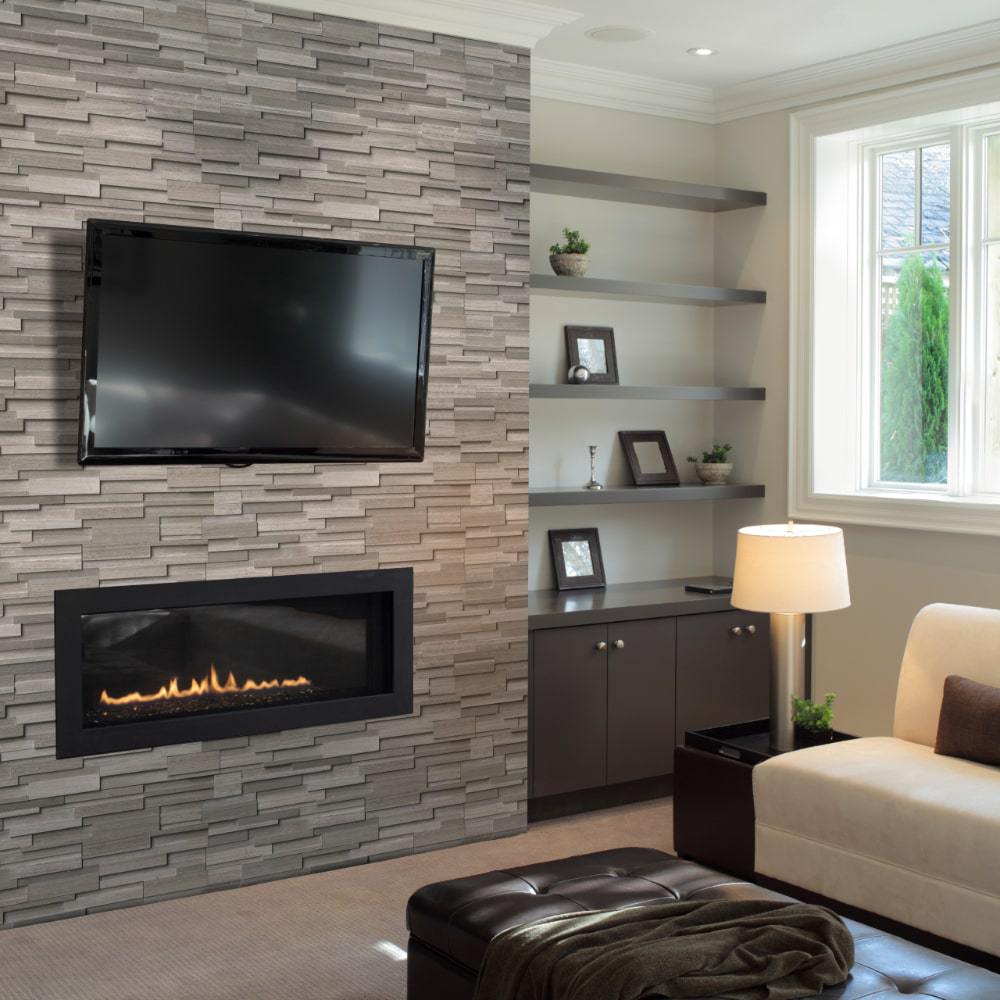 Whether it's a traditional wood-burning fireplace or a modern one with a gas flame, a fire feature is nearly always a room's central focal point. That's especially true when it's flanked by a flat-screen TV. You'll spend a lot of time looking in that direction, so make the most of it! Gray Oak 3D Honed ledger stone is crafted from natural marble in a mixture of gray shades, randomly assembled at different depths for a spectacular look under any light source. The smooth, matte finish is a sophisticated addition to any contemporary decor.
COSMIC GRAY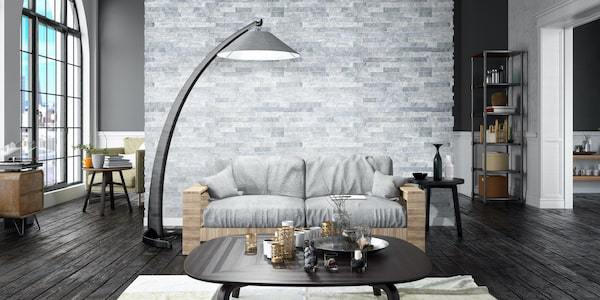 Although the minimalistic decorating aesthetic has faded a bit, many homeowners still enjoy an uncluttered, un-fussy living space. That means streamlined furnishings, wood floors instead of carpeting, blinds instead of fluffy curtains — and very few wall accessories. A stacked stone accent wall, particularly a neutral-colored, subtly textured variety such as Cosmic Gray, is all the wall decor you'll need to make the room comfortable and personalized to your unique tastes.
COSMIC WHITE 3D WAVE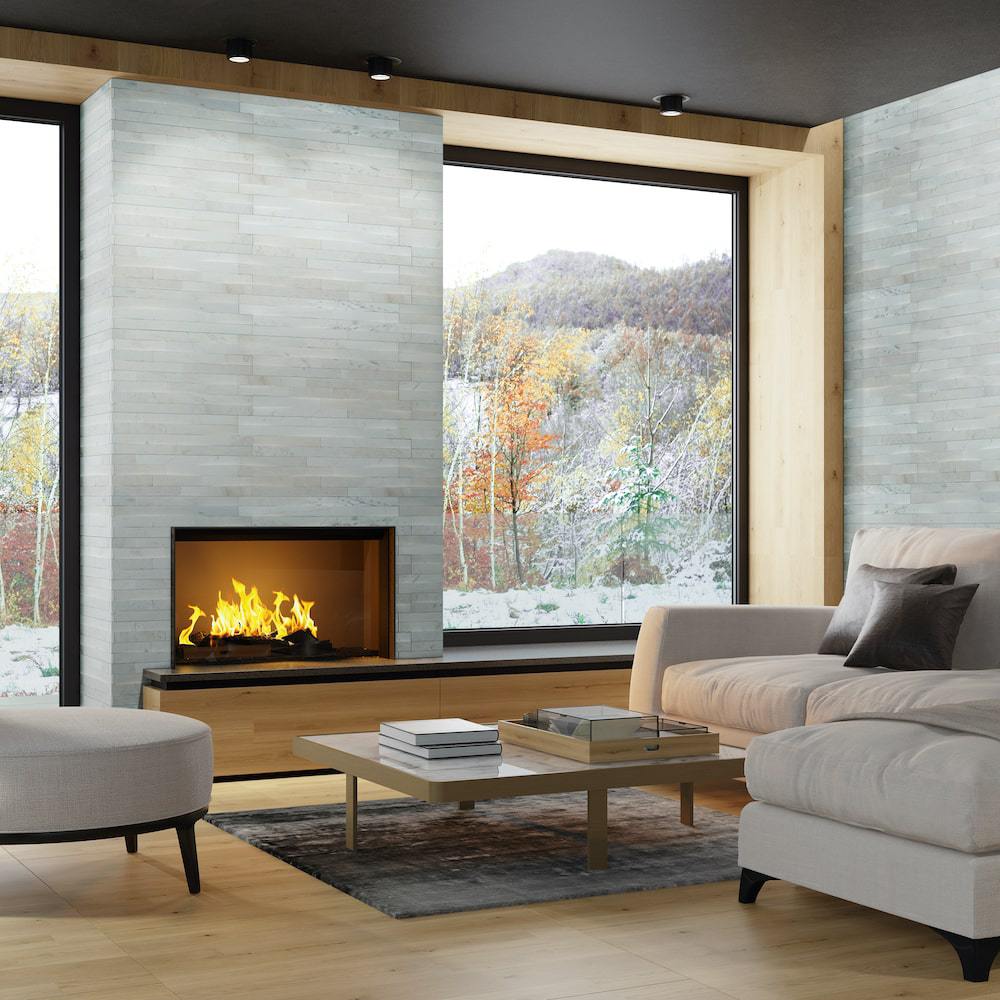 For homeowners who love contemporary design with a touch of sophistication, you can't go wrong with white marble. Traditionally this would mean installing a tile floor, or perhaps a tabletop. But Cosmic White 3D Wave is a unique way to incorporate the elegance of marble into your home design. The curved, wavelike texture is eye-catching without overwhelming the space.
Now that you've been introduced to MSI's most sophisticated collection of stacked stone panels, we're sure you can come up with plenty of ideas to use them in your own home. But, if you need a little extra advice when it comes to choosing, installing, and maintaining your natural stone ledger, we're always here to help!
Learn More About Stacked Stone
5 Unique Ways To Use Stacked Stone
Build The Perfect Backyard Wall With Stacked Stone
Design A Stunning Accent Wall With Rockmount 3D Stacked Stone
10 Standout Projects Featuring Rockmount Stacked Stone
Wall Tile And Fireplace Facing Using Stacked Stone And Stacked Porcelain Panels