Top 10 Ways To Master A Bathroom With Quartz Countertops And More!
December 15, 2021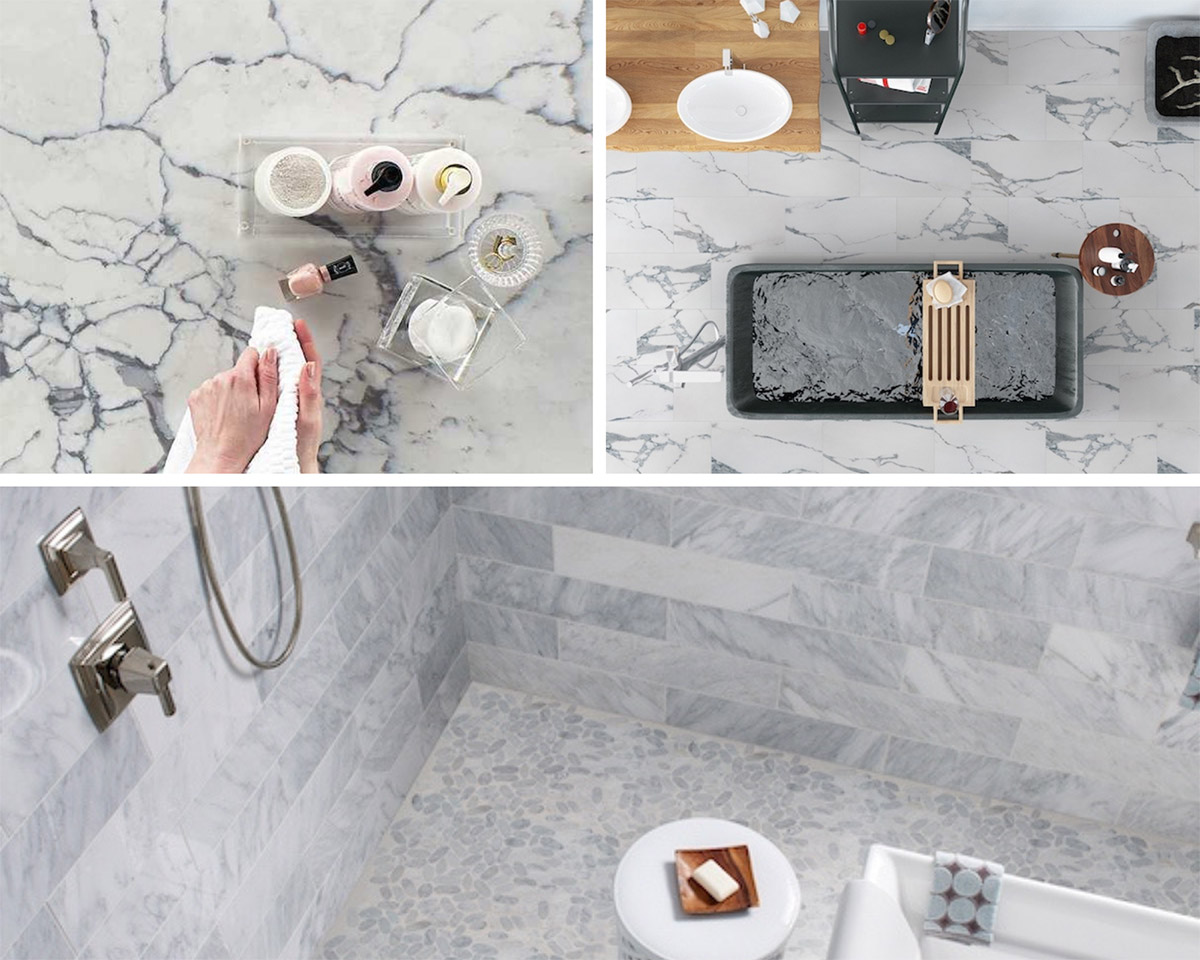 There's nothing like making a modern statement by adding irresistible quartz countertops to a bathroom. When it comes to quartz vs. granite, due to the non-porous nature of quartz, it surpasses the durability of granite and looks as great or even better. Thanks to this non-porous surface, you'll never need to fret about your countertops sheltering germs or bacteria. And then there's the ease of care and maintenance of quartz countertops. Warm water and a soft cloth used for a daily clean will keep your counters looking as great as the day you had them installed. For more stubborn cleanups, add a gentle liquid cleaner with a PH level of less than 5.

The durability of slab or prefabricated quartz countertops doesn't end with keeping the nasty stuff out—quartz is resistant to dents, heat, stains, abrasives, and scratches. In this guide, we'll explore how to make your bathroom wow with quartz countertops as well as similar premium surfaces such as porcelain, ceramic, and more. We'll also investigate other indoor areas where these surfaces shine.

Let's jump right in and take a look at the options.
CALACATTA LAGO QUARTZ SLAB
Featuring a dusky gray backdrop with thick veining, Calacatta Lago Quartz is ideal for bathroom and kitchen countertops. From above, this surface has the hypnotic appearance of cracks in the ice of a frozen-over lake, so it's sure to start more than a few conversations.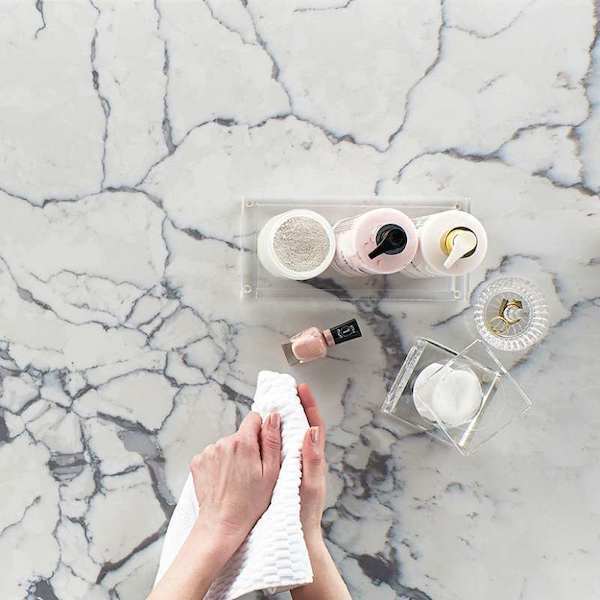 Besides looking great with black or white cabinets, this modern quartz is easy on your bank account as it's priced much lower than the marble it mimics, nor does it require the annual sealing or other upkeep needed from the real thing.

To learn how to care for and maintain your Q™ Premium Natural Quartz surfaces, check out this informative video by MSI. It covers tips to keep your counters looking sharp, what to use, what not to use, and more!
RENZO SKY 5x5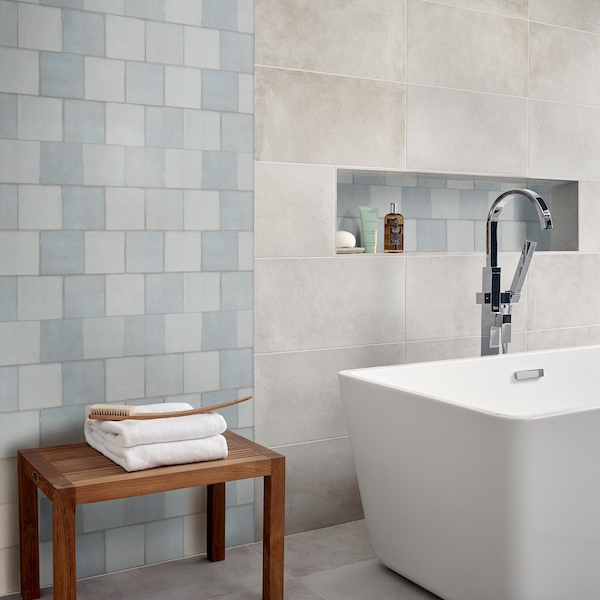 Use Renzo Sky ceramic wall tile to breathe calming life into your kitchen as an attractive backsplash, or add a touch of spa life to your bathroom as a shower surround or accent wall. Its glossy finish is perfect for bringing a modern feel into a space, while the light blue color speaks to fresh air and the healing powers of nature.
SAVOY AZULA PORCELAIN TILE
With a cool white background and daring gray veining putting on a show throughout, Savoy Azula Porcelain Tile serves up that highly sought-after marble look in a durable, low-maintenance porcelain tile. Available in a matte or polished finish, Savory Azula is great for captivating backsplashes, accent walls, entryways, and more in residential and commercial settings.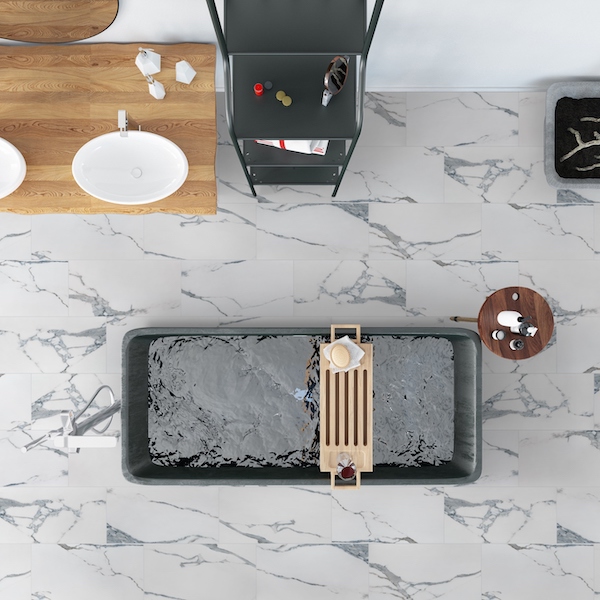 Pictured here as an awe-inspiring flooring, it's easy to image the design possibilities. The veining alone is enough to hold your interests for as long as you allow.
DYMO STATUARY 12x24 CERAMIC TILE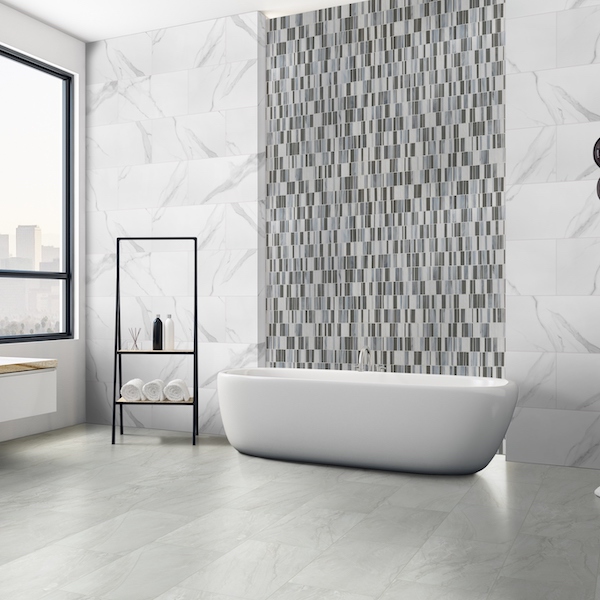 Incorporating Dymo Statuary 12x24 tile into your bathroom or kitchen will take the look and feel of the space to the next level. This ceramic tile creates fabulous shower surrounds, backsplashes, and more. It's creamy white backdrop is highlighted by understated gray veining that adds texture and movement to your space. Glossy wall tiles like these never fail to impress.
ASTURIA PORCELAIN ZeroSlip™ TILE
Are you searching for a porcelain tile that's always on-trend and timeless at the same time? Look no further than MSI's Asturia Azul Porcelain. Asturia Azul features intriguing linear veins and black and gray shading against a milky white backdrop to deliver a look nothing short of luxurious. Used for flooring, shower surrounds, accent walls, or countertops, you can't go wrong with this one.
SLICED CARRARA WHITE PEBBLE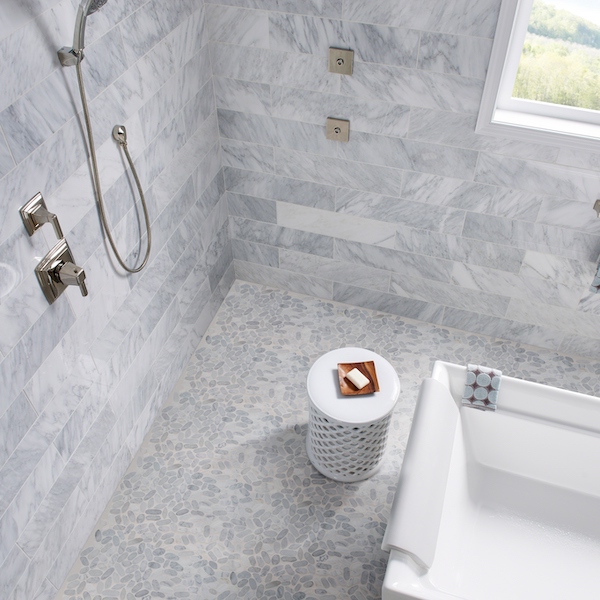 For an excellent choice for soothing shower floors, look to MSI's Sliced Carrara White Pebble tile. Imagine your feet on this soft textured natural stone tile made from marble as you enjoy a hot shower at day's end. Sliced Carrara White Pebble tile was inspired by the tropics, and it's easy to see why.
MARZA COBALT 4x12 SUBWAY TILE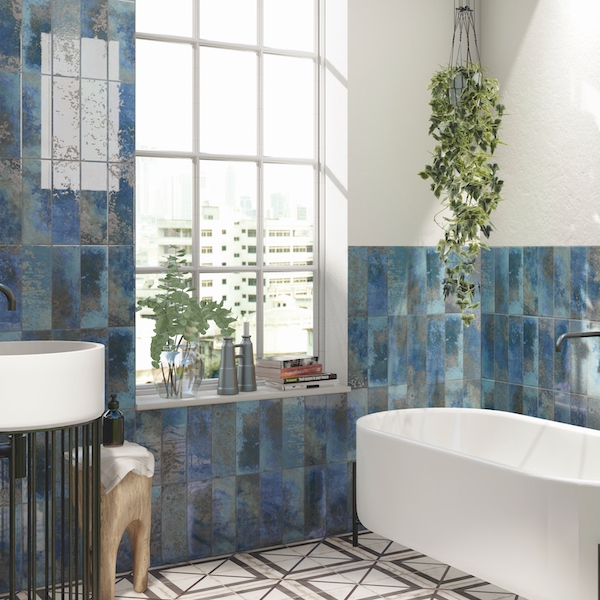 Give your bathroom a tropical lagoon feel with Marza™ Cobalt Subway Tiles. Made in Spain, these on-trend scratch and stain-resistant tiles feature brilliant hues of blue accentuated by subtle brown tones. Use them on their own to make a bold statement or mix and match with other MSI surface solutions to create a one-of-a-kind look. These tiles are perfect for kitchen backsplashes, accent walls, and shower surrounds.

Pictured here in an urban bathroom, the tile provides a dreamy escape from the hustle of city life. Sit back and relax while your thoughts drift to sandy beaches and calm turquoise waters.
BRICKSTONE COBBLE BRICK WALL TILE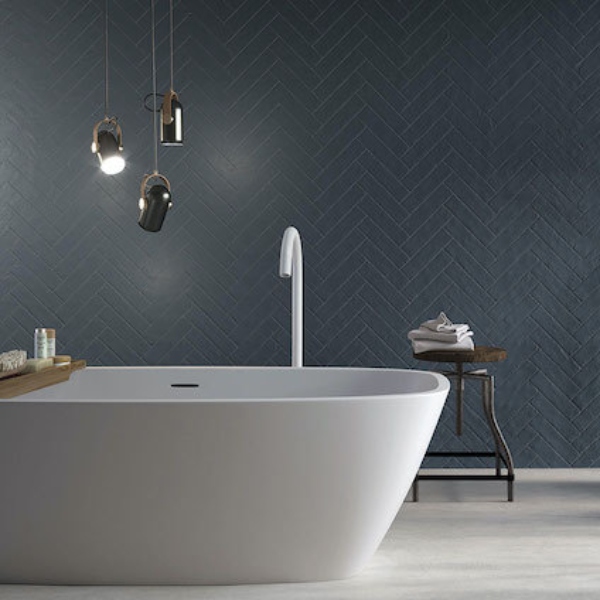 MSI's innovation Brickstone Cobble Brick Wall Tile throws out the red brick rulebook to make way for a variety of appealing colors, including the dark gray-blue featured here. To create a dramatic look, use this porcelain tile on walls or floors. Pictured here in a chevron pattern, the bathroom is instantly elevated in appearance. We can't say enough good things about this modern take on standard cobble brick. Absolutely stunning.
CITI STAX LAPIS 3mm GLASS TILE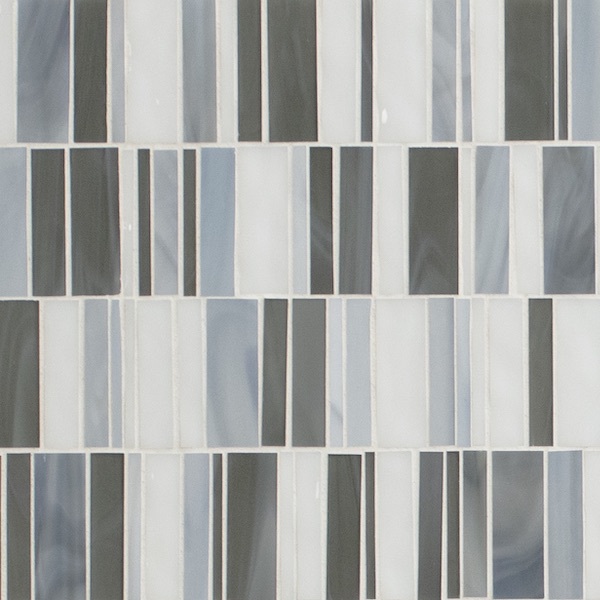 Citi Stax Lapis Glass Tile creates a highly relaxing atmosphere with its combination of soothing blues, deep grays, and soft whites. If you're looking to add peace to your kitchen space, it's hard to beat this backsplash tile. Vibrant and soothing aren't often used in the same description, but it's perfect for this glass masterpiece.

This one is sure to draw more than a few delight-filled double takes from your guests.
CYRUS BOSWELL 7x48 EVERLIFE LUXURY VINYL TILE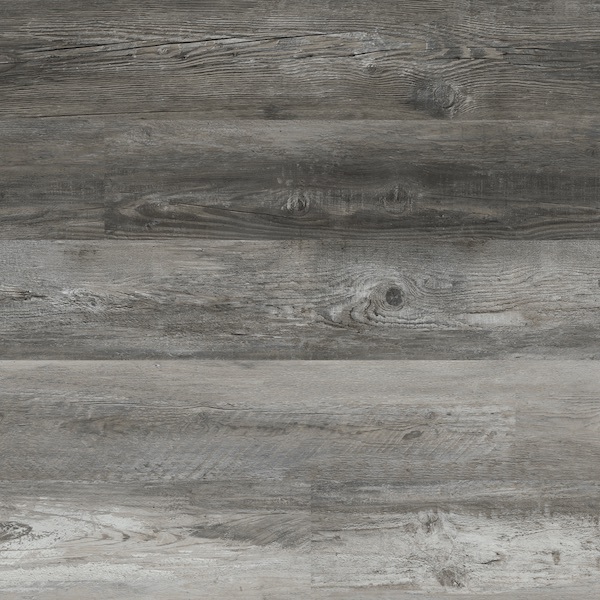 Closing out our guide is Cyrus Boswell© Everlife® luxury vinyl tile flooring. This wood look tile is 100% waterproof and stain, scratch, and dent resistant. It creates the coveted look of rustic gray wood flooring without all the upkeep and ongoing maintenance required of authentic wood. Imagine this gorgeous flooring in your living room, kitchen, bathroom, and beyond, and it won't be long before you imagine it everywhere. It looks that good. On top of that, this luxurious flooring is highly affordable.

Choosing the perfect premium surface to elevate your living space is often challenging. We're here to help. Please contact us with any questions.
Read More About Modern Quartz Countertops
How To Pair Traditional Natural Stone Backsplashes with Modern Quartz Countertops
5 Ways Hotel Designers Are Using Modern Quartz to Enhance Their Look
5 Stunning Modern Quartz Kitchen Islands