How To Design A Modern Kitchen With A Classic Backsplash Tile
February 26, 2018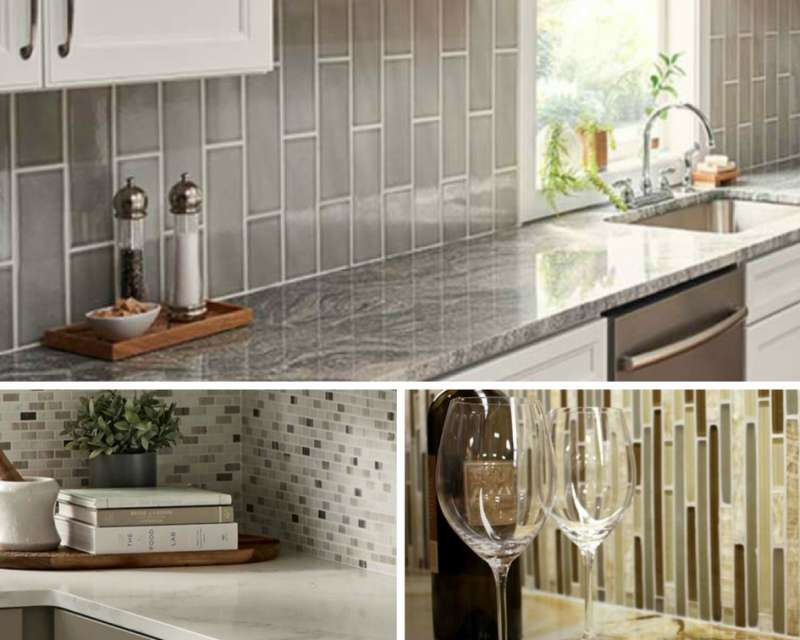 The most coveted kitchens have several things in common. Among these, they must be highly functional, easy to clean, durable enough to withstand cooking frenzies or art projects, and of course, warm and welcoming. Cabinetry, flooring and countertops each play a role in the space, but the backsplash tile really sets the tone for the perfect kitchen.
Classic subway tiles simply never go out of style. For the modern kitchen, new subway tile looks take that timeless look and update it in new and inspiring ways. Fresh patterns, creative color palettes and striking combinations of materials can transform kitchen backsplashes effortlessly.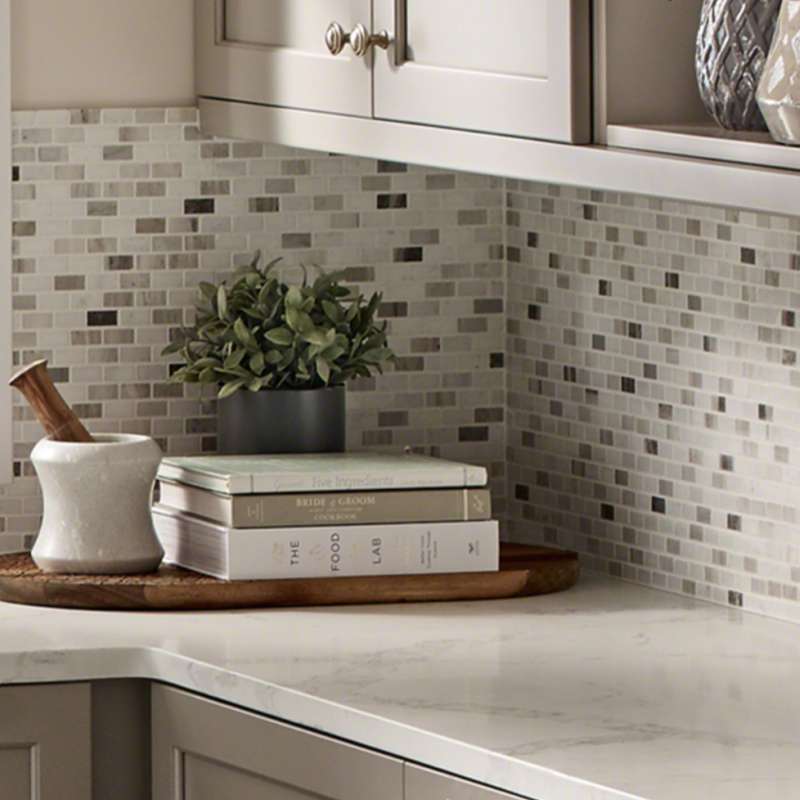 Featured: Palisandro Mini Brick Polished
Traditional subway tiles are 3x6 inches, but some of the newer tiles are available in larger or smaller formats. Here, updating the classic tile by miniaturizing it adds both character and visual interest to a petite, tonal kitchen.
The beautiful Palisandro Mini Brick Polished backsplash tile is crafted from natural marble in a range of neutrals. Hues from white to chestnut and gray blend together, lending the space warmth and elegance. Partnered with our Statuary Classique Quartz countertop, the room takes a decidedly contemporary, refined turn.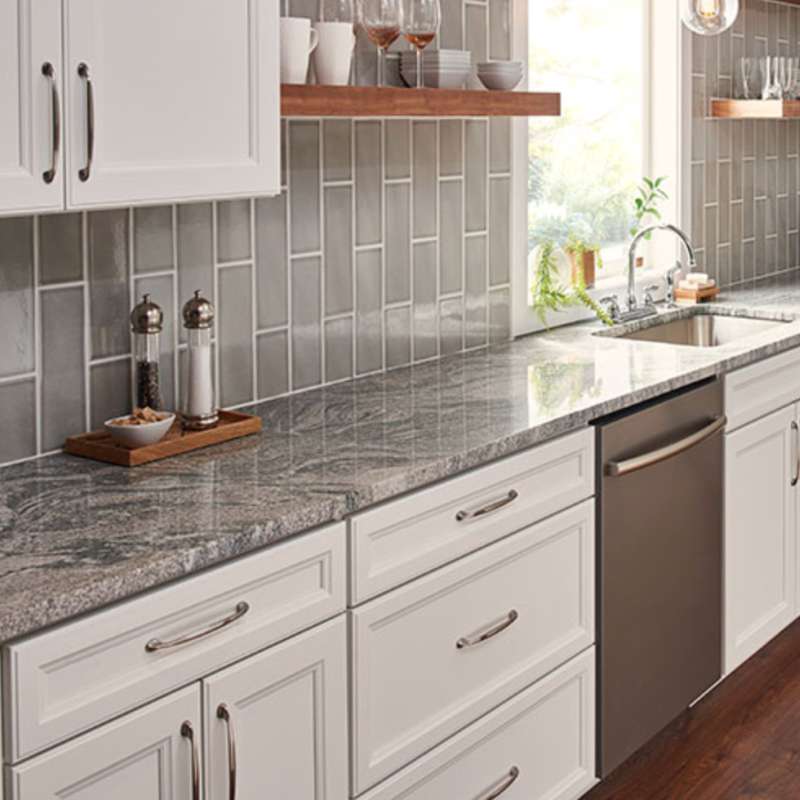 Featured: Dove Gray Subway
Not to be outdone, our Dove Gray Subway tile adds a larger size of subway tiles to the mix—the 4x12-inch beauty. These gorgeous ceramic tiles feature an on-trend tone of gray in a crackled finish, simply a beautiful update on a classic backsplash tile.
This tile can be installed in a more traditional horizontal brick pattern, but here it is patterned vertically to modernize the kitchen. As a bonus, running these tiles vertically all the way to the ceiling will support the illusion of taller ceilings and greater volume in the kitchen.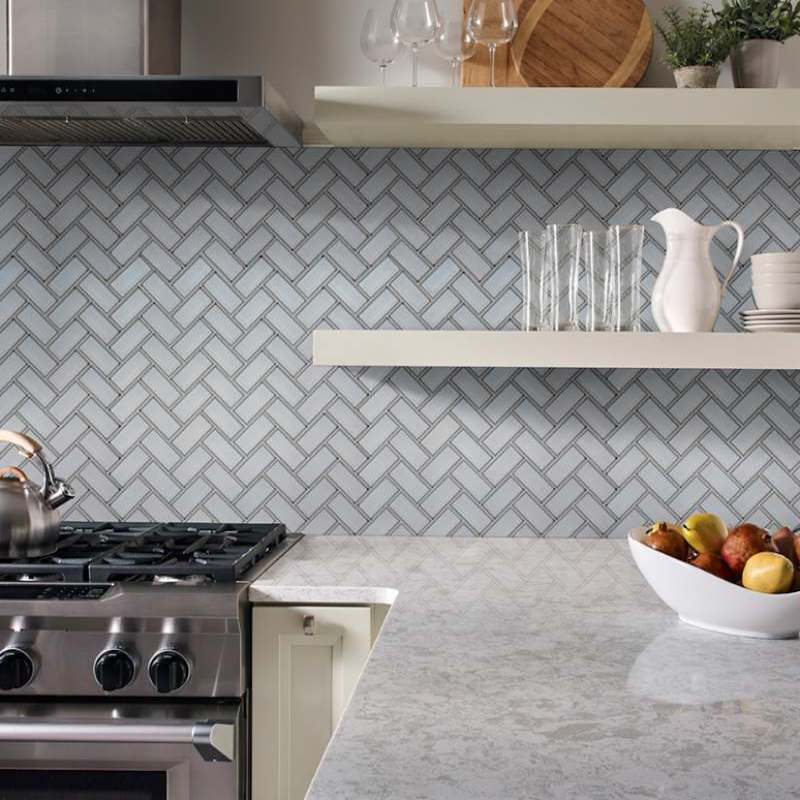 Featured: Ice Bevel Herringbone
Next, let's play with patterns. Subway tiles have the perfect dimensions for laying in creative patterns like herringbone and chevron. Those patterns can be a challenge for DIY installation because the cuts and installation must be precise.
To make things easier, we've crafted our gorgeous glass Ice Bevel Herringbone tile in mesh-backed, pre-arranged patterns for easy installation. The geometric result is sure to add a modern touch, while complementing either modern quartz or natural stone countertops.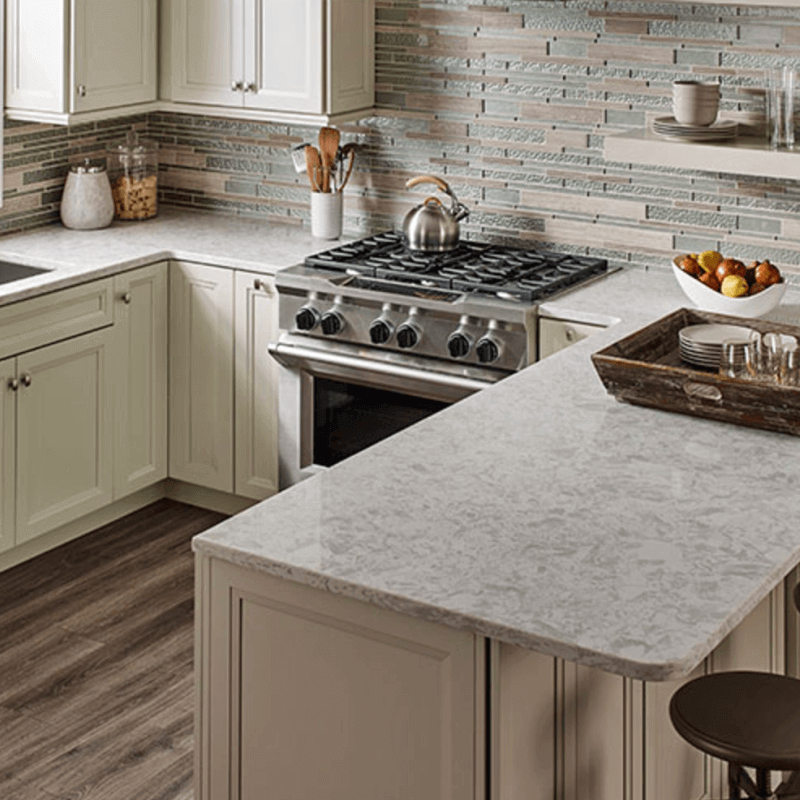 Featured: Aria Interlocking Pattern
Now, let's move away from the more traditional subway tiles into the realm of mosaic tiles. Here, the trend of interlocking tiles that combine glass tile and stone tile in breathtaking ways quickly rises to the top of the list.
As an example, our Aria Interlocking Pattern backsplash tile—while it isn't a classic backsplash tile—combines textures and colors as a well-balanced contemporary element within a traditional kitchen design. Here, it partners beautifully with our modern Pelican White Quartz countertops.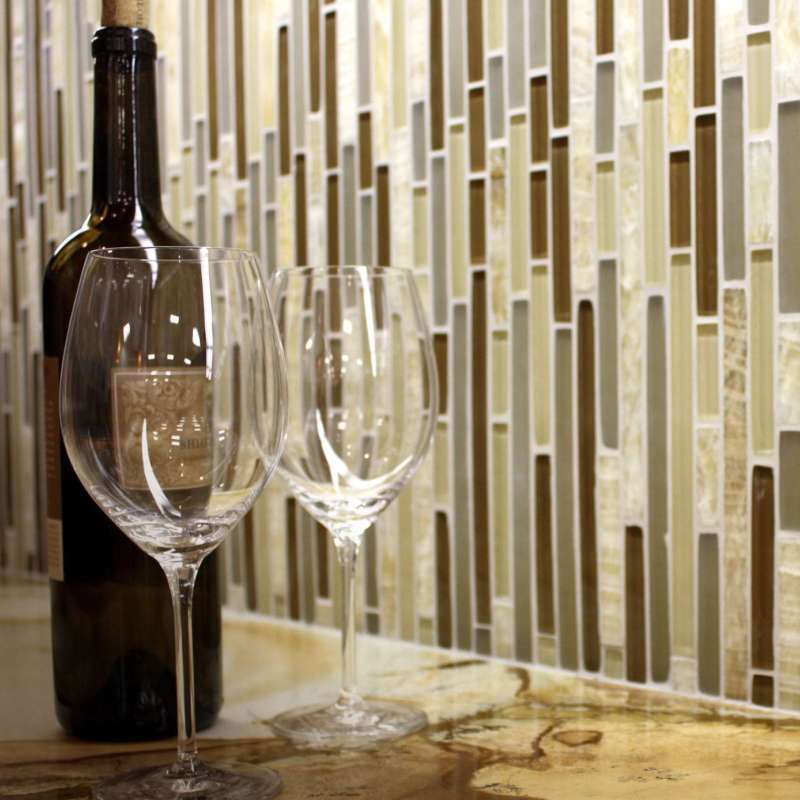 Featured: Honey Caramel Onyx Glass Stone Blend Interlocking
Another of our other fabulous glass tiles, Honey Caramel Onyx Glass Stone Blend Interlocking Tile, offers more traditional hues of caramel and brown in a modern combination of materials. The staggered pattern is reminiscent of a subway tile, just in an elongated form. Like the Aria tiles above, these are mesh-backed for easy installation and can be installed horizontally or vertically, depending on whether you favor a more tradition or modern aesthetic.
Updating the look of your kitchen may be as easy as swapping out the backsplash tile for a new, more modern look that features one of our updated takes on the simple subway tile. Enliven your kitchen with new colors, patterns, and textures that evoke the feeling of new traditions in modern tile.
READ MORE ABOUT MSI BACKSPLASH TILE
How To Find The Perfect Pattern For Your Backsplash
How To Make Your Backsplash Tile And Countertop Match