Brick Trends 2023: The Colors And Textures You Need To Know
June 15, 2023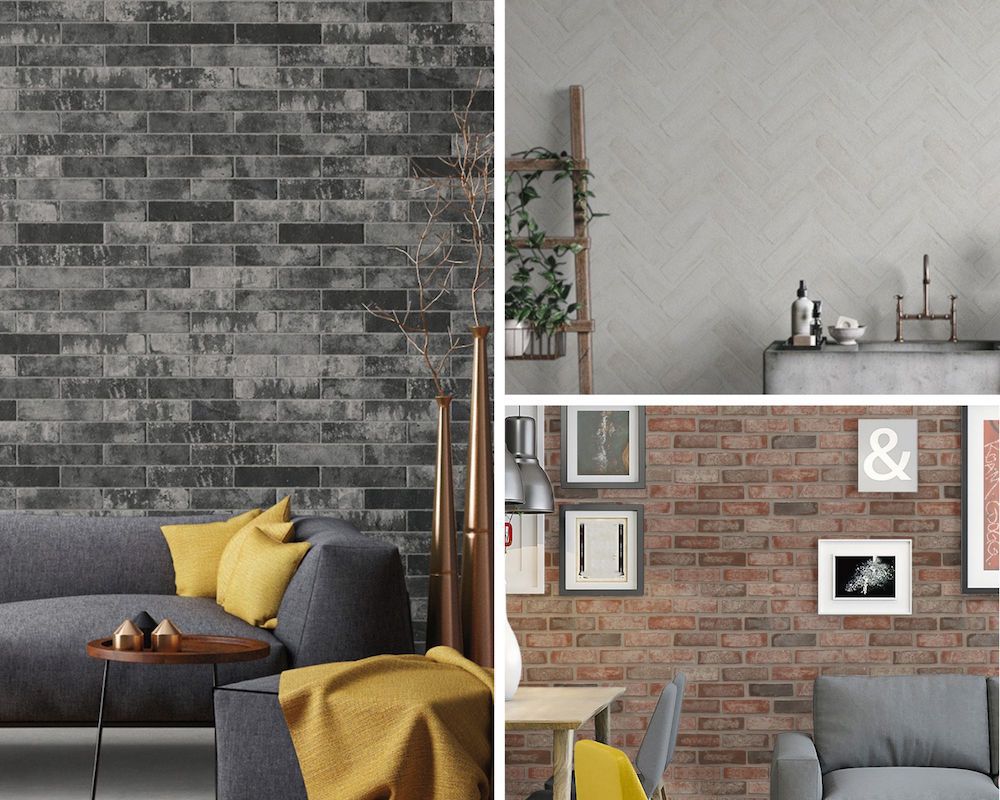 Bricks incorporate a sense of comfort and time-honored tradition into both residential and commercial areas, marked by their rich colors, rustic texture, and remarkable durability. This timeless material looks equally at home on stately colonial exteriors, ranch-style flooring, modern brick tile kitchen backsplashes, and feature fireplaces from every era and architectural style.
While traditional bricks may not always be the most practical option, tiles that mimic brick offer the beloved aesthetic along with several added advantages.
With the technological evolution of brick-look products, you can benefit from a thin, light weight application that's easy to install and care for, while still enjoying the charming appeal of authentic looking bricks.
For those captivated by the appeal of real brick, our BrickStaks® Clay Brick Tile Collection and Brickstone Porcelain Brick Tile Collection are ideal selections. They offer a broad array of options suitable for your home renovation or new construction endeavor.
BrickStaks® Clay Brick Tile Collection

Welcome to the captivating world of our BrickStaks® Clay Brick Tile Collection, where vintage charm and urban sophistication unite. This exceptional collection offers an array of meticulously crafted clay brick tiles that effortlessly bring the timeless appeal of traditional brick to your space. Designed with authentic textures, rich colors, and various sizes, these clay brick tiles recreate the rustic beauty and character of aged brick walls with remarkable accuracy. Furthermore, the BrickStaks® Collection features a convenient mesh-mounted backing ensuring easy installation, saving you time and effort. Whether you're seeking to add a touch of rustic elegance your fireplace surround or create a captivating accent wall, this collection provides endless design possibilities.
Let's explore the enduring charm of the BrickStaks® Collection as it transforms your space into a haven of timeless style and urban allure.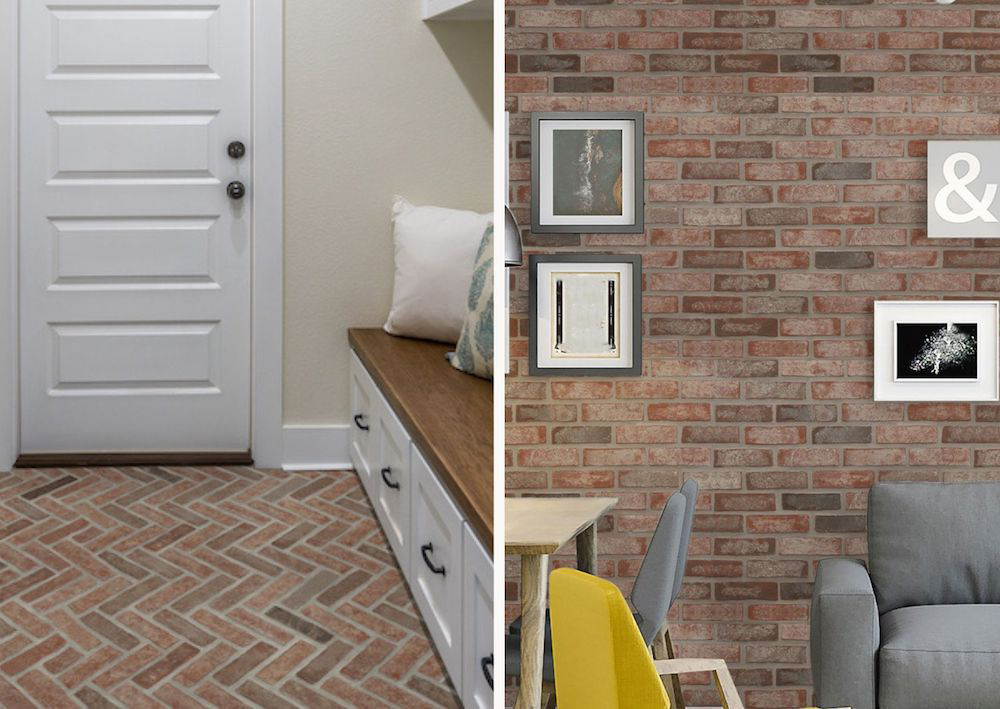 Brick looks are incredibly adaptable, as shown by the bright, breezy appeal of the Alpine White Clay Brick Tile design. Available in traditional staggard and herringbone patterns, this option offers the pristine appeal of whitewashed brick, creating an elegant upgrade in any space.
Add an eye-catching, herringbone accent wall to your rustic loft or living room, or take the classic subway tile aesthetic to a whole new level by adding this textured look to the floor of your entryway or laundry room – the choice is yours!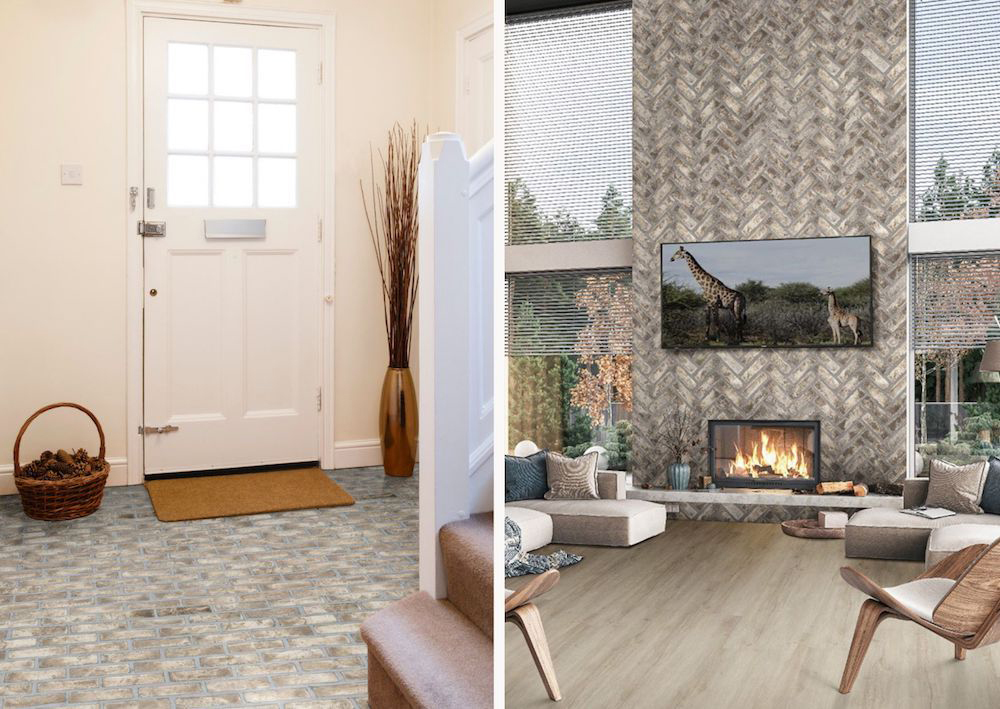 Also available in traditional subway and herringbone patterns, Doverton Gray Clay Brick Tile delivers conventional brick's anticipated texture and dimension but in multi-colored hues of weathered gray and white that deliver the neutral foundations many homeowners prefer. This makes for a versatile addition to any room design.
Adding this tile to entryways brings depth and warmth to the space. If you're looking for a statement style for a fireplace wall, run the herringbone pattern from floor to ceiling to achieve a major visual impact.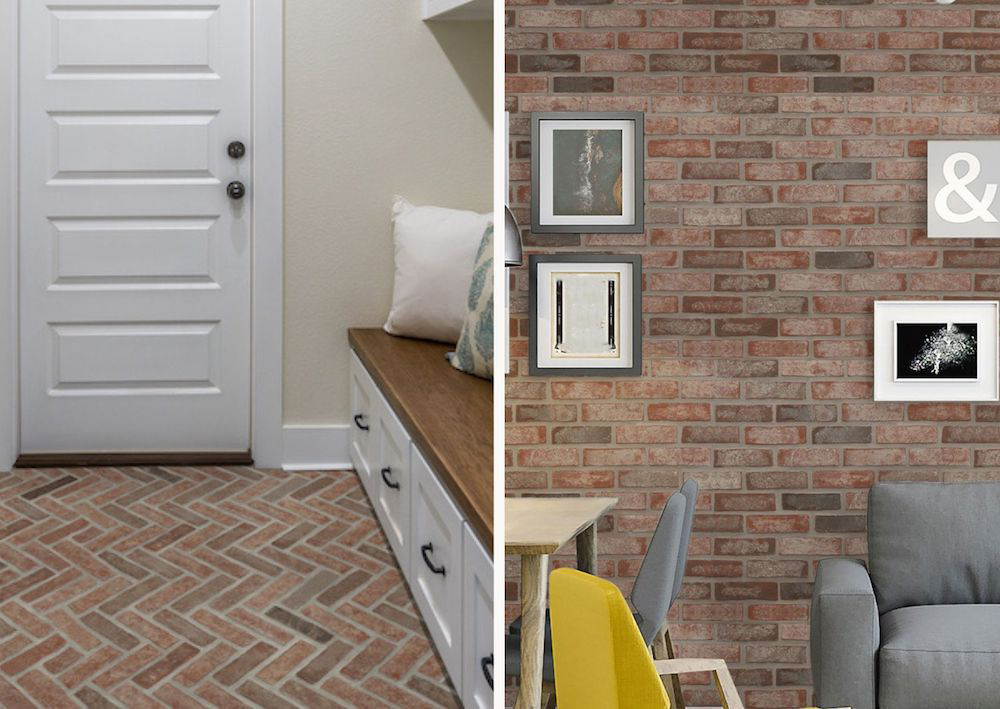 You really can't go wrong with the rich reds and rusts of Noble Red Clay Brick Tile. Add an element of industrial appeal to your living room or den with an accent wall in this rustic hue, or spice up your entryway or mudroom with flooring in this warm, welcoming design.
Add this clay brick tile to walls and floors throughout your home to bring character to every living space. Available in traditional subway and herringbone patterns, this stunning brick tile is as versatile as it is beautiful.
Brickstone Porcelain Brick Tile Collection
Introducing the Brickstone Porcelain Brick Tile Collection, where timeless elegance meets modern flair. These exceptional easy-care porcelain tiles are meticulously designed to emulate traditional brick's rustic charm and distinctive appeal, offering endless possibilities for creating stunning brick backsplashes, feature walls, fireplaces, and more. Offered in 2" x 10" and 5" x 10" formats, this collection allows you to mix and match sizes, textures, and colors, empowering you to create magazine-worthy looks that reflect your unique style and vision. Whether you're aiming for a classic, industrial, or contemporary aesthetic, these durable and low maintenance porcelain tiles are sure to elevate your design vision to new heights.
Let's delve into the Brickstone Porcelain Brick Tile Collection and discover the perfect blend of timeless beauty and practicality for your next project.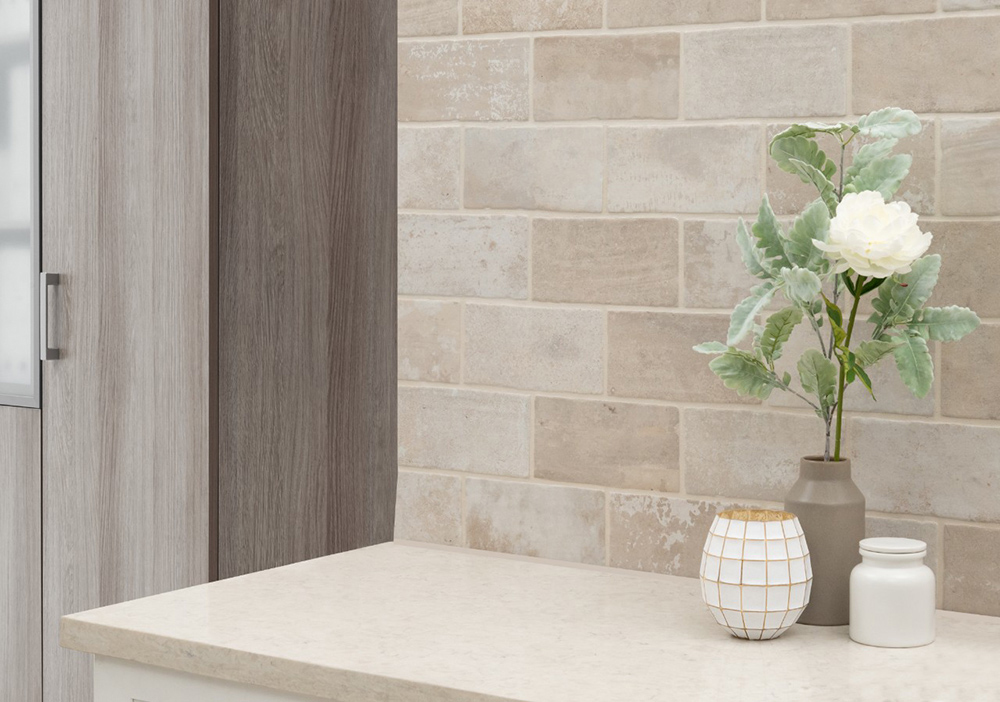 With pale white, ivory, and beige tones, Ivory Brick Tile embraces the room with a deep sigh of relaxation, creating a sense of familiar comfort. Used for flooring, backsplashes, or walls, it's the ideal complement to a kitchen or bathroom design of any décor style. These porcelain ivory brick tiles have been crafted to harmonize and enhance the aesthetic of other tiles within the Brickstone Collection.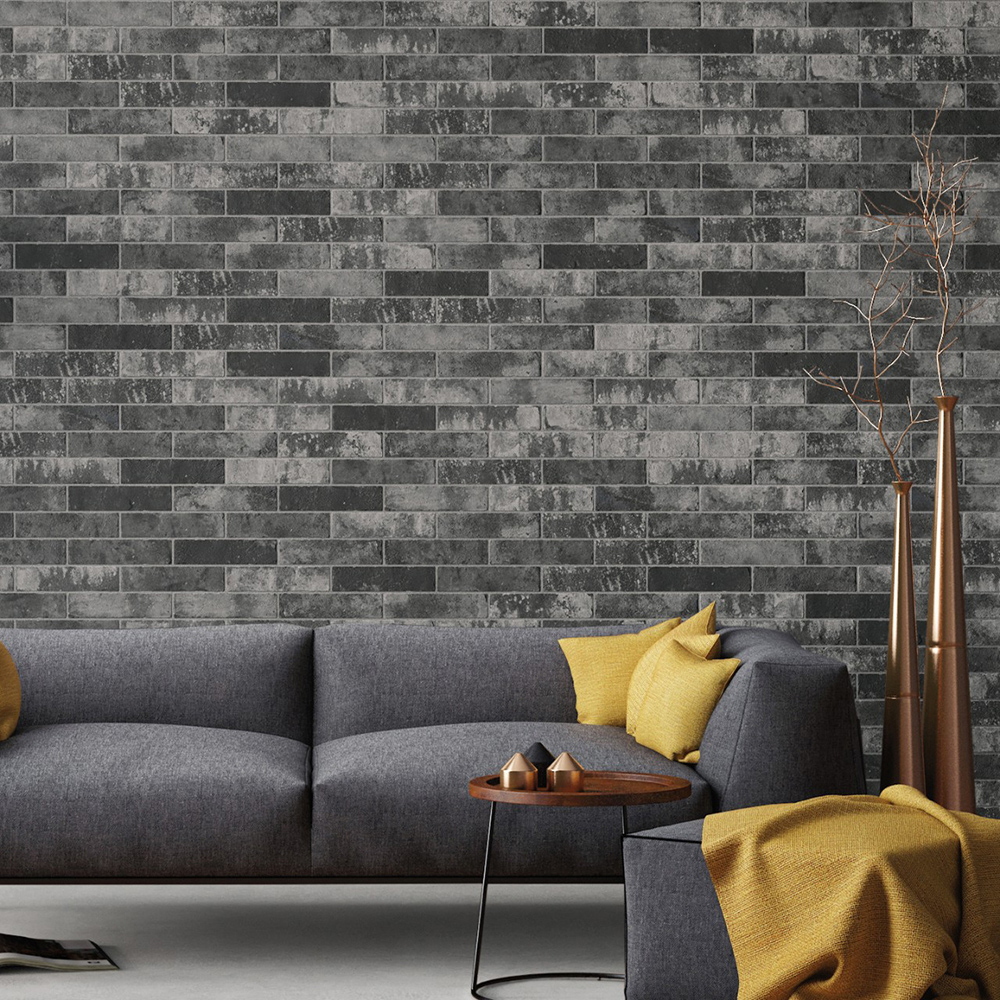 Those who appreciate a bolder vibe will love the look of Charcoal Brick Tile with its silver, graphite, and ashen shades. This design adds incredible beauty to an accent wall, a statement fireplace surround, or a neutral kitchen or bathroom design, creating texture and depth in any room. With its brick-like appearance, this porcelain tile offers endless possibilities for installation, allowing you to customize the patterns to match your home's unique style preferences.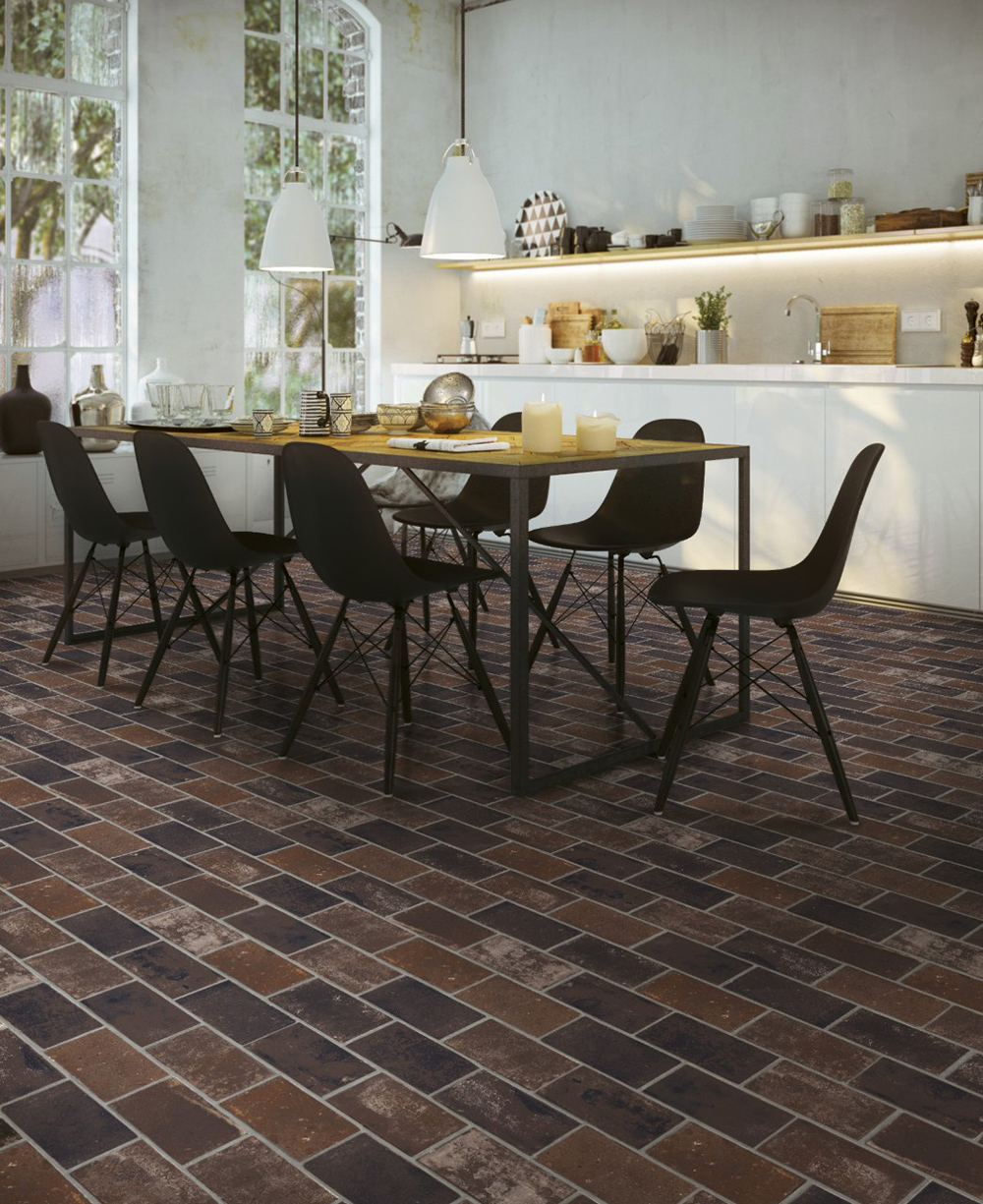 If you love the look of traditional brick but desire the ease of porcelain tile, our Red Brick Tile offers the low maintenance and rustic look you desire. Reds, creams, and browns bring movement and depth to your space and look particularly stunning when offset against white countertops and pale wood tones. Use these on floors and walls to create warmth and richness in any space.
Add Brick Look Tile to All of Your Spaces
Regardless of the brick tile design you choose to update your home with, this material adds immense charm and personality to living spaces while delivering the resilient and low-maintenance surfaces busy homeowners crave.
Are you ready to kick off your home remodel with the perfect brick tile from MSI? Contact our team by chatting with us online to get started, or find an MSI authorized dealer near you to schedule a showroom visit.