Hexley Hexagon Tile Collection: The Trendy Choice For Contemporary Floors And Walls
August 01, 2023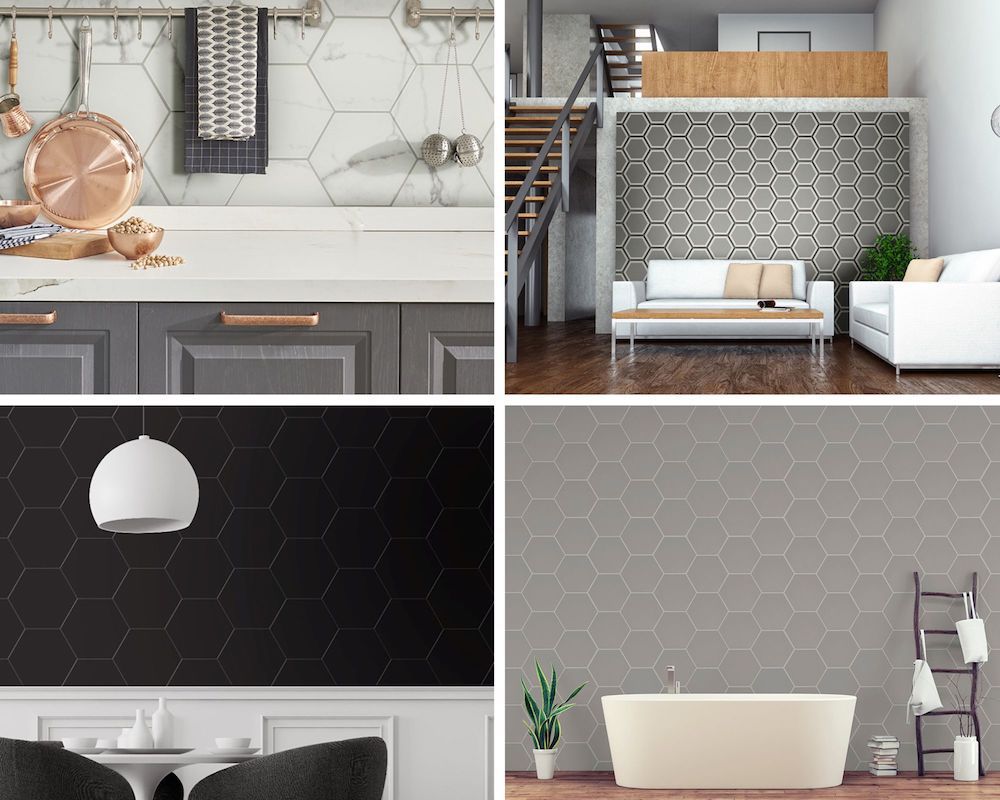 One of the many ways to add visual interest and depth to your interior design is with patterns, and few patterns offer the balance of timeless and trendy appeal that you'll find with hexagon tile.
Hexagons are found throughout nature — in beehives, snowflakes, and in minerals and gems. Incorporating this geometric shape into your design is not only natural and visually appealing but also complements a wide range of other elements.
Whether you're interested in updating floors or walls, you'll find a range of attractive and versatile options with the Hexley Hexagon Tile Collection. These geometric porcelain tiles come in five bold designs perfect for any home upgrade, whether it's your bathroom floor and shower enclosure, a sophisticated kitchen backsplash, or a stunning fireplace surround. You can even mix and match for one-of-a-kind designs.
This Everlife® product is ideal for flooring, especially in homes where safety and function are primary concerns. The waterproof, stain-resistant design withstands damage from spills, while proprietary ZeroSlip™ technology helps to prevent slip and fall accidents.
With a modern matte finish and classic geometric shape, our Hexley Hexagon tiles are sure to help you transform your interior and highlight your personal style. Which design is right for your home improvement project?
The soft, pale gray of Hexley Dove tile is the perfect complement to a range of modern design motifs. It's particularly stunning in spa-like bathroom designs and serves as a soothing backdrop for a luxurious bath.
This modern color also pairs beautifully with rich, heavy-grained wood flooring, helping to create a zen-like ambiance conducive to deep relaxation. This tranquil selection is lovely on its own, but if you prefer more visual interest, pair it with other colors from the Hexley Collection to create a bold statement.
There's no denying the eternal elegance of tonal white interiors, where shades of white, ivory, ecru, and cream combine to create subtle variations in an airy, ethereal design. Hexley Ecru tile will enhance this timeless and soothing motif.
It also pairs nicely with contrasting neutrals, like black or gray cabinets and countertops, introducing a bright element to any bathroom. It could be a stunning surround for your soaker tub or tile in your whole bathroom. It's a truly stunning flooring option that can make you feel as if you've retreated to a calming sanctuary.
Adding drama to your decor is easy with Hexley Graphite tile in bold black with a soft matte finish. Naturally, it's particularly striking when contrasted against white surfaces and accents.
For a one-of-a-kind design that makes a statement, consider adding this tile above white wainscotting in a formal dining room or breakfast nook to turn design expectations on their head. This creative arrangement adds visual weight to the upper portion of the room, which can help spacious interiors feel cozy and inviting.
Black, white, and gray make for a delightful combination of neutral hues, and with Hexley Hive, you'll enjoy all three in one dynamic tile. This trifecta of style features a central hexagon in gray with a wide band of white around the perimeter andedged in a thin black stripe.
If you want to add dramatic flair to a neutral living room, consider a Hexley Hive feature wall. This creates a focal point and adds intense dimension and visual interest to offset neutral furnishings and paint. Consider dark or mid-tone wood flooring with heavy graining to balance the look.
If you love the look of natural stone tile, don't be surprised if you're drawn to the Hexley Marbello design, which mimics the soft white background and chunky gray veining of popular Italian marble varieties. It's ideal for adding an element of luxury to any space in your home, with an air of tranquility that complements modern motifs like white and gray kitchen spaces.
The Trendy and Timeless Choice for Your Home Upgrade
Whether you're interested in tile design for your flooring, walls, or both, our Hexley Collection of hexagon tile delivers the sophisticated geometric pattern and popular neutral palette that modern homeowners are looking for. It's easy to add trendy style with timeless appeal when you choose these lovely and low-maintenance surface materials for your home.
Are you ready to find the right Hexley Hexagon Tile for your next home upgrade? Discuss our options with an experienced MSI agent via live chat now, find an authorized dealer in your area, or visit an MSI showroom today.