Monochromatic Quartz Countertops: A Contemporary Trend
August 10, 2021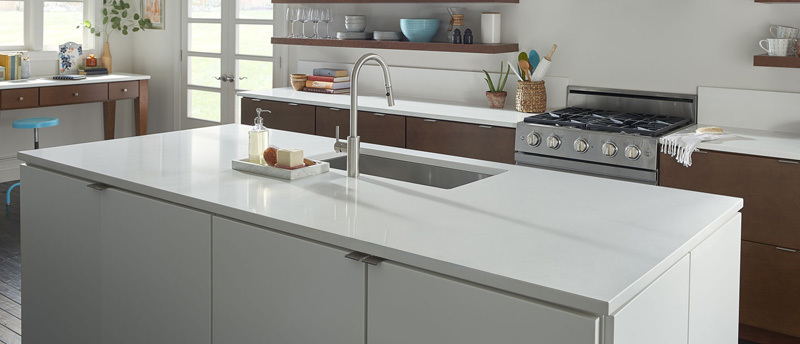 Kitchen trends come and go, but one trend that is here to stay is the monochromatic kitchen. Instead of opting for bold pops of color as your kitchen backsplash or island that may appear dated in a few short years, you may want to consider a monochromatic look with quartz countertops. This timeless trend doesn't have to be boring either. In fact, you can create a remarkable and sophisticated kitchen simply by selecting the perfect color scheme to achieve your desired look!
From clean, white kitchens to dark and moody backdrops, there are a variety of monochromatic quartz countertop and backsplash pairings for you to choose from. We'll walk you through the benefits of a monochromatic kitchen, how to choose the ideal scheme, and a few of our favorite quartz countertop colors and backsplash pairings.
Should I Design a Monochrome Kitchen?
After flipping through countless kitchen design magazines, you may find yourself asking if you should design a monochrome kitchen. Although a monochromatic kitchen is currently trending, it doesn't seem like it will be going away anytime soon. And when done well, it will create a timeless kitchen aesthetic that will look great years from now.
Whether you want to create a warm and inviting vibe in a kitchen that is often filled with family and friends, or you'd prefer a moody space that is bold yet tasteful, there is the perfect combination of quartz countertops and wall tile to help you achieve just that! This high-end look will be something you'll admire day in and day out, and if the time comes when you decide to sell your home, you can have peace of mind knowing the sought-after look will help you sell your home.
How to Choose the Color for your Monochromatic Aesthetic
If you've landed on quartz countertops in the great quartz vs. granite debate, it's now time to decide which color is going to be the backdrop of your space. Consider the other aspects of your kitchen design, such as the wood cabinets.
A popular base color for a monochrome kitchen is white, which is an ideal color palette for a modern kitchen. When paired with high-end white cabinets, you'll create a timeless look that never seems to go out of style.
Another great choice is gray as a base color. When done right, moody quartz colors paired with matching wall tile will create a sophisticated yet trendy backdrop that allows the other elements in your kitchen design to pop.
For a more welcoming atmosphere, you may want to consider taupe, beige, or brown. The warmth behind this color scheme is ideal for more traditional kitchen designs and creates a more subtle monochromatic look.
Create a Monochromatic Look with Quartz Countertops & Backsplash Tile
Monochromatic kitchens are trending — and for a good reason! Gone are the days of boring, blank canvases for kitchens that are all drab and no fab. Just because you want to go all-in on one color scheme doesn't mean your kitchen aesthetic needs to suffer. With so many backsplash options available to pair with your engineered quartz countertops, you can find the perfect monochromatic combination to bring your dream kitchen to life.
Whether you want something bold and beautiful or want something more simple and understated, you just need to find the perfect pairing. No matter the kitchen aesthetic you're hoping to achieve, you can create a beautiful monochromatic kitchen by incorporating any of the following wall tile and quartz countertop combinations.
Warm & Inviting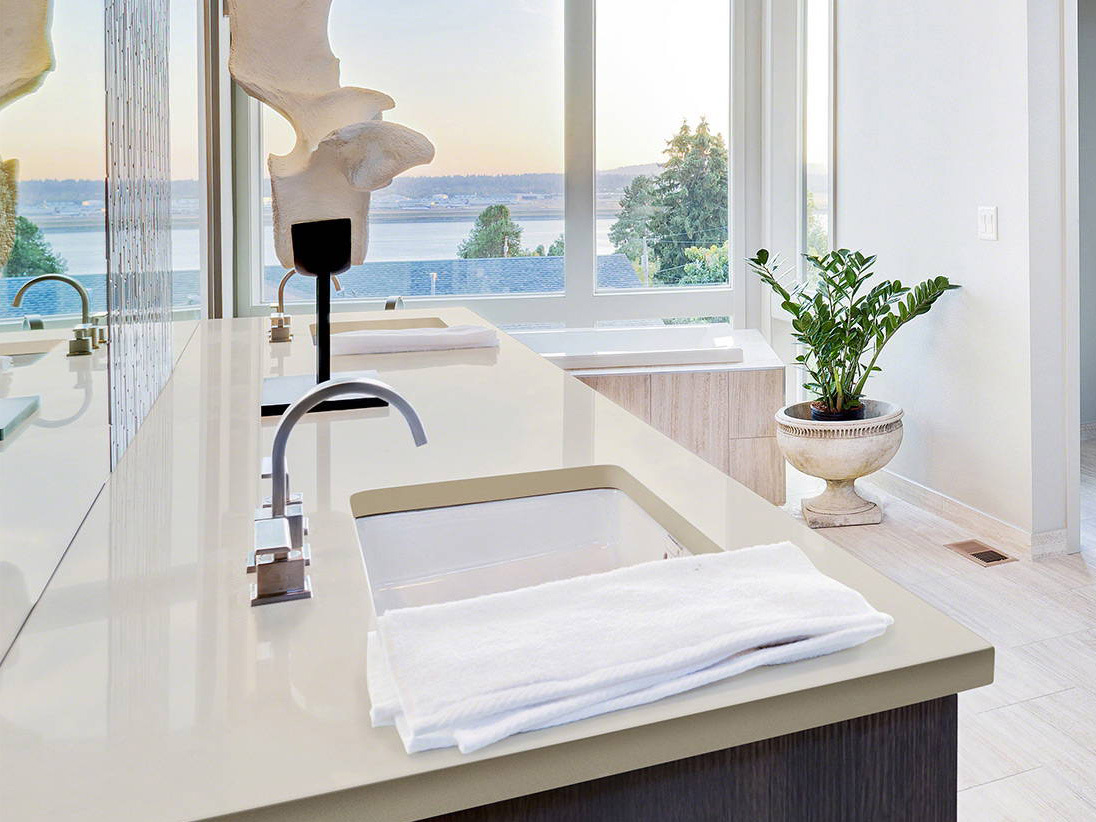 One of our all-time favorite pairings is the combination of warm and vibrant counters with minimal movement alongside a fun pattern backsplash tile. Choose quartz countertops that boast a mid-tone gray background that is punctuated by darker gray flecks throughout the slab that add subtle character and visual interest. To amplify the warmth in your kitchen and make it feel even more inviting, we recommend pairing these countertops with a neutral-toned porcelain mosaic wall tile with a funky pattern to spice things up. The monochromatic appearance will create a clean, yet inviting backdrop for your kitchen, while the herringbone pattern adds a bit of depth and dimension to the space.
Recommended Products:
Natural Quartz Ash Gray Countertops
Almond Glossy Herringbone Wall Tile
Charming & Understated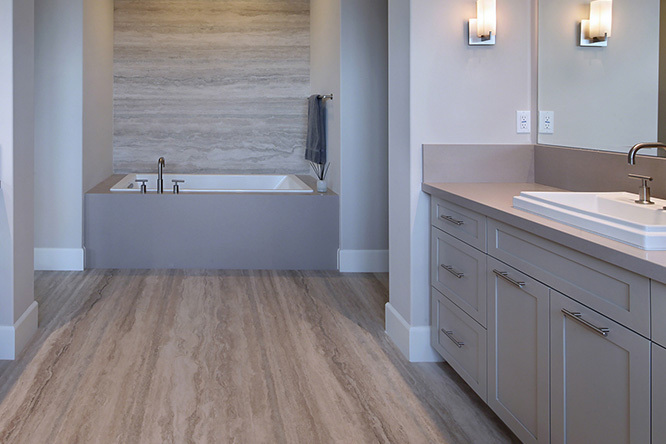 Although bold may not be the aesthetic you're going for, that doesn't mean you need to shy away from design elements that add character to your kitchen. Warm beige quartz countertops are the perfect addition to any kitchen. With a soft taupe background with slight variations for intriguing subtle detail, you'll create a charming backdrop that allows other elements to shine. While this understated quartz can be used as backsplashes, shower surrounds, flooring, and kitchen islands, we love it installed as your kitchen countertops paired with multi-toned wall tiles that blend together cool whites and warm creams. The beautiful color combination adds an upscale look to your kitchen while still allowing you to get the elevated monochromatic look you crave.
Recommended Products:
Hazelwood Quartz Countertops
Split Face Quartzite Stacked Stone Ledger Panels
Trendy & Chic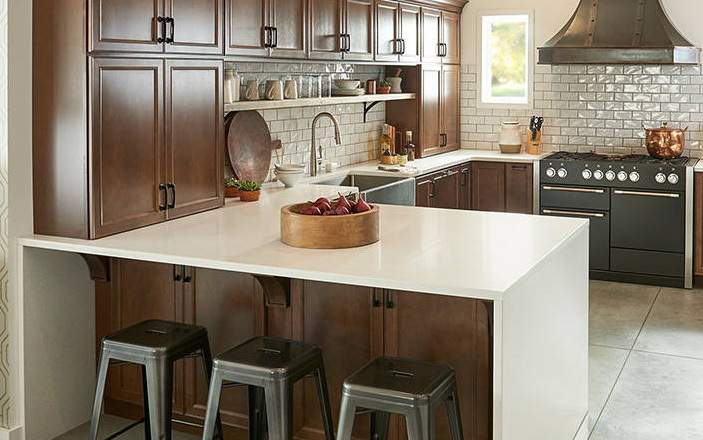 If you have spent countless hours scrolling through Pinterest, you know that one of the trendiest monochromatic looks is white on white. However, this look can be difficult to do right — white the wrong combination of white design elements you may find yourself with a kitchen that feels sterile! Instead, opt for a chic snowy white quartz that creates a clean, simple canvas that showcases other design elements, such as a trendy white subway tile. This trendy and elegant tile pattern seamlessly blends into your kitchen with clean lines, while still adding a touch of flair that elevates the entire look and feel of the room. Your white-on-white kitchen will be anything but boring this perfect combination!
Recommended Products:
Calico White Quartz Countertops
Whisper White Handcrafted Ceramic Subway Tile
Moody & Cool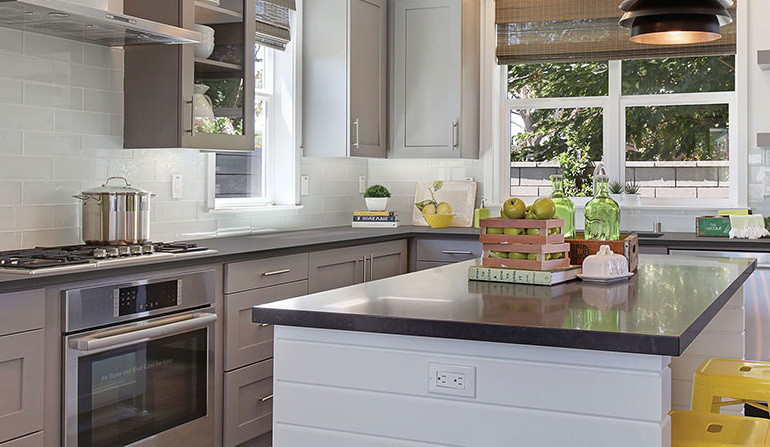 When white-on-white isn't your vibe, you may be looking for something more dramatic and moody. With countertops in a deep dusky graphite gray is flecked with onyx, iron, and pewter, you'll capture a moody aesthetic perfectly. The dark tones of the quartz countertops create the perfect backdrop to your kitchen, especially when accompanied by glossy gray porcelain wall tiles in a funky pattern. The trendy pattern helps to liven up the kitchen while still seamlessly blending with the dark gray countertops to create your desired monochromatic appearance.
Recommended Products:
Shadow Gray Quartz Countertops
Gray Glossy Fish Scale Porcelain Wall Tiles
Read more on Quartz countertops:
6 Quartz Countertops That Look Like Concrete
7 Quartz Colors That Look Like White Marble
Are Quartzite and Quartz Countertops The Same Thing?
Solve Your Kitchen Remodel Emergency with Prefab Quartz Countertops