Get The Look Of Reclaimed Brick With Porcelain Tile
November 11, 2020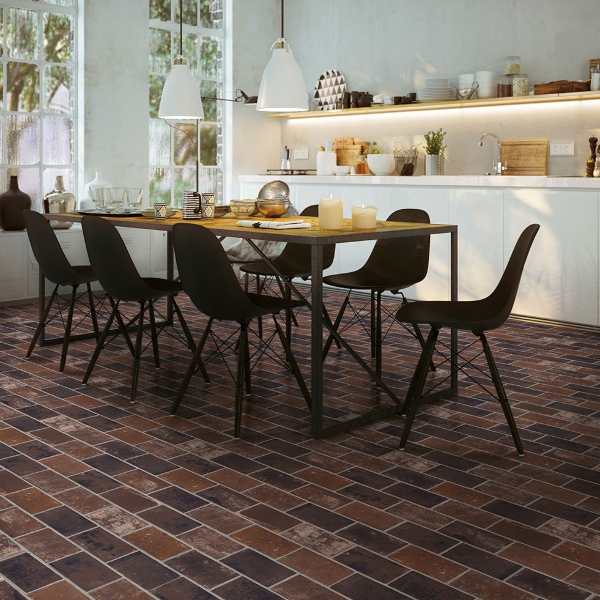 There's something about the look of brick inside that automatically makes the room feel more cozy — and the added character is a major perk as well. Whether you plan to install it as a backsplash, feature wall, or flooring, it's sure to transform your space. But opting for real brick can result in countless headaches for homeowners, which is why more and more people have chosen to install brick-look porcelain tile instead!
Let's take a look at why homeowners are choosing porcelain tile over brick to achieve their desired look and how the Brickstone collection from MSI Surfaces make it possible.
The Downsides of Installing Brick
While anyone can create the exposed brick look that they're envisioning, brick veneers or real bricks aren't always the best choice to do this. Here are a few reasons why brick might not be the right method to create your brick featured wall in your home:
Moisture
Do you live in a damp or wet area? Does it rain quite often? If so, you might want to reconsider installing brick in your home. Because bricks are porous, they are more susceptible to moisture problems and mold buildup. Additionally, the moisture can weaken the bricks, making them more likely to crack, flake, and crumble over time — taking away from the sleek look you were trying to achieve!
Dirt
The texture of the brick wall is one of it's best features. It's a sure way to add character and dimension to any room. However, rough surfaces are also more prone to getting dirty because dust and dirt will stick to every nook and cranny on the brick's surface. You will need to regularly clean your wall to minimize the allergens from building up.
Cost
While not the most expensive project out there, the cost of brick materials are more costly than the vinyl alternative. If you're on a tighter budget, you will need to decide if this is the best way to spend your money.
Vibrations
Do earthquakes or any other storms happen in your area that might cause the walls of your home to vibrate? If so, brick can be a dangerous material to install. As the vibrations travel through the walls, the bricks and the grout are weakened and often crack — leading them to crumble over time.
How to Get the Brick Look with Porcelain Tile
Don't worry — we're not going to leave you hanging without a viable option to get the brick look that you're trying to achieve! Did you know that you create an exposed "brick" wall with Brickstone porcelain tile? The Brickstone collection of porcelain tile from MSI Surfaces solves all of the problems you would face with brick while giving you all the benefits of porcelain tile. You'll be amazed at how much it resembles the real thing (your guests won't even be able to tell the difference!).
Ready to see how you can add an exposed brick wall to your home using Brickstone tile? Let's take a look at four of the most popular colors of Brickstone to help you decide if porcelain kitchen tile is the right option for you to take your space to the next level.

Brickstone Red Porcelain Tile
If you're a fan of the timeless, classic red brick, then Brickstone Red Porcelain Tile is everything you've been looking for — and more! Combining rustic shades of warm red, creams, and browns in a 2x10" tile, you'll be amazed at how realistic your exposed "brick" wall will look. Whether you want to spruce up your dining room or create a farmhouse backsplash in your kitchen, Brickstone Red is sure to give you the aesthetic you're hoping to achieve.

Brickstone Ivory Porcelain Tile
Sometimes classic red brick isn't the look you want — especially if it doesn't blend well with your room's color palette! Luckily, MSI Surfaces offers Brickstone porcelain tile in a variety of colors, including ivory. With Brickstone Ivory, you will get the reclaimed brick-look porcelain tile with three-dimensional texture, but in a matte finish of soft white and ivory tones that are ideal for a contemporary home. This is a much easier alternative than installing real brick and having to paint it to achieve your desired color brick.

Brickstone Taupe Porcelain Tile
Are you a fan of white-washed exposed brick? We are too! Brickstone Taupe Porcelain Tile is exactly what you've been looking for. With a beautiful blend of soft grays and taupe, you can get the aged brick look without the hassle of maintaining an old brick wall or brick flooring. The soft color palette allows the porcelain tile to be a statement in any room, without being too dramatic. No matter where you plan to apply this porcelain tile, Brickstone Taupe makes it easy to install rustic elegance and charm to any home. Check out MSI's flooring visualizer tool to see how Brickstone porcelain tile will look in your home.

Brickstone White Porcelain Tile
Sometimes you want a brick wall, but you don't want it to be the focal point of the room. When looking for a more subtle way to include exposed brick in your space for added texture, consider Brickstone White Porcelain Tile. You'll be able to add a bit of dimension to your space without distracting from your room's accessories. These brick-look porcelain tiles are both rustic and classic, and offer the perfect backdrop to any room — allowing you to make your home decor pop!
These examples from the Brickstone porcelain tile collection from MSI Surfaces make it easy for you to see how you can get the brick-look you love in your home, without the headache (and cost) of real brick. With easy installation, minimal maintenance, tile pattern and color varieties, and unmatched charm, you can't go wrong when selecting any of Brickstone's beautiful color palettes. As you plan your next home improvement project, contact MSI Surfaces to learn more about our Brickstone collection and variety of color options and tile patterns.
READ MORE ABOUT CREATING BRICK LOOK FLOORS OR WALLS with PORCELAIN TILE
4 New Brick-Inspired Porcelain Tile Colors Create Endless Possibilities
Create an Urban Loft Look with Brick Porcelain Tile
Style Statement: Porcelain Brick Tile
The Brickstone Porcelain Tile Collection: Bring Warmth and Richness to Your Space
Brick Look with Porcelain Tile