What Is LVT Plank Flooring?
September 10, 2019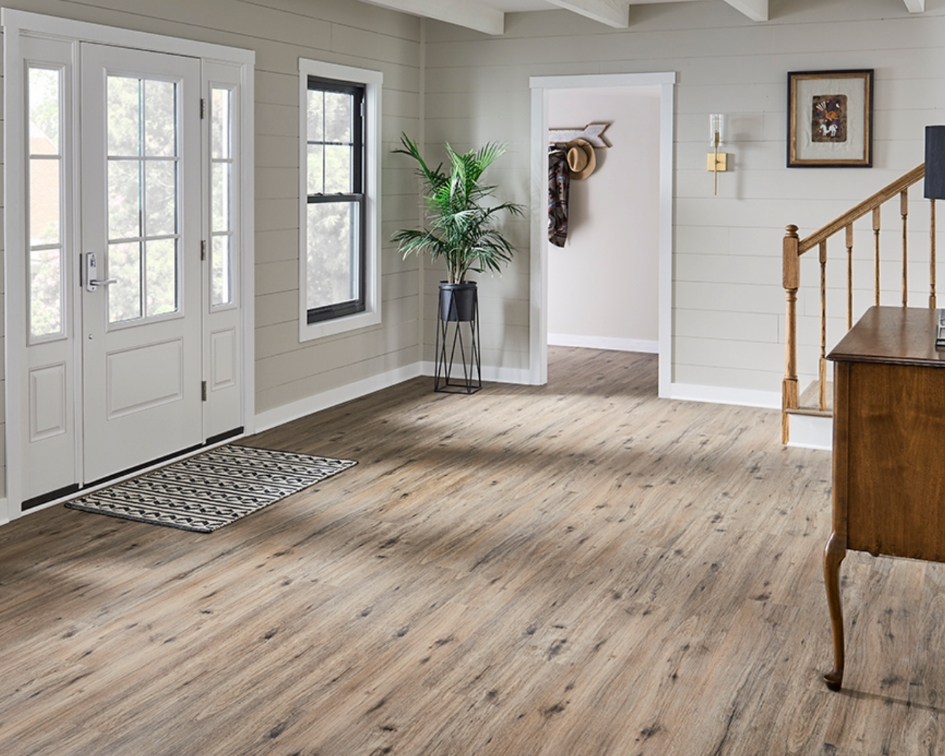 I think it's fair to say that vinyl flooring has come a long way since it adorned your grandparents' house. In fact, LVT—luxury vinyl tile—is extremely popular and growing in demand year by year. This modern tile offers a viable solution of a less permanent floor than traditional wood or ceramic tile. Truly, vinyl plank flooring offers a variety of advantages, both in terms of practicality and style when it comes to enhancing the quality of your home. This article will teach you exactly what LVT is and detail its benefits—after all, it's no coincidence it's growing and in high demand!
If you're looking for durable floors, then luxury vinyl tile is definitely for you. Known to be very resistant to stains, moisture/heat damage and dents, this tile that looks like wood can offer countless stylistic and practical benefits. Furthermore, many types of LVT are soundproof and lack harmful chemicals, ensuring top air quality in your home!
When it comes to the advantages of LVT—well, there are quite a few. For instance, luxury vinyl tiles are known to be very cost effective, especially compared to their counterpart, hardwood flooring. This is a major plus because LVT creates a similar look to hardwood, meaning you are getting more for your money if you're on a tight budget.
The durability of LVT, which was previously mentioned, is worth circling back to as these tiles often last 20 years or more when properly installed. And speaking of installation, their ease of installation is a serious benefit, as they can be put in over top of existing floors. (Seriously, no joke!) This means you don't have to worry about removing the previous flooring, as LVT can be installed right over the subfloor. This can also save money in the long-term since installation doesn't require ripping up what is already there. Who doesn't love convenience? Although, keep in mind some installation requirements may demand you rip up some of the existing floor due to foot traffic pressure, but those guidelines are on a case-by-case basis.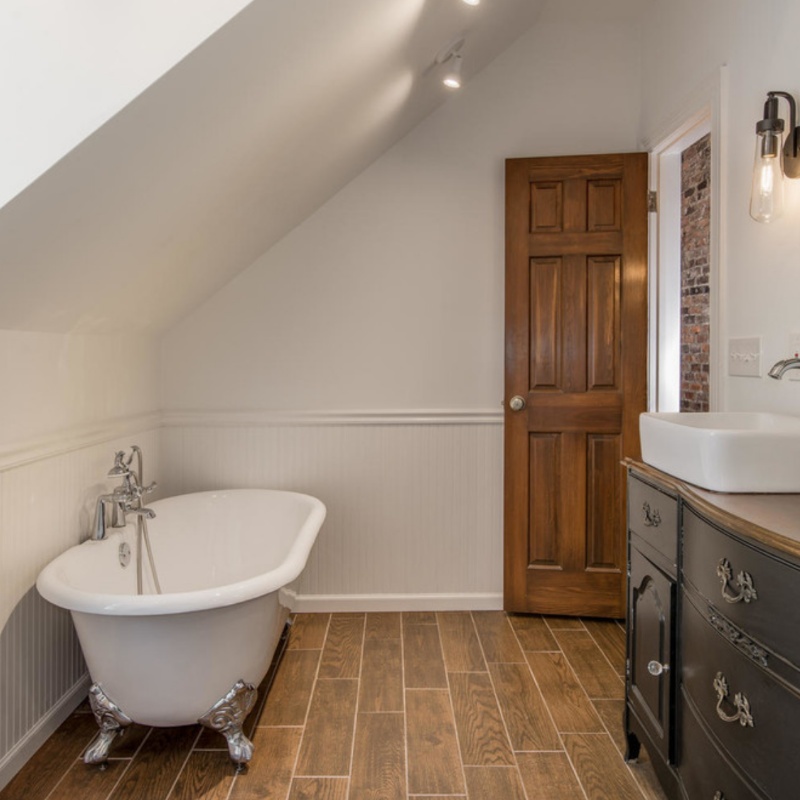 Create a similar look with MSI's Fauna (Photo Credit: Houzz)
Additionally, LVT requires very little maintenance. This means they need no special treatment and no need for hours scrubbing or waxing. Literally, all you have to do is damp mop and occasionally sweep up dirt and dust. This is an ideal pick for busy spaces like the kitchen, where there's often a lot of foot traffic and potential dirt waiting to be cleaned up! When it comes to vinyl flooring, there are also some important variations to keep in mind. For instance, many might ask, "What's the difference between vinyl plank and vinyl sheet?" Vinyl sheet comes on a large roll, actually, similar to linoleum flooring. Because of this, vinyl sheet is installed all at once in one big sheet. This has been a traditional way of vinyl installation for many years.
Vinyl plank, on the other hand, is installed in planks and set down plank by plank to give the feel and look of real wood. Additionally, vinyl plank is much thicker than vinyl sheet, which is in large part why it's so absorbent of noise. Many might prefer vinyl plank because it can be installed in various configurations and customizable designs. Additionally, you also might hear the question, "What is LVT plank rigid core flooring?" This is a type of plank that is solid with less pliability than its counterparts and an enhanced rigid core construction for overall dimensional stability. Rigid core vinyl flooring is an engineered vinyl floor that enhances that "wood look and feel" even more so than your average LVT planks. These designs can come in a handful of different styles and are 100% waterproof. Typically, LVT plank rigid core flooring can feel more sturdy under foot than traditional vinyl, primarily because of the thickness of the plank.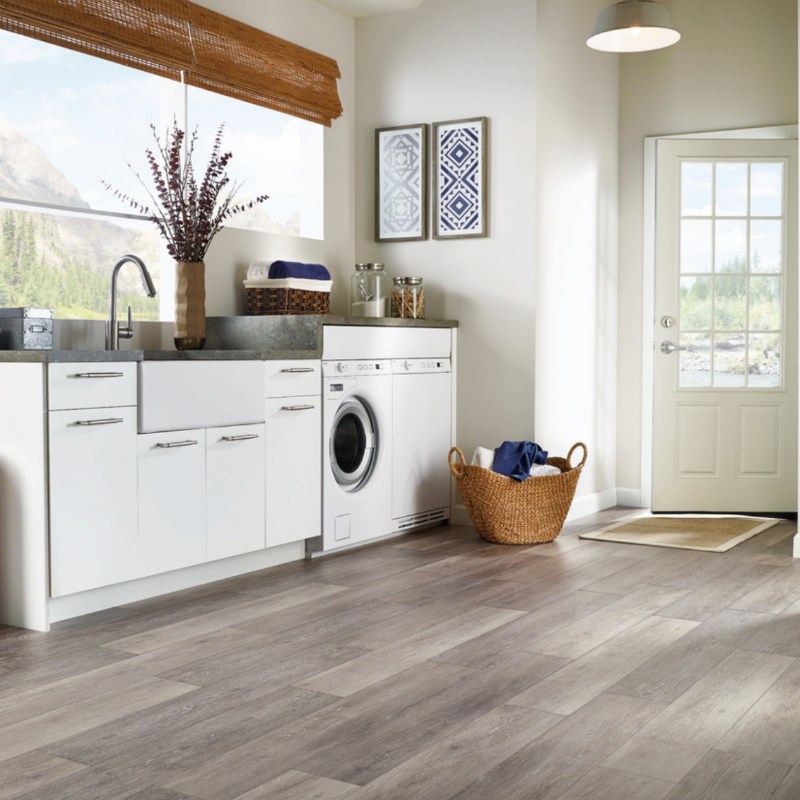 Recreate this look with Prescott Ludlow (Photo Credit: Houzz)
Ultimately, LVT allows you a less permanent floor than traditional hardwood so that you can alter a room's appearance and look much easier. This can involve mixing up a living room or kitchen that needs a bit of a facelift or even altering the flooring in your bathroom to correlate with your new shower and sink! Since a major advantage of LVT is its versatility—it also is ideal for replacements. While resistant to chipping and damage, as previously mentioned, LVT is sold in planks, making it easier to insert a new tile as opposed to suffering the consequences with a vinyl roll, where you might have to replace the whole thing! Truly, you cannot find a more convenient quality flooring option than LVT to make your life easier and more adept to changes. The style and design options of LVT are endless, especially since it's difficult to differentiate LVT from hardwood and tiled flooring. Without the need for grouting, LVT comes in a variety of helpful shapes and patterns.
For those with an eye for interior standouts, you can really make bold statements with this flooring through mixing multiple tile shapes and colors. Even though LVT isn't real hardwood, it can still remain a topic of conversation from admiring peers during dinner parties and get-togethers. And how nice to know if you get sick of your flooring design, you can mix it up without costing an arm and a leg? By displaying the look, character and feel of real hardwood through quality LVT flooring, you can enhance the value and look of your home tenfold. It doesn't matter what type of aesthetic preferences you have, there are many various styles from which to choose. While it's no surprise this is a significantly growing segment of the flooring industry, its many advantages often leave homeowners wide-eyed and wanting to know more. Take the time and explore what LVT options may be right for your home. More than likely, its look, feel, price point and convenient installation will definitely appeal to you!
More Information on LVT Flooring
5 Reasons to Use Luxury Vinyl Flooring
Luxury Vinyl Tile - The Prescott Series
DYI - How to Install Luxury Vinyl Planks
Is Luxury Vinyl Tile a Good Investment?