Luxury Vinyl Tile Vs. Luxury Vinyl Planks — What'S The Difference?
July 12, 2021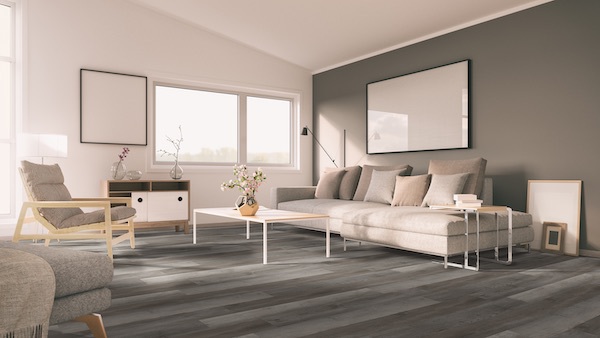 Shopping for home remodeling products is confusing enough without running into a variety of items with similar names. LVT (Luxury Vinyl Tile) and LVP (Luxury Vinyl Planks) sound similar. Furthermore, there are planks that glue down and planks that click into place. So, what's the difference, and how do you choose the best product for your home?
Luxury vinyl tile and luxury vinyl plank flooring are indeed constructed in the same way. There are a lot of similarities between the two, and also several differences. So, what is the difference between luxury vinyl tile and luxury vinyl plank? It can seem like a logic puzzle: All LVP is LVT, but not all LVT is LVP. Basically, they're all forms of vinyl tile. The main difference is whether you want the look of hardwood flooring or stone tile.
You might also be wondering about the difference between LVT and traditional vinyl flooring — and in this case, the difference is a big one.
Traditional vinyl flooring was previously available in sheet form only, and sheet vinyl flooring is still sold today. It's an inexpensive way to finish a room and can look attractive, but it does have several drawbacks. For one thing, it's not easy to install, since it's one large piece, and seams between two pieces will show. Second, it's prone to damage from scratching tearing, or divots caused by furniture legs or high-heel shoes. Worst of all, if the flooring is damaged, it's nearly impossible to completely repair the damaged spot without removing the entire sheet of flooring.
Luxury vinyl tile is a vast improvement. Consider the benefits of luxury vinyl tile: It lasts much longer before it needs replacing, it's simple to install, and best of all, it's available in myriad patterns and colors that closely resemble natural stone, tile, or wood planks.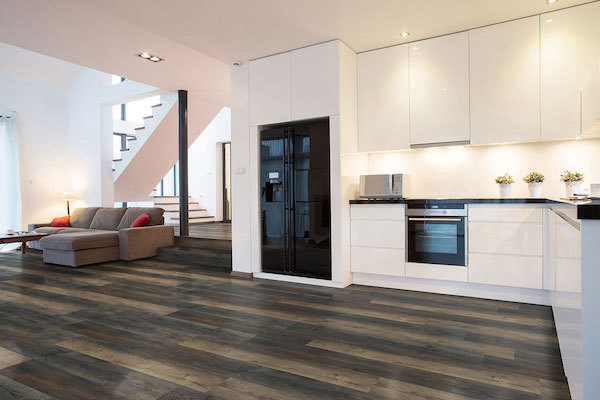 Part of the reason for LVT's realism is that it's thicker and more rigid than traditional vinyl flooring. It's made up of six to eight layers. Here they are, from bottom to top:
PVC and/or fiberglass backing layer — this offers rigidity and stability.
Cushion foam layer — this gives the tile a feeling of warmth and comfort underfoot.
Design layer — printed in a photorealistic pattern, this thin layer of vinyl imitates a variety of wood or stone materials.
Protective clear wear layer — the thickest part of the LVT, this layer protects against scratches, stains, dents, and other damage.
Clear top coat — this colorless urethane offers even more protection and also provides shine, texture, and slip-resistance.
Both products are waterproof, durable, and can withstand heavy foot traffic. Furthermore, luxury vinyl flooring care and maintenance is easy, and it's suitable for installation in any room of the home. However, there are a few differences between these products that you should know when deciding which you prefer.
Luxury vinyl planks are available in two varieties — glue-down and interlocking. Each have their advantages and disadvantages. Luxury vinyl tile that resembles stone, rather than planks of wood, is always glue-down tile.
Glue-down vinyl floor tile is just that, tile that is affixed to the subfloor with an adhesive.
Advantages: It's a better choice for high-traffic areas, so it's often chosen for commercial buildings. Also, it's easier to replace a piece of glue-down tile if it's damaged.
Disadvantages: Installation may be more complicated since adhesive must be spread, and the subfloor must be thoroughly prepared first.
Interlocking floor tile, also called "floating" floor tile, does not need adhesive. Each piece locks together with the next with a tab fitting into a groove.
Advantages: Installing vinyl flooring is so easy it makes it a good DIY project, and the subfloor needs less preparation. In fact, in some cases it can be installed right over existing flooring.
Disadvantages: It is more prone to damages from furniture and foot traffic because it is not attached to the subfloor. Also, replacing one damaged plank may require the removal of several planks around it.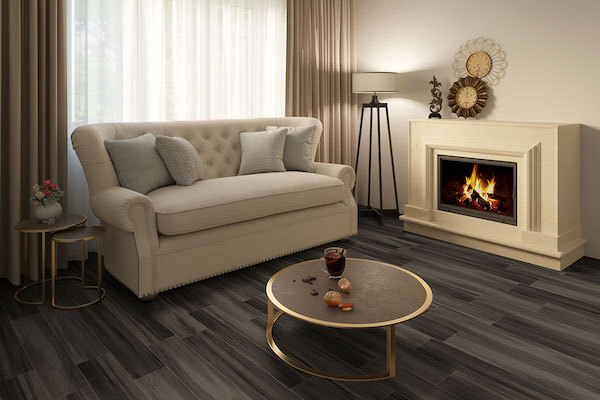 What are the pros and cons of Luxury Vinyl Flooring vs. LVP? Basically, it comes down to your style preferences.
Luxury vinyl planks authentically reproduce many different wood varieties, colors, and grain patterns. You can choose a pale, subtle wood-look plank or a more bold, rustic type resembling weathered, reclaimed wood. There's no question that wood flooring, or its lookalike, adds a lot of warmth and character to a room. LVP lets you decorate with the look of wood in rooms that might be incompatible with real wood flooring, such as bathrooms, kitchens, or laundry rooms where the real thing might be damaged by humidity, spills, or even standing water.
Stone-look luxury vinyl tile replicates many types of natural stone, such as marble, travertine, limestone, slate, and more, complete with veining and shading. Some types are even made with pulverized stone, to create an even more realistic finished product. If you've ever wanted the classic, upscale beauty of marble tile in your dining room or entry way, but were worried about the high maintenance it can require, LVT can solve your problem. It's also a lot warmer and softer underfoot than the real thing.
Once you choose the product you want, you have your choice of where to buy Luxury Vinyl flooring. It's available at most home improvement stores, but to see the full array of flooring options you should visit MSI's web gallery where you can try our flooring visualizer to narrow down your options. There may also be a MSI showroom near you, where you can see our products in person. Next, use our dealer locator to find a location where you can purchase your new flooring!
More About Luxury Vinyl Planks
Should You Replace A Water Damaged Wood Floor with Luxury Vinyl Tile?
Luxury Vinyl Tile Pros and Cons - Wood Look Vinyl Flooring Vs. Real Wood Flooring
Considering Installing Luxury Vinyl Flooring? Read This First!
How To Clean Your Luxury Vinyl Flooring To Keep It Looking New