Warm Quartz Countertop Colors Create A Welcoming Space
February 03, 2021

There's no place quite like home. When you close your eyes and imagine yourself in your kitchen, what do you feel? Do you imagine lounging on the sofa with your friends or sitting around a welcoming table with family? Do you immediately feel enveloped in warmth and wonderful aromas? Creating a warm, cozy, and inviting home is easily achieved by incorporating warm tones into your space. One of our favorite ways to introduce warmth into a kitchen or bath is through beautiful warm quartz countertop colors.
Benefits of Installing Warm Quartz Countertops
With so many color schemes to choose from, it can be hard narrowing down which quartz countertops will bring your vision to life. If you're torn between cool and warm tones, we've compiled a list of reasons why warm quartz countertops can be beneficial in any home:
Reminiscent of nature – Don't you love the feeling when you step outside and the sun touches your skin for the first time that day? There's something about the immediate warmth and light that automatically takes a day from good to great. Warm countertops are an easy way to create a sense of nature in your space that is reminiscent of sunlight, sand, and heat — helping you create a lively and comfortable space.
Coziness in larger spaces – Are you renovating a kitchen or bathroom with large square footage? Using cool tones in a large space will emphasize its square footage, often making it feel cold and isolated. If you're aiming to create a cozy feeling in a large room, a warm color palette can help create the look and feel you're going for.
Adds light into the room – Depending on the location of the room in your home, you might be dealing with a space that receives minimal natural light throughout the day. If you're dealing with a room that is dark or faces east or north, a warm color scheme will help make the room appear brighter and more lively.
Pairs well with neutrals – Just because you opt for warm countertops doesn't mean you can only add in other warm elements into your space. A warm color palette pairs beautifully with whites, blacks, and grays which means you can add in all the neutral cabinets or fixtures you'd like without worrying.
Improve the ambiance – There's nothing drabber than a bathroom with too many cool elements — almost making it feel like a medical office. Adding warm quartz countertops can help make your bathroom more inviting and feel less cold. Similarly, a warm kitchen will help up the energy in the space which is perfect for a busy kitchen.
Accentuates cooler colors – If you're a fan of cooler colors like blues and greens, adding a sense of warmth to the room can help provide balance in the space. Mixing and matching warm and cool elements makes it possible to achieve a dreamy look no matter the time of day and how much natural light is hitting the room.
Whether you're deciding between white quartz or more of a beige slab, you won't be disappointed when you choose to go with a warm color scheme. While the warm and inviting tones of quartz are sure to take your kitchen or bathroom aesthetic to the next level, its color options aren't the option reason quartz has become such a popular choice. Here are a few reasons why quartz is a great countertop option for your kitchen or bath:
How to Create a Welcoming Space with Warm Countertops
Once you've decided on warm countertops versus the cool-toned counterpart, you get to enjoy the fun part of picking out the quartz countertops that will transform your dream into a reality. Need help envisioning how these premium surfaces will look in your space? With MSI Surfaces' countertop visualizer you can see how each warm countertop option elevates the look and feel of your kitchen or bathroom.
Calacatta Valentin Quartz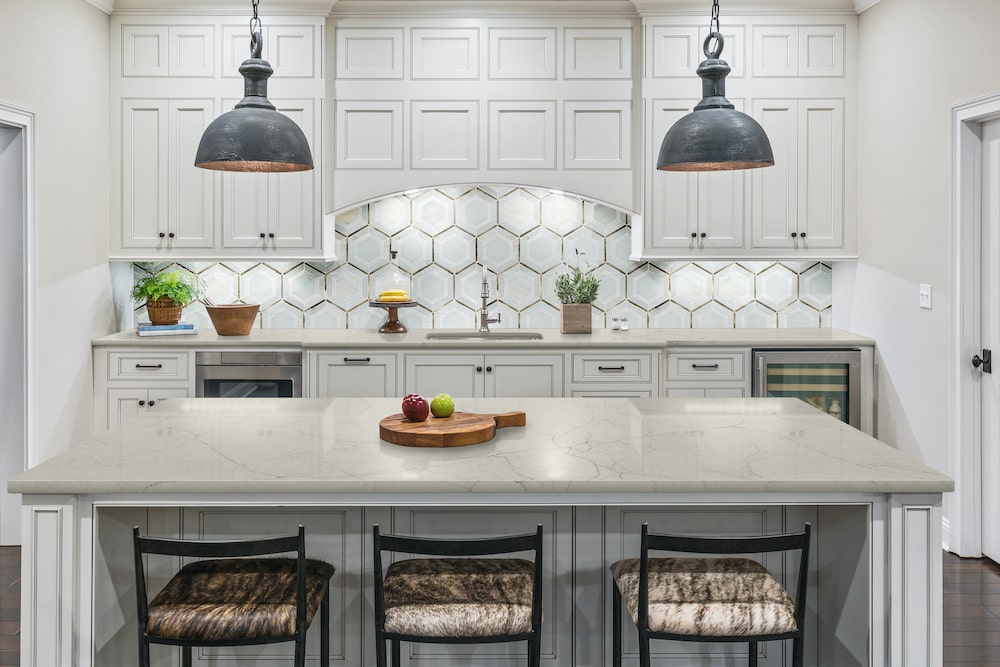 Calacatta Valentin Quartz
Are you looking for something a bit dark and moody, yet still warm and inviting? Calacatta Valentin Quartz boasts a gray-beige backdrop accompanied by subtle brown veining to add movement throughout the slab. When piecing together elements to create a more dramatic space, this is the ideal option. You can also create a warm contrast in your kitchen or bathroom by pairing the dark warm countertops with light warm cabinets and flooring to emphasize the beauty of the quartz countertops.
Calacatta Arno Quartz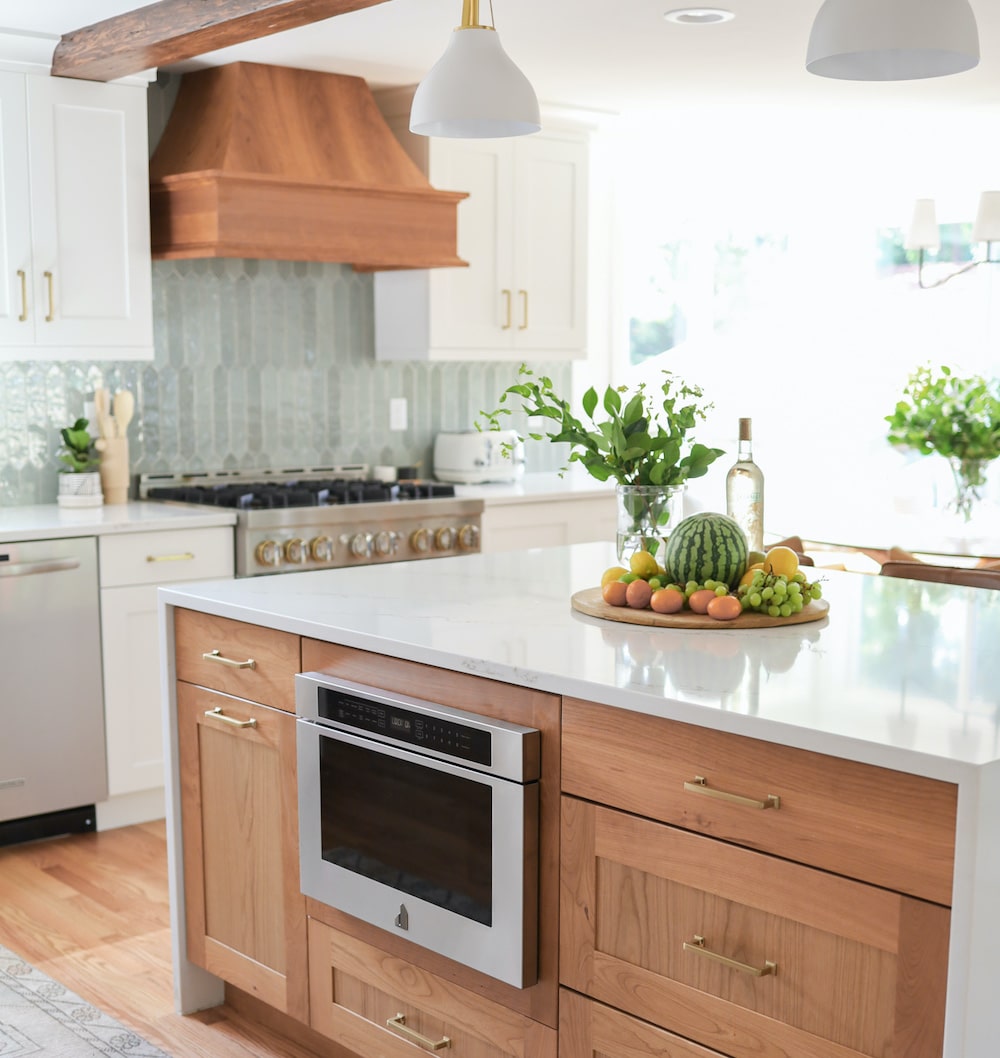 Calacatta Arno Quartz
Get the marble look for less with Calacatta Arno Quartz. With a warm white backdrop and thin gray highlighting, you can match it to nearly any existing color palette. This countertop option pairs perfectly with a kitchen or bathroom using warm gold or brass fixtures and hardware throughout the space — tying in beautifully because of the gold accenting in the slab. From using this Calacatta Arno Quartz as chic flooring to countertops to an entryway, the gold detailing will make any space feel more elegant.
Calacatta Laza Quartz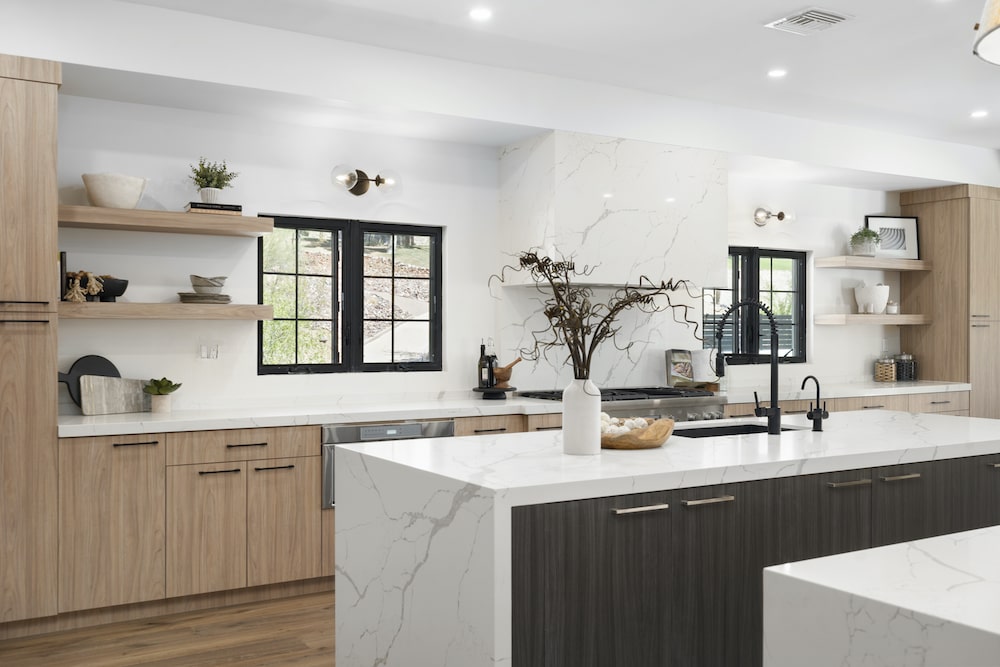 Calacatta Laza Quartz
With its dramatic movement, you won't find another quartz that is more inviting than Calacatta Laza Quartz. Its warm, milky white background and contrasting soft brown veining add a bit of flair while still being subdued. Whether you're cultivating a modern or more traditional vibe in your kitchen or bathroom, Calacatta Laza Quartz is a beautiful marble-look quartz that is extremely versatile. No matter where you want this installed — kitchen counters, shower surround, backsplash, or waterfall island — the choice is yours!
Calacatta Classique Quartz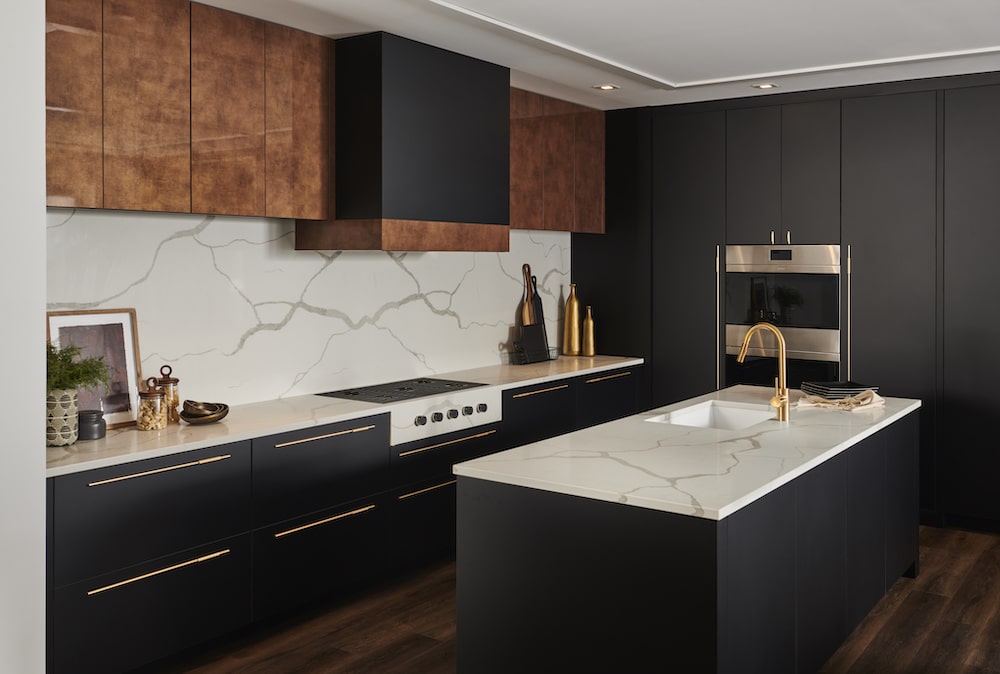 Calacatta Classique Quartz
If you're looking for show stopping countertops that will leave your guests oohing and ahhing, look no further than Calacatta Classique Quartz. With its clean white backdrop accompanied by striking yet subtle greige veining throughout, it's the perfect pairing with a space that is incorporating both warm and cool tones. Use this quartz as your kitchen or bathroom countertops or make it the focal point of your space as an accent wall or waterfall island. Its sophisticated palette is sure to take any space to the next level aesthetically.
Portico Cream Quartz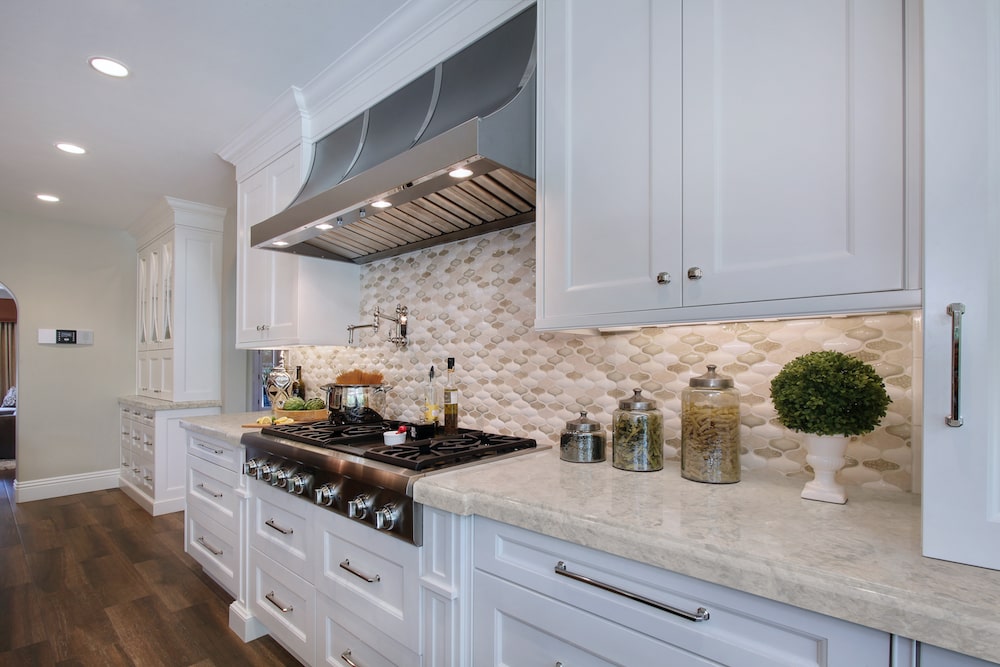 Portico Cream Quartz
Something is mesmerizing about the look of Portico Cream Quartz. With its artful mix of cream, greige, and gray, it pairs beautifully with a variety of flooring, backsplashes, and cabinetry. The neutral color palette and natural movement and veining add a sense of depth that adds life and energy to both kitchens and bathrooms — making it ideal for rooms with large square footage that need an added sense of coziness. Whether you want to use this quartz for your countertop, fireplace surround, backsplash, or accent wall, you won't be disappointed with your choice.
Which is the best warm quartz for your renovation? Our team at MSI is ready to help day or night through our convenient online chat feature. You can also visit an MSI showroom or contact an MSI authorized dealer for assistance.
More on Quartz Countertops
The Best Quartz Countertop Edge Options For 2021
Why Quartz Countertops Are A Popular Choice for Reception Areas and Hotel Vanity Countertops
The 10 Most Popular Quartz Countertop Colors For 2021
5 Reasons to Consider Quartz Countertops