Tips From The Trade: Should You Use Stacked Stone In The Bathroom?
August 14, 2018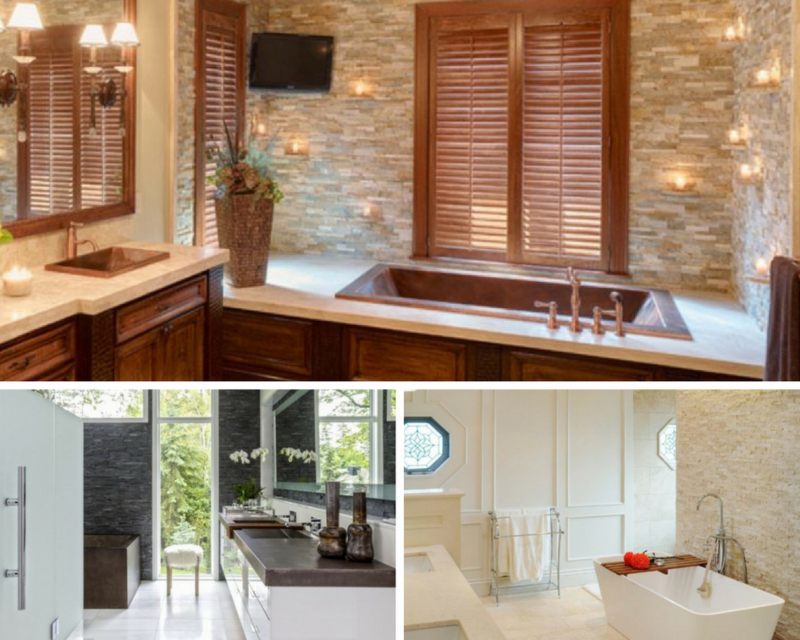 There's no question that stacked stone makes a statement in any design. From refined rustic to contemporary chic, these stylish ledger panels may be more commonly used on an exterior or living room fireplace, but they can also add dramatic texture and color to your bathroom.
In fact, more master bathrooms are getting this luxury, spa-like treatment. However, homeowners like you may be concerned about using stacked stone in an area that gets quite a bit of moisture. You might worry about discoloration and water damage beneath the tile, especially since the cut stone ledger panels don't have an impermeable glaze finish like tile does. But, these concerns shouldn't cause trouble as long as you follow some important tips about proper wall prep, installation, and maintenance.
Durable Materials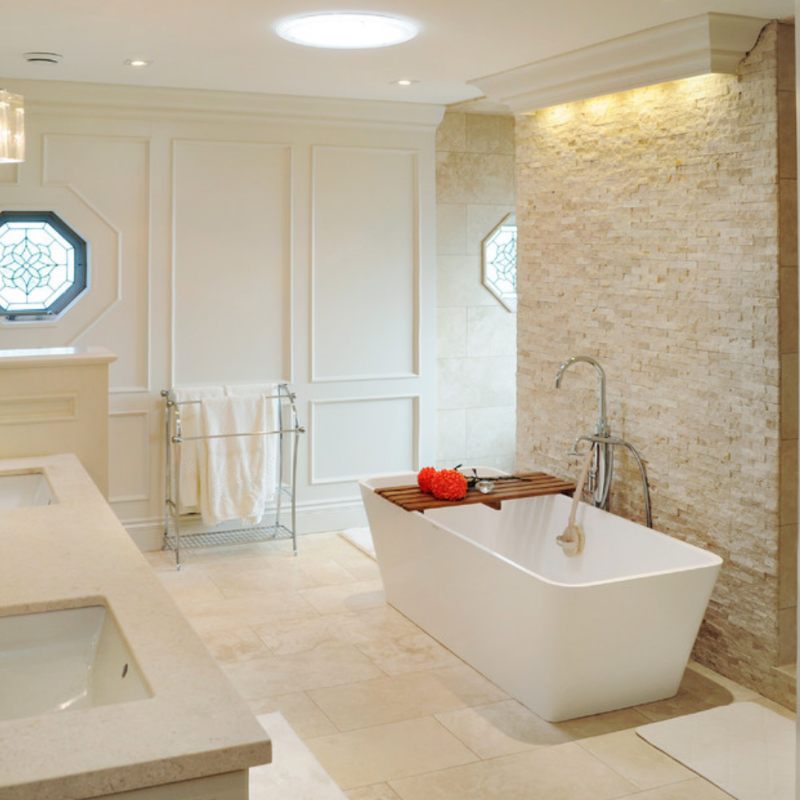 Get this look with MSI's Sparkling Autumn Stacked Stone Panels (Photo Credit: Houzz)
Stacked stone ledger panels come in various colors and types, including marble, slate, travertine, and quartzite. The substantial natural stone is neatly cut into thin, rectangular pieces in various heights that are then stacked against the surrounding stones. Since they're made of real stone, they're very durable, unlike many of the fake stone veneers readily available, and can be featured next to vanities or even in the shower.
Installation Tips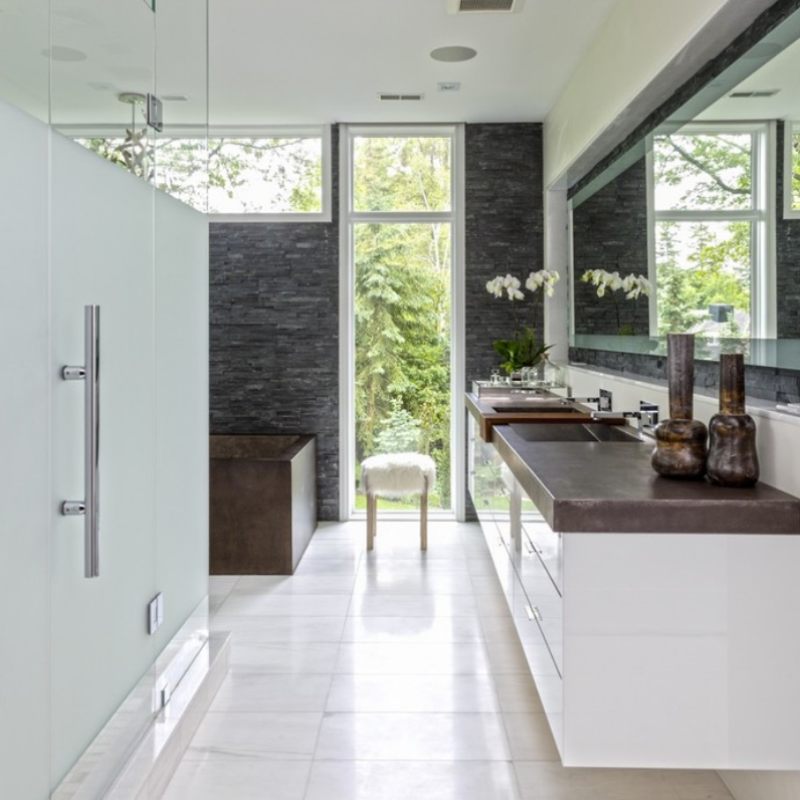 Get this look with MSI's Glacial Black Stacked Stone Panels (Photo Credit: Houzz)
Avoiding possible moisture problems with ledger panels in the bathroom can be avoided if you use the correct substrate, bedding, and setting materials. First, use an antimicrobial cement board to cover the framing. Then, the most important installation step is to install a waterproofing sheet or fluid-applied membrane that overlaps the shower pan. This layer will make sure that whatever water gets through the stone won't go past the membrane and into the wall cavity. Next, apply the stacked stone to the prepared substrate using an antimicrobial, polymer-modified thinset to help prevent mold and mildew growth.
Maintenance Tips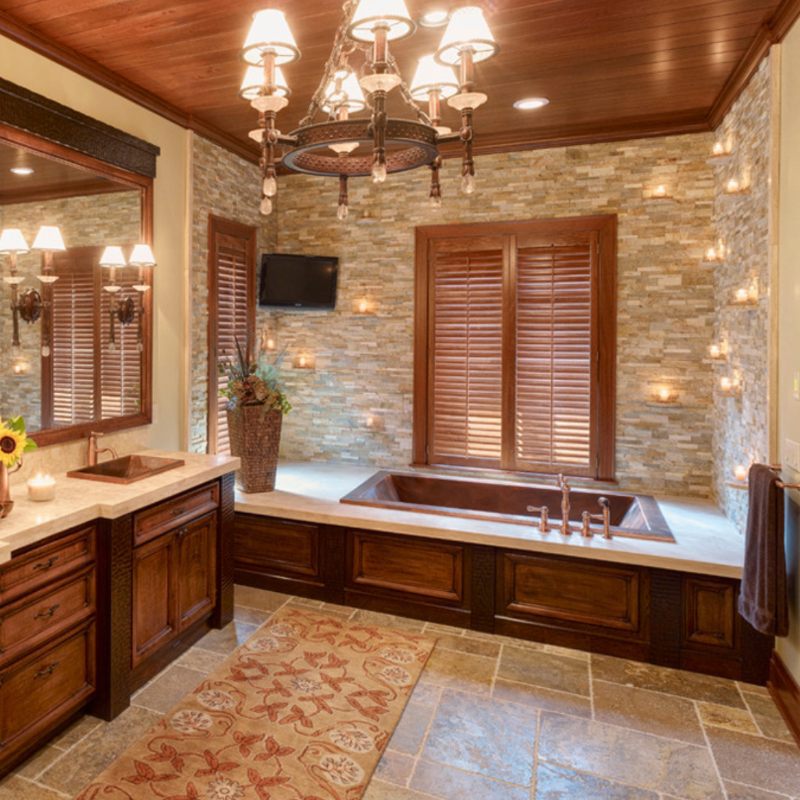 Get this look with MSI's Fossil Rustic Sandstone Ledger Panels (Photo Credit: Houzz)
It's very important to seal your stacked stone wall tile after it's been installed, especially if it will be in or around water. For shower installs, make sure to use a high-quality natural stone sealant before using the shower. While some think the sealant will add another waterproofing element, it actually will treat the stone and make it harder for stains to appear and for mold and mildew to form on the stone's surface. For even easier cleaning, you can also grout your stone after it has been installed in order to fill in any gaps between the stone layers. In addition to the initial application of stone sealant, you should follow the guidelines given from the seal manufacturer.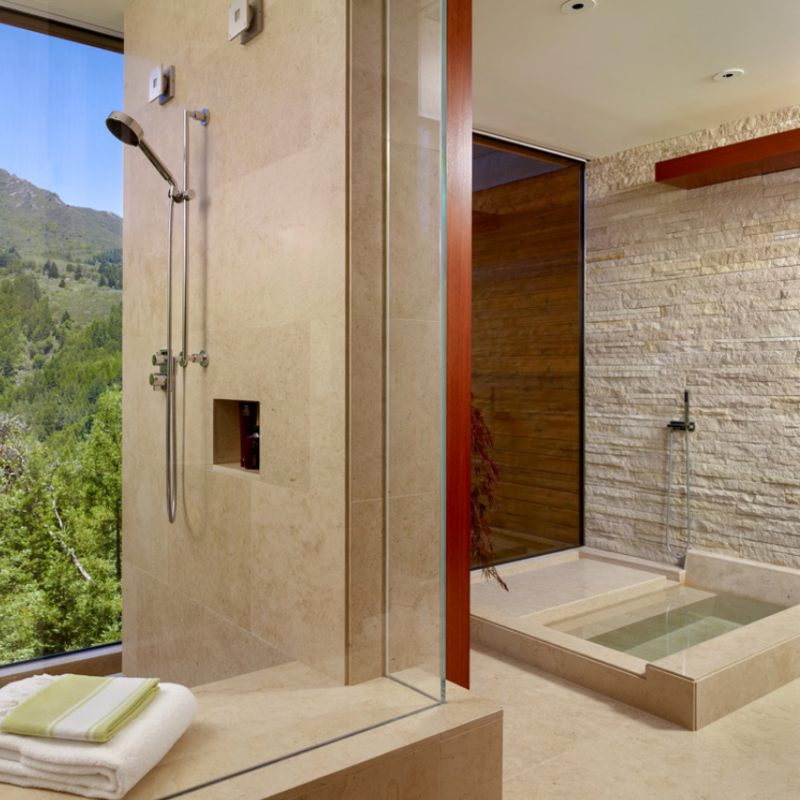 Get this look with MSI's Durango Cream Ledger Panels (Photo Credit: Houzz)
Another maintenance tip is to turn on the exhaust fan during and after you take a shower. This will help get rid of the warm, moisture-rich air and help prevent the growth of mold and mildew. Also, rinsing the shower walls with water after every shower will help cut down on the time it can take to clean those nooks and crannies.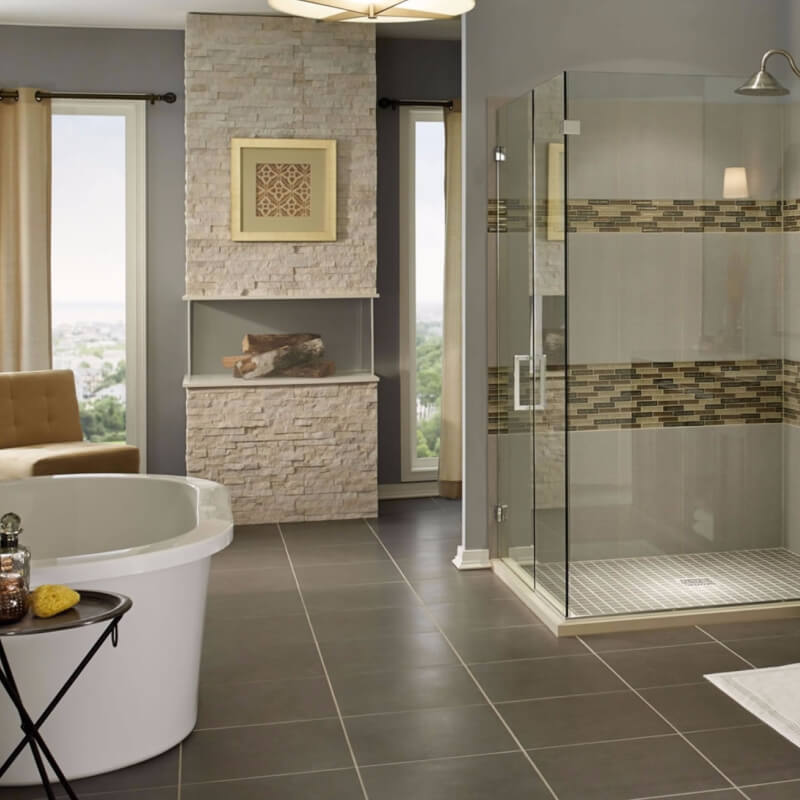 Featured: Arctic White Marble Ledger Panels
With the proper installation and maintenance, your natural stone veneer will last for a long time. And, no matter if you decide on stunning stacked stone or another natural stone for your bathroom shower or feature wall, remember that these tips are critical for all natural tile installations in moisture-prone areas. For even more nature-inspired bathroom design ideas, check out this article.
MORE BATHROOM IDEAS
Beautiful Bathroom Designs Featuring Ceramic Tile
The Truth About Marble In The Bathroom
Perk Up Your Bathroom With Fresh Ceramic Tile
Tile Style: Which Size Porcelain Tile Is Best for Small Bathrooms
7 Bathrooms Featuring Show-Stopping Travertine Tile
Why We're Seeing More Quartz Countertops In The Bathroom