Go Bold With Windsor Luxury Vinyl Tile
October 10, 2022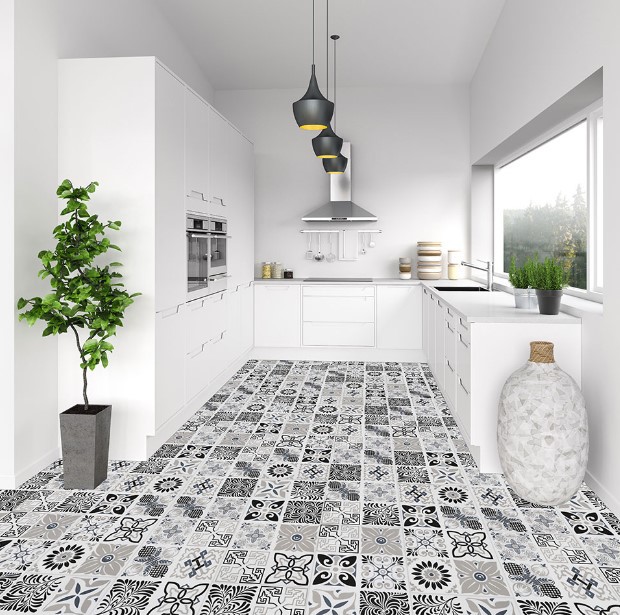 You may never have thought about making your flooring the focal point of a room — but once you've seen how bold luxury vinyl tile from MSI's Trecento Collection makes a room pop, you'll wonder why. Patterned tile flooring is on-trend and even better in durable, versatile vinyl.
There are many benefits of luxury vinyl tile. It's not just water-resistant — it's waterproof, making it an ideal flooring choice for any room in your home that might get wet, like a kitchen or bathroom. That means it's kid- and pet-friendly, too. The secret is MSI's proprietary CrystaLux wear layer, which protects against many common types of damage, such as stains, scratches, indentations, and fading or yellowing from exposure to strong sunlight.
Luxury vinyl flooring has another feature that busy families love: warmth and comfort. LVT feels warm underfoot, unlike other types of flooring, such as ceramic, porcelain, or natural stone tile. Anyone who enjoys going barefoot inside the home knows that that's a blessing, especially on cold winter days. Many types of LVT include an attached backing layer, but many homeowners still install a layer of underlayment beneath the tile. This also makes the flooring more comfortable to stand on and even absorbs noise in the room, making your home more peaceful and serene.
Luxury vinyl tiles are made from layers of polyvinyl chloride. First, there's a print layer, which provides the tile's color and pattern. It sits on top of a vinyl core and is covered by a protective wear layer and a tough urethane coating. Most rigid-core flooring tiles, including the Trecento collection, have a backing attached.
In many cases, when comparing price per square foot, LVT costs a fraction of the natural stone or other surfaces it replicates. In addition, vinyl flooring allows you to have an elegant, upscale flooring look in areas where you'd usually worry about their practicality, such as bathrooms, mudrooms, entryways, and other spaces that can get wet and messy.
You'll love how easy LVT is to care for. Waterproof vinyl flooring never needs to be waxed or sealed to maintain its water resistance and durability, even in high-traffic areas within your home.
Furthermore, luxury vinyl tiles can contribute to a healthier home. Since it's waterproof and easy to clean, it's resistant to mold and mildew. Solid flooring is also an excellent option for people who suffer from allergies. And although there's been concern recently about how LVT affects indoor air quality, MSI's luxury vinyl flooring is NSF, Greenguard Gold, and FloorScore Certified — all of which assess the amount of volatile organic compounds (VOCs) and other toxins emitted by the product. So, it's certified not to affect your home's indoor air quality adversely.
MSI's Trecento collection is a rigid-core vinyl tile that is easy to install, easy to care for, and very easy to love. Most of the tile colors in this collection resemble natural stone, such as marble, in pale, neutral shades that work well in any decor. But today, we're showcasing our brand new vinyl tiles: Windsor Crest and Windsor Isle.
WINDSOR CREST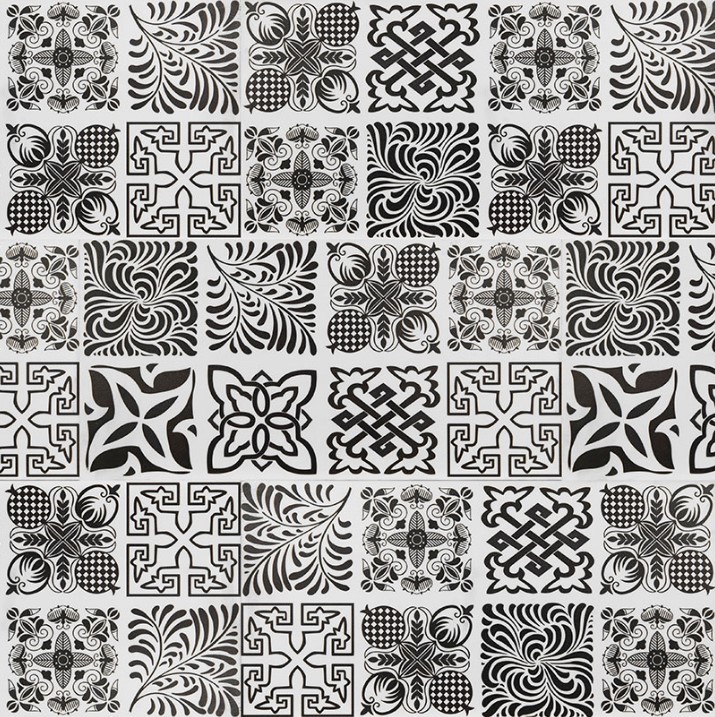 Featuring bold black-and-white patterns, Windsor Crest is a great way to add "pop" to any space in your home. The tiles are 12" x 24", each containing eight distinctive designs. As a result, your flooring appears to be an intricate mosaic that took a long time for skilled artisans to put in place — but you'll know that it's quick and straightforward. With our patented click-and-lock system, luxury vinyl tile installation can even be a weekend DIY project.
The smaller motifs on a large-format tile make it more versatile, maintaining proportion so it won't overpower a smaller room. But you don't need to use the same tile on the entire floor — consider using it in a smaller section to create a central "rug" surrounded by a different, complementary tile color.
These tiles have a 1mm pre-attached backing for extra sound absorption and comfort. In addition, additional underlayment can be added before the LVT is installed, further enhancing its shock- and sound-absorbing qualities.
WINDSOR ISLE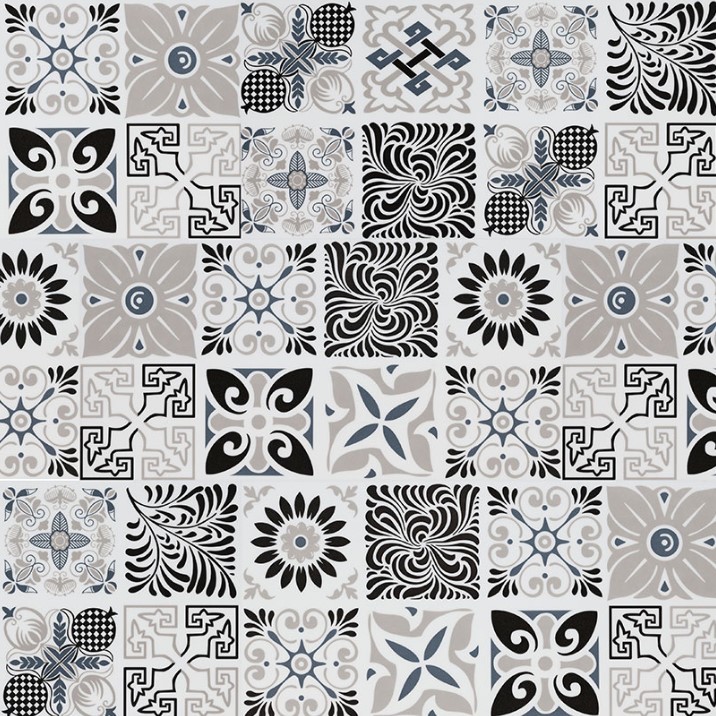 Windsor Isle features the same size and patterns as Windsor Crest, but instead of plain black and white, it's also designed in shades of ivory and gray. In addition, this is an encaustic-style tile, meaning that the different colors appear to be inlaid rather than just printed on top. This adds the look of dimension and depth, an effect that is enhanced by its four different colors rather than just black and white.
High-contrast patterned flooring tiles are nothing new, but this tile is anything but old-fashioned. It's right at home in a contemporary design. Boldly printed, high-contrast luxury vinyl tile is ideal for flooring, especially in otherwise understated rooms, like the classic white kitchen featured here. Its easy installation can totally change the look of a room in a short amount of time.
Now that you've been introduced to two of our newest flooring options, we'd be happy to answer any questions you may have about these or any of our other products. Just give us a call or drop in one of our showrooms, and one of our friendly, knowledgeable staff members will assist you. Let us help you bring your creative ideas to life.
Learn More About Luxury Vinyl Flooring
Go Bold With Windsor Luxury Vinyl Tile
What Is Luxury Vinyl Flooring?
What Is Luxury Vinyl Flooring And Why Is It So Popular?
Luxury And Durability Come Together In Our Eden Porcelain Tile Collection