Gold Granite Countertops Sparkle And Shine!
September 05, 2019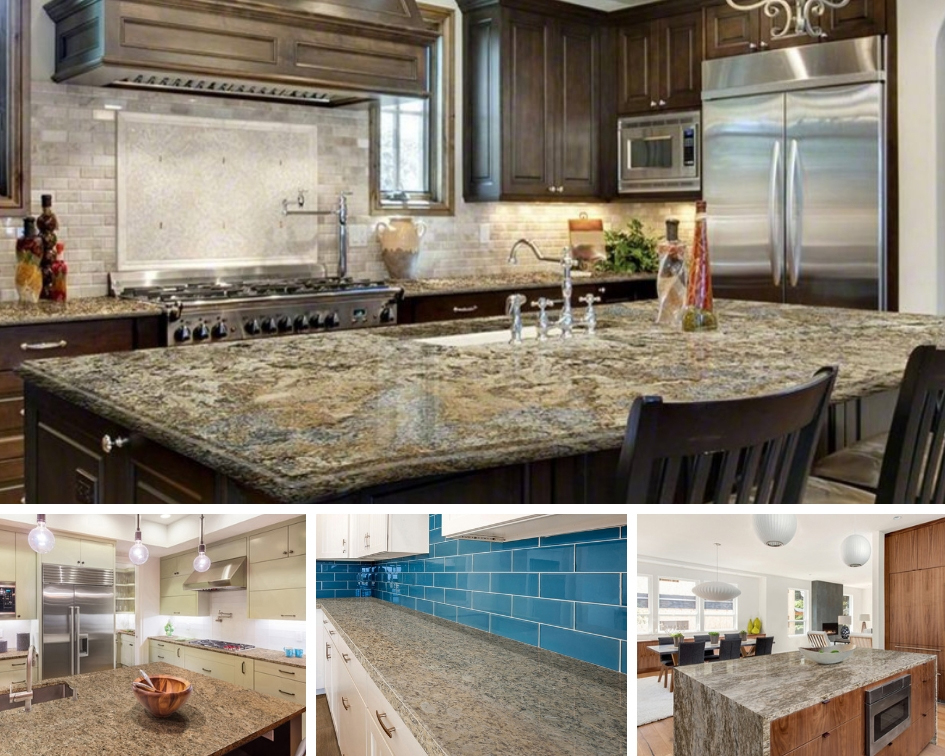 There are things as glamorous as gold granite countertops. With their striking appearance, these slabs of natural stone can enhance a room by giving it a natural shine. Premium surfaces like gold-speckled kitchen counters are sleek and modern, offering a glitz few other materials can provide. Whether it's the inviting warm glow or instant glamour, gold speckles in granite are exciting options to ground and center important rooms within your home. Many of these designs offer a vitality and aesthetic severity that boost the energy within a kitchen or living area!
The benefits of gold speckled in granite countertops are many with a multitude of exciting designs featuring striking patterns and complimenting countertop edges. While gold is bold, the speckles don't compete with the rest of the elements and can even soften the seemingly metallic look. Hold on tight because we're going to delve into some enthralling gold speckled granite designs that will get your ideas flowing and creativity bursting with options for your kitchen, living room and home!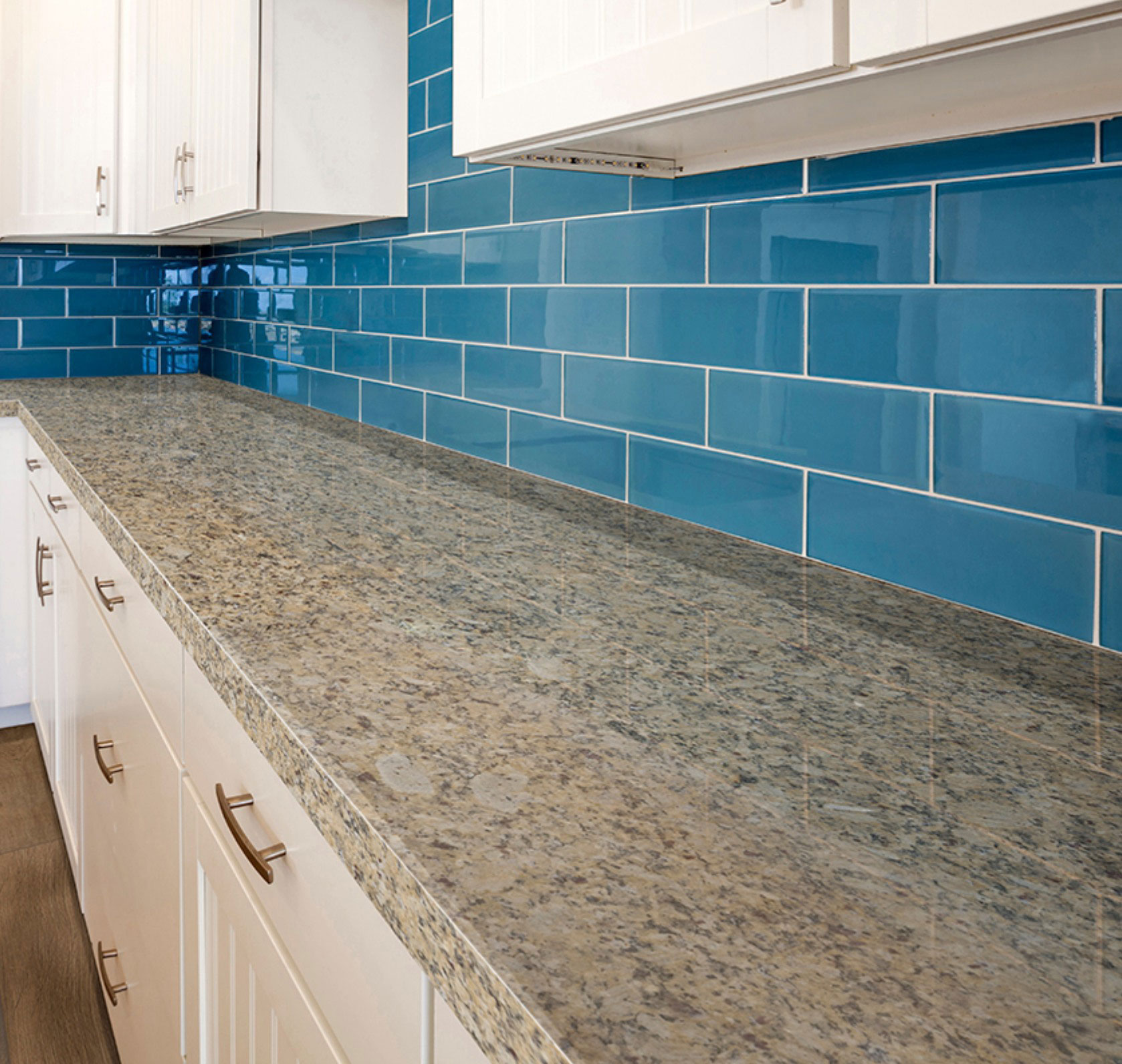 Gold Brazil Granite
Gold Brazil Granite is rooted in a serene golden almond base palette that provides a sense of true luxury and grace. As you can see, this imported pattern goes well with colorful backsplashes and newly painted cabinets. Flashy without overwhelming a viewer, Gold Brazil Granite
is a top pick when it comes to gold-speckled granite countertops!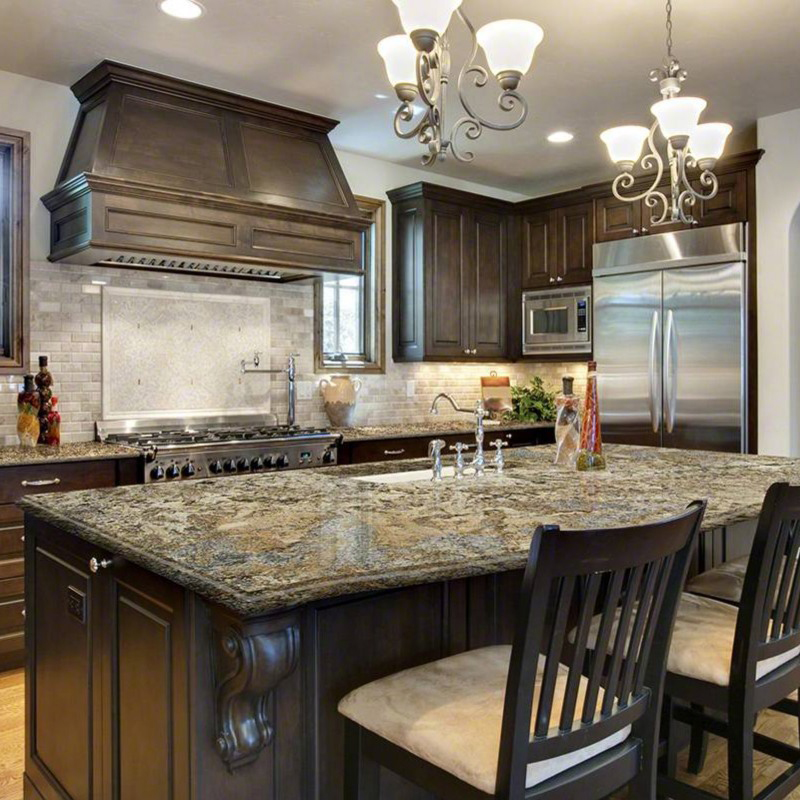 Carvelas Gold Granite
Carvelas Gold Granite is truly stunning with its soft crèmes and inviting browns, adaptable to a variety of tastes when it comes to kitchen décor. Dramatic, striking and utterly superb with its momentous swirls, this granite countertop is sure to enhance a kitchen with taste and vigor.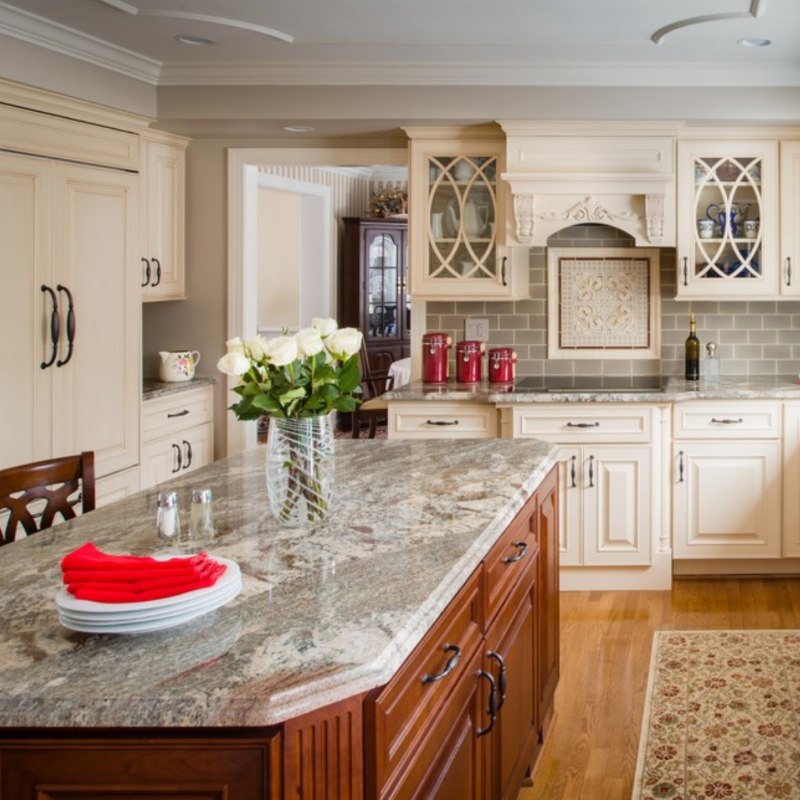 Netuno Bordeaux Granite (Photo Credit: Houzz.)
If you're looking for an exceptionally versatile countertop pattern, Netuno Bordeaux Granite delivers warm creamy golds to accommodate various aesthetics. Mixed in with cooler neutral colors, this design enhances without overwhelming your home kitchen.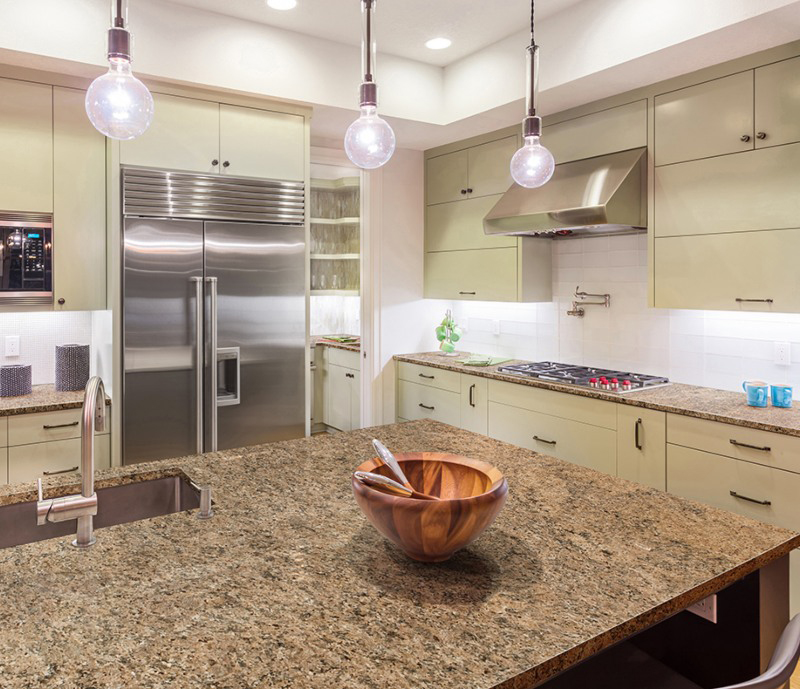 New Venetian Gold
New Venetian Gold incorporates deep red veining with harmonious grays and browns while still maintaining gold tones that delight and charm viewers. Perfect for a kitchen that's modern and even metallic, New Venetian Gold is exquisite as it is eye-catching.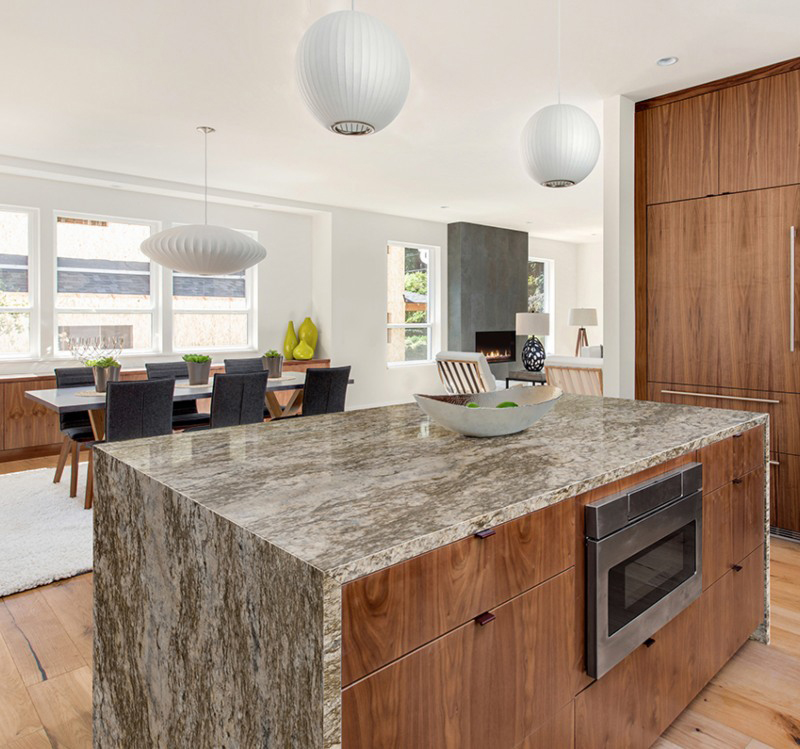 Savanna Gold Granite
Savanna Gold Granite incorporates gold threads with chocolate browns, offering a sophisticated look ideal for rooms featuring bright white and rich oak. Originally from Brazil, this granite pattern provides a grace and rooted foundation for any room in your home!
On the whole, gold granite countertops come in all shapes, patterns and designs, proving they aren't a one-aesthetic-fits-all for homeowners. With striking and subdued options available, what's not to love about this deep rich natural stone and everything it does to enhance your kitchen? Gold-speckled granite delights and fascinates people across design preferences and tastes, sure to enrich and deepen both in terms of value and taste. Take some time and explore our gold granite countertop varieties. They sparkle and shine and never disappoint!
Read More about Granite Kitchen Countertops
Granite Waterfall Counters for a Dramatic Kitchen Centerpiece
Countertop Visualizer: Your Dream Kitchen or Bathroom in Real-Time
Maximum Return on Investment: Granite Kitchen Countertops
Granite Countertops: The Workhorse of the Kitchen
5 Inspirations: A Granite Countertop for Every Style
5 Black Natural Granite Countertops for an Upscale, Luxury Kitchen
Natural Granite Kitchen Countertops to Extend Up Your Backsplash
Get the Designer Kitchen You Crave With These Granite Countertops
Choosing Your Ideal Granite Countertop: Fast-Track Your Upgrade
Stop Obsessing! Here's How to Make Sure Your Counters and Cabinets Go
6 Wow(!) Kitchens featuring Granite Countertops
Natural stone countertops add both value and beauty to your home, and with the kitchen at its heart, these gorgeous granite-clad islands are irresistible!
READ MORE ABOUT GRANITE COUNTERTOPS
Going Green with MSI Granite Countertops
Gorgeous Granite Countertop Islands
Granite Countertops - Get the Right Start with the Right Finish
Granite Countertops 101: All Of Your Everyday Use Questions Answered