Pairing Pebbles With Pavers For Your Perfect Outdoor Oasis
April 21, 2021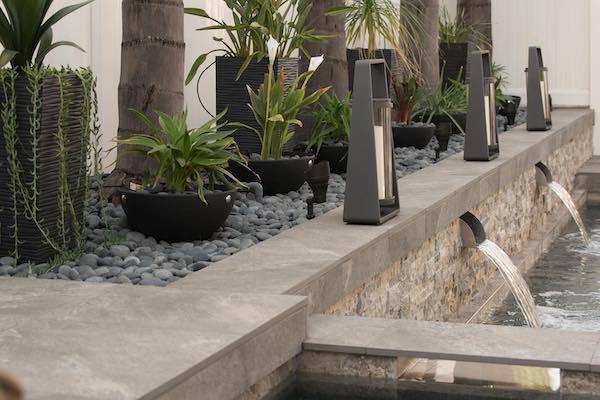 From eye-catching walkways to stunning patios and peaceful landscapes, pebbles and porcelain pavers easily complement any home and create a perfect dreamscape. MSI specializes in several styles of landscape and patio hardscaping products, including durable porcelain pavers and natural stone pebbles, and pairing them is the ultimate way to create an impressive and inviting outdoor living space.
Hardscaping with pebbles mixed with pavers in a creative design has many advantages. For example:
Facilitates drainage instead of letting water pool on a solid surface or damage foundations.
Keeps weeds from growing between pavers, eliminating the labor involved in maintaining the lawn and garden and reducing the need for chemicals.
Fills in areas between pavers that are arranged in non-symmetrical, free-form patterns.
Provides a transition between garden and patio areas, creating borders and defining spaces.
Contributes to a casual, relaxing atmosphere, blending manmade elements with natural surroundings.
Serves as a permanent solution to difficult landscaping issues, such as areas with full shade that are prone to neglect.
With so many colors, textures, and sizes of pavers and pebbles available, you're sure to find the ones that look great together, complement your house and other existing landscape elements, and suit your lifestyle. Here are some of our most popular examples along with some ideas and suggestions to inspire your own landscape design.
Praia Grey Pavers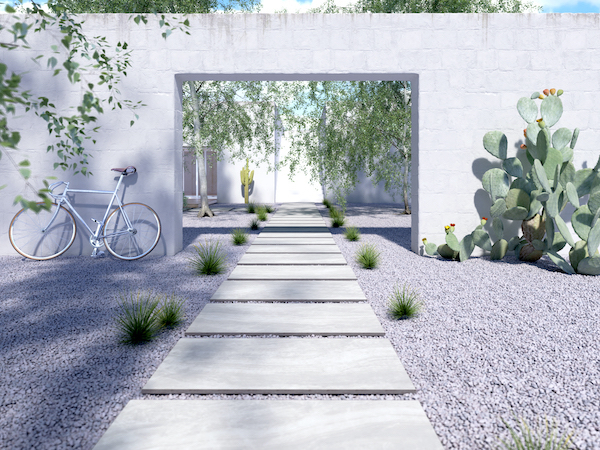 Praia Grey pavers are porcelain tiles made to authentically resemble natural marble. They can be used both indoors and out and are ideal for creating outdoor living spaces with all the elegance and comfort of your favorite indoor rooms. They feature a neutral combination of soft gray and white with a subtle linear pattern, so they'll combine easily with any type of pebble you choose.
We particularly like these slip-resistant pavers as stepping stones alongside pebbles in a different value of gray, in a size small enough to tuck around slow-growing plants such as succulents and cacti. If you live in a region where your landscape design must be conscious of water conservation, using pebbles instead of grass or mulched areas is a beautiful, low-maintenance plan.
Beton Antracite Pavers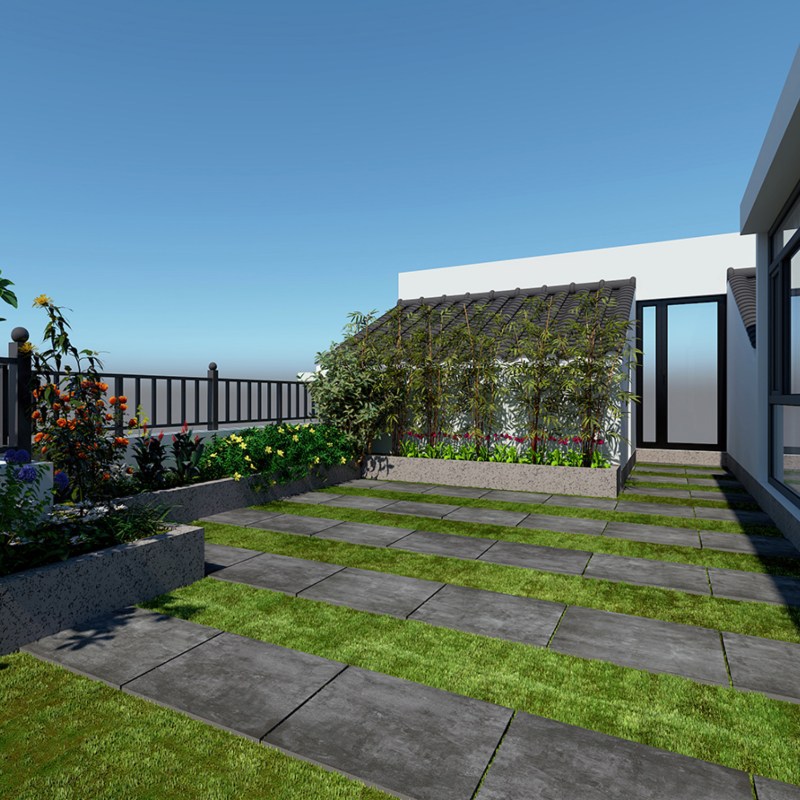 Beton Antracite pavers are a dramatic, deep charcoal gray with a matte finish, opening up a world of possibilities for creating a beautiful contrast. These durable porcelain pavers are meant to replicate concrete tiles but never need sealing and are resistant to stains and chipping. They work particularly well in creating modern, contemporary landscape rock designs.
Pavers arranged in a pattern that leaves space in between each one work well for two reasons — they are visually appealing, and they provide a place for water to go instead of pooling on a solid surface or damaging your home's foundation. Many homeowners use a slow-growing grass or ground cover as a fill between pavers, but artificial grass can be surprisingly realistic and lower your need for maintenance. For even less effort and a long-lasting hardscape, consider using pebbles in a contrasting hue.
Terrazo Gris Pavers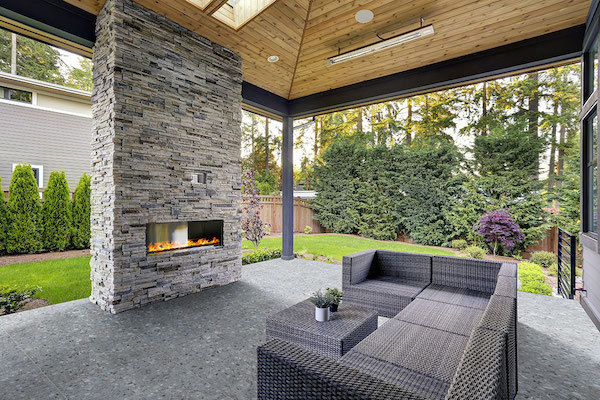 Terrazo Gris pavers are a natural choice for combining with landscape pebbles because they have a soft gray background with inclusions of charcoal gray and white that appear pebble-like. One of the ways homeowners use outdoor patio tile such as these is by installing them close together, with no space between stones, in an area that functions as an outdoor living space, then spreading them out to create walkways alongside contrasting garden rock.
Glazed, indoor-outdoor porcelain pavers such as these are slip-resistant even when wet, so they are also ideal for use around swimming pools and for creating walkways and patios. Installing them alongside complementary types of landscape pebbles helps to keep the pavers in place and prevent weeds from pushing through. They'll cut down your need for trimming edges and give you more time for relaxing and enjoying your backyard oasis.
Mixed Polished Pebbles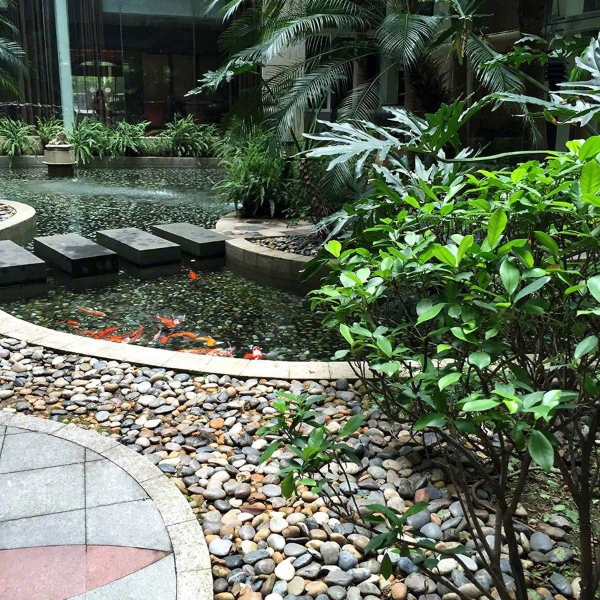 Aside from practical considerations like reducing maintenance and facilitating water drainage, one of the most common reasons to use pebbles is their ability to provide contrast. You can incorporate contrasting colors, contrasting sizes, or highlight the difference between a square, flat paver and the casual feel provided by river rock or Mixed Polished Pebbles. Even when contrast is desired, this attractive mixture of pebbles in a variety of colors — gray, tan, and cream — tie together the colors of different elements such as your house's brick, concrete driveway, wooden garden borders, etc. Everything is instantly coordinated.
Polished pebbles in natural shades are also frequently used in water features such as fountains, ponds, and waterfalls, or to transform drainage ditches into purposeful, elegant streams.
Rainbow Beach Pebbles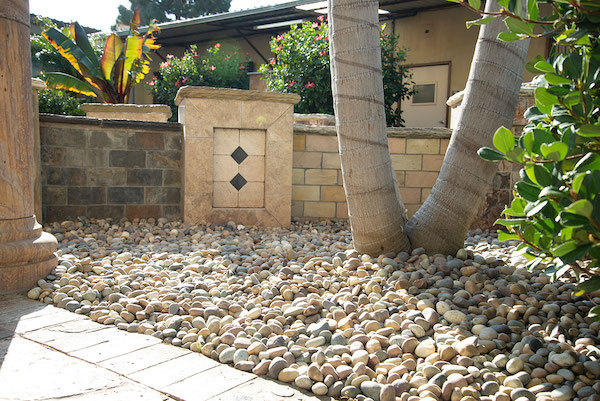 Whether you live in a subtropical climate or just enjoy the look and feel of a beachside resort, there's no better way to create that aesthetic than by using Rainbow Beach Pebbles. They feature smooth, tumbled quartzite in various shades of gray, pink, and cream that are suitable for many different landscaping projects.
When larger beach pebbles such as these are used, they often serve to delineate an area that will not receive foot traffic. Install them beside flat pavers in complementary shades to indicate the borders of walkways and living spaces. In garden areas, they're dramatic enough to serve as no-maintenance, permanent replacements for live plants. If plants are desired, this type of landscape rock works best surrounding sturdy, slow-growing varieties.