Lived-In Wood Look Tile Flooring
November 18, 2017
One of the hottest trends in home decor isn't new—it's old! Installing a wood floor that looks decades old has become an incredibly popular way to infuse rustic warmth and character into brand new homes.
The problem? Finding perfectly weathered wood (and enough of it for your project!) isn't an easy task. And trying to find it at a deal without breaking your home design budget is almost impossible. Fortunately, you can get the look of weathered wood with relative ease—and on a budget—if you know where to look.
You might be surprised to learn that porcelain tile can be manufactured to appear just like aged wood planks. Beyond that, there are many reasons homeowners desiring rustic warmth are turning to this vintage lookalike solution. Here are four key benefits to choosing porcelain wood look tile over hardwood.
Benefit #1: Porcelain wood tile costs less than real hardwood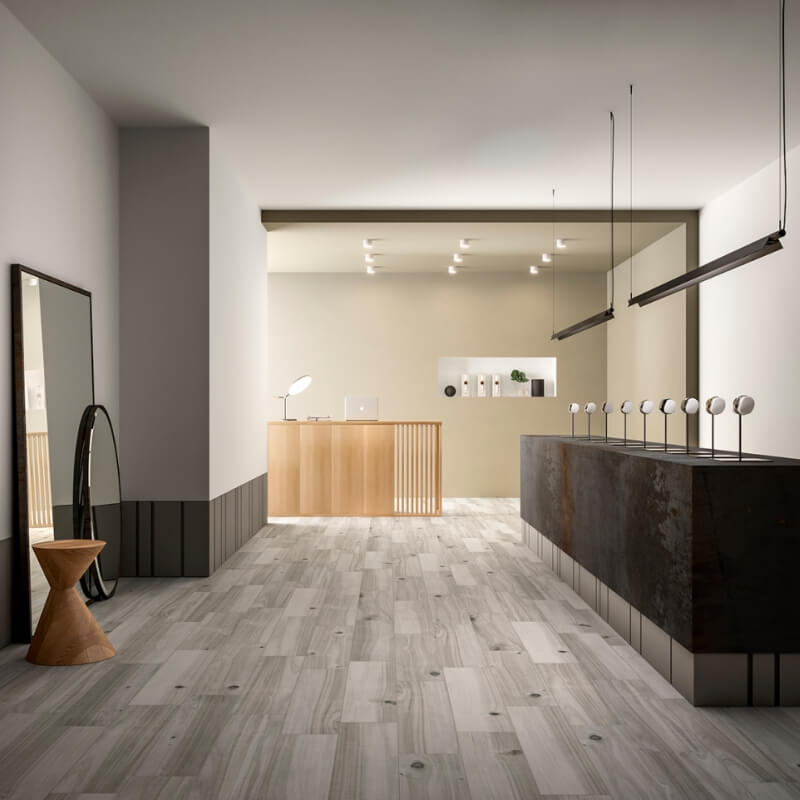 Featured: Platinum Havenwood Porcelain
It's hard to argue with your wallet. Because of salvaged wood's surge in popularity and the laborious work and time involved in sourcing it, the price of reclaimed wood has skyrocketed in recent years. Dealers have to ensure the material is sourced, sorted and made safe for consumer use, and this last step often involves a lot of nail pulling and extra work. Add in the fact that vintage hardwood is in high demand these days, and it's no surprise that the average price has seen a big surge as well.
If you love the look of vintage hardwood, opting for tile that looks like wood instead is a viable option. Fortunately for you, tile companies are so good at mimicking the look of real hardwood that oftentimes it's hard for consumers to tell the difference visually.
Benefit #2: Wood tile flooring is far more durable than real hardwood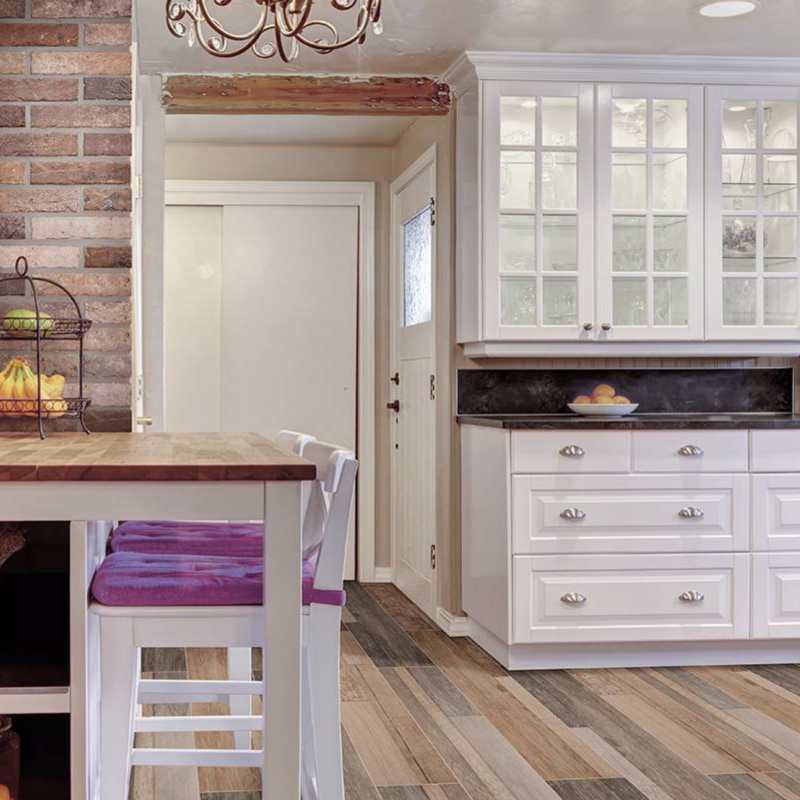 Featured: Beige Sierra Porcelain Wood Look Tile
For many people, this benefit is almost as important as price. Because wood floors are soft and malleable, they ding, dent and sustain damage surprisingly easily. If you drop something heavy on a vintage wood floor, especially in a hardworking space like a kitchen, chances are you'll have a permanent reminder of that mistake. On the flip side, porcelain wood tile is extremely durable to stresses, and tends to be resistant to cracks and breakage from impact. Beyond that, porcelain tile is stain-resistant, liquid-resistant and even fireproof. If you want a material that will work hard to endure, porcelain wood-look tile is the way to go.
Benefit #3: Tile floor resists moisture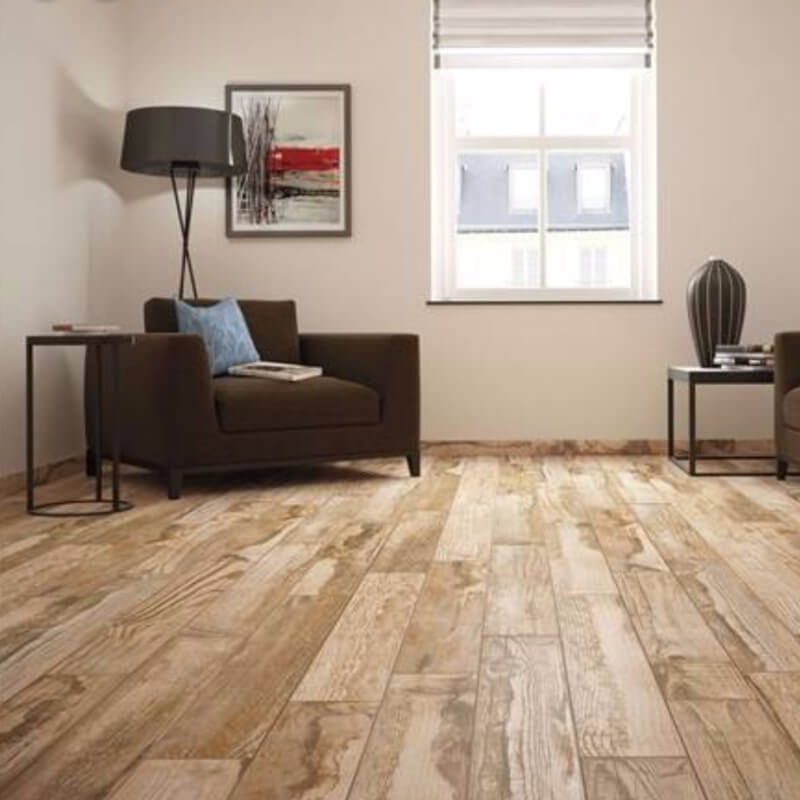 Featured: Red Salvage Wood Look Porcelain
This tip is great news for all you bathroom and kitchen renovators out there! Because wood-look tile is made from porcelain, it resists moisture in any area of the house where water is prone to be present, such as bathrooms, kitchens, mudrooms and other outdoor-facing rooms. How? Even more than some ceramic tiles, the density of porcelain makes it more resistant to liquid penetration. Using porcelain wood tile in hardworking areas of your home allows you to obtain the beautiful vintage floor style you desire, while preventing unwanted mold and residue build-up.
Benefit #4: Design choices galore!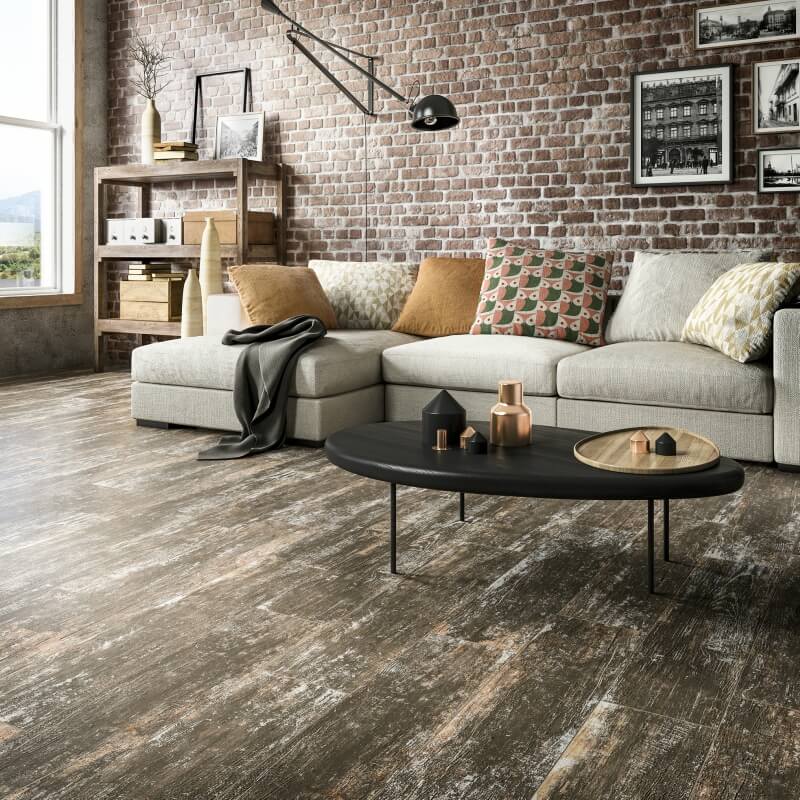 Featured: Copper Vintage Wood Look Porcelain
The process to finding the exact color, style and feel of authentic reclaimed wood you desire can be a long road. In contrast, if you go shopping for wood-look tile, there will be a huge range of design options at your fingertips. From the warm, farm-like feel of salvage red wood tiles to lived-in, high-dimension copper, and even to the cool, clean modern look of gray toned wood tile, the possibilities really are endless. You can also get creative with the sizing of tiles, as well as pattern layouts, such as brick, herringbone and more.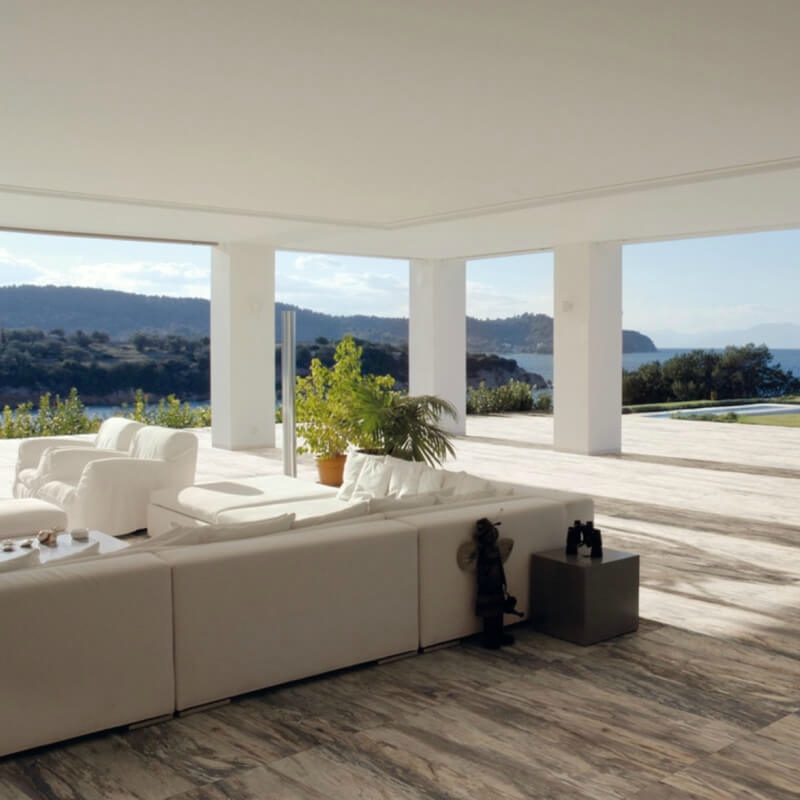 Recreate this look with MSI's Brown Salvage Wood Look Porcelain (Photo Credit: Houzz)
With porcelain wood tile flooring, it's easy to create the vintage floor look of your dreams! Whether you prefer something that's lighter or darker in color, the options are endless when it comes to this weathered look. Follow the link to learn even more benefits of porcelain wood tile, and browse MSI's wide range of wood tile flooring options. Our gallery of images will help inspire your next home renovation project.
READ MORE ABOUT WOOD LOOK TILE:
Fall Trends Favor Wood Look Tile
How to Nail the Wood Tile Look In the Bathroom
6 Unbelievably Realistic Wood-Look Tile Installs
How to Get Perfect Grout Lines For Wood-Look Tile Flooring