Tips From The Trade: Here Are The Answers To Your Questions About Quartz
July 10, 2017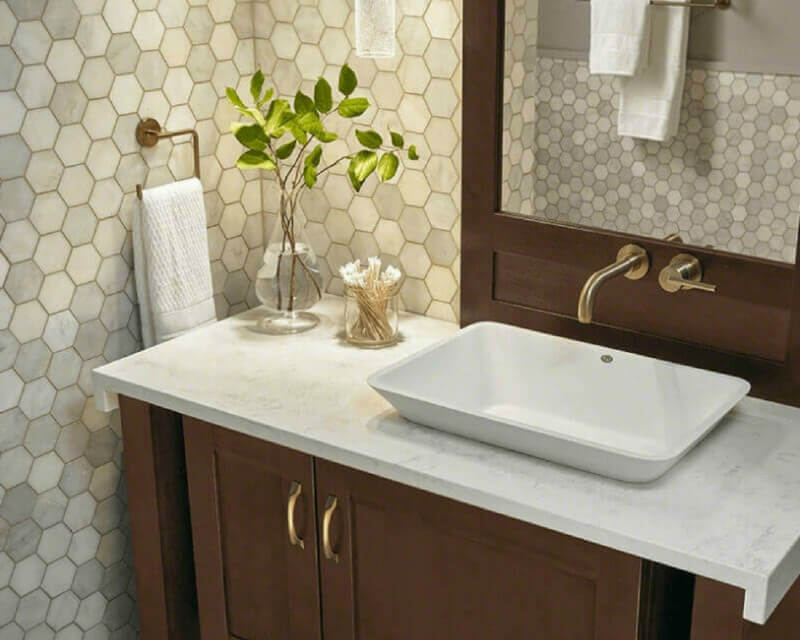 Quartz continues to be one of the most popular choices for kitchen and bathroom countertops. This blend of natural stone with manmade enhancements offers the best of both worlds: a beautiful surface, with very little maintenance required. If you're not familiar with this durable material, then this Q & A is for you!
Let's get started answering some of the most frequently asked questions about quartz.
Do white quartz countertops stain easily?
No. Quartz is a non-porous surface that's 99.9% solid. This means that quartz countertops will resist stains from common spills like fruit juices, tea, coffee, food coloring, and more. Daily cleaning is simple with a soft sponge and warm water. A gentle liquid cleanser works for more stubborn messes.
Are quartz countertops only available in a polished finish?

Featured: Frost White Quartz
No. Although they used to be only available in a polished finish, today you can order quartz countertops to suit your design needs. A full selection of finishes like honed, sandblasted, or embossed means you'll end up with the look you desire. These newer options allow your surface to mimic the style of a matte limestone, a textured slate, or a glossy granite.
Are quartz slabs mined from the Earth like granite?
No. Before quartz is transformed into a countertop, it starts out as a mineral—one of the most popular minerals found on Earth. Two of the most common places where it's found and extracted are Arkansas and Brazil.
The minerals are then mixed with a resin to bond the materials with other substances that might include natural stone pieces, coloring, and antibacterial chemicals. To create its shape, the mixture is poured into a mold, pressed, and baked at a high temperature.
Can I use quartz as a backsplash and/or for flooring?
Yes. In addition to countertops, quartz can be used for both flooring and backsplashes. Installing a solid slab for a backsplash or feature wall creates a luxurious look with fewer breaks than tile. Because of this minimalist look, quartz is perfect for transitional and contemporary spaces.
Does marble-look quartz really look like marble?
Yes. This gorgeous material offers realistic veining, but without the worry of staining a beautiful white surface or having to reseal it on a regular basis. Marble-look quartz is also an excellent way to get the luxurious look of marble with a less expensive price tag. MSI offers several quartz options in luxe marble looks.
Is quartz an Earth-friendly material?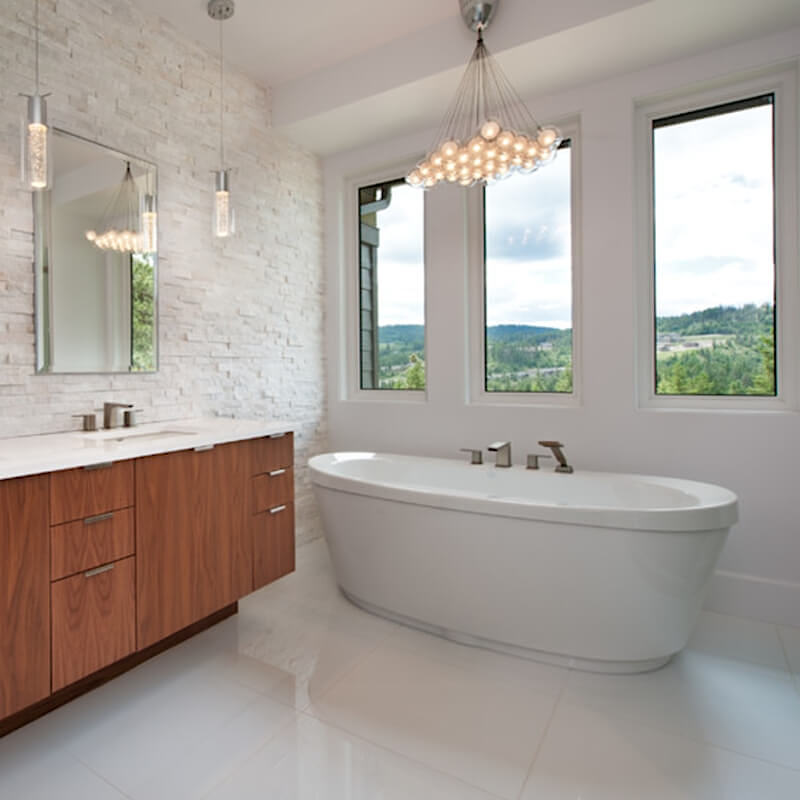 Recreate this look with MSI's Calico White Quartz (Photo Credit: Houzz)
Yes. Quartz is an inherently eco-friendly and sustainable building material. Not only does it hold the longest replacement cycle above all other countertops, but it also can be recycled. You'll have peace of mind knowing that your quartz countertop doesn't contain any toxic substances that could be harmful to your family's health or to the Earth.
Whether you have additional questions about marble-look quartz or would like to know more about the benefits and features of quartz, be sure to contact MSI. To help you decide on which design is right for you, you can order samples from any of MSI's available quartz colors.