Move Over, Hardwood – This Is A Job For Porcelain Wood Tile!
June 30, 2018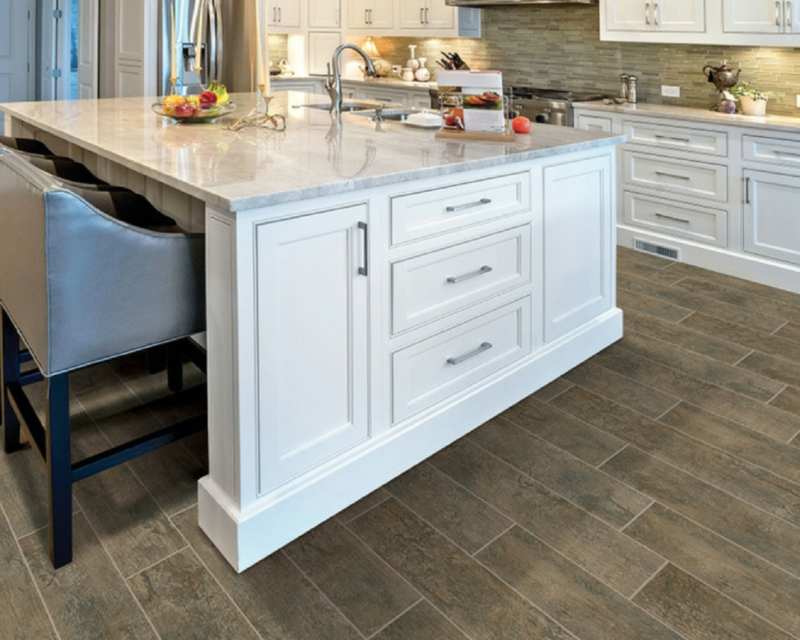 You can't deny the beauty that wood flooring brings, but you also can't ignore the costly upkeep of hardwood floors. Some areas like those with high moisture or high traffic are less than ideal for installing this natural material because they can get damaged or become difficult to clean and maintain.
We think you should ditch the added upkeep and stress for porcelain wood tile. Why choose this beautiful alternative for your space? You'll find out when we take a look at some of the reasons why it's a wiser choice to real hardwood.
Perfect Reclaimed Look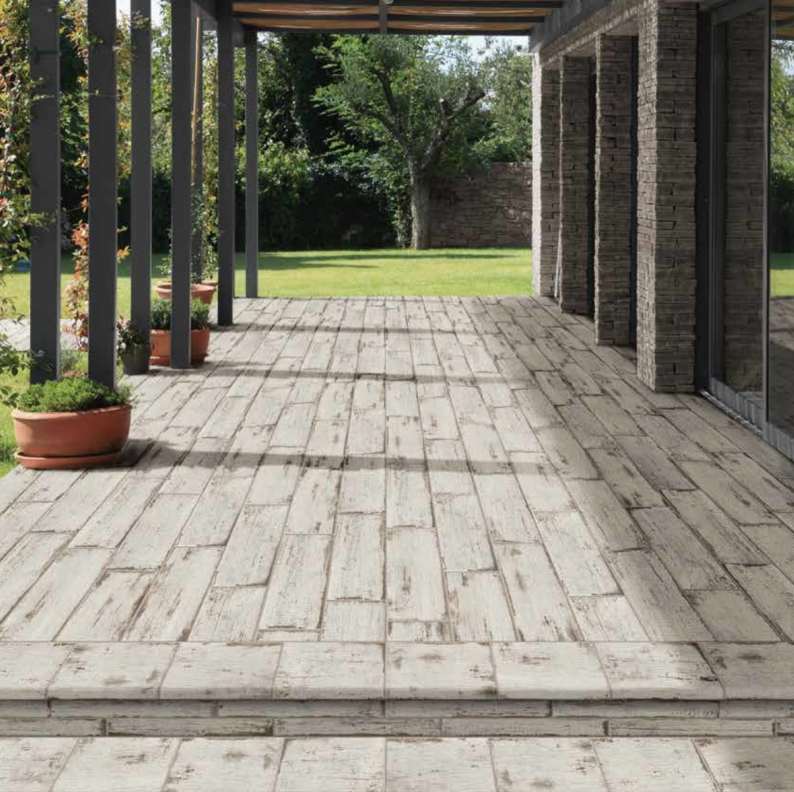 Recreate this look with MSI's Vintage Lace Wood Look Porcelain (Photo Credit: Houzz)
Finding the perfect reclaimed wood for a vintage vibe isn't always easy or cheap. Plus, while you might come across what you've been searching for, there may not be enough available. With products like Vintage Lace, you can instantly achieve the perfect reclaimed wood look with tile.
It looks like it came straight from a Midwestern farm with the dark wood grain peeking through light white paint. Not only does it add so much character to this patio area, but also it's also available in as many "planks" as you need, even if your porch is wrapped around the entire house!
Exotic Colors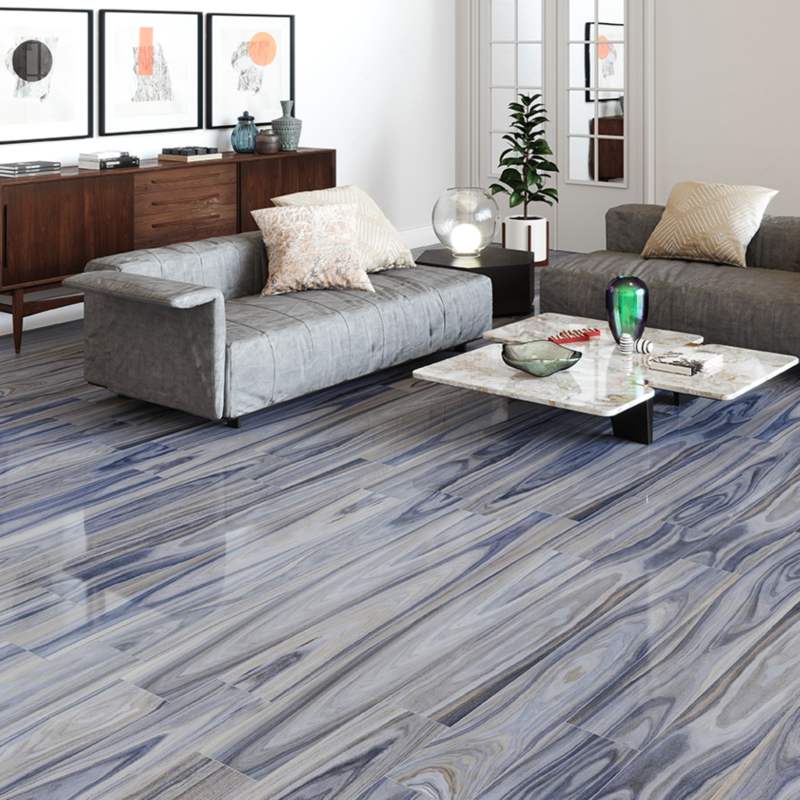 Featured: Exotic Blue Dellano Wood Look Porcelain
Wood in unique colors or patterns will be costly, but exotic options are always in budget and in abundance with wood look tile. Exotic Blue is a tile imported from Spain that mimics natural hardwood but in stunning steely grays and blues. The flooring is definitely the focal point of this living room and will be a definite conversation piece!
Lasting High Sheen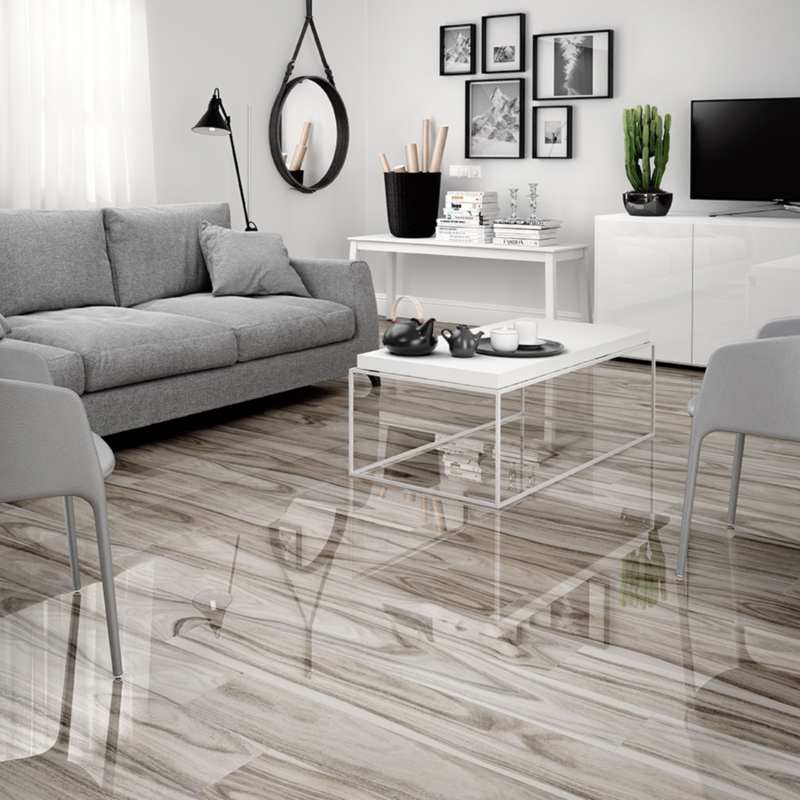 Featured: Moss Gray Dellano Wood Look Porcelain
Gray tones are a definite trend for wood look tile, but add in a high polish sheen that will never wear down, and you'll give your space a completely new look! Moss Gray Dellano is a wood look porcelain tile with swirls of cool gray tones, and these tiles imported from Spain come in 8x48 planks.
The realistic knots and wood grains take on new life with the super shiny, polished finish, and you won't have to worry about refinishing your hardwood floors every so many years.
Affordable Statements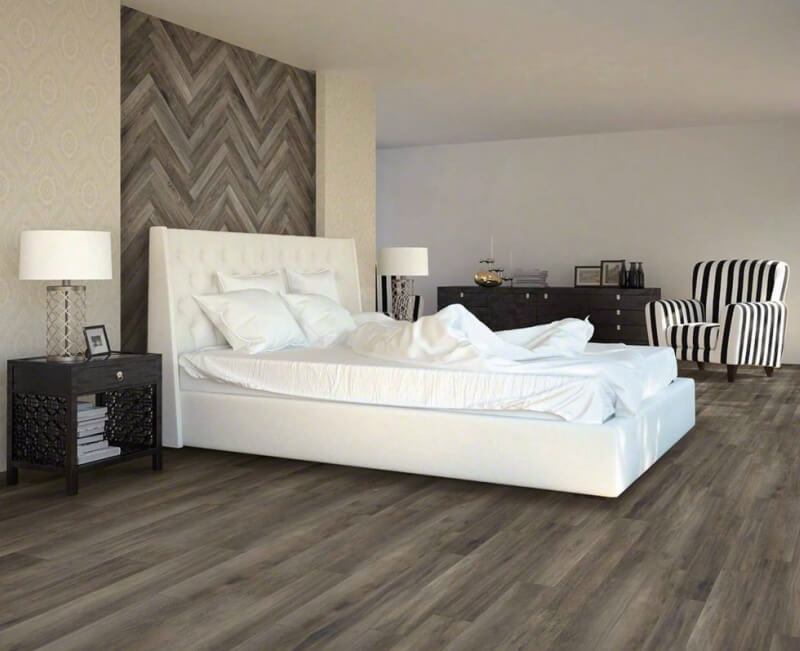 Featured: Greige Upscape Wood Look Porcelain
Real wood can be costly to purchase and install, but with porcelain tile, you can cover large areas or even take your wood look all the way up the wall to make an affordable impact on your design. Greige Upscape is a warm brown and greige tone tile with dramatic grain details that mimic the natural material.
It comes in 3x18 and 6x40 sizes for versatile installations. This bedroom features the larger tiles on the floor, while the feature wall behind the bed includes the smaller tiles in an eye-catching herringbone pattern.
Water Ready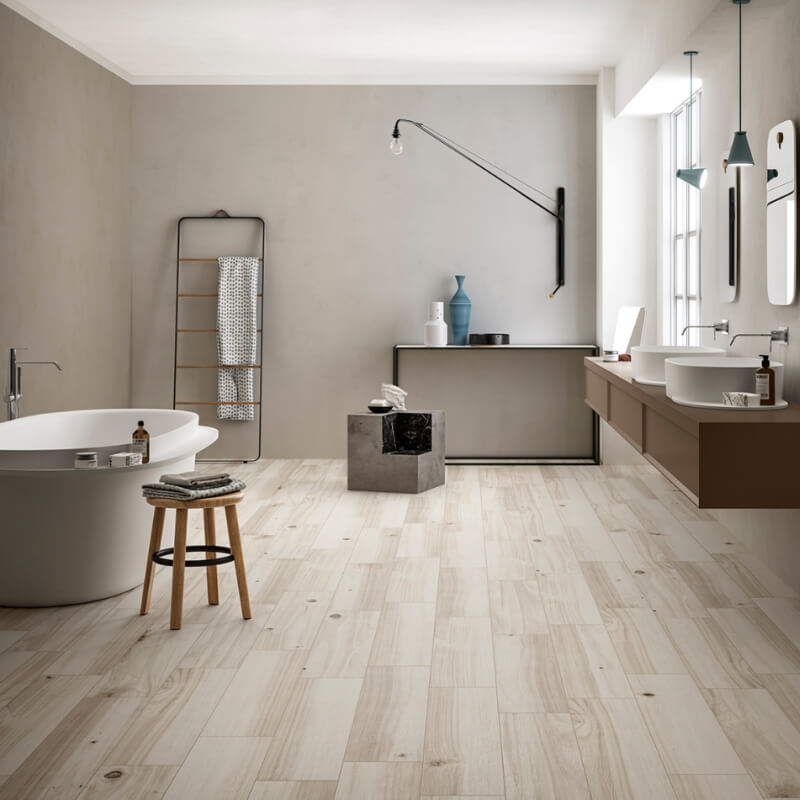 Featured: Dove Havenwood Wood Look Porcelain
Natural hardwood doesn't do well with moisture. Indoor humidity dries out or warps wood, and water spills need to be wiped up immediately in order to avoid damage or discoloring. However, porcelain wood tile can be installed in wet areas like bathrooms because it's impervious to water.
This oversized master bathroom features Dove Havenwood Wood Look Porcelain, a sophisticated Italian tile in soft, muted beige tones. It features natural wood grains and knots that liven up this ultra modern space.
From outdoor spaces to bathroom retreats, porcelain floors are excellent alternatives to real wood because of its durability, finishes, and versatile looks. Now all that's left is choosing light wood or dark wood flooring for your next project!
To help you decide, check out more wood tile styles on MSI's porcelain tile page.
READ MORE ABOUT WOOD LOOK TILE:
Upgrade Your Home with Porcelain Wood Look Wall Tile
Create A Worn Wood Look with Porcelain Tile
Is Porcelain Wood Look Tile Better Than the Real Thing?
The Different Design Styles Of Porcelain Wood Look Tile