Current Obsessions: Reasons To Love Quartz Countertops
May 07, 2017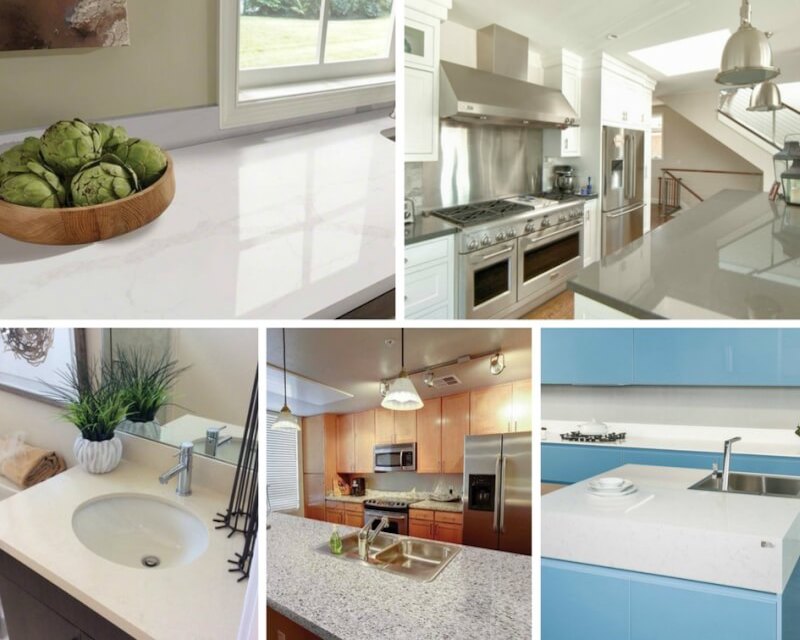 Homeowners, homebuyers, and interior designers love the look and durability of quartz countertops. While natural stone countertops have their fans too, quartz continues to grow in popularity across the country.
From traditional to modern and every style in between, there is a quartz countertop color and pattern to complement any kitchen or bath. Let's look at the most popular reasons that homeowners and designers are flocking to quartz countertops.
#1. Quartz is easy to clean and doesn't require sealing.
Kitchens are the heart of the home, and it's a given that spills and messes will happen. In this retro-inspired kitchen, Fairy White Quartz is perfectly at home, grounding the space with its simplicity and elegance.
While a brilliant white countertop in another material might be a concern for a busy kitchen, when accidents happen in this kitchen, a quick wipe down with a mild detergent and warm water is enough to maintain the pristine shine.
#2. Quartz resists water stains.
Some of the more porous natural stones are prone to developing water stains, but not quartz. No need to panic when an icy glass is left on the counter without a coaster, a toothbrush is left beside the sink, or the counter is covered with unwiped drips from a child's splashy handwashing—your quartz countertop will remain beautiful.
Whether you need a durable and easy to clean countertop for a guest bath or kitchen, a timeless choice like Canvas Quartz is sure to stand the test of time, both in terms of style and its ability to remain stain- and chip-free.
#3. Quartz is available in patterns that mimic natural stone.
Today, advanced manufacturing techniques allow for the creation of realistic patterns like this gorgeous Calacatta Verona Quartz, which resembles fine marble, even close up. When you want a countertop with classic, everlasting appeal that is also able to withstand decades of use in a busy kitchen or bath, quartz is the wisest choice.
And now you don't have to give up the look of fine marble or granite; there is sure to be a quartz slab with the aesthetic you desire that doesn't require the ongoing maintenance of natural stone.
#4. Quartz is available in patterns from traditional to modern.
Pearl Gray Quartz as shown in this kitchen is the perfect example of how this material can be at home in virtually any design scheme. The cool gray flecks and pebbles in this quartz partner beautifully with the stainless-steel appliances and fixtures, while the cabinetry warms the space perfectly.
If your cabinetry is refaced down the road to lend a more transitional or contemporary design style, this quartz countertop will prove to be the unifying element in the room.
#5. Quartz is sanitary.
The advanced manufacturing processes used to make quartz countertops create a poreless surface that is virtually impenetrable to bacteria, fungi, and viruses. This makes quartz one of the most sanitary and hygienic surfaces you can bring into your home. In this stunning white and gray kitchen, our Mystic Gray Quartz provides a chic surface that is not only sanitary, but also extremely resistant to scratching, etching, and chipping.
As you can see, there are plenty of reasons why quartz countertops continue to grow in popularity, and why more and more homebuyers are choosing them for their next home. Select your next countertop material wisely and it will serve you, your family, and your friends for decades to come.
More on Quartz Countertops
How To Choose The Best Modern Quartz Countertop For Your Home
Quartz Countertop Concrete Look-Alikes That Mimic the Real Thing!
Why Choose Quartz Countertops Over Natural Stone
5 Things You'll Never Worry About with Quartz Countertops