Tile Style: Beautiful Bathroom Designs Featuring Ceramic Tile
July 14, 2018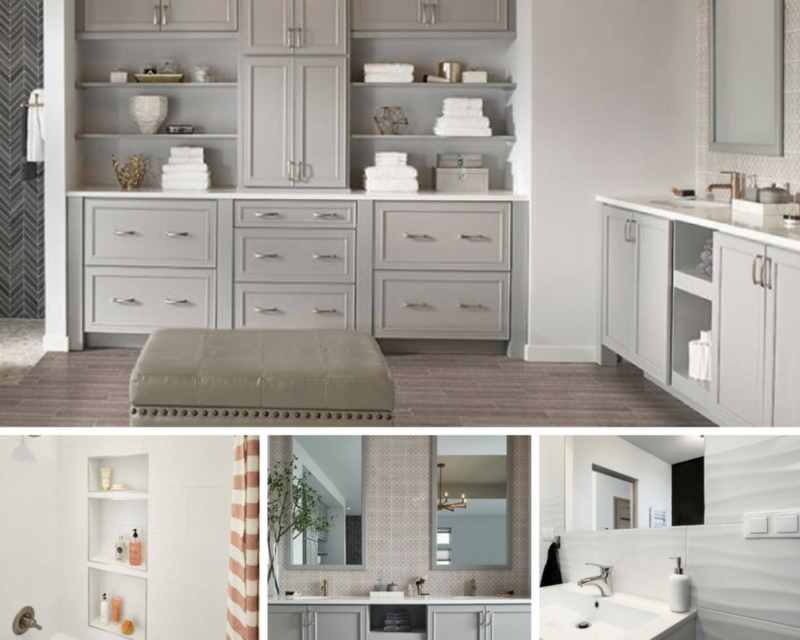 Just like kitchens, bathrooms need a facelift from time to time. Today, television design shows rehab tired bathrooms into showpieces, with no expense spared. While that may be appropriate in some cases, using ceramic tile for an inexpensive bathroom makeovers can quickly transform bathrooms into beautiful spaces.
The good news is that ceramic tiles have come a long way from their standard white or taupe solid tones of the 60's and 70's. In fact, today's floor tiles and wall tiles can give you a high-end look, all at a budget-friendly price point!
Available in a wide range of sizes, colors, and patterns, there is a ceramic tile design to complement every style aesthetic. Plus, ceramic can provide an envy-worthy designer look for a fraction of the price of more expensive materials.
In bathrooms, backsplashes above the vanity, showers, and floors often showcase beautiful ceramic tile. The reason?
Ceramic tile is durable, easy to clean, and requires no ongoing maintenance. But seeing is believing, so let's explore some gorgeous bathrooms that actually feature ceramic tiles!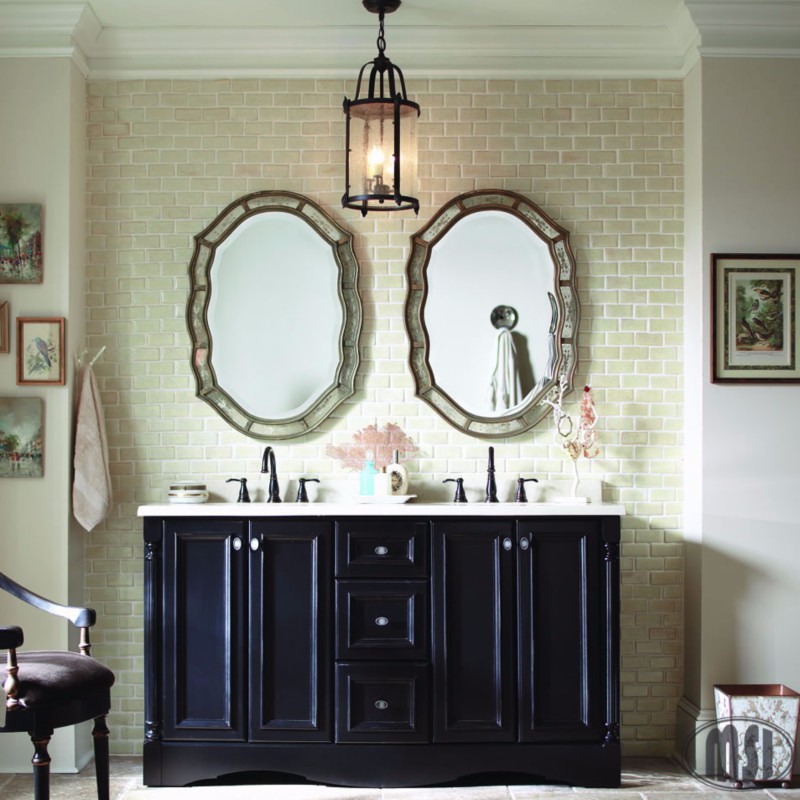 Featured: Antique White Subway
Traditional elegance is the best way to describe this bathroom, which incorporates antique-looking fixtures, dramatic crown moulding, intricate cabinetry, and a handsome Antique White Subway Tile backsplash over the vanity.
The gorgeous backsplash sets the tone and unifies the design. These tiles are an update on a classic smooth white subway tile, giving the wall character and a sense of timeless luxury.
The bright white grout ties in with the ceiling and moulding, while giving definition and punch to the classic subway shape and evoking the look of traditional brickwork. As a bonus, if you are looking for a tile that is suitable as both kitchen tile and bathroom tile, this is a great choice to unify the design throughout your home.
Featured: Kenzzi Leira Ceramic
At the other end of the design spectrum, this contemporary bathroom features soothing on-trend gray-hued cabinetry that complements the beautiful Kenzzi Leira Ceramic backsplash tile.
This tile is a sophisticated European combination of color, pattern, and finish that only looks like a splurge! The tonal quality of this space whispers high-end design in the most delightful way, its clean geometric lines subtly contrasted by the tile's design. It is this affordable ceramic tile that stands at the heart of the overall design look.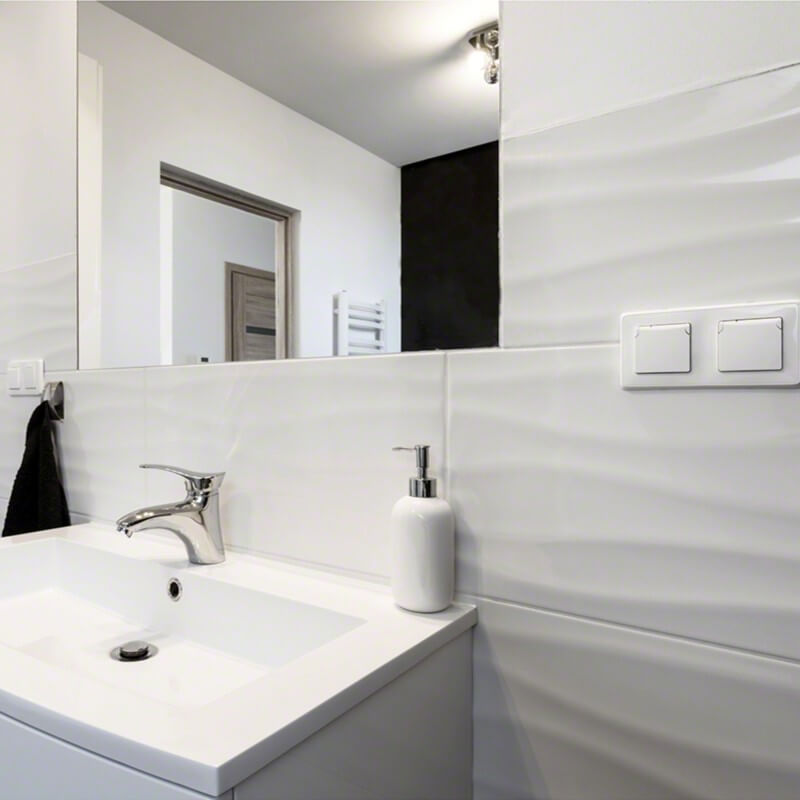 Featured: Dymo Wavy Ceramic
White bathrooms are like white kitchens—they provide a sense of clean freshness—and as in kitchens, spills and splatters are common on bathroom floors, countertops, and walls. Because of the inherent moisture within a bathroom, installing large format tiles on the walls makes cleanup easy (less grout!) and can help reduce mold and mildew.
This bathroom gets its contemporary vibe from our modern Dymo Wavy Ceramic tile backsplash around the vanity. The tile gives depth and movement to this pure white bathroom, while the linens and mirror-reflected back wall promise the punch of black contrast. Who says easy-to-clean bathrooms can't be beautiful?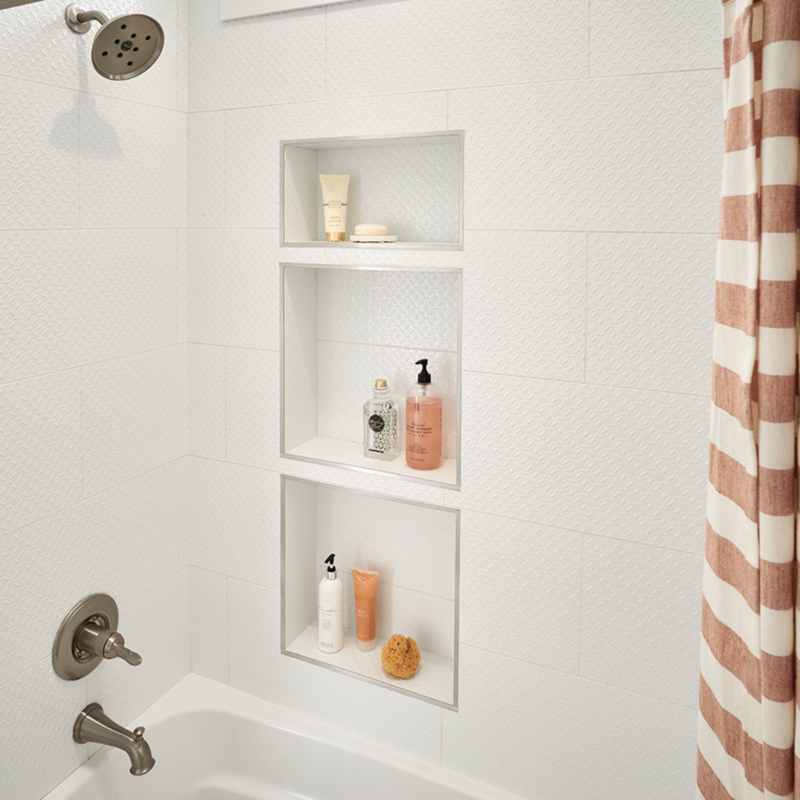 Featured: Dymo Pattern Ceramic
When redesigning your bathroom, don't forget the shower! In smaller or darker bathrooms, a simple tone-on-tone tile in the shower can make the space feel larger and brighter. Here, our large format Dymo Pattern Ceramic tile, with its subtle 3D pattern, is a flawless choice. Far from boring, this elegant ceramic tile shower also benefits from fewer grout lines to clean, making it perfect for busy shared bathrooms.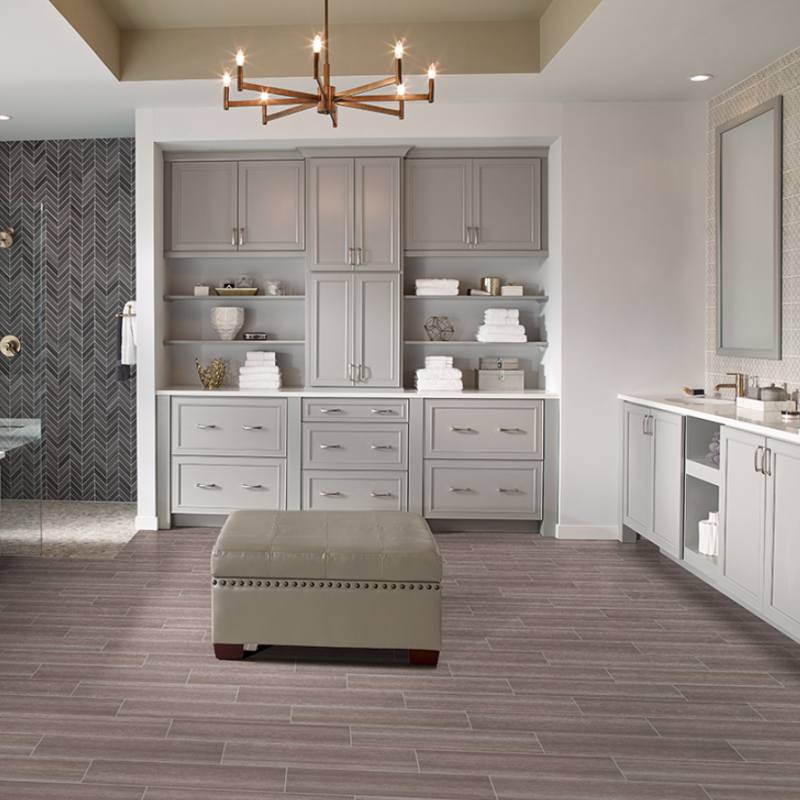 Featured: Turin Taupe Wood-Look Ceramic
And let's not forget the floors! Budget-friendly ceramic floor tile provides a beautiful finishing touch to your bathroom. Here, in this large contemporary master bathroom with wispy gray painted cabinetry, the space is given an earthy element with our Turin Taupe Wood-Look Ceramic Tile. These tiles complement the overall design exquisitely, drawing from the hues of the cabinetry, walls, accessories, and shower surround.
Redoing a bathroom today can be overwhelming; after all, there are so many great choices for tile flooring, backsplash walls, showers, and cabinetry. Besides that, the price points of materials can vary from affordable to luxurious. But as you've seen above, opulent and high-end design can be accomplished with budget-friendly ceramic tiles.
Remember, the goal in design is learning where to splurge and where to conserve, customizing your space to your desires.
For even more options, check out MSI's entire collection of ceramic tile, and get your creative juices flowing!
MORE BATHROOM IDEAS


Tips From The Trade: Should You Use Stacked Stone In The Bathroom?
The Truth About Marble In The Bathroom
Perk Up Your Bathroom With Fresh Ceramic Tile
Tile Style: Which Size Porcelain Tile Is Best for Small Bathrooms
7 Bathrooms Featuring Show-Stopping Travertine Tile
Why We're Seeing More Quartz Countertops In The Bathroom