Why Large Format Luxury Vinyl Planks Are Popular
February 18, 2021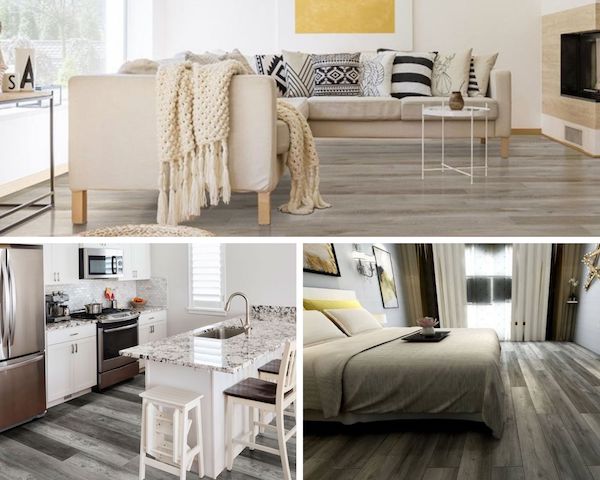 With the rise of luxury vinyl planks comes a variety of options, and worry-free flooring has never looked better in the elongated wood-look planks. That's because, after all, size certainly does matter! Large-format lines like XL Cyrus from MSI that come in 9"x60" planks can transform a room in more ways than one. Find out why these popular oversized products are quickly becoming a fashionable favorite among homeowners, business owners, and interior designers.
A Lengthier Look

When comparing large-format luxury vinyl with regular LVP, you'll instantly see the dramatic difference when sizing up. Contrary to what many may believe, these bigger planks not only make a room appear larger, but they also offer a grandeur only achieved by these high-quality products. Due to the enlarged size, less planks mean fewer edges and less breaking up the room into sections. This, in turn, makes the space more minimal and peaceful. Plus, less busyness lends itself towards a more modern aesthetic.
This stunning contemporary kitchen is proof that oversized vinyl can make a space feel bigger and brighter. The XL Cyrus Boswell LVP, a multi-shade gray coloring with a rustic wood look, complements the crisp white cabinets and high-contrast granite countertops. Of course, your eye is drawn toward the floors with the beautiful gray shades and realistic knots and graining, and the direction the luxury vinyl is installed makes the compact kitchen feel much wider than it really is.
Enhanced Beauty
To achieve the utmost realism regarding luxury vinyl tile, you must have beautiful colors, patterns, and finishing touches. Oversized LVP comes in a wide range of stunning design options like regular vinyl, but it's the enhanced beveled edges that really elevate the wood look and create enduring elegance. These painted edges place an emphasis on the individual planks as if they were real wood pieces as opposed to other vinyl pieces and their patterns simply blending in with one another.
A Faster Installation
Larger planks aren't only meant for large spaces. They can help transform even smaller rooms into a more spacious feel faster. That's because the bigger planks cover more ground than your typical luxury vinyl tile so that you'll have fewer individual planks to install. Also, fewer planks means fewer cuts as well, which will also help increase installation speed. Of course, large-format planks will weigh more, so if you plan on a DIY project, then you might want an extra hand to help assure that the planks click together properly.
Worth the Cost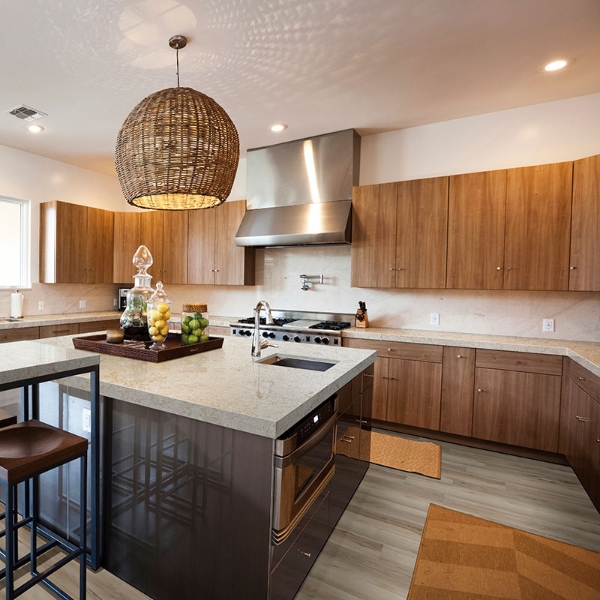 While the price per square foot might cost more than traditional-sized LVP, it's totally worth the cost for the trending material. But, you may get more than just longer and wider planks, too. Some large-format LVP will be thicker in size, which can contribute to a better quality locking system, or even come with a thicker wearlayer for added protection against spills, dents, pet accidents, and rough kids play. If, in the end, you get a longer-lasting product, then the increased cost is really of little consequence.
Luxury vinyl planks are excellent additions for wet spaces like kitchens and bathrooms because the waterproof tiles can be installed in moisture-prone areas, just one of the many luxury vinyl tile benefits. Quality especially matters in these rooms since they can be some of the most expensive remodels and upgrades for new builds. This modern kitchen features Akadia from MSI's XL Cyrus series, and the creamy beige tones and delicate brown veining are another neutral layer that builds on this mix of warm tones and clean lines. Whether you love to cook in a kitchen like this or will have lots of kiddos spending time at the island, it's important to have products that will hold up to the traffic.
Stress-Free Settings

Large planks make sense for large spaces since they're appropriate for the scale, and they're typically higher quality. When used in commercial settings, the oversized LVP assists in creating a stress-free environment with its uncluttered feel and is excellent for various business sectors. Retailers want shoppers to slow down, browse, and, ultimately, buy. Spas want to create a sense of relaxation and cleanliness so that customers will feel comfortable. Hotels want to impress their guests with beautiful designs that make them feel right at home but hopefully in a more luxurious setting. Large-format luxury vinyl planks will contribute to the desired atmosphere, have an impact on its surroundings, and influence consumers.
Creating commercial spaces with memorable ambiences are important for keeping customers coming back for more. The LVP in this minimal bedroom helps create a clean and comfortable stay for guests to enjoy thanks to the Katella Ash from the XL Cyrus series. The darkened weathered vinyl flooring with its 9"x60" planks, gray and brown coloring, lifelike knots and grains, and beautiful beveled edges add a bit of moodiness to the space.
Easier Upkeep

Large-format LVP make rooms look and feel more hygienic as a result of simple vinyl flooring care and maintenance. They're great for those suffering from allergies or places like medical offices that have strict design rules and need ultra-clean environments. Daily dusting or sweeping will pick up any dirt or debris, a wet mop may tackle deeper cleaning needs, and, if needed, a no-wax polish specifically made for LVT can revive the shine. Of course, with less edges, there will be less places for little specks and crumbs to accumulate.
With its overall minimal design aesthetic, this living space seems to float atop the soothing Whitefield Gray vinyl flooring from the XL Cyrus series. The tranquil LVP features sophisticated light grays mixed with tan neutrals and paired with light knots and graining for a realistic wood-look appearance. Of course, the mostly monochromatic, Scandi-inspired color scheme and open legs on the couch and side tables contribute to the hovering, airy feel of the living room. And, since you can see underneath the furniture, you'll be able to easily catch all of those little dust bunnies.
It's clear why more consumers are turning to large-format luxury vinyl planks for their spaces. They come with a higher-end look that mimics real hardwood even more than regular vinyl floor tile. Not to mention that you may also have a new floor installed more quickly, and once it's done, you'll be admiring the knots, grains, and beveled edges that add to its everlasting beauty.
More About Luxury Vinyl Planks
Should You Replace A Water Damaged Wood Floor with Luxury Vinyl Tile?
Luxury Vinyl Tile Pros and Cons - Wood Look Vinyl Flooring Vs. Real Wood Flooring
Considering Installing Luxury Vinyl Flooring? Read This First!
How To Clean Your Luxury Vinyl Flooring To Keep It Looking New
Everything You Need To Know About Luxury Vinyl Plank Flooring
Luxury Vinyl Tile vs. Luxury Vinyl Planks — What's the Difference?