Tile Style: 9 Modern Tile Flooring Ideas That Work For Any Style
August 15, 2017
Chasing modern décor trends can be a tricky endeavor – on one hand, you want your interior design choices to be fresh, creative, and on-trend. But on the other hand, nobody wants to re-do a room within a couple of years just to avoid a dated look!
Designers must choose timeless modern home décor elements, such as flooring, that are flexible enough to complement any style while still delivering tons of personality and charm. MSI's newest collections of modern tile can do all that and more.
Dove Havenwood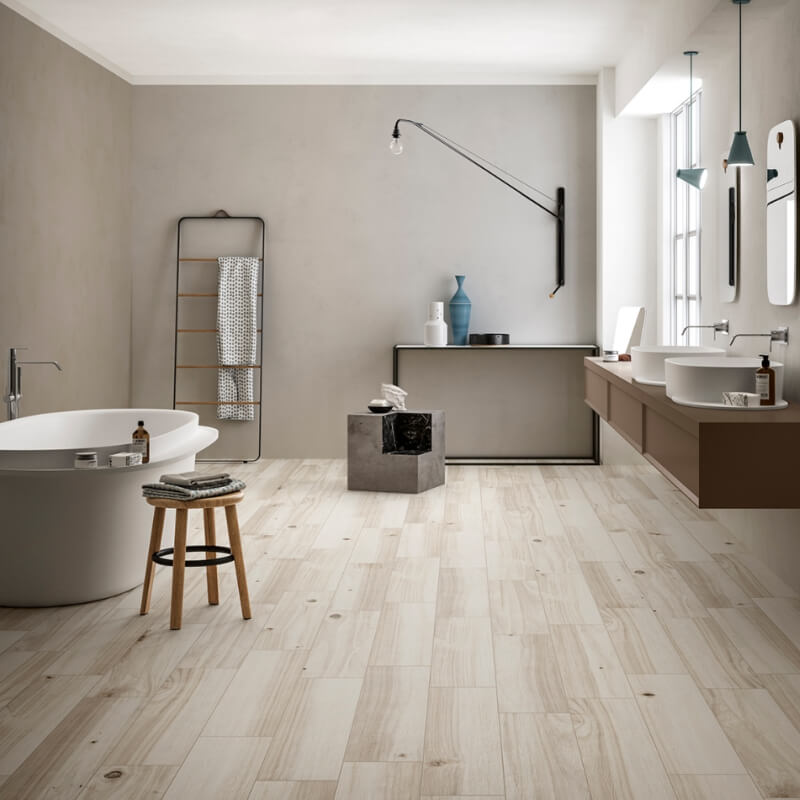 Featured: Dove Havenwood Porcelain
Hardwood flooring is a timeless favorite, but you can put on your own modern twist by installing it in areas that historically can't have it, thanks to wood-look porcelain tile. Dove Havenwood Porcelain is a soothing, pale "greige" plank floor tile that is incredibly realistic, complete with grain variations and knots. What's missing, though, is the worry – splash all you want!
Saddle Havenwood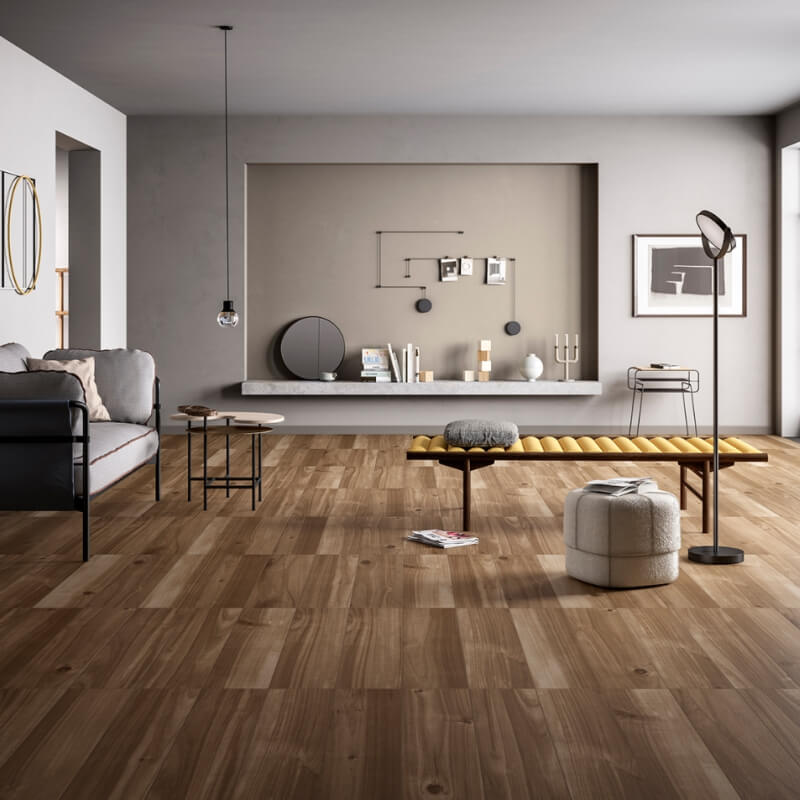 Featured: Saddle Havenwood Porcelain
The warm, golden-brown tones of Saddle Havenwood Porcelain modern tile are suited for any room in the home, or even a commercial space. It's incredibly durable and utilitarian, and fits in with any style. You can install the wide, 8" x 36" planks in a traditional pattern, or do something more creative.
Beige Havenwood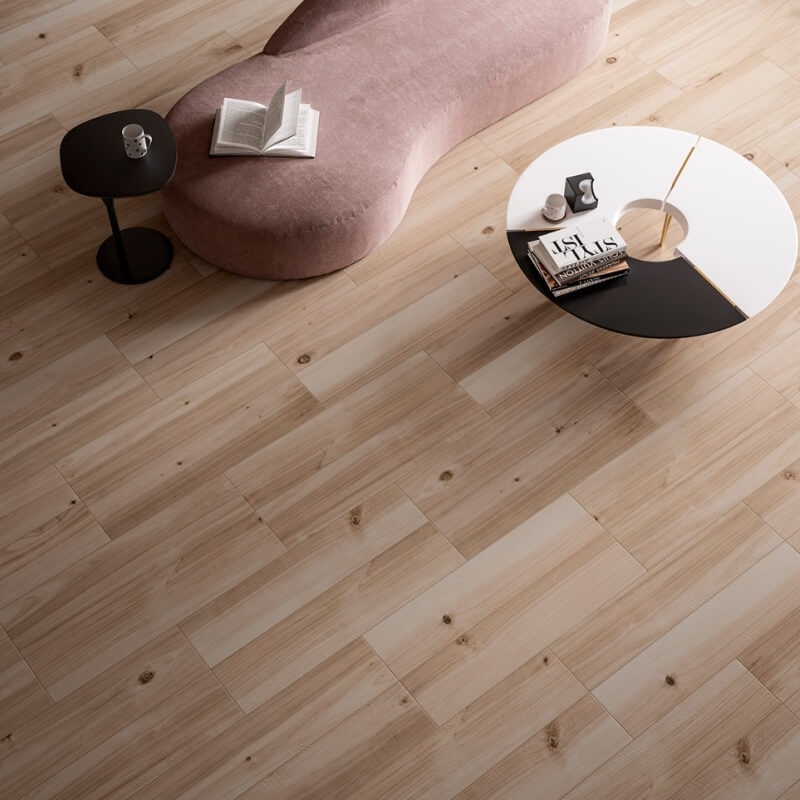 Featured: Beige Havenwood Porcelain
Wood-look modern tile like Beige Havenwood Porcelain gets its astonishing realism from inkjet printing technology. A pine lookalike, this porcelain tile flooring is scratch resistant, water resistant, and super-easy to clean. The short, wide 8" x 36" planks lend themselves to many creative patterns, promising a modern style you can appreciate for many years.
Platinum Havenwood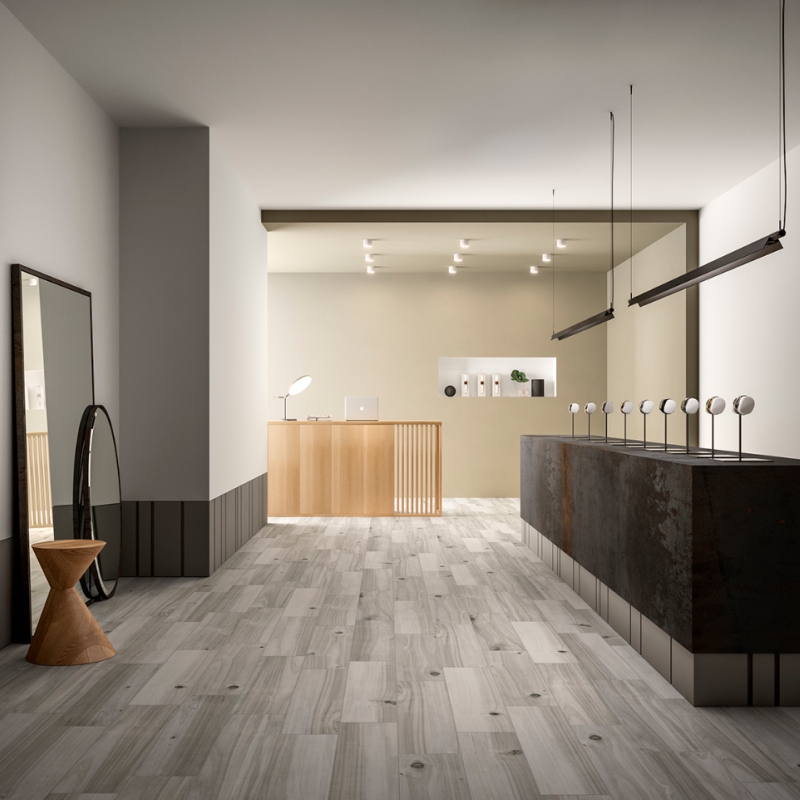 Featured: Platinum Havenwood Porcelain
Unlike many wood-look tiles, Platinum Havenwood Porcelain offers several different patterns. This helps create a more realistic installation if that's what you like – but at the same time, you can arrange the light and dark planks in a more artistic manner. The choice is yours, and either way, the results are stunning.
Cream Livingstyle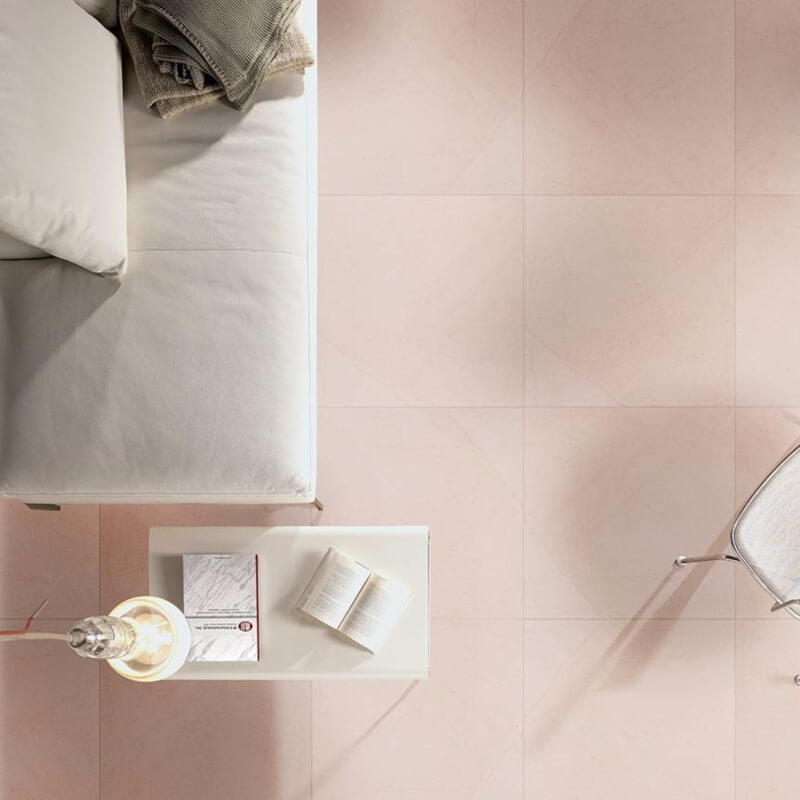 Featured: Cream Livingstyle Porcelain
Many people interpret modern décor as simple, clean lines, minimalism in design. Cream Livingstyle Porcelain tile is a natural for this aesthetic with its soothing off-white coloration, offering subtle variegation. It's available in large format 24" x 24" tiles, or 18" x 36" planks, and is suitable for wall tile as well.
Beige Livingstyle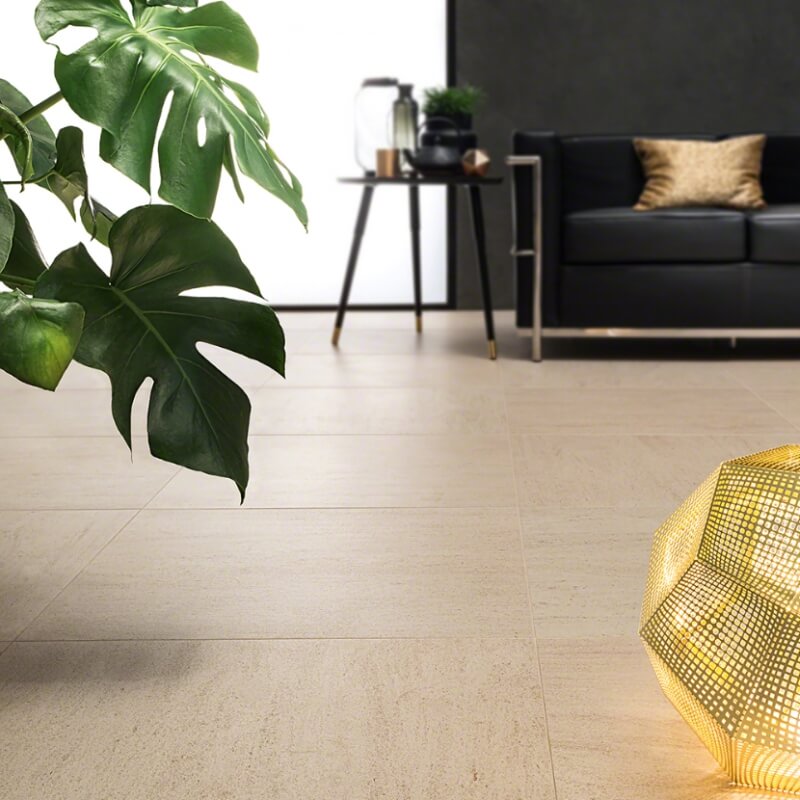 Featured: Beige Livingstyle Porcelain
In contemporary looks, the flooring may not be the focal point – but you don't want it to be completely plain, either. Beige Livingstyle Porcelain is an easy-care porcelain tile with subtle variegation in a linear pattern, with a non-intrusive matte finish, and it's so easy to coordinate.
Cream Optima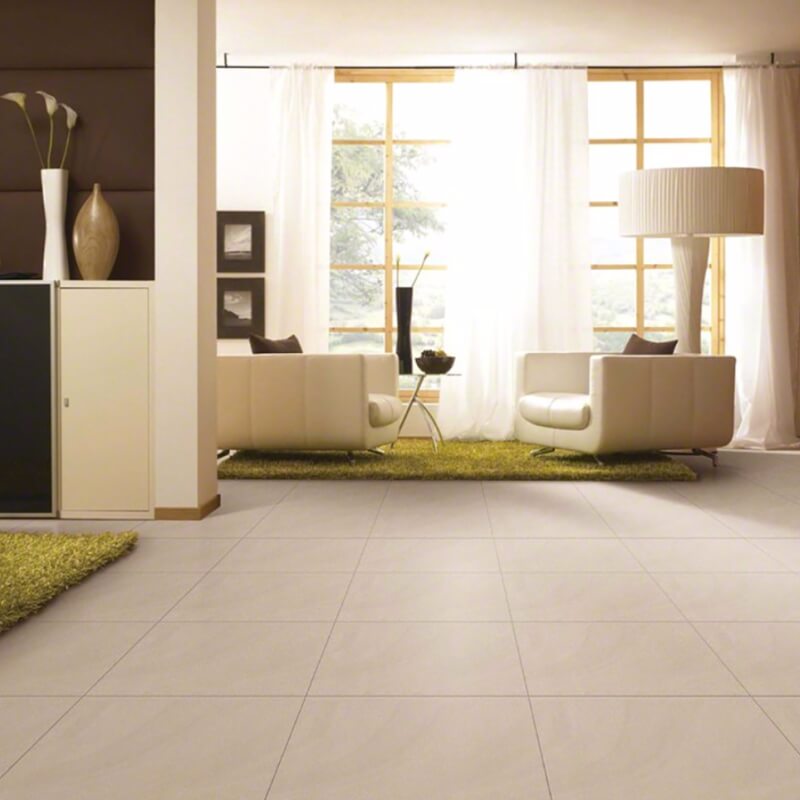 Featured: Cream Optima Porcelain
Minimalism is going viral these days. Is it here to stay? With Cream Optima Porcelain tile it won't matter. You can enjoy a soothing, uncluttered décor scheme today, with either a matte or polished finish on these simple off-white tiles. But if you should decide to liven up the space later, you'll find it still a friendly match.
Grigio Watercolor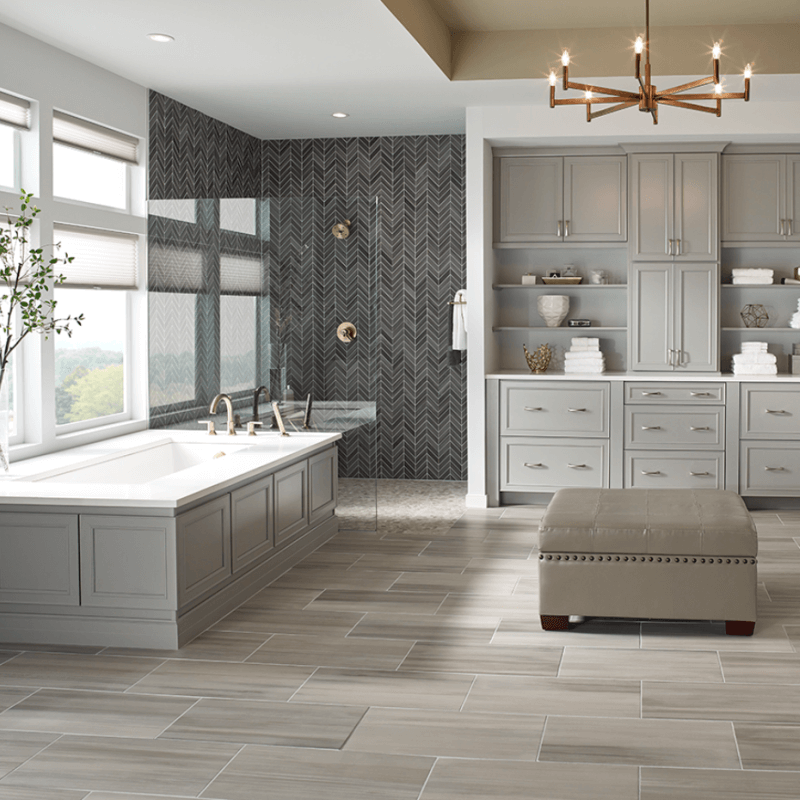 Featured: Grigio Watercolor Porcelain
The look of natural materials is sure to never go out of style – in this case, Grigio Watercolor Porcelain is a porcelain tile reminiscent of natural stone, with a range of mid-tone grays. Since modern décor can sometimes be a bit plain, this is a great way to add a charismatic spark.
Bianco Watercolor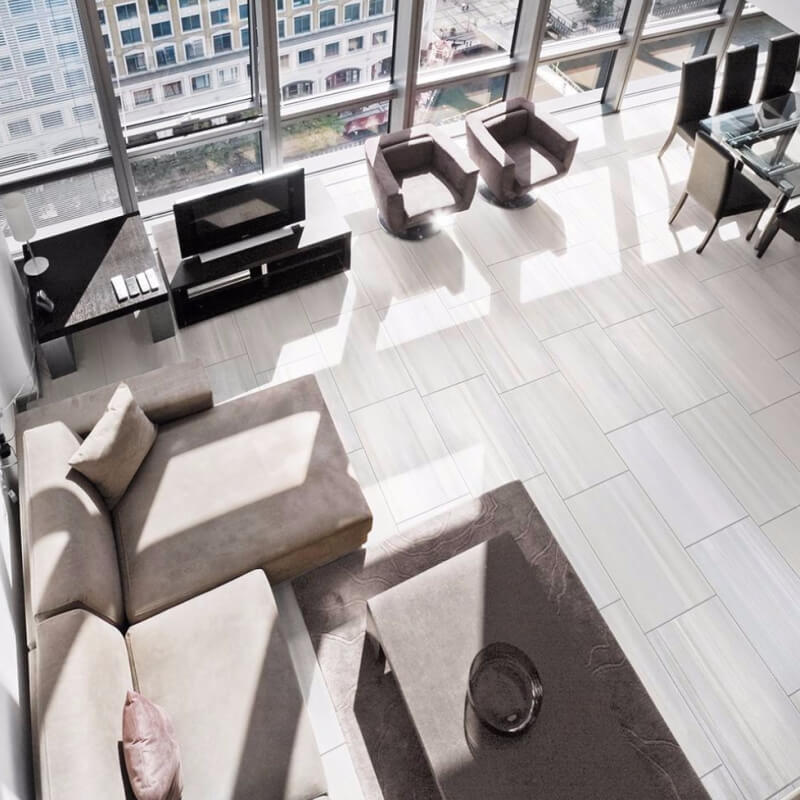 Featured: Bianco Watercolor Porcelain
Steely gray today, bright orange tomorrow – Bianco Watercolor Porcelain is ready for your most mercurial change-ups. Timeless and solid, the pale gray tones are a constant, reliable backdrop to the latest fashion. Whether you're in the country or on the 30th floor of a New York high-rise, it just fits.
Styles may come and go, and you can embrace them all easily when you've chosen a durable, easy-care porcelain tile that coordinates with just about everything, from stark industrial to modern art to rustic or traditional.
These are just a few examples of MSI's newest tile collections. Hurry over to MSI's tile gallery to view the full selection and see just how easy it is to complement the décor of yesterday, tomorrow, and right this minute!