Tips From The Trade: What Is Quartz And How Is It Made?
December 01, 2016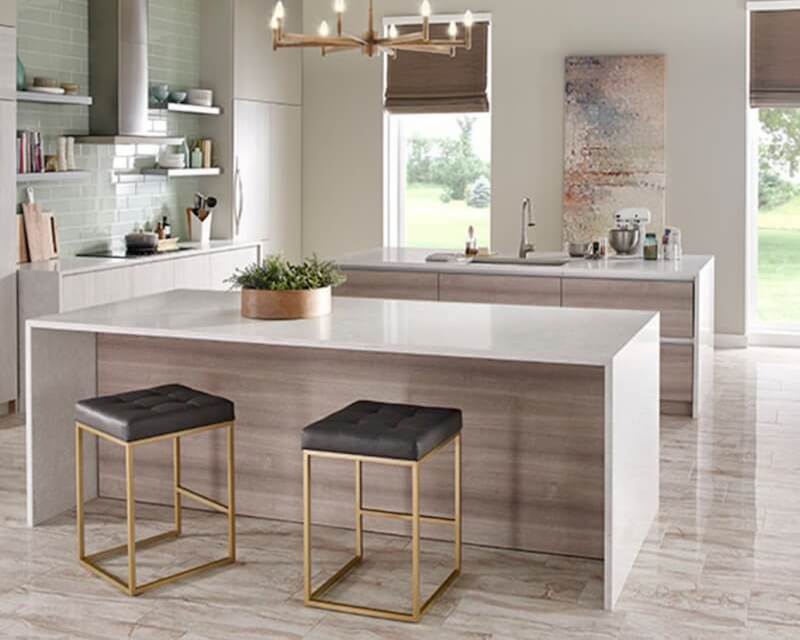 What Is Quartz and How Is It Made?
Quartz countertops are becoming the kitchen remodeler's countertop of choice, and for good reason. The material can mimic the color and design of granite, but is far easier to maintain. Plus, quartz is a non-porous material that never needs sealing. And best of all, the color and design of quartz counters are not restricted to hues found in nature, but rather are limited only by your imagination.
But how exactly is quartz made? The process is called Bretonstone, a patented manufacturing process for making engineered stone that is the industry standard and is used by many quartz countertops manufacturers.
In the early 1970's, Marcello Toncelli and his Breton Company in northeast Italy developed the Bretonstone system. The process transforms small stone aggregates of marble, quartz, silica and granite into a solid surface that closely resembles natural stone. The composite was manufactured as slabs that started out with uniform dimensions and various thicknesses, but could then be carved and polished just like natural stone.
Sandy Cove Quartz
Today, Bretonstone manufacturing consists of adding a polymer mix composed of a binding syrup and pigments to primarily quartz. This is done in an airless vacuum to ensure that the mixture is completely compacted. The quartz mixture is vibrated to produce a consistent and homogeneous blend, and is then pressurized, and heated in a process known as "vibrocompression under vacuum."
The result is a slab of non-porous engineered stone that can either resemble granite or marble or contain such wow factors as colored glass inserts, mirrored pieces, or even semi-precious stones.
Stellar Gray Quartz
The appeal of this man-made stone mix is that it is scratch and chip resistant, non-porous, and offers unlimited colors and designs. It can be used for industrial and residential floors, counters, backsplashes and hearths. Quartz countertops are so appealing that they ranked as the #1 kitchen countertop material in July 2013's Consumer Reports.
What Is Quartz, Anyway?
Quartz is a combination of silicone and oxygen (silicon dioxide) and is one of the most common minerals on earth, making up 12% of the Earth's crust by volume. Not only is it plentiful, but it's also one of the hardest, non-precious materials on earth. Only diamond, sapphire and topaz are harder. In fact, even granite consists of 20% to 35% quartz.
You can find quartz in your backyard, but natural quartz crystals are mined in abundance in Canada, Arkansas, Brazil, Germany and Madagascar. In the U.S., large quartz deposits have been found in Arkansas, California and New York.
Perla White Quartz
Benefits of quartz countertops:
• Durable
• Maintenance free
• Scratch resistant
• Stain resistant
• Mold resistant
• Heat and scorch resistant
• Anti-microbial
• Offers a nearly infinite color palette
• Non-porous
• Does not need sealing
Calacatta Classique Quartz
Bretonstone counters are composed of the following materials:
• Quartz
• Stone aggregates: such as marble, dolomite and other colored stones found in sand or created by crushing larger stones.
• Mineral filler: finely crushed stone that forms a binding paste when mixed with resin.
• Binder: resin combined with filler to fuse fillers and aggregates together, making the engineered stone extremely durable.
• Pigments: most commonly metallic oxides that create a vast number of colors and hues.
• Additives: hardening catalysts.
• Antimicrobials: anti-bacterial agents included in the quartz production process, providing continuous protection against bacteria growth.
Read More About Quartz History and How Quartz Countertops are Made:
The History of Quartz Countertops
Crystals To Countertops How Quartz Countertops Are Made
What Is Bretonstone Technology?
Where Do Quartz Countertops Come from?