Everything You Need To Know About Artificial Turf
November 16, 2022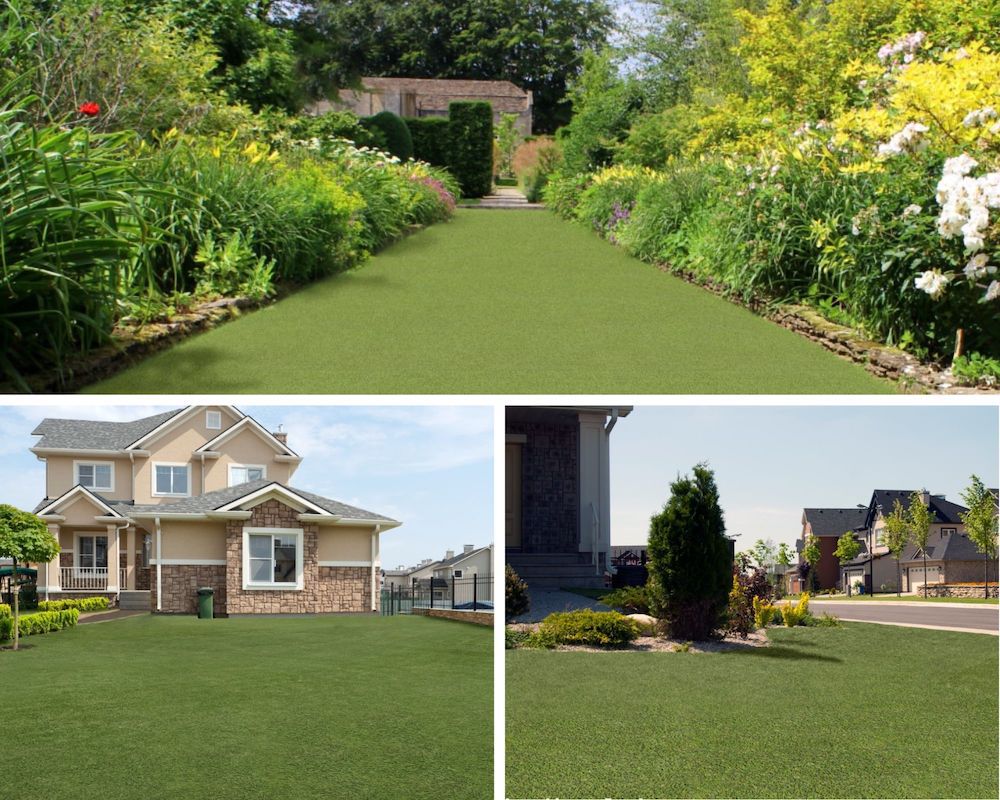 First produced in the 1960s for use on athletic fields, today, artificial turf is all the rage for elevating outdoor spaces in residential and commercial markets. This comes as no surprise as artificial turf brings many benefits to the table — it's nearly maintenance-free, looks realistic, and is long-lasting, to name a few.
In this article, we'll look at artificial turf's incredible benefits, the different types, and innovative ways to incorporate them into your designs
ARTIFICIAL TURF TYPES
Artificial turf has come a long way since the 1960s. Over the decades, it has evolved from a plastic-like nonrealistic product to a realistic-looking, luxurious outdoor addition. Let's take a look at the three types of artificial turf.
Nylon Artificial Grass
While artificial grass made from nylon is considered the longest-lasting and most durable, its price is higher than other options that offer a similar look. Nylon works great in high-traffic areas, but as the stiffest artificial grass, it's best not to use it in spaces where pets or kids play. For many, this moves nylon to the back of the options line.
Polypropylene Artificial Grass
Sure, polypropylene comes in at the lowest artificial grass price point, but it offers the least durability. This style of artificial grass works best in non-high-traffic areas.
Polyethylene Artificial Grass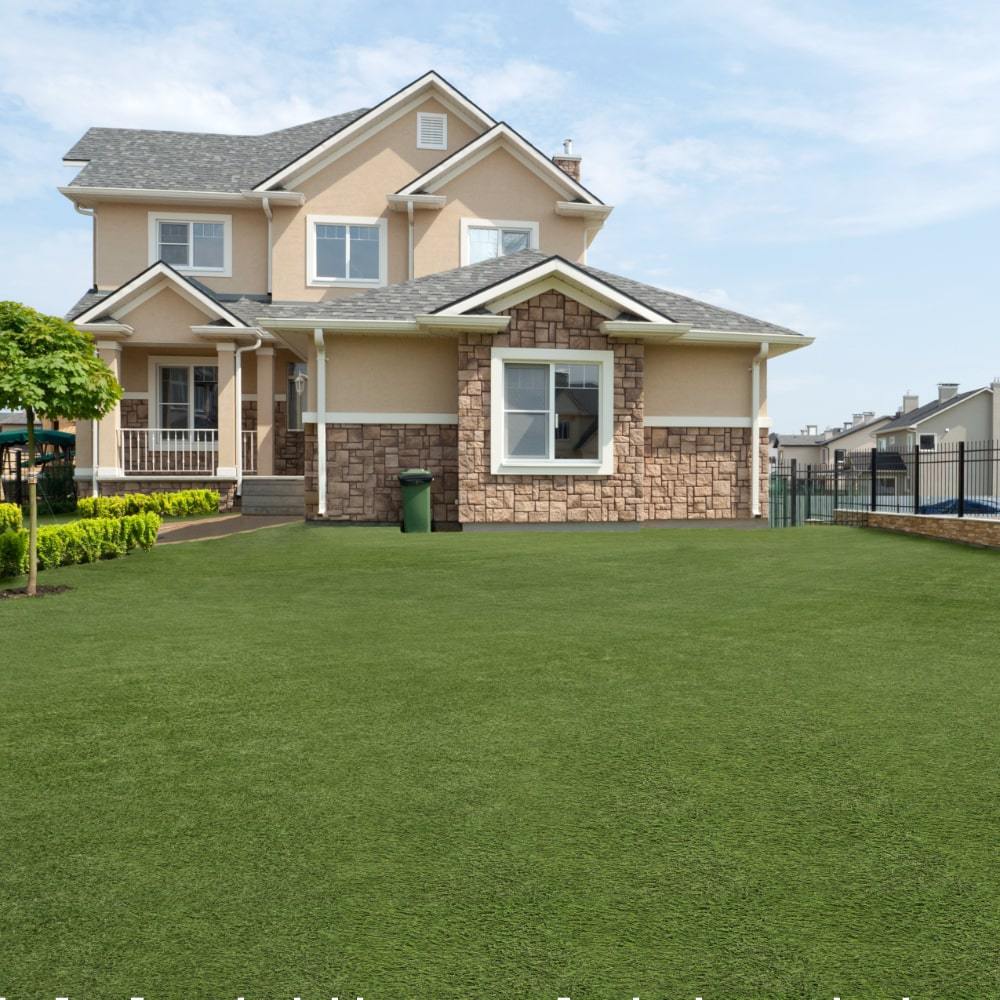 Polyethylene artificial grass provides a realistic texture and look. It's a captivating choice for a mid-range artificial lawn. Its softness makes it an excellent option for play areas and other portions of your yard where family and guests walk barefoot.
Our Evergrass™ Emerald Green Turf 110, made from polyethylene, delivers an alluring color year-round to residential or commercial spaces. Equipped with BioLuxe Worry-Proof Technology, this turf provides a chemical and pesticide-free lawn without the need to water. It feels great underfoot and has no seasonal die-offs, bare spots, or damaged areas from pets.
Check out this great-looking Evergrass™ Emerald Green Turf 110 that makes up this lavish front yard. It's nearly impossible to tell the difference between this turf and natural grass.
ARTIFICIAL TURF BENEFITS
A leading benefit of artificial turf is it is nearly maintenance-free. Never again will you find yourself performing regular yard duties like fertilizing and mowing.
Today's artificial grass looks much more realistic than the artificial grass of a bygone era. Some varieties of artificial turf even add yellow color blades to mimic thatch.
Homeowners love the fact that artificial turf is evergreen. This means you can have your lawn the shade of green you prefer year-round. All you need to do is select the color and enjoy how it elevates your outdoor space.
Artificial turf requires no watering. This saves you time as you have one less chore to perform, and it reduces your water bill.
Finally, artificial turf is long-lasting. Well-maintained turf of high quality can last up to 20 years or longer.
Keep reading to learn more about the additional benefits MSI Evergrass™ provides.
First, check out this informative video to learn more about Evergrass™.
EVERGRASS™ EMERALD GREEN TURF 76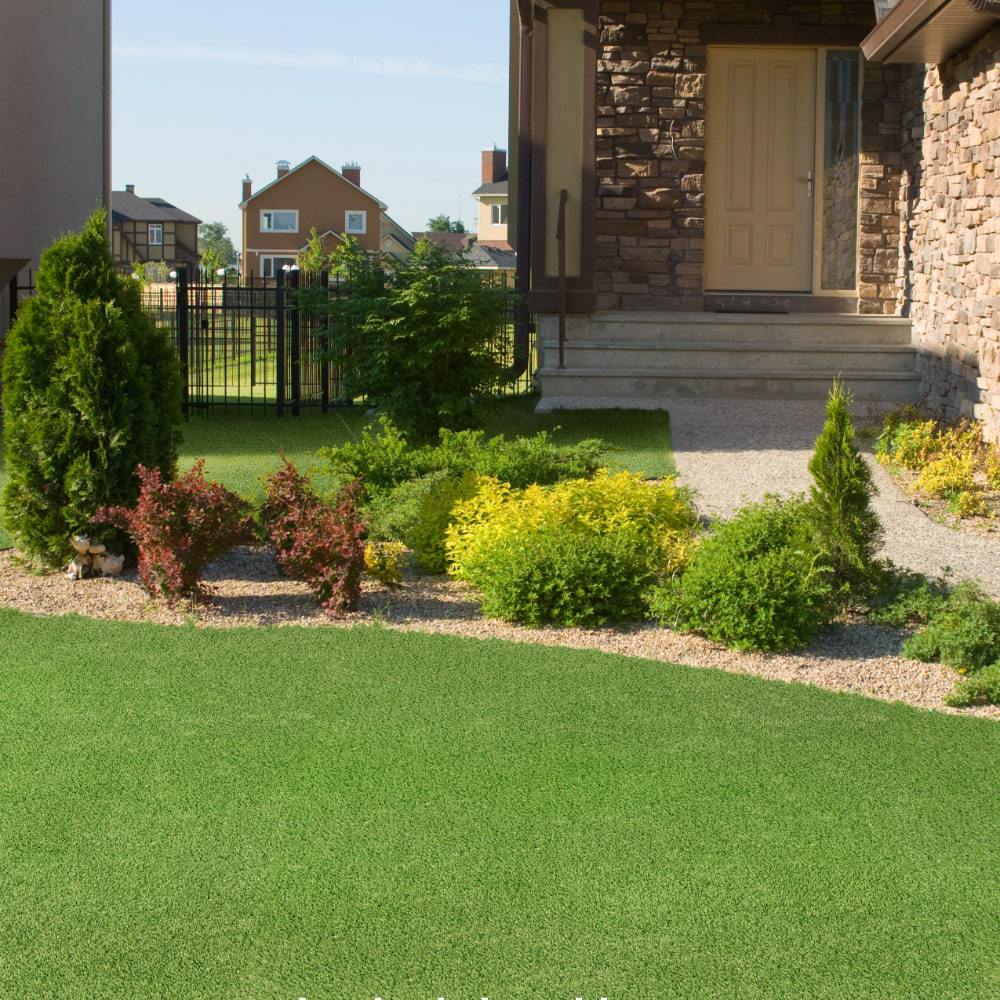 Evergrass™ Emerald Green Turf 76, made with polyethylene, uses BioLuxe Worry-Proof Technology to provide a breathtaking lawn that looks real and remains lush 365 days a year without water. It feels fantastic underfoot, and its unrivaled UV resistance delivers years of brilliant emerald green for you and your family to enjoy.
Evergrass™ Emerald Green Turf 76 employs unique antimicrobial properties, which gives your kids and pets a fun and safe place to run around and play. It even has a unique drainage design to ensure any pesky mud doesn't become an issue.
Its unique M Blade shape allows light to pass through in numerous directions. This makes for an authentic natural-looking lawn. Backed by a 10-year commercial and lifetime limited residential warranty, Evergrass™ brings beauty and peace of mind.
Look at this impeccable front yard utilizing Evergrass™ Emerald Green Turf 76. One can barely tell the difference between the lawn and the live green bushes adorning it. You can take this scene to the next level by incorporating pavers to add character and dimension.
EVERGRASS™ PUTTING GREEN TURF 78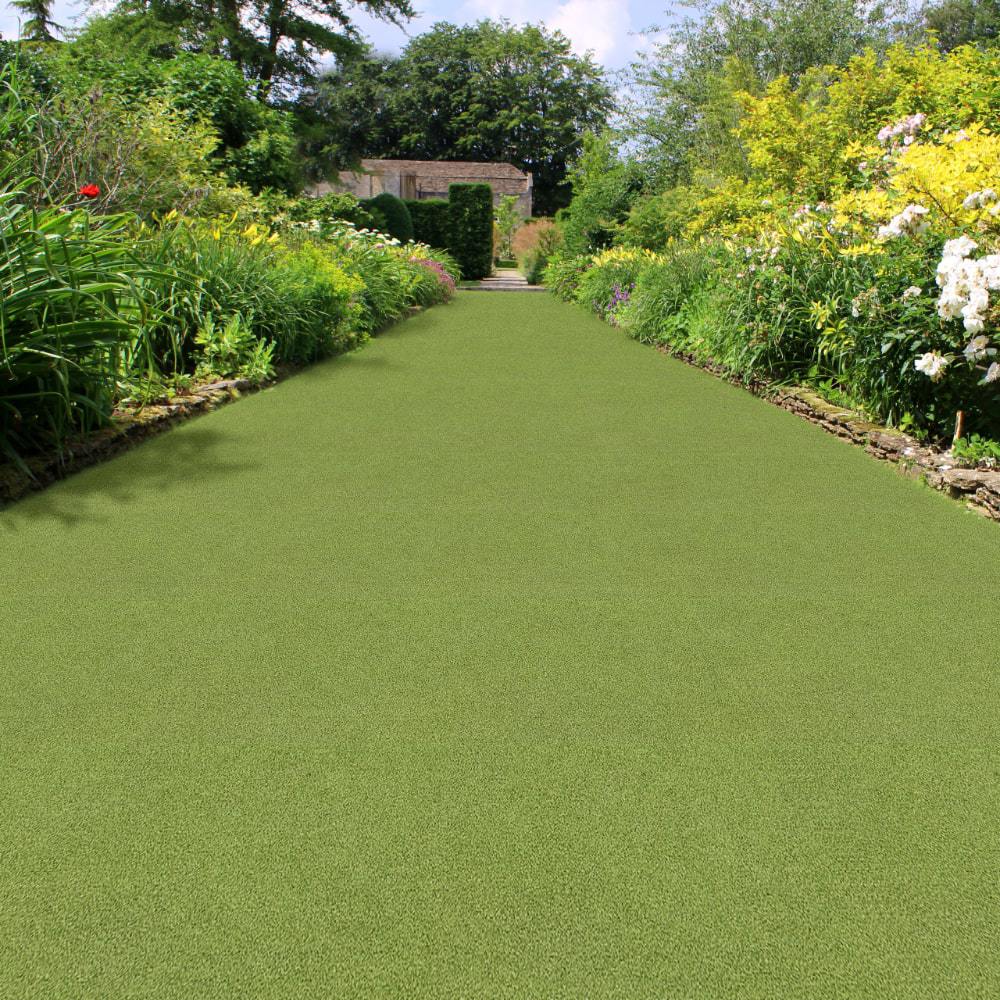 Made from polyethylene, Evergrass™ Putting Green Turf 78 is engineered to deliver a putting green that's enjoyable to use and requires no maintenance. You won't need to worry about pet damage, seasonal die-off, or bare spots with our Evergrass™ Putting Green Turf 78. In addition, the detailed drainage design helps remove standing water and mud to keep your playing surface on point.
The putting green pictured here among an English garden is awe-inspiring. Incorporating gorgeous outdoor patio tile around the entry to the putting green is a smart way to take this already fantastic scene even further.
EVERGRASS™ VIRIDIAN TURF 91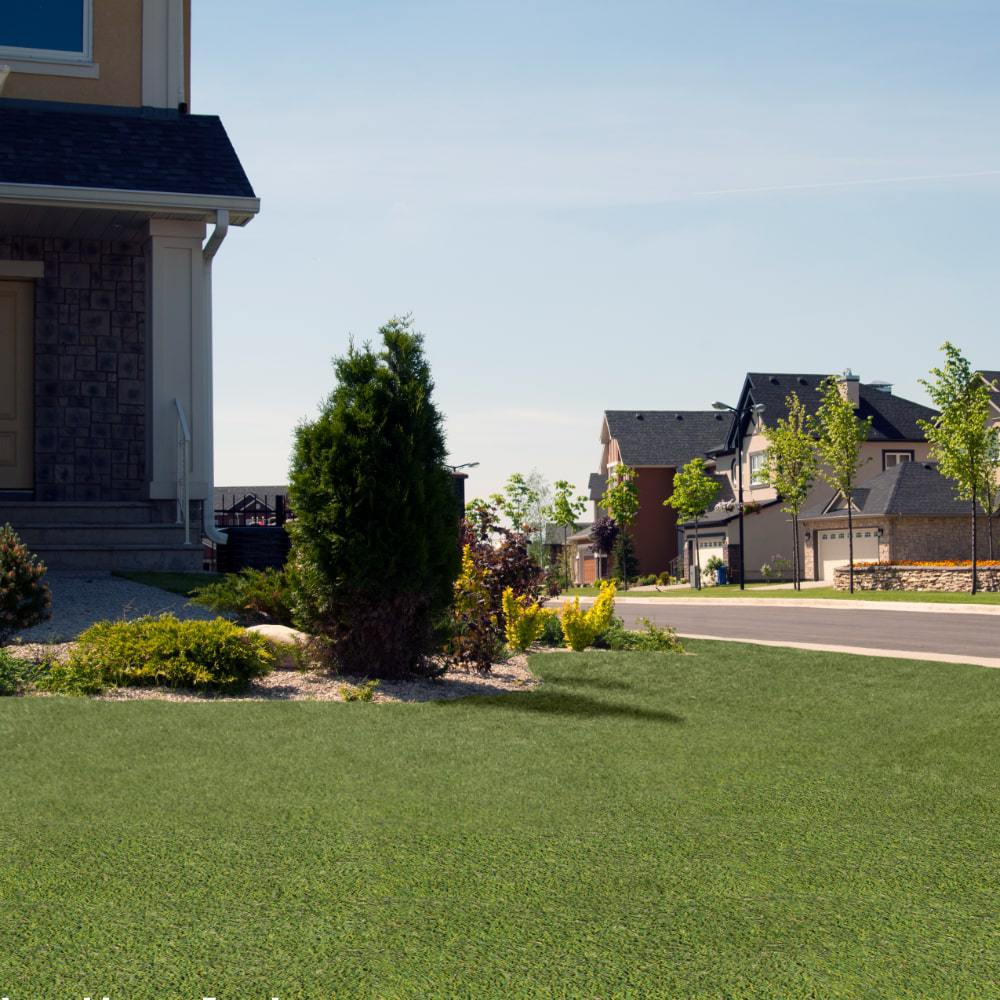 Evergrass™ Viridian Turf 91 looks great and provides a nearly maintenance-free evergreen lawn. Equipped with BioLuxe Worry-Proof Technology, this turf delivers a realistic-looking lawn and will stay green without water, pesticides, or seeding. In addition, due to its superior UV resistance, Evergrass™ Artificial Turf 91 is long-lasting, offering years of brilliant green color that creates an undeniable aesthetic.
It feels great underfoot, and you'll appreciate its antimicrobial properties that give your kids and pets a safe area to play. This turf comes backed by a 10-year commercial and a lifetime limited residential warranty.
Pictured here in a new construction community, Evergrass™ Viridian Turf 91 looks so close to the real thing that you may rub your eyes and need to do a double-take.
Does our Evergrass™ have you inspired to get started on your next outdoor upgrade project? Before you get started, contact us at MSI to see how we can assist you in finding the right material for your unique needs. Why settle for less when you can get the perfect product that checks all the boxes on your wish list?
We're industry experts, and we are here to help you in any way that we can. You can contact us online, by visiting one of our showrooms, or by chatting with us in real time through our MSI website chat feature at the bottom right of your screen. Using this feature is easy. Click the circle, and a pop-up chat box will appear with a knowledgeable agent ready to assist you.
Learn More About Artificial Grass
Introducing Evergrass™ Artificial Turf From MSI