New Feature Alert: Quartz Countertop Designer Tips
April 03, 2023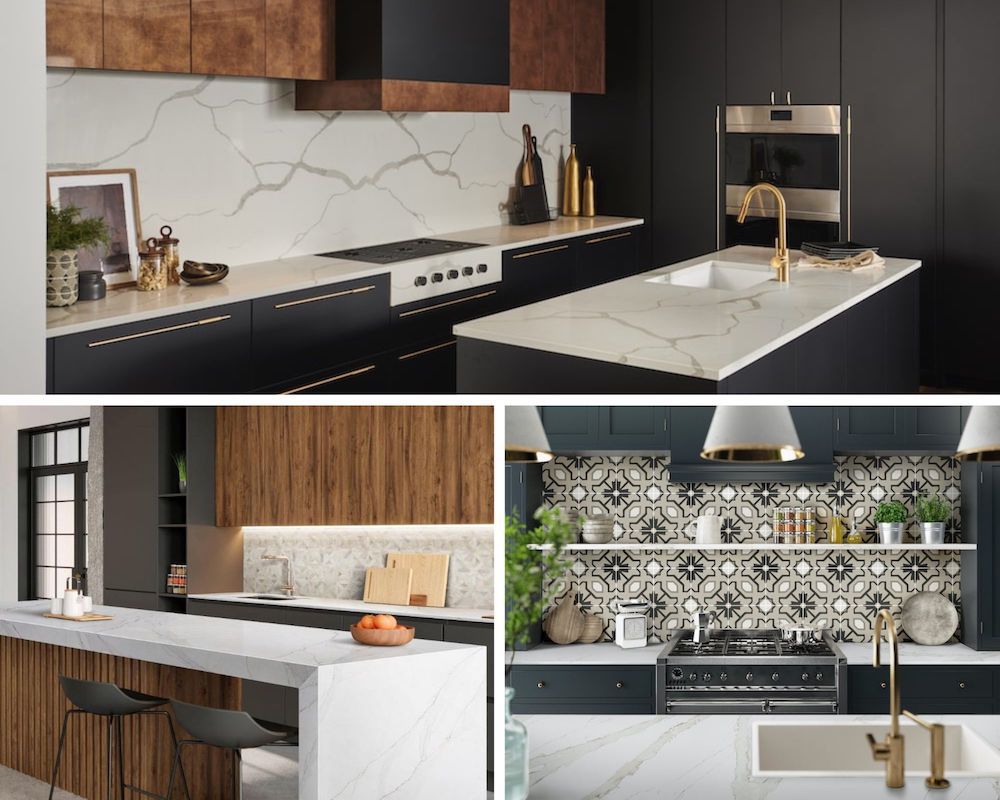 Selecting new quartz countertops is an exciting opportunity that requires careful consideration and attention to detail. It may involve some time, mental energy, and financial investment. It's ultimately a worthwhile decision that will enhance the beauty and functionality of your living space. At MSI, we want to give you every possible tool to help you make that critical decision and ensure you are thrilled with your new kitchen or bathroom for many years into the future.
We aim to provide you with all the necessary resources to empower you to make the right decision. That's why we're introducing a new feature on our website! So if you're ready to plan an entirely new space to go along with your Q™ Premium Natural Quartz surfaces but aren't sure where to start, this one's for you. We're bringing you insights from our professional design team that will help you create the home of your dreams.
We want to be the complete solution for every step of your kitchen remodel process – from the very first preliminary information-gathering and design phase to the selection of materials. As our customers typically seek multiple products to complete their project, such as brand-new cabinets paired with quartz countertops, our designers have curated a variety of suggestions to inspire your creative vision. We offer insights on combining cabinets, backsplash mosaics, flooring materials, and other design elements. We also provide expert advice on the latest trends and tips for your desired products.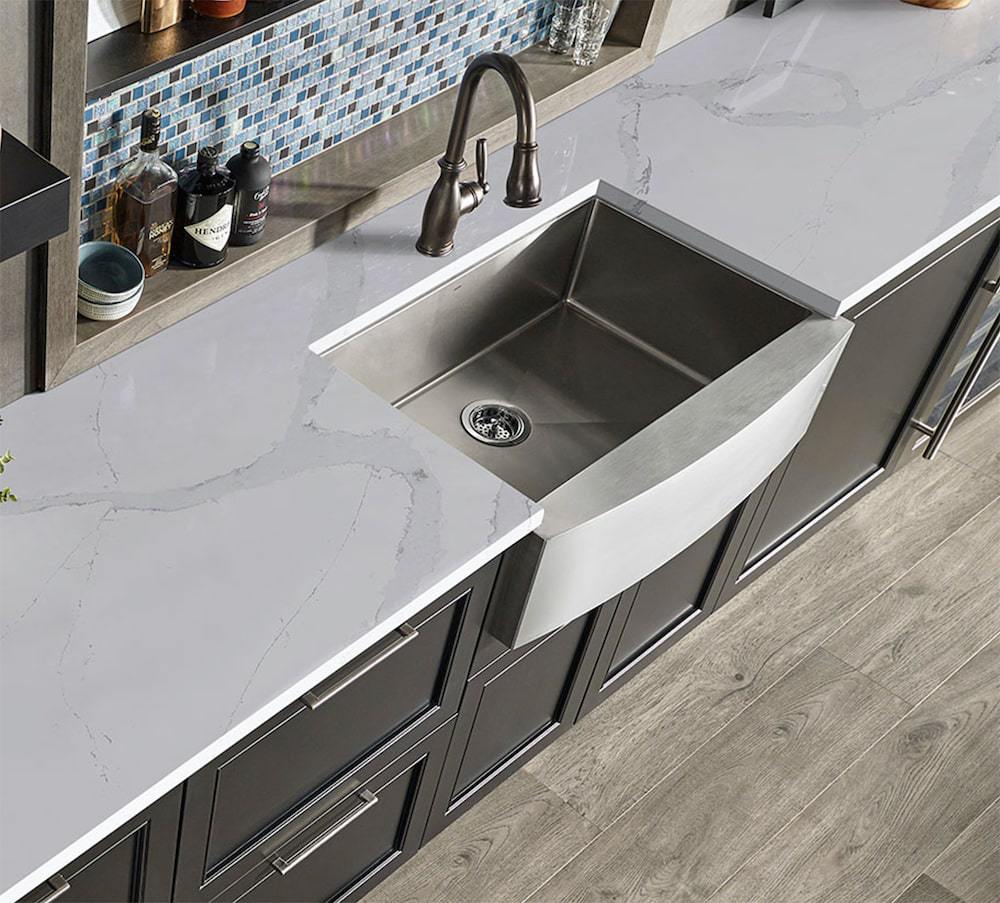 Calacatta Azai Quartz Countertop
For example, if you're considering Calacatta Azai, one of our many premium white quartz countertops, when you scroll down on its product web page, you'll see a selection of coordinating backsplash mosaics: Luxor Kona Gold, Pearla Arabesque, and more. Our designer tips suggest subway tiles for your new backsplash because they're always on-trend and available in various colors and sizes. Large-format tile flooring may also be suggested to remind you of other complementary options for your project.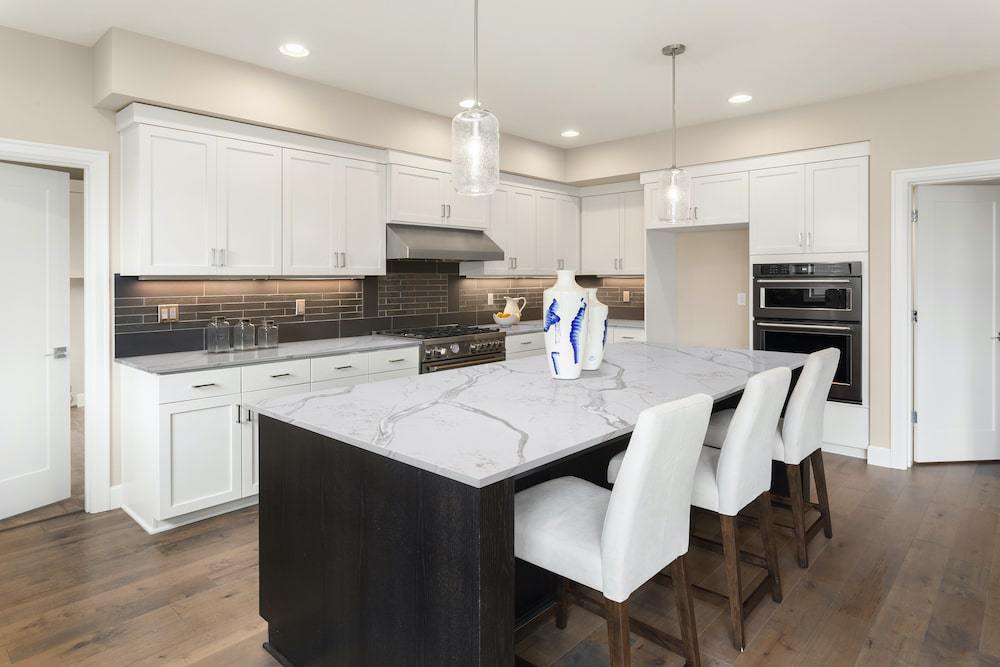 Calacatta Bolina Quartz Countertop
If you take a look at our Calacatta Bolina Quartz page, you will see that it is a bold quartz that looks like marble with prominent gray veining against a pure white background and a bright polished finish. It looks fantastic when paired with Urbano Graphite Tile, Harlow Chevron, and the other three mosaics listed and pictured on its product page. Since this quartz countertop's veining resembles flowing liquid, our designers suggest pairing them with a marble waterjet-cut backsplash. They've also suggested a range of neutral-hued cabinetry, including white, medium greige, and taupe putty.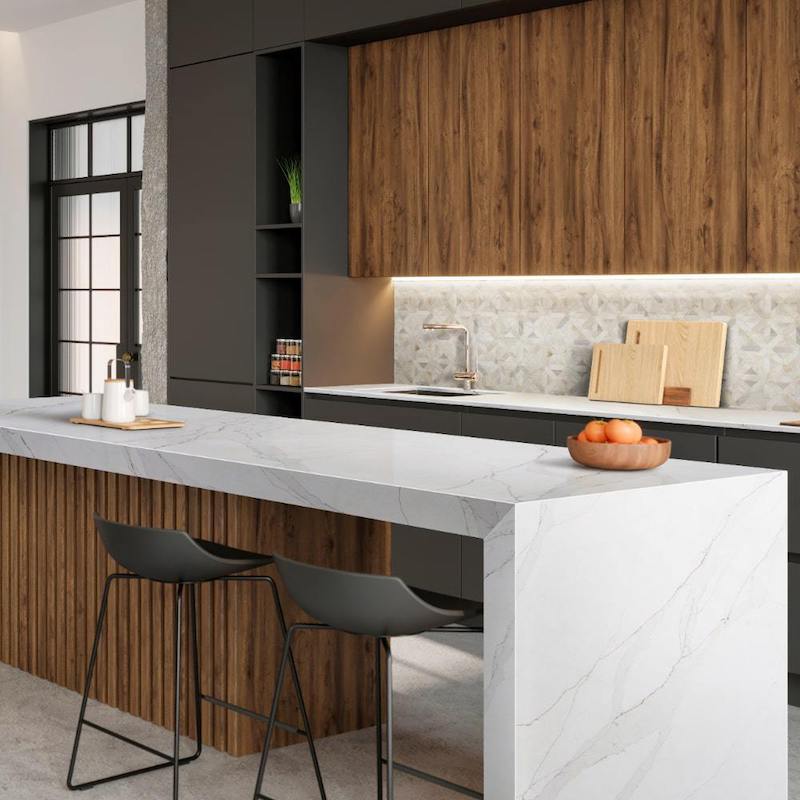 Calacatta Abezzo Quartz Countertop
Our website is gradually introducing tips from experienced designers and recommendations for seamlessly coordinating backsplashes and cabinets. Currently, the product web pages for our premium engineered quartz colors feature corresponding backsplash options, with complementary cabinet suggestions to follow in the near future. Once this process is finished, we will extend this same valuable information to our other countertop materials, including quartzite, marble, and granite.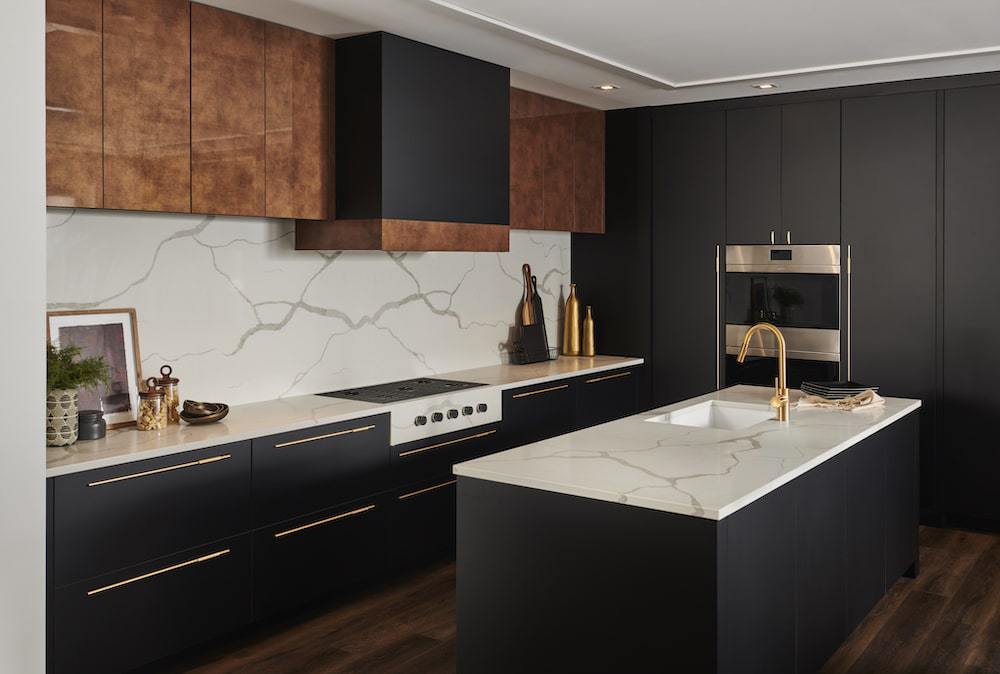 Calacatta Classique Quartz Countertop
Along with tips from our designers, each product page includes a link to our popular Kitchen Visualizer tool. After considering our suggestions for coordinating products, click "Try our Kitchen Visualizer" and see them in an actual kitchen. We've included many other countertops, backsplashes, cabinetry, and flooring products in our visualizer besides the ones our designers suggest. You can explore and match colors and patterns as much as you like, to create thousands of combinations.
Calacatta Goa Quartz Countertop
Our online galleries, tips, and tools are just a few ways we help our customers create and design rooms to match their personal style. So, if you're ready to start your next project, we're here to help! Chat online with us now, visit an MSI showroom, or find an MSI authorized dealer near you.