Beautiful And Trending Quartzite Countertops
July 10, 2016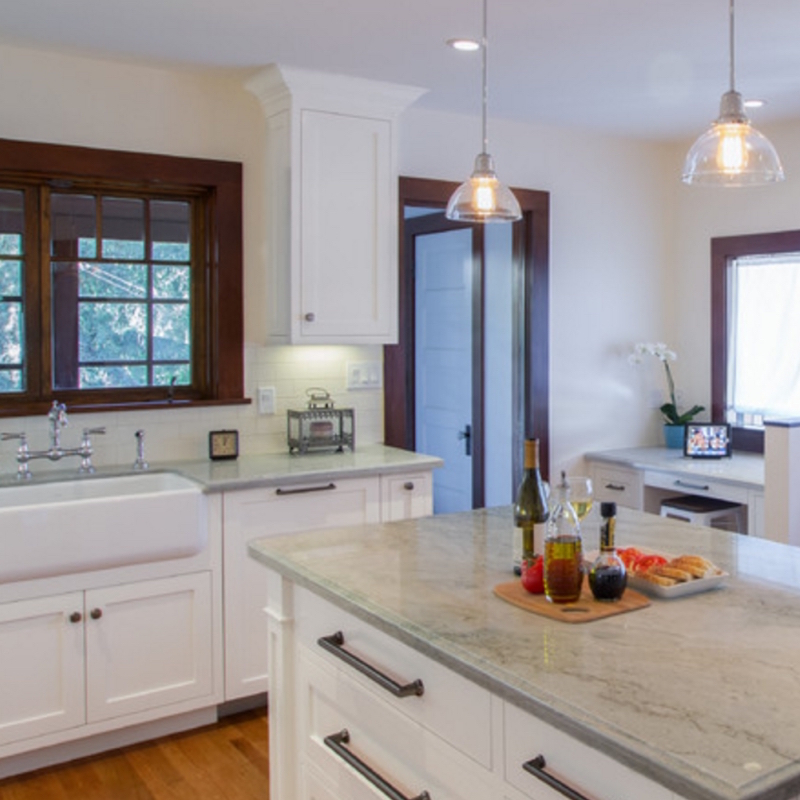 If you're in love with the look of marble for your countertops in the kitchen and bath, but have heard about how much trouble they can be – the staining, etching, patina, and the upkeep required – we've got your solution! Mined from the earth like natural marble and granite, quartzite stone slabs are a dynamic choice for kitchen countertops. Similar in veining and polish, quartzite lends a marble look to countertops without the worry.
Quartzite is not indestructible; it still requires occasional sealing, and you should use a trivet or hot pad to protect from hot pots and pans. However, it is extremely durable and versatile, and can be used for flooring, stair steps, and wall coverings as well as its most common usage, the quartzite countertop.
Taj Mahal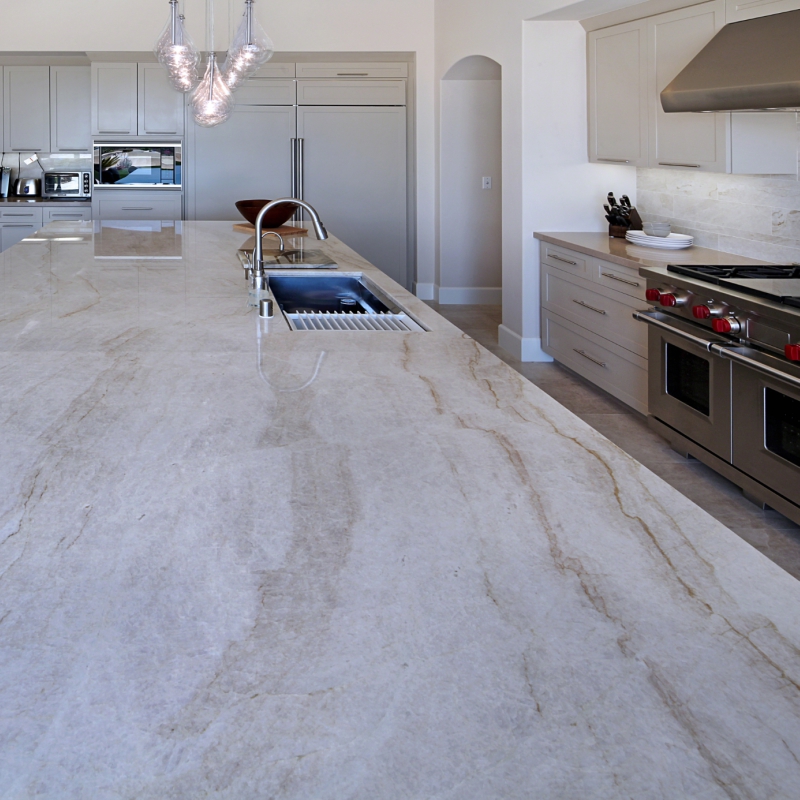 Featured: Taj Mahal Quartzite
Featuring veins of golden beige against an off-white background, Taj Mahal Quartzite is just about as close to classic marble in appearance as you can get! Pale and elegant, it's a perfect white quartzite countertop for small spaces like bathrooms galley kitchens, laundry rooms or a butler's pantry. This quartzite comes from Brazil, and is available in both a matte brushed finish or a sleek polished finish.
Ice Flakes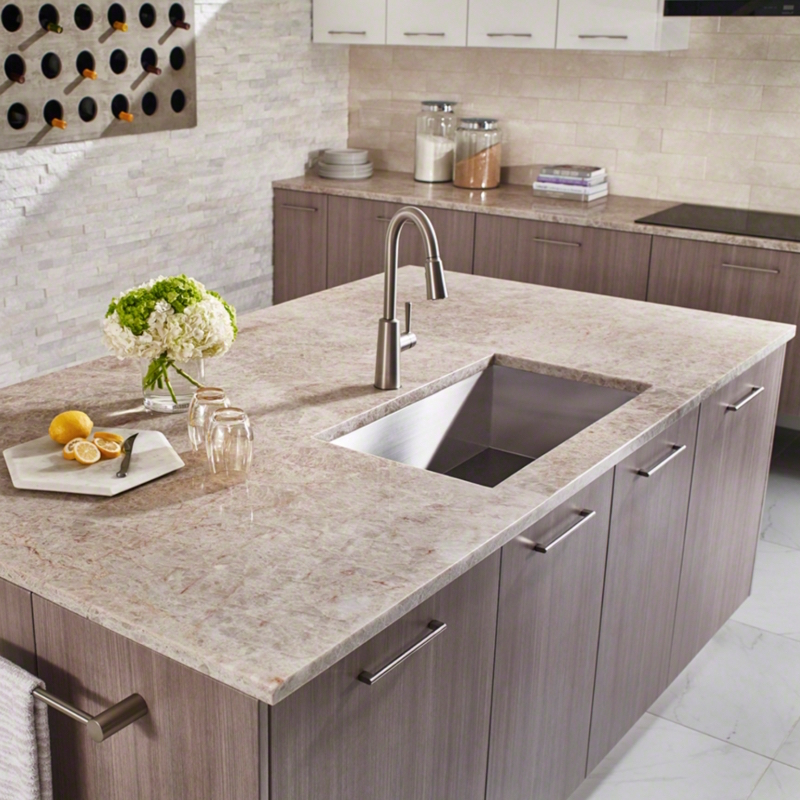 Featured: Ice Flakes Quartzite
If you took a cross-section of a glacier, you might expect something like Ice Flakes Quartzite. Shades of gray and taupe in a medium-variation, chunky pattern make this natural stone eye-catching but not fussy. The neutral shades blend well with other building materials such as wood or stacked stone.
Madreperola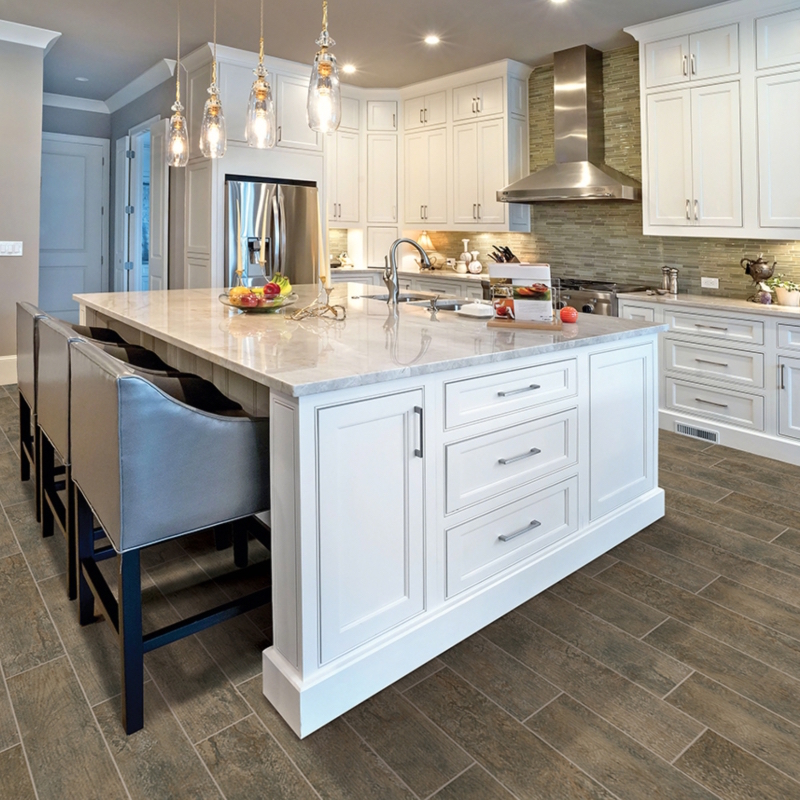 Featured: Madreperola Quartzite
Cream, taupe and gray shades combine in graceful swirls to make Madreperola Quartzite a natural fit for any type of décor. It's subtle enough to use throughout the home as a quartzite countertop, accent wall, bathroom vanity top or shower surround. Imagine this paired with bright white cabinetry or a white carpet? Stunning. Versatile too, since it is available in either a brushed or polished finish.
White Macaubas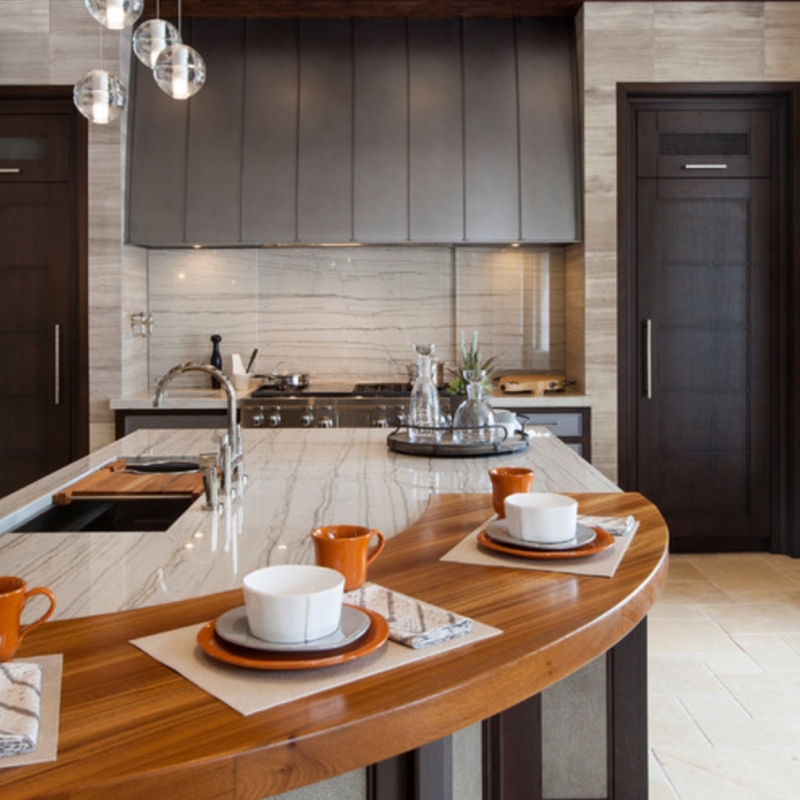 Featured: White Macaubas Quartzite
The white background of this quartzite is accented with streaks and ripples of charcoal gray; White Macaubas Quartzite has what we'd call "movement." Its linear streaks please the eye, and it's perfect for large installations either in one large slab or in tile format, alone or combined with other quartzite colorways. This natural stone is tough enough for use outdoors as well as indoors.
Sea Pearl
Featured: Sea Pearl Quartzite
Precious as the treasure that inspired its name, Sea Pearl Quartzite features swirls of gray hues ranging from pale to dark charcoal. Available with a polished finish, it's ready to add elegant grace to your kitchen countertop, island, or bathroom vanity – and since it can withstand freezing temperatures, no worries if you're tempted to install it in your outdoor living spaces as well.
Combining beauty with easy care in a truly natural, mined material, quartzite is taking the world of home décor by storm. We love materials that resemble high-maintenance, high-end surfaces but are less expensive and much more user-friendly! Available in a wide range of color variations, the perfect Quartzite countertops for your home are here at MSI.
LEARN MORE ABOUT QUARTZITE COUNTERTOPS
Quartzite Countertops - The New Wonder Of The World?
Are Quartzite And Quartz Countertops The Same Thing?
Stylish Living: Decorating With Quartzite Countertops
Quartzite Countertops Vs. Granite Countertops
Quartz Vs. Quartzite - Are They The Same?