Create Stunning Visual Appeal With A Porcelain Slab Backsplash
May 21, 2021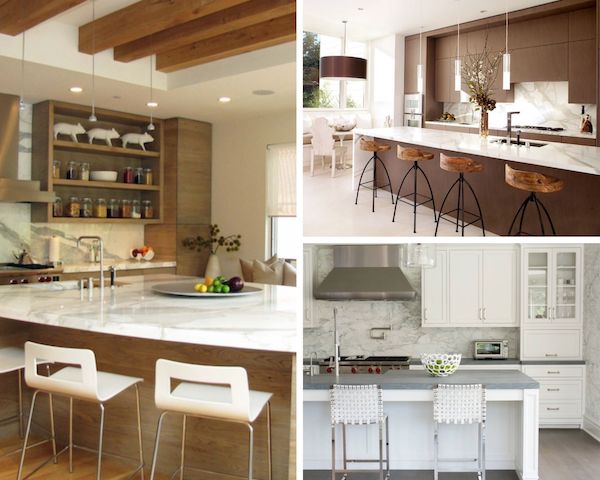 What would you say if we told you that you could get the luxurious look of a marble backsplash without the expensive price tag? If you're looking for a sleek and beautiful backsplash design, consider an alternative option like porcelain slabs. Not only are they beautiful, but they're a low-maintenance and affordable option — what more could you ask for?
Porcelain slab backsplashes are growing in popularity because of their ability to elevate any space by mimicking the look of natural stone. Let's find out why more and more homeowners are opting for MSI's collection of beautiful porcelain slabs in a variety of colors and veining patterns.
Take a look at this video to see how Stile® Porcelain Slabs can provide the high-style look of continuous natural stone in any kitchen:
Benefits of a Porcelain Slab Backsplash
When you close your eyes and imagine your dream kitchen, what do you see? The design process can be overwhelming because of how many options are available — from hardware color and countertop material to lighting fixtures and appliances. If your dream kitchen is jaw-dropping, consider a continuous porcelain slab that seamlessly transitions from your kitchen countertops up the wall as your backsplash. This one-of-a-kind design truly elevates any space while seamlessly blending into any design aesthetic. Along with looking luxurious, here are a few benefits of a porcelain slab backsplash:
Low Maintenance
We all have busy schedules, some more than most. And the last thing you probably want to do is spend your free time performing tedious maintenance on your backsplash to keep up its appearance. A major benefit of opting for a porcelain slab backsplash over traditional wall tile is that it's a completely solid surface. This means you can simply wipe it down with a standard cleaner and damp cloth without having to worry about stains or chips to the grout.
Seamless Design
While traditional or modern tile backsplashes can still take a kitchen from drab to fab, there's something about a porcelain slab backsplash that will leave you and your guests in awe. With the way the backsplash is installed, it gives off the appearance of a seamless transition from your kitchen countertops up the wall into the backsplash. Instead of opting for tile that has grout lines that can detract from its appearance, choose porcelain for an elevated aesthetic.
Focal Point
A porcelain slab backsplash attracts the attention of your guests without being too over the top. Whether you opt for a vibrant or eclectic pattern or a more subdued color palette, a porcelain slab backsplash can be the focal point of a variety of kitchen aesthetics, including modern, traditional, minimalist, and more.
Affordable
Because a porcelain slab backsplash is a large, solid slab, many homeowners think that they can't afford it and opt for more traditional backsplash options with various subway tile patterns. However, a porcelain slab backsplash is an affordable option that makes it easy to create a luxurious and expensive-looking kitchen without the high price tag attached to it.
Create a Jaw-Dropping Backsplash with Porcelain Slabs
Ready to commit to a high-style porcelain slab backsplash but not sure where to start in the decision-making process? Here are a few of our favorite Stile® Porcelain Slabs that are sure to be a crowd-pleaser.
Statuario Bari Porcelain Slabs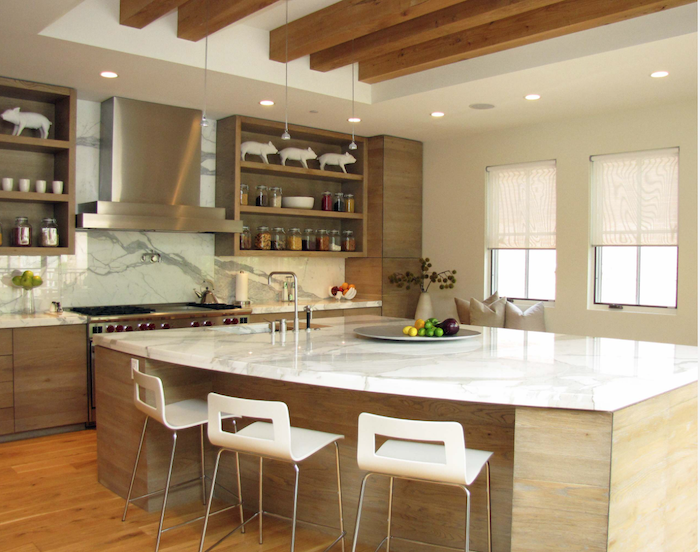 If you're obsessed with the look of marble but aren't a fan of its high price point, we may have the perfect solution that will get you exactly what you're looking for at an affordable price. Our Statuario Bari Matte-finish porcelain slabs are reminiscent of the finest natural marble surfaces, helping you create a remarkable and elevated kitchen. This solid porcelain slab with a milky white backdrop and thick grey-beige veining draws the eye across your backsplash, creating a one-of-a-kind focal point in the space. No matter the size of the space you need a backsplash for, Statuario Bari is the ideal choice and is available in four faces, with different patterns allowing you to create large installations where the veining continues, adding to the allure and appeal.
Calacatta Lucca Porcelain Slabs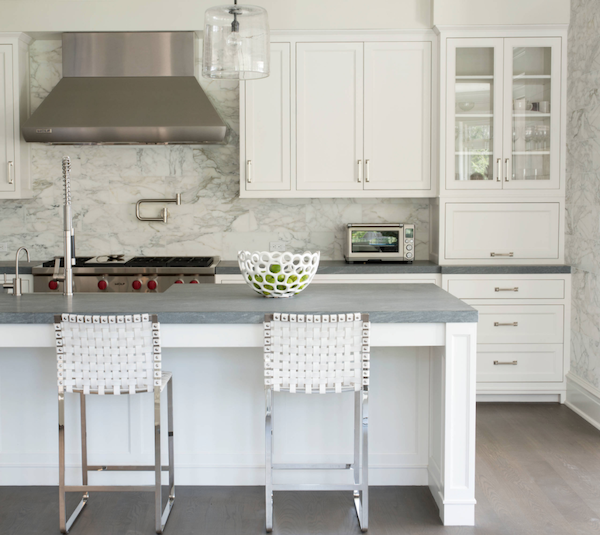 Your kitchen is probably the more utilized room in your home. Whether you're in there cooking meals for the family, helping your children finish their homeowner, or working on arts and crafts projects, it truly is the heart of the home. Because everything happens in the kitchen, you need porcelain slabs that are up to the challenge and able to handle any wear and tear you throw their way. Calacatta Lucca porcelain slabs with a matte finish are extremely durable, easy to clean, and ultimately maintenance-free — making them the ideal backsplash choice for a busy home. Crafted to mimic natural marble, Calacatta Lucca offers both a sophisticated and timeless look that is sure to please for many years to come. From kitchen backsplash applications to waterfall islands and flooring, the options for this porcelain slab are endless.
Statuario Gold Porcelain Slabs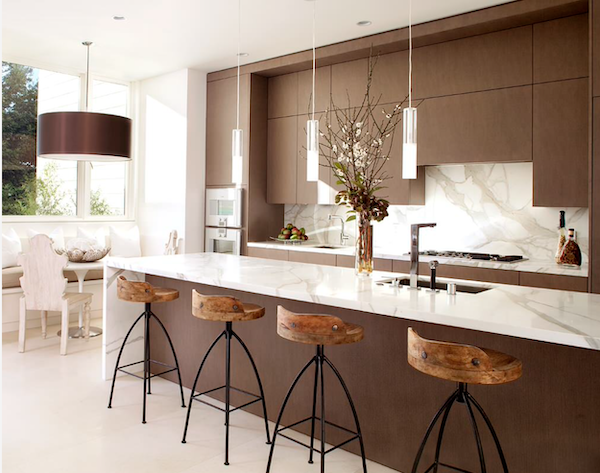 For a kitchen that stands out from the rest, consider a Statuario Gold porcelain slab backsplash to take your space to the next level. With a warm-white backdrop lined with thick gold veining throughout, this unique option pairs perfectly with gold or black kitchen hardware. Reminiscent of marble, you'll feel as though you have a high-end designer kitchen — but at a much better price. Installing a Statuario Gold porcelain slab backsplash will leave you and your guests in awe every time you step foot into your beautiful kitchen. Plus, you can amplify the beauty throughout the space by using the same porcelain slab as a waterfall island, flooring, or accent wall to tie the entire space together seamlessly.
To learn more about our inventory of beautiful Stile® Porcelain Slabs, contact MSI Surfaces today. We can help you determine the most effective and affordable way to bring your vision to life.
READ MORE ABOUT THE BENEFITS OF PORCELAIN TILE
Create Signature Statements with Antoni Porcelain Tile
2018 Porcelain Tile Patterns We Love
Avoid These Mistakes with Your Porcelain Wood Tile
Best Examples Of Colored Grout with Porcelain Tile
READ MORE ABOUT MSI BACKSPLASH TILE
Backsplashes That Make A Splash
Can Backsplash Tile Be Used In The Shower?
Choose The Perfect Backsplash Tile With This Helpful Guide