Smithcliffs Hybrid Rigid Core From MSI - The Latest Floors On The Market Are Worry-Proof And Waterproof
November 16, 2022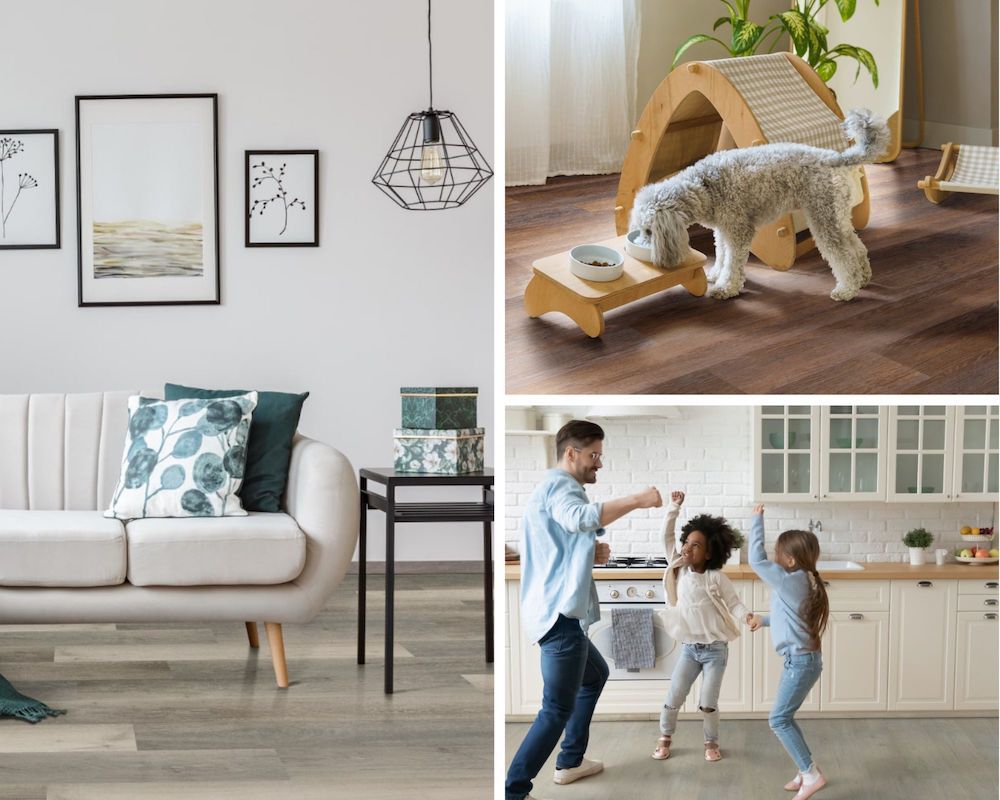 If you're interested in luxury vinyl flooring for your next home upgrade, you need to check out our Smithcliffs™ Hybrid Rigid Core flooring series. This stunning and durable Hybrid Rigid Core flooring will significantly elevate your space as the next evolution in worry-proof flooring.
For added design flexibility, this collection is available in seven colors. In addition, it comes equipped with MSI's proprietary DryLuxe™ technology offering 100% waterproof protection. These premium surfaces deliver many worry-proof features and are easy to install. Furthermore, their extra thick plank construction includes attached padding to provide extra comfort underfoot and reduce noise.
Keep reading to learn about these and more benefits of this innovative flooring, and check out the video below.
7 WOOD-LOOK STYLES
Humanity has used authentic wood flooring for centuries. This makes sense as it looks fantastic, is relatively easy to clean, and feels great to walk upon, but that doesn't mean it is free of limitations. For starters, natural wood floors need to be sealed and regularly resealed. In addition, the installation can prove challenging, and the price point is higher than the more durable Smithcliffs Hybrid Rigid Core flooring.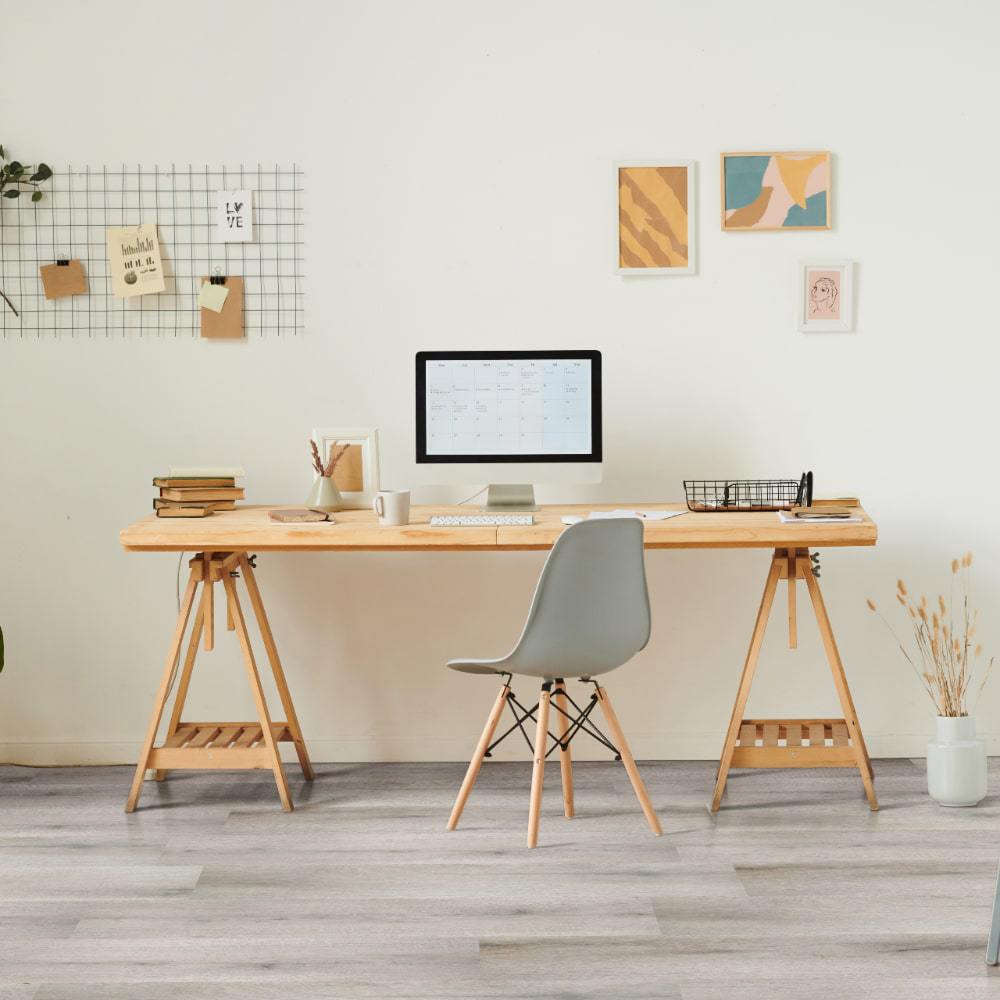 Smithcliffs Hybrid Rigid Core comes fitted with true-to-life graphics and realistic textures for an authentic wood look. Among the seven awe-inspiring wood look styles is the breathtaking Avery Ash Hybrid Rigid Core flooring. Avery Ash features always-in-style gray hues with understated knots and grains to provide a wood look nearly indistinguishable from the real thing. In addition to being waterproof, this 7" x48" flooring includes a long list of additional benefits covered below.
EXTRA THICK PLANK CONSTRUCTION
Where most luxury vinyl flooring is between 3 MM and 6 MM thick, Smithcliffs Hybrid Rigid Core measures an impressive 10MM, including a 2 MM backing. Not only does his underlayment do wonders with added cushioning, but it also enhances sound absorption, so even your most high-traffic areas don't sound so, well, high traffic. In addition, as most subfloors are imperfect, this thick construction provides a more effortless and superior installation.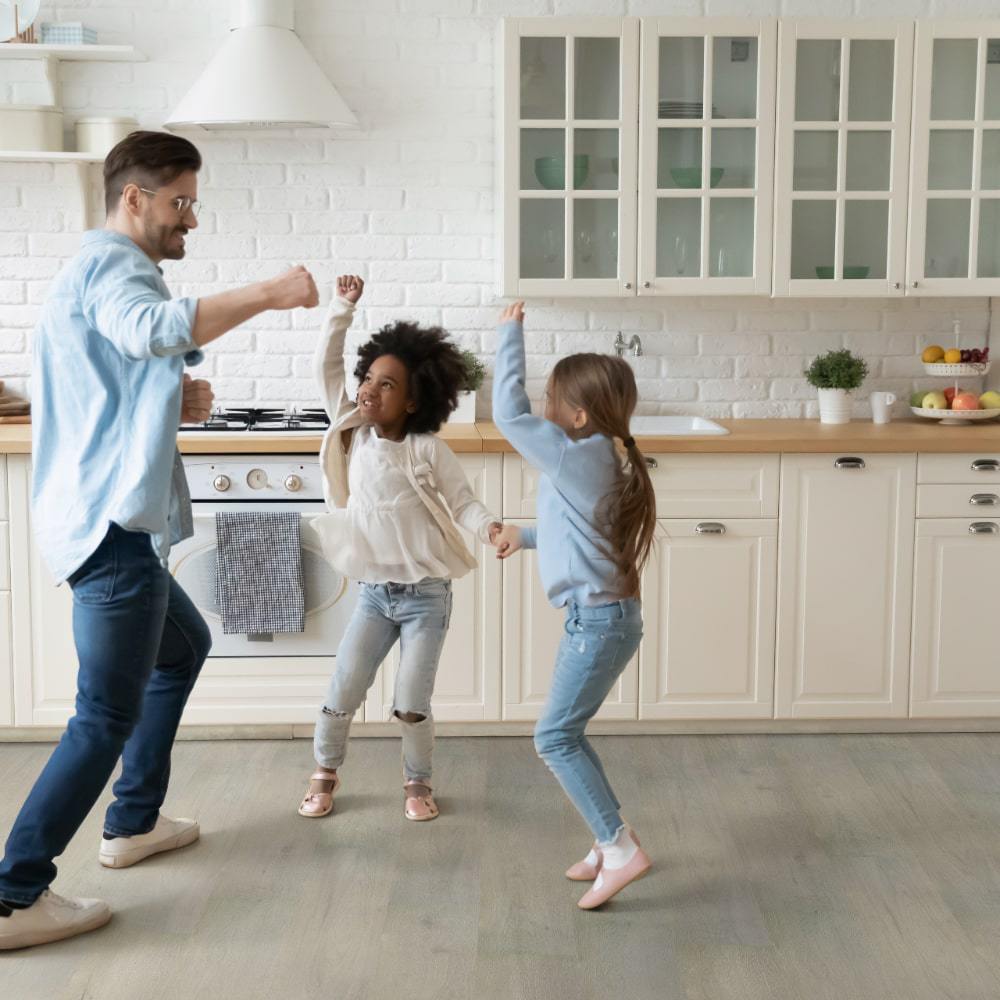 Take a look at this Driftway Hybrid Rigid Core flooring. You can bet top dollar that the sounds of this dance party are a mix of music and laughter as the additional underlayment absorbs the noise of this trio's fancy footwork. Driftway pairs heavenly beige with soft grays highlighted by realistic graining and knots. Straight from the Everlife® Smithcliffs™ collection, this flooring delivers the look of waterproof wood flooring without all the necessary upkeep and maintenance required of authentic wood.
WORRY-PROOF FEATURES
As the next step in worry-proof premium flooring, when you opt for Smithcliffs Hybrid Rigid Core, you gain an impressive list of worry-free features. This evolution of luxury vinyl flooring comes equipped with high-quality scratch resistance to keep your floors irresistibly beautiful for longer and an anti-microbial coating that is safe for kids and pets.
You'll also find a CrystaLux™ protective layer on these premium surfaces. This protective layer delivers ultimate durability. When it comes to scratch resistance, it performs significantly better than commercially rated vinyl. Finally, DryLuxeTM Waterproofing technology is built inside and out of Hybrid Rigid Core flooring to keep you, your guests, and your flooring safe from spills and other water mishaps.
EASY TO MAINTAIN
When it comes to the upkeep of your space, the less to maintain, the better. Compared to real wood flooring and other premium surfaces such as marble, Hybrid Rigid Core flooring is easier to maintain by a mile. As previously mentioned, this flooring does not require sealing or regular resealing and is waterproof, scratch resistant, and so much more. But you'll still need to perform some light upkeep.
For instance, you should immediately clean any spills or excessive liquids that make their way onto your flooring, just as you would with any floor. Hybrid Rigid Core flooring never requires special polishes, oils, or waxes. It is steam mop and wet mop friendly for an easy and quick clean.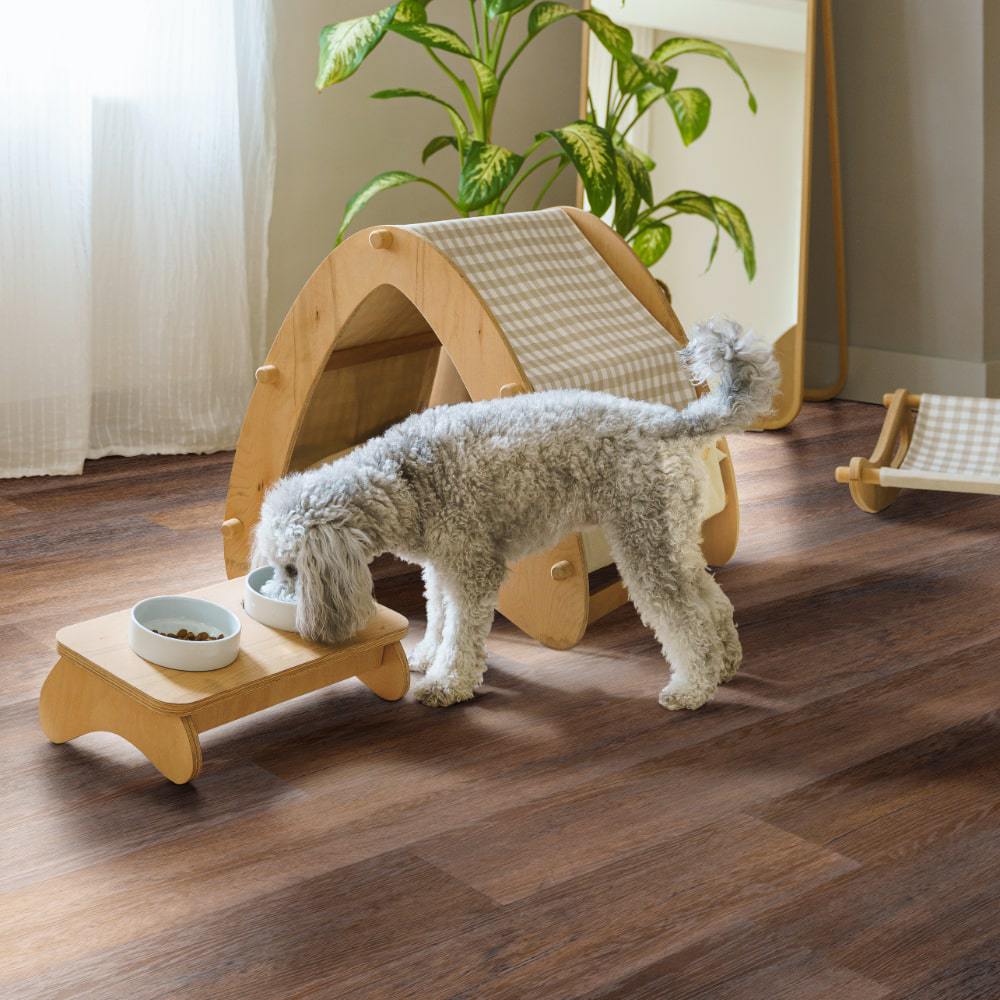 Pictured here, the Hillsdale Hybrid Rigid Core from the Everlife® Smithcliffs™ Collection showcases deep chocolate brown tones with delicate knots and grains to produce the look of authentic hardwood. You can be sure that these pet owners are glad to have the CrystaLux Ultra™ protection layer, which provides longevity and durability against everyday wear and tear, such as that from an enthusiastic, young, unbelievably cute pup like the one pictured here.
EASY INSTALLATION – PERFECT DIY PROJECT
Our proprietary locking system makes for an easy DIY installation and provides a watertight lock. The previously mentioned attached padding that these 7x48 planks utilize to dampen sound and increase comfort also contributes to this ease of installation over subfloors.
This waterproof flooring installs over most existing flooring, including ceramic/porcelain tile, wood, and non-cushioned linoleum or vinyl, as long as the existing flooring is secured correctly to the subfloor.
It's also easy to save money when using this product, as the locking system requires no grout, which cuts down on your overall design budget and delivers a seamless look not seen in other wood look products such as wood look porcelain tile.
WARRANTY AND ENVIRONMENTAL
Your home is your immediate environment, and you want to keep your immediate environment clean and healthy. Made from sustainably harvested and reclaimed sources, Hybrid Rigid Core flooring is non-toxic and eco-friendly. In addition, it is Greenguard Gold and Floor Score Certified. Finally, this premium flooring comes with a lifetime residential warranty.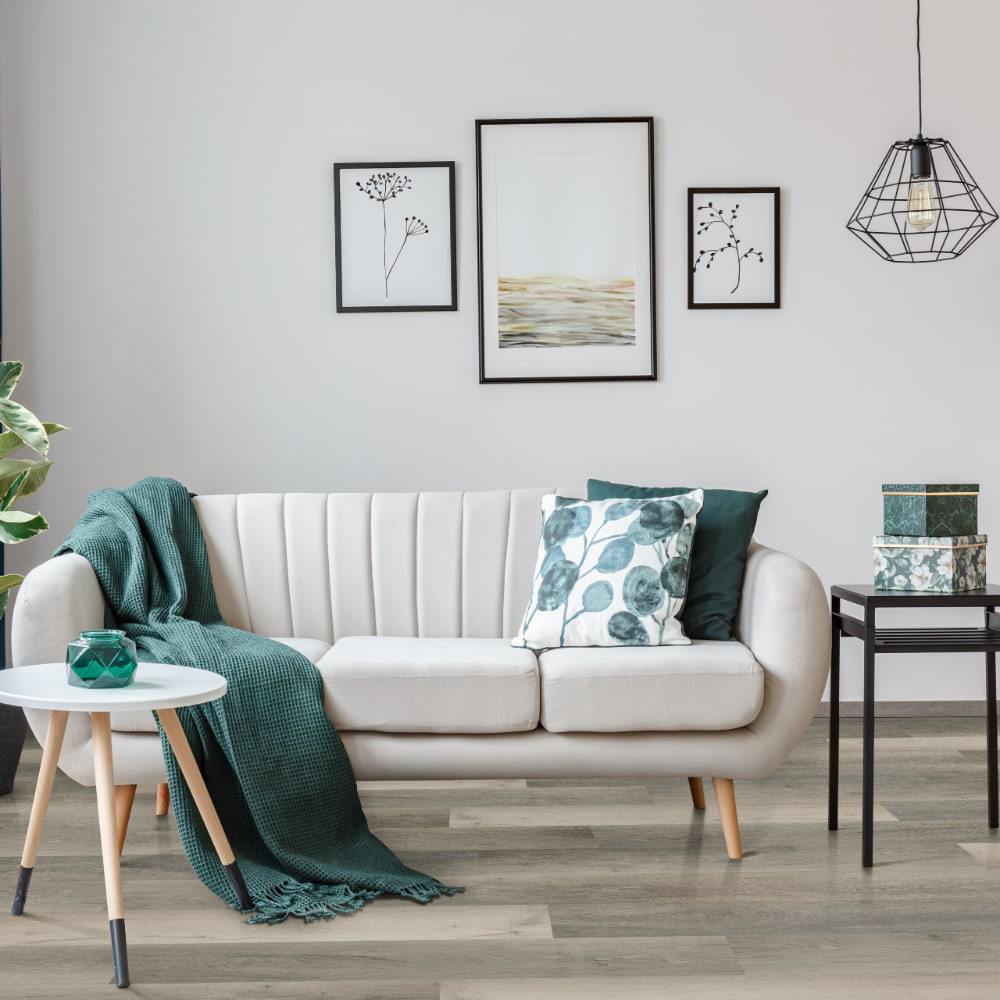 The Malton Hybrid Rigid Core flooring pictured here Is nearly indistinguishable from the natural hardwood it mimics. Shades of browns, grays, and creams come together to produce this one-of-a-kind flooring. Subtle knots and graining accent the surface, lending to the flooring's wood look and feel.
Does Smithcliffs Hybrid Rigid Core have you ready to start your next flooring project? Before you begin, contact us at MSI to see how we can help you find the material that checks all your unique boxes.
We're industry experts, and we are here to help. You can contact us online by visiting one of our showrooms or chatting with us in real time through our MSI website chat feature at the bottom right of your screen. Simply click on the circle, and a chat box will appear with a friendly agent ready to assist you.