Granite Countertops: The Workhorse Of The Kitchen
April 29, 2012
Countertop choices have come a long way since the basic laminates of the past. Whether for indoor or outdoor use, today's designers and homeowners are discovering that there is no shortage of material options available in order to create a surface that is beautiful and durable as well as one that effortlessly "leads your eye" around the space. The countertop boasts a reputation as being the hardest working element in your kitchen so strength and resilience should be a priority as well as being hygienic and easy to clean. Designers are mindful of these practical facts while keeping an ever watchful eye on current trends and client preferences. One trend that does not appear to be waning is the demand for natural stone's front runner; Granite.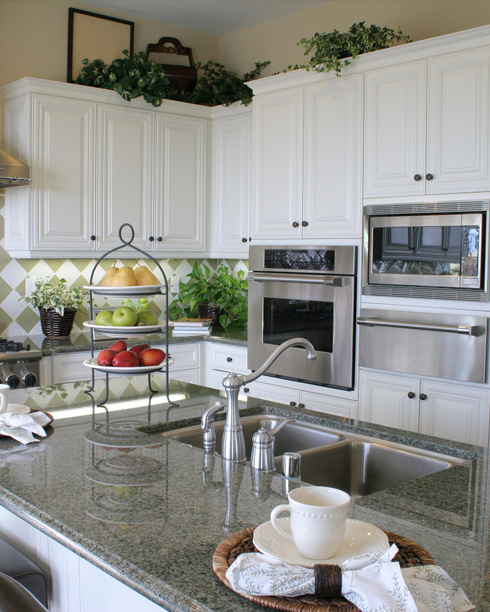 The People's Choice
According to an on-line survey conducted on behalf of The Marble Institute of America (MIA), 76% of 1,588 homeowners agree that nothing beats the beauty and value of granite countertops. Three quarters of those surveyed who intend to remodel their kitchens within the next two years said that they would choose granite countertops over any other material. This popularity is not surprising. Granite has been revered throughout the world for centuries for its unsurpassed beauty, durability and safety. Upwards of 90% of those surveyed today, agree.
The Benefits
The study showed that even amidst hard economic times, homeowners are very aware of the aesthetic, as well as the tremendous resale value that granite can bring to their home. Therefore, most agree that installing a granite countertop is a safe and wise investment that provides a strong return and pays for itself.
Granite's durability and longevity are superior. The hardness of the minerals that comprise most granites, provide a formidable barrier to most anything that threatens to come against it. As the countertop is the workhorse of the kitchen, Granite is the workhorse of natural stone as well as the show horse. It has proven time and time again to possess a superior resistance to moisture, heat and bacteria which makes it an ideal material choice for your project.
The people have spoken and granite countertops are continuing to receive the acclaim that is due them. With the striking array of colors, patterns and finishes, your options are wide open and new advances in technology have made this beautiful stone even more available and affordable than ever. Take a look at MSI's website to see the vast range of possibilities to help transform your countertop into a workspace that continues to impress and outperform the rest!