Popular
Dreamy Duos: Quartz + Paint = Perfect Color Pairings For Countertops & Cabinets
March 19, 2020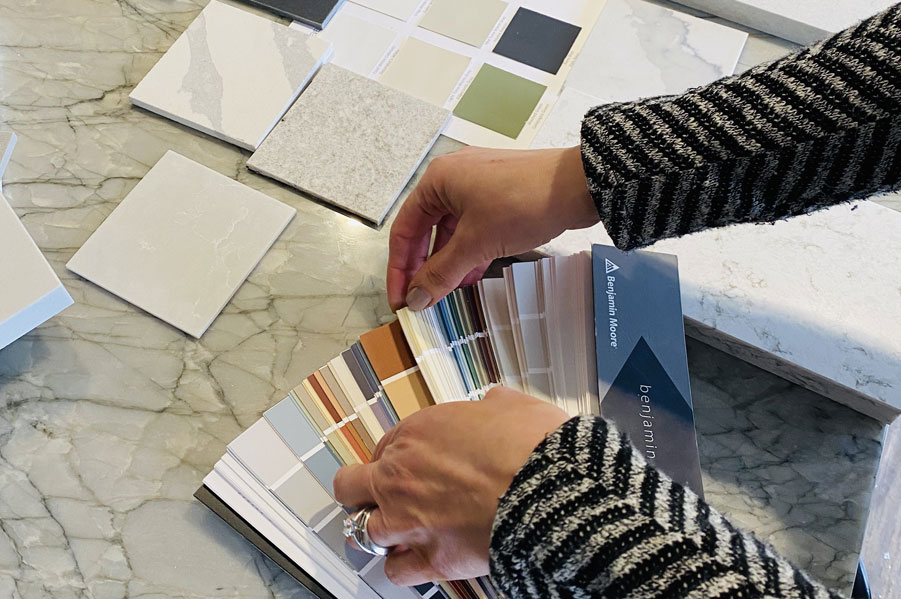 Revamping your kitchen or building a custom one from scratch? You probably know by now that getting the dream kitchen in your head to match the one under your roof is no small undertaking.
With so many tantalizing trends on the market, choosing the right materials for your space, taste, and budget takes a bit of planning. An expert by your side makes the entire process smoother, so we enlisted the help of interior designer, Jennifer Foresman, of Madison & Wells Design to share her top ten favorite pairings of quartz countertops and cabinet colors.
"As the center of all the goings-on, there's no more important place in the home to add function and value," Jennifer said.
To keep those 'oh no' moments to a minimum, Jennifer matched top-trending paint colors from Benjamin Moore, Sherman Williams, and Behr with height-of-chic styles from Q Premium Natural Quartz. We hope these insanely gorgeous color picks— including white, navy, and Army green—spark your imagination and inspire you. If you're tackling a kitchen project alone, consider this designer-approved lineup before the magic begins.
#1 White Bliss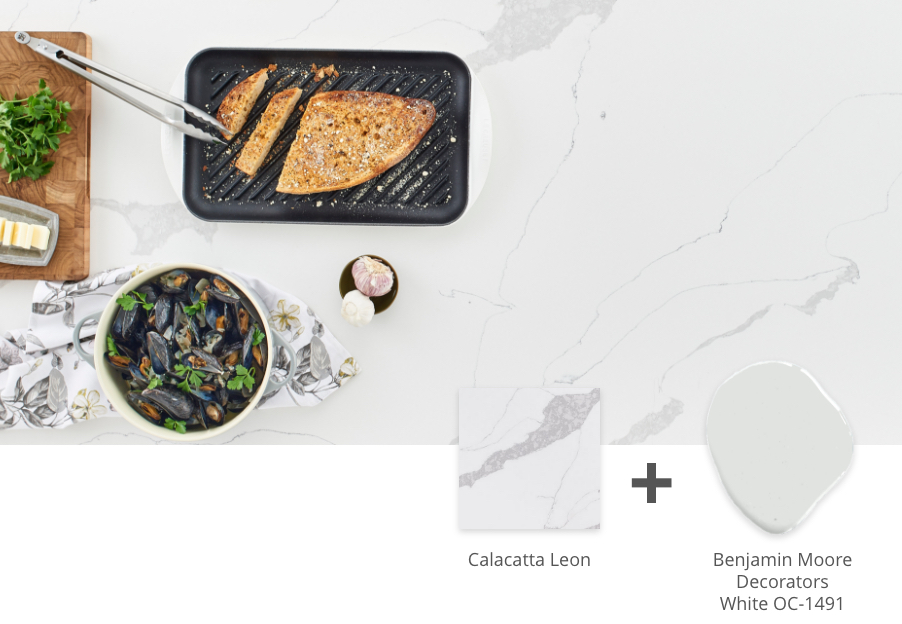 Say what you will about the white kitchen trend, but it's still happening. And as all the best designers know—including Jennifer and Emily Holle, our Director of Trend & Design— classic doesn't have to mean bland. Jennifer's first pairing proves it beautifully. We love how the white base and dramatic cool gray veins of Calacatta Leon complement the cool undertones in Benjamin Moore's Decorators White.
"Ninety percent of my clients have kids and pets. They're in a busy phase of life. They do more than just prep and cook meals in the kitchen. They entertain. Their kids use paint and markers on the counter while doing homework. If they're heading to a soccer game after dinner, they want a surface like Q quartz they can wipe down and go," Jennifer said.
Design tip: To keep a white kitchen from looking flat, layer in texture and pattern with something like a scalloped backsplash or a 3D wall tile. For a pop of color, add plants, baskets, and botanical accents.
#2. Dreaming Bold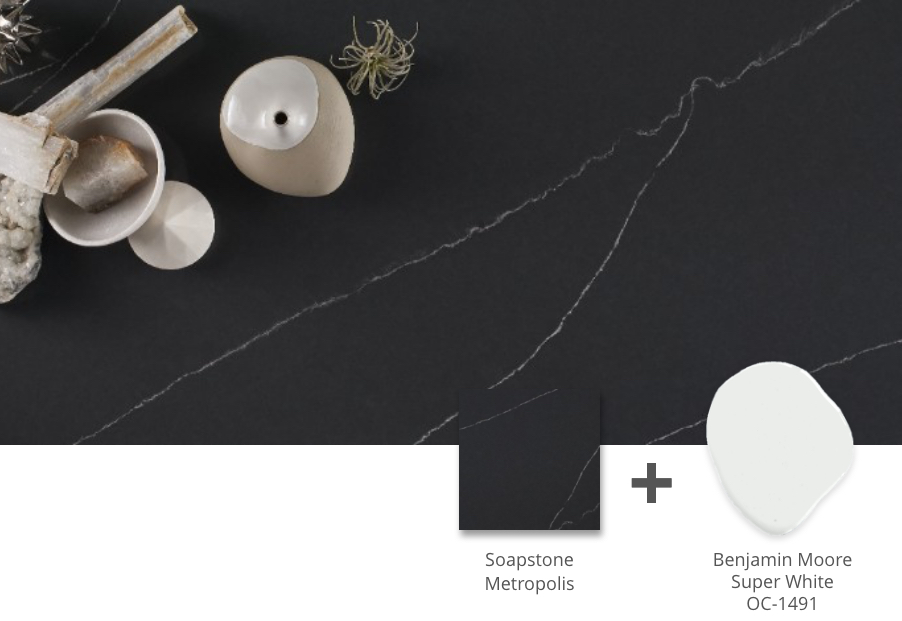 Fortune favors the bold in modern design, and few things dial up the drama in the kitchen like crisp white cabinets with dark gray quartz. If contrast makes your heart skip a beat, Jennifer suggests pairing Benjamin Moore's Super White (OC-152) with Soapstone Metropolis. The subtle bright white veins in this beautiful slate gray help tie the look together.
Design tip: If Soapstone Metropolis is too dark for your design, granite lookalike Fantasy Gray is stunning against super white cabinets. It's a dense movement medium gray punctuated by cloudy white and graphite veining.
#3. The Ultimate Complement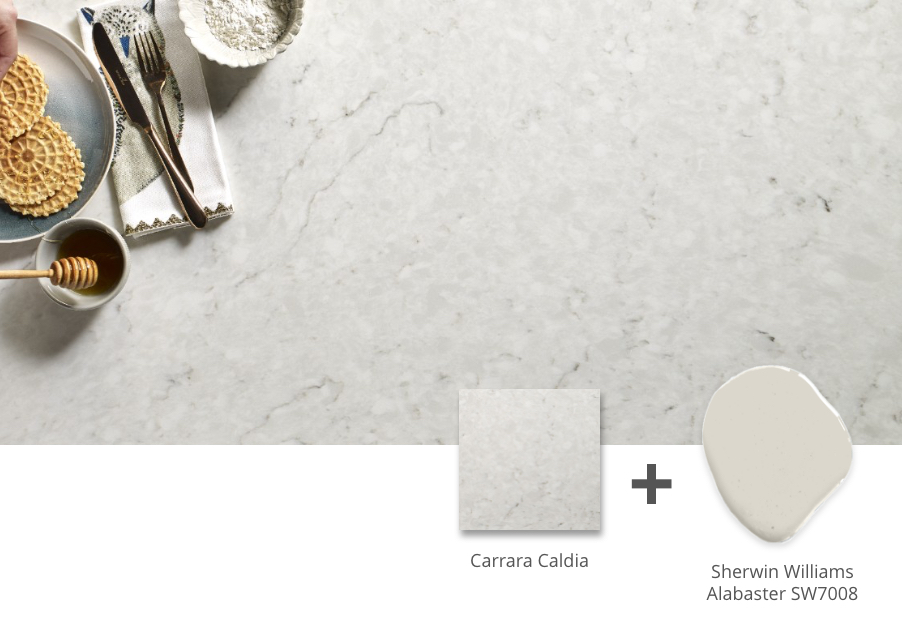 The heart wants what it wants. And if warm white cabinets are your thing, Alabaster (SW 7008), Sherwin Williams color of the year (2016), is a perfect neutral. In Jennifer's playbook, "Warm cabinets look best paired with a countertop in the same hue or slightly warmer base color. Alabaster and Carrara Caldia are great allies that way."
Design tip: Not sure if your whites harmonize? There's a wide range of cool and warm undertones in this shade, making color combinations in the white family tricky. Off-white cabinets may look dingy against bright white quartz, so you really have to do your homework. Bring home the biggest possible samples of your paint swatch, countertop, and backsplash tile. Prop them up in your kitchen and live with them for a few days. The right color scheme is transformative, so it's worth it.
#4 A Warm Streak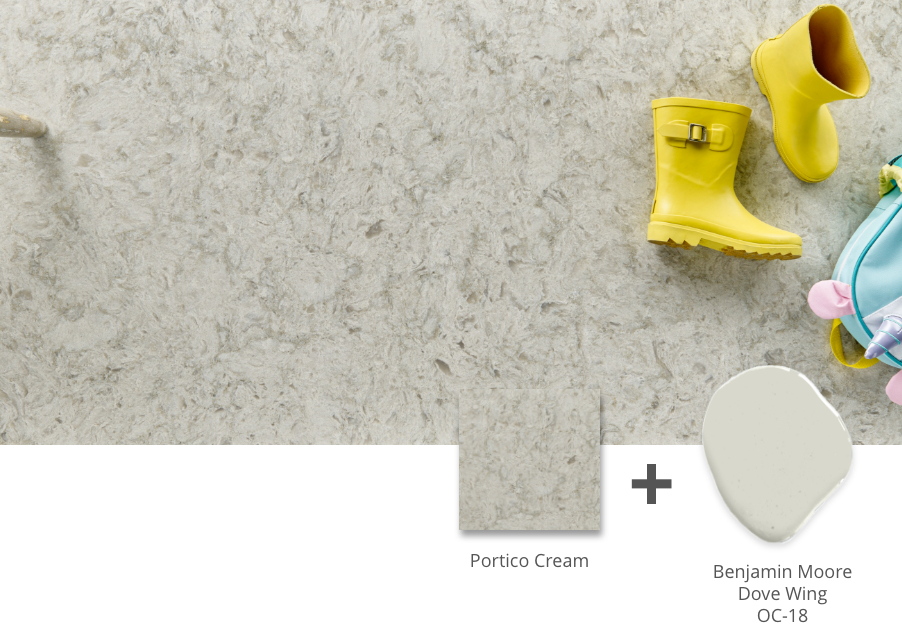 "There's a warm-up trend in interiors today, especially in the kitchen. And Dove Wing by Benjamin Moore and Q's Portico Cream are examples in high demand," said Jennifer. Swirls of ivory, cream, and taupe provide a lovely tonal look in this quartz line ¬–— which juxtaposes beautifully with off-white painted cabinets.
We spotlighted the Sun-Washed Chic Trend in our Top 5 Design Trends this year. From counters with gold veins to oak toned backsplashes, the Lookbook is flush with the latest ideas for warming up your kitchen.
Design tip: Modern kitchens can look stark – especially ones on the pale side of the color wheel. To offsets this, layer earthy wood tones in your backsplash, floors, oven hood, and ceiling to the couplet above.
#5 Gray Matter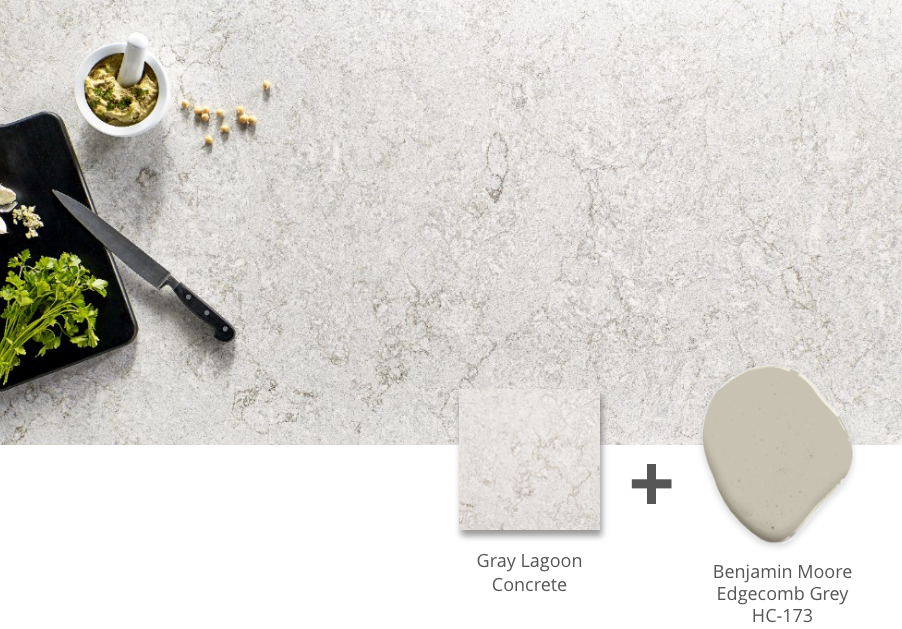 For beachy, ultra-modern, and traditional kitchens alike, there's just no going wrong with a neutral pairing like Benjamin Moore Edgecomb Grey and Gray Lagoon Concrete. Edgecombe is a warm shade – which coordinates with the soft white and warm gray veins in the quartz.
Jennifer said, "There's usually a lot going on in a kitchen, so this calming, sophisticated palette can turn a busy kitchen into a magazine-worthy space in an instant."
Design tip: Two-tone kitchens bring traditional design into modern territory, so consider both gray and white cabinets. Whether you mix colors above and below a row of cabinets or introduce a new color on your kitchen island, it's a chic way to make a space more interesting. For a polished look, leave no space between the cabinets and the ceiling.
#6 Understated Sophistication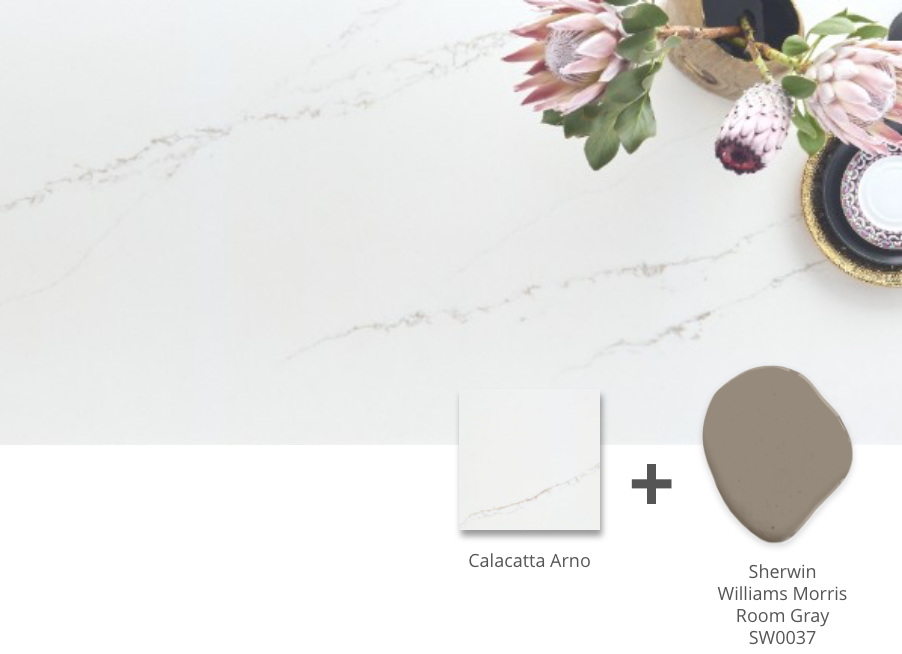 When Jennifer first laid eyes on Calacatta Arno—a newcomer to the Q lineup—she immediately thought of pairing it with Sherwin Williams Morris Room Gray. Her instincts were spot on when she set the samples side by side on her desk. "The gold veins in the quartz looked right at home next to the deep warm gray paint color."
Whether it's a modest remodel project or a luxe designer kitchen - a gray and white palette has understated sophistication. "I love pairing this duo with sunny wood tones to dial up the warmth in both neutrals. On the backsplash, a white subway or picket tile always looks clean and classic – especially when you bring it up the wall," said Jennifer.
Design tip: You can stay neutral and simultaneously play with color by incorporating a tile backsplash like Portico Pearl.
#7 You Had Us at Army Green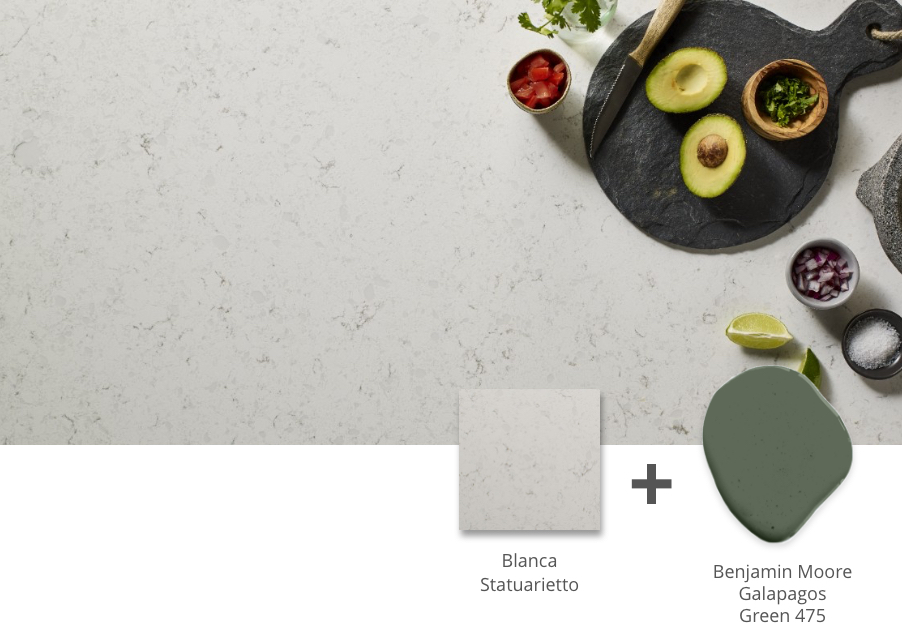 As we inch toward spring, patiently awaiting signs of growth and renewal –—we're pleased as punch to see Army and emerald green trending. And since we can't rush the change of season, the next best thing is to tap this life-affirming shade for our kitchen cabinets. And of course, pair it with the equally sublime Blanca Statuarietto Quartz. Benjamin Moore Galapagos Green, (Ahh! Even the name sounds exotic), we're coming for you.
Design tip: People often fall in love with paint colors and counters they see on Pinterest and Houzz, but once it's home, it's nothing like they imagined. Natural and artificial lighting can alter the appearance of a shade, so it's important to look at your paint swatch in the morning, afternoon, and night.
#8 A Timeless Classic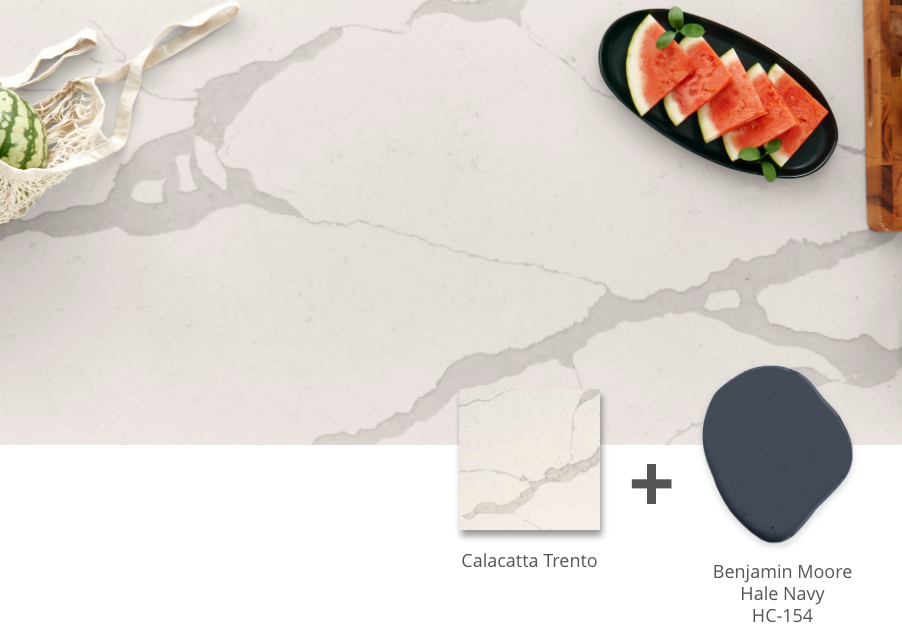 We've seen our share of navy islands with white countertops. Against all the odds, it thrills us every time. That's the sign of a genuine classic. Benjamin Moore Hale Navy looks especially fresh and crisp when matched with Calacatta Trento. "Although it began as a coastal trend, this striking combination has become a go-to in kitchens all over the states," said Jennifer.
For a sleek, modern statement, consider a waterfall edge Calacatta Trento island with brushed brass industrial-style light fixtures.
Design tip: Why should your cabinets have all the fun? Bring navy onto your backsplash or floor with Kennzi Zanzibar patterned tile.
#9 A Softer Focus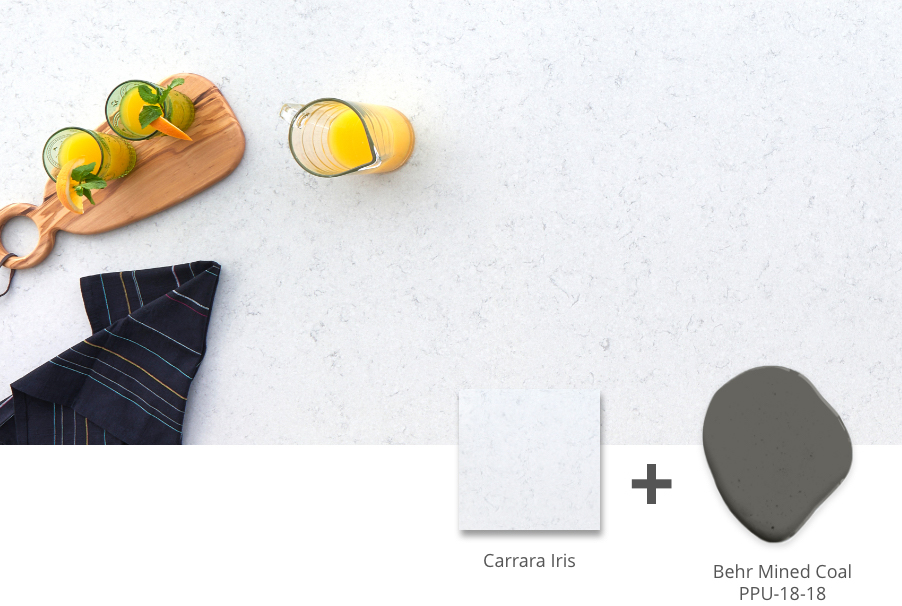 Gray on gray is always a good idea – even when situated on opposite sides of the palette. If you love Behr Mined Coal, but bright white counters feel too abrupt, Jennifer recommends pairing it with a softer shade like Carrara Iris.
"The light gray base and subtle veining in Carrara Iris provides plenty of drama next to charcoal gray cabinets. And it's still pale enough to achieve that clean look we strive for in our kitchens."
Jennifer's advice: Use open shelving to show off your favorite ceramics and break up a wall of cabinets.
#10 High-Contrast Head Turners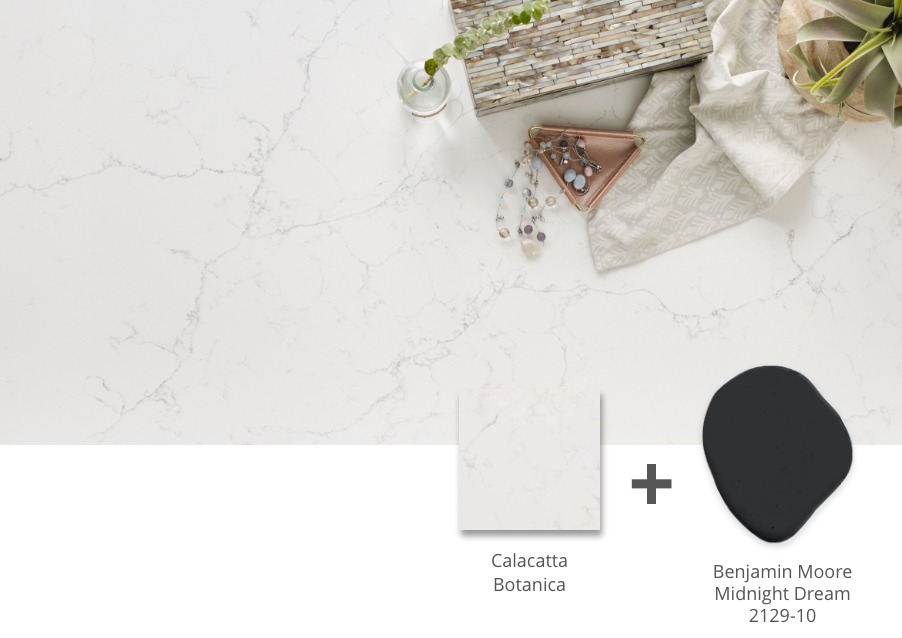 A black and white color story swings classic and sophisticated one minute, modern and edgy, the next. So, whether it's a flat panel lacquer cabinet in a contemporary kitchen or super large island in a modern farmhouse, black & white is always on point. For a high-contrast look, Jennifer paired Benjamin Moore Midnight Dream with Calacatta Botanica. The stark white quartz features soft black veining – which complements the inky black cabinet color.
"Kitchens with this pared-down palette are fresh, clean, and visually dramatic – especially when you carry the 'less is more' philosophy throughout the design. What remains packs a bigger punch – like this Benjamin Moore Midnight Dream cabinet color," said Jennifer.
Design tip: To warm up this duo but keep the vibe luxurious, consider brushed brass or matte black appliances with brass, polished nickel or copper finish hardware and gadgets.