Tips From The Trade: Marble Countertops - Cross Cut Vs. Vein Cut
March 26, 2017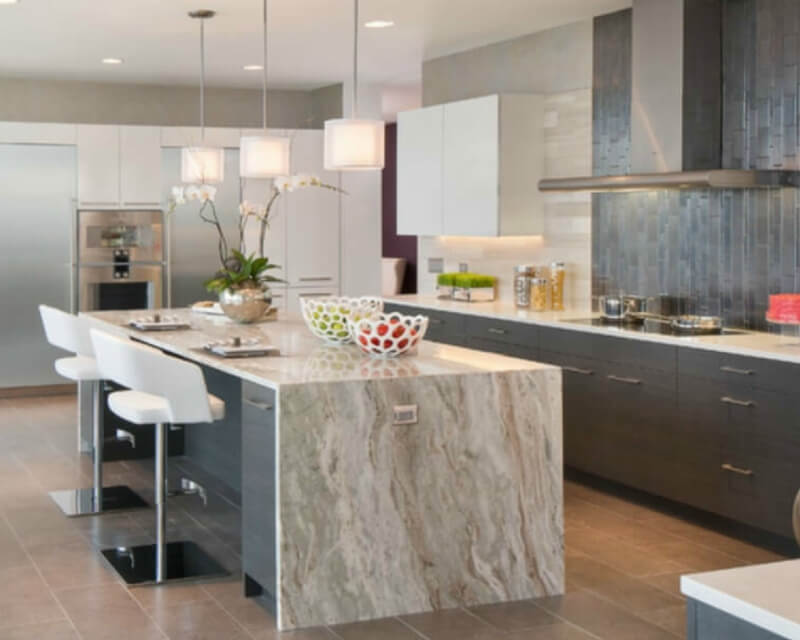 (Photo Credit: Houzz)
Classic marble countertops still remain one of the most coveted surfaces for both kitchens and bathrooms. This natural stone beautifully enhances any space, and the investment is sure to increase your home's value. But now that you've got your heart set on this luxurious material, it's important to not only consider the coloring but also the cut of the slab.
Natural stones like marble are mined from the earth in blocks and then sliced into the thinner slabs you select from MSI's showroom. The unique colors and textures of the mineral veins of a stone create each slab's individual pattern and character.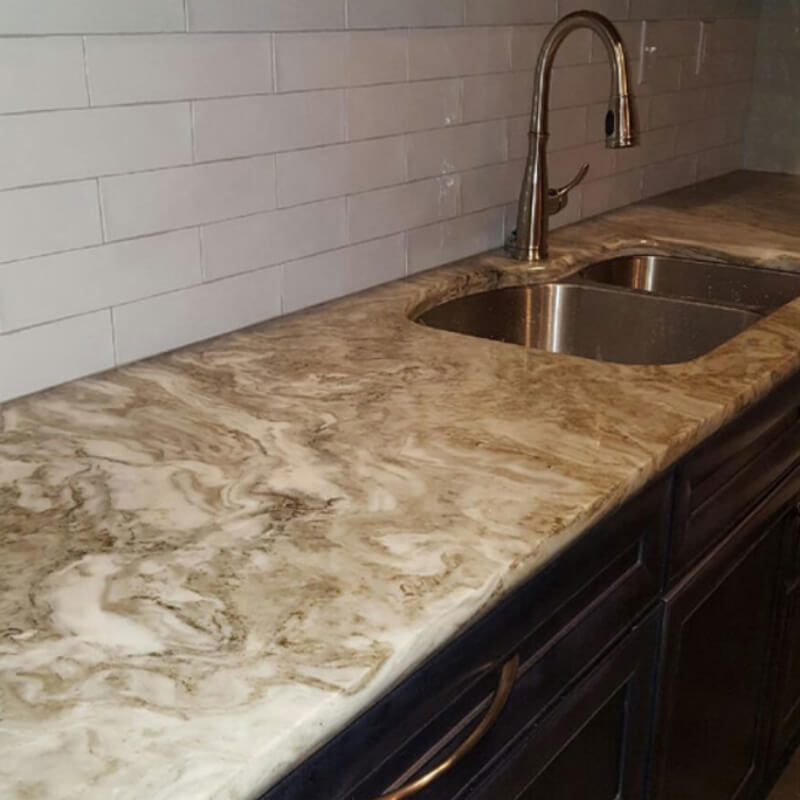 Get this look with MSI's Avalanche White Marble (Photo Credit: Houzz)
However, the pattern is also determined by the direction in which the block of stone is sliced. What you get is either a cross cut or vein cut marble countertop. Each provides the same durability, but a completely different look. The type of cut you choose can greatly impact your overall design, and with that in mind, here's how to decide what you want.
Vein Cut Marble
Featured: Fantasy Brown Marble
Vein cut—"against the vein"—is when the slab is cut parallel to the natural bedding plane. The mineral veins run either vertically or along the length of the marble slabs. This type of cut showcases lines or layers of compressed sediment in darker or lighter colors with similar hues, rather than distinctly different colors.
Keep in mind that not all vein cut marble looks the same. For instance, you can see the flowing layers in Fantasy Brown Marble. This versatile, vein cut stone imported from India features apricot, pewter, and chestnut hues. While it has high variation, it has an organic feel with its almost parallel lines streaming down the stone on an angle.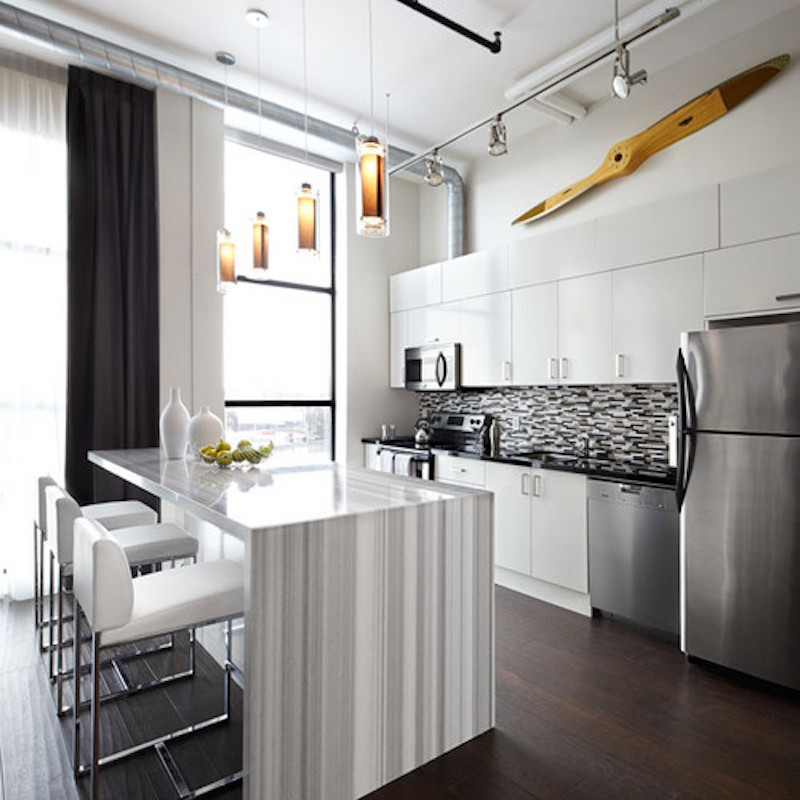 Recreate this look with MSI's Marmara White Marble (Photo Credit: Houzz)
Or for a more modern look, turn to Marmara White Marble for its dramatic graphic pattern. This vein cut marble from Turkey features stunningly distinctive linear veins of grays and whites and medium variation. The resulting smooth, perfect pattern will be the focal point of any design.
Cross Cut Marble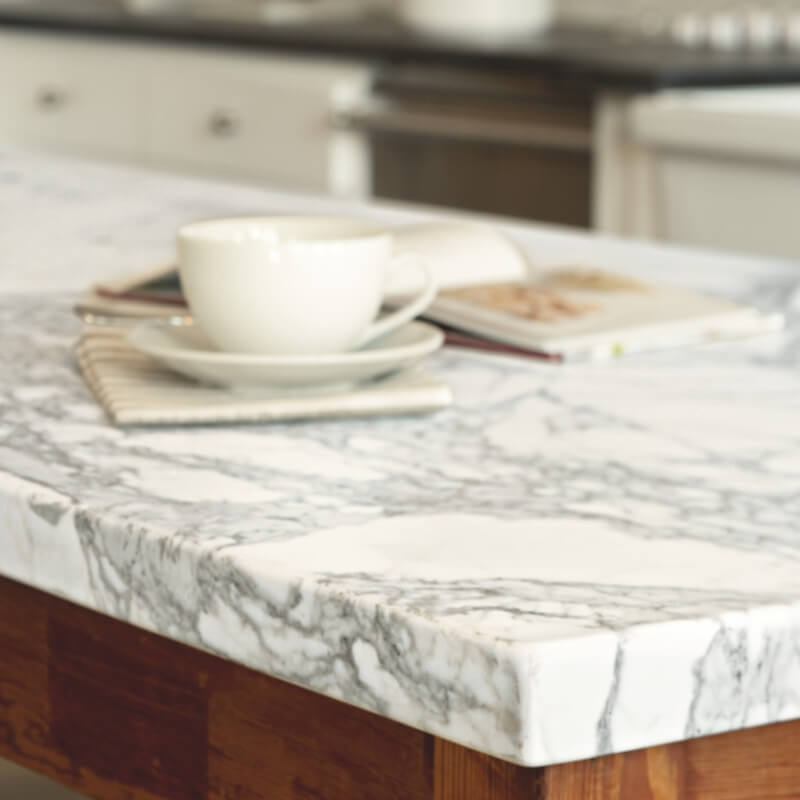 Create this look with MSI's Calacatta Cervaiole Marble (Photo Credit: Houzz)
Cross cut—"with the vein"—is when the slab is cut perpendicular to the natural bedding. In other words, it's sliced at a 90-degree angle from a vein cut slab. The mineral veins and layers of the stone at a cross section create the swirly or cloudy look of marble. This type of cut results in a mixture of darker and lighter shades in the same slab.
When you think of marble countertops, you probably picture the artistic, swirly pattern of classic Calacatta marble. For example, Calacatta Cervaiole Marble (above) is an Italian marble that features an alabaster white background with dove gray and soft rose, while Calacatta Vagli Marble (below) blends alabaster whites with thinner veins of dove gray. Both of these patterns are more mosaic-like in their appearances, with high variation.
Featured: Calacatta Vagli Marble
Now that you know the difference between vein cut and cross cut marble, you're ready to hunt for your favorite! MSI offers more than 50 colors and patterns of marble countertops to choose from, so you're sure to find something just right for your next project. If you're unsure which one would look best in your space, consult an interior designer or speak with the professionals at MSI.