Luxury Vinyl Flooring Looks: What's New For 2022
February 07, 2022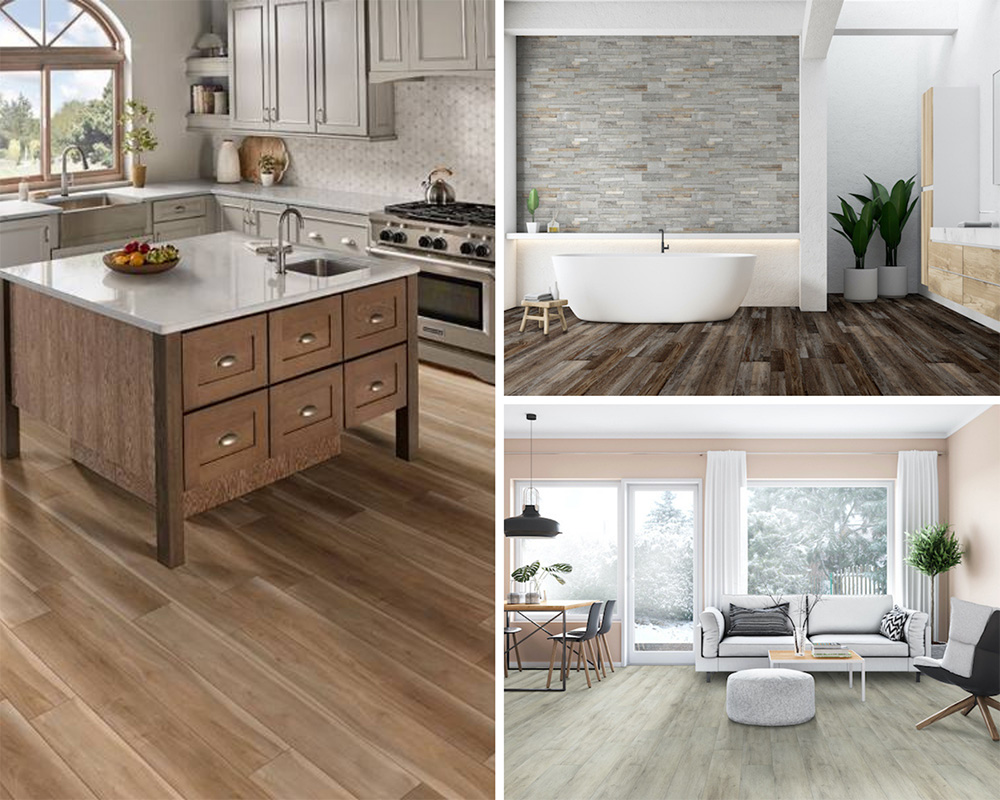 It's a new year filled with resolutions, finally checking those tedious items off your to-do list, and a chance at a new beginning. Well, that's all well and good, but that's not why you're here. You've come to check out what's new in luxury vinyl tile (LVT) and luxury vinyl planks (LVP) for 2022 and we're prepared to deliver.

For some time, luxury vinyl flooring has been on-trend in a major way. That said, some are more on-trend than others. Keep reading to discover what the new year has in store for this first-rate premium tile flooring.
WOOD LOOK LUXURY VINYL PLANKS
Hardwood flooring has been used since the 1600s. It's next to impossible to find anyone who hasn't wanted an authentic wood floor or commented on the beauty of one. But natural wood floorings require a lot of upkeep, including regular sealing to keep out damaging moisture. Even when these surfaces are sealed, they are limited in use as they simply don't work well in rooms with water, like bathrooms, kitchens, and basements.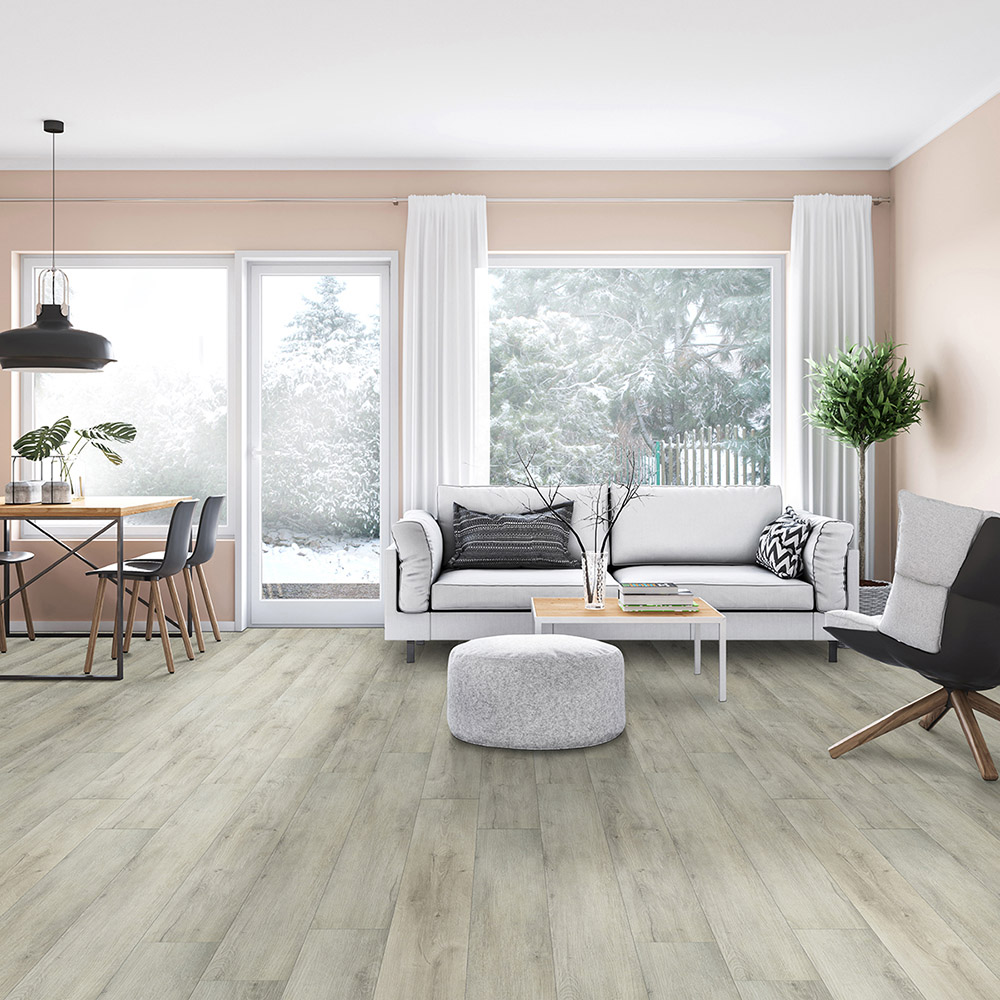 The good news is you can still achieve the look of real wood flooring with breathtaking LVP. They're easier to install, waterproof, and come in at a lower price point. Here is a quick rundown of some of the most on-trend wood look LVP textures for 2022.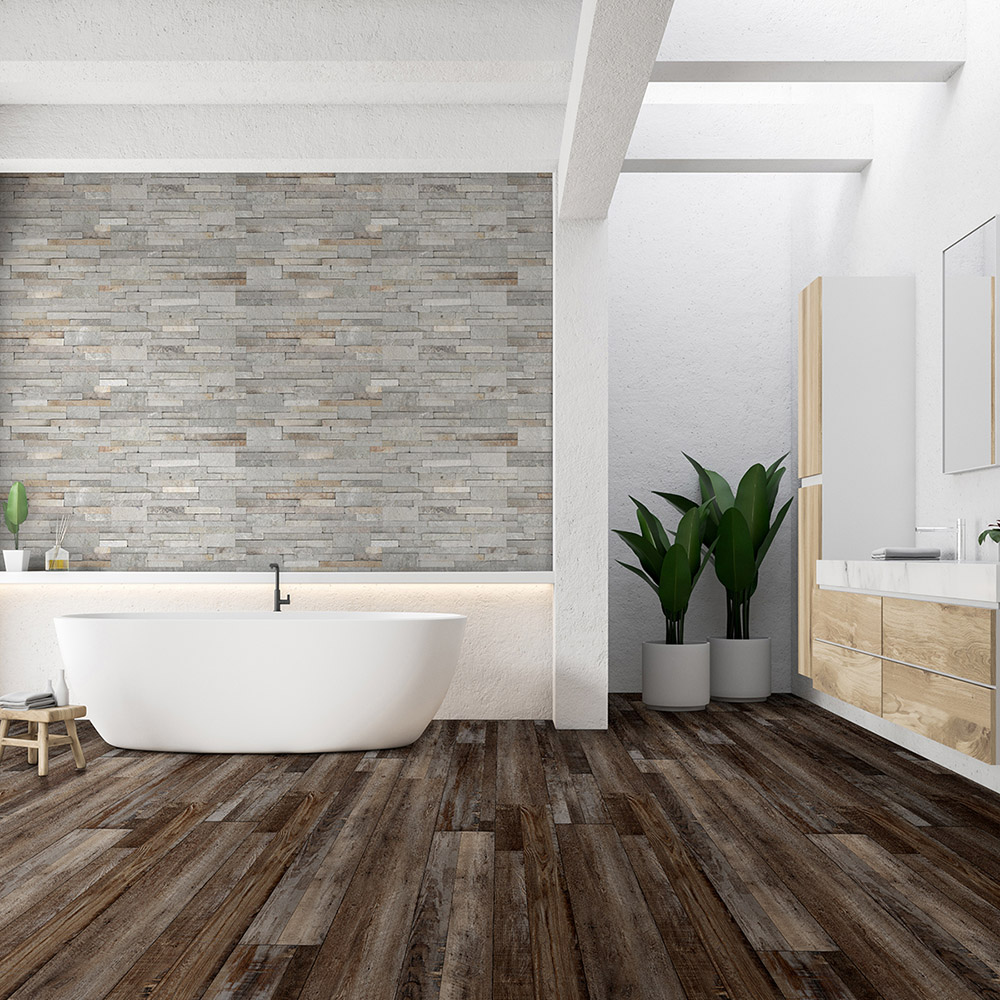 People love the appearance of worn-in items, so why wait to wear them in when you can purchase that statement-making distressed look today? Distressed LVP like MSI's Bembridge Luxury Vinyl Planks are trending big time and with no end in sight. Here you get that authentic wood look in a more affordable, durable package. The realistic knots and graining go a long way to create the distressed look.

The chic LVP wirebrushed look is all the rage for 2022. Here we see understated yet deliberate wire scratches that produce the look of unprotected wood. The good news is that LVP is protected, and your wood look floors will stay intact for decades to come.

Another trending LVP look for 2022 is the handscraped texture. These planks boast lengthy scrapes in the LVP, giving the flooring a one-of-a-kind, statement-making vibe.
Maybe you're asking what species of wood is trending in 2022 for LVP? The answer is many. Technology has come so far with luxury vinyl that it's more than challenging to differentiate the real thing from LVP.

Oak, maple, pine, and walnut have all established themselves as highly sought-after LVP in 2022. The great thing about wood look flooring is it's classic and on-trend at the same time, so you don't need to worry about it going out of style.
Next, let's see what's trending color wise in the world of LVP.
Whitewashed wood look LVP will keep making a splash in 2022 as the broken-in flooring look continues. This color also lends your home a laid-back feel and makes indoor spaces appear larger and brighter.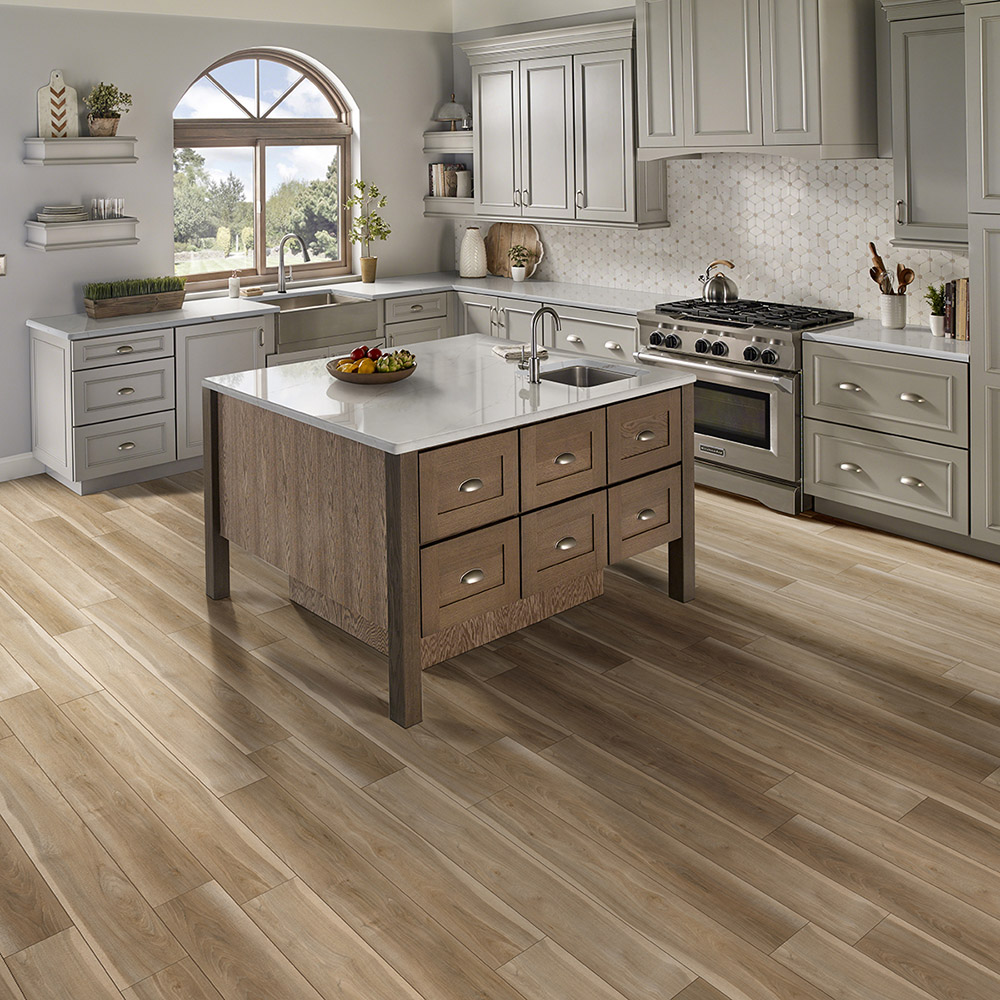 Another LVP wood look color that just won't quit is blonde. MSI's Bayhill Blonde Luxury Vinyl Planks is a case in point with its subtle knots and graining and classy light brown tones. A color like this will lighten up your living space while making it feel more extensive and spacious.
We would be remiss not to mention high variation LVP. This flooring has a wider variety of variations from plank to plank or even within a single plank. This is done to further mimic the random patterns of natural wood.
When it comes to patterns for LVT in 2022, make sure to check out the Chevron, which forms an attractive inverted V. It's a stunning look that will level up your space for sure.
STONE LOOK LUXURY VINYL TILE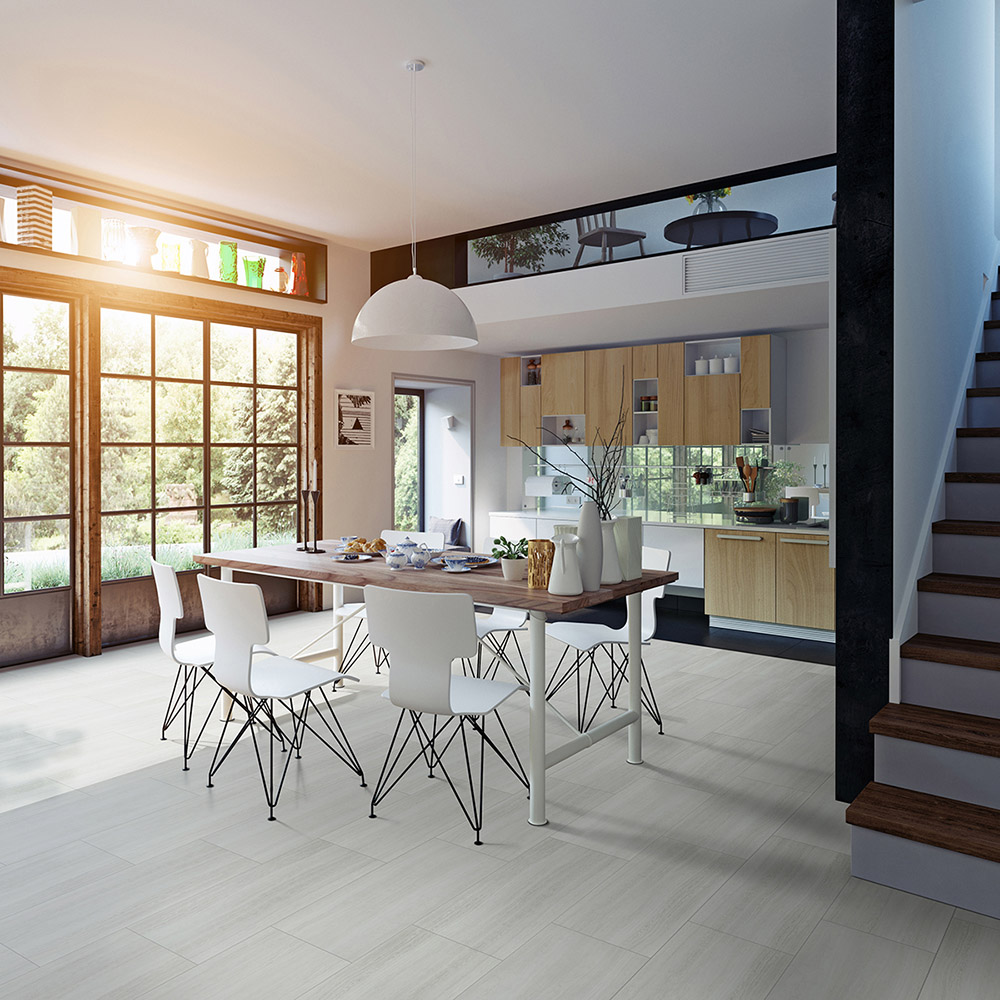 Not only do they look great, but luxury vinyl tile benefits like less upkeep, no ongoing sealing, and a lower price are more than enough to choose them over the real thing. We see a lot of exciting luxury vinyl tile trends for 2022, so let's get right to it.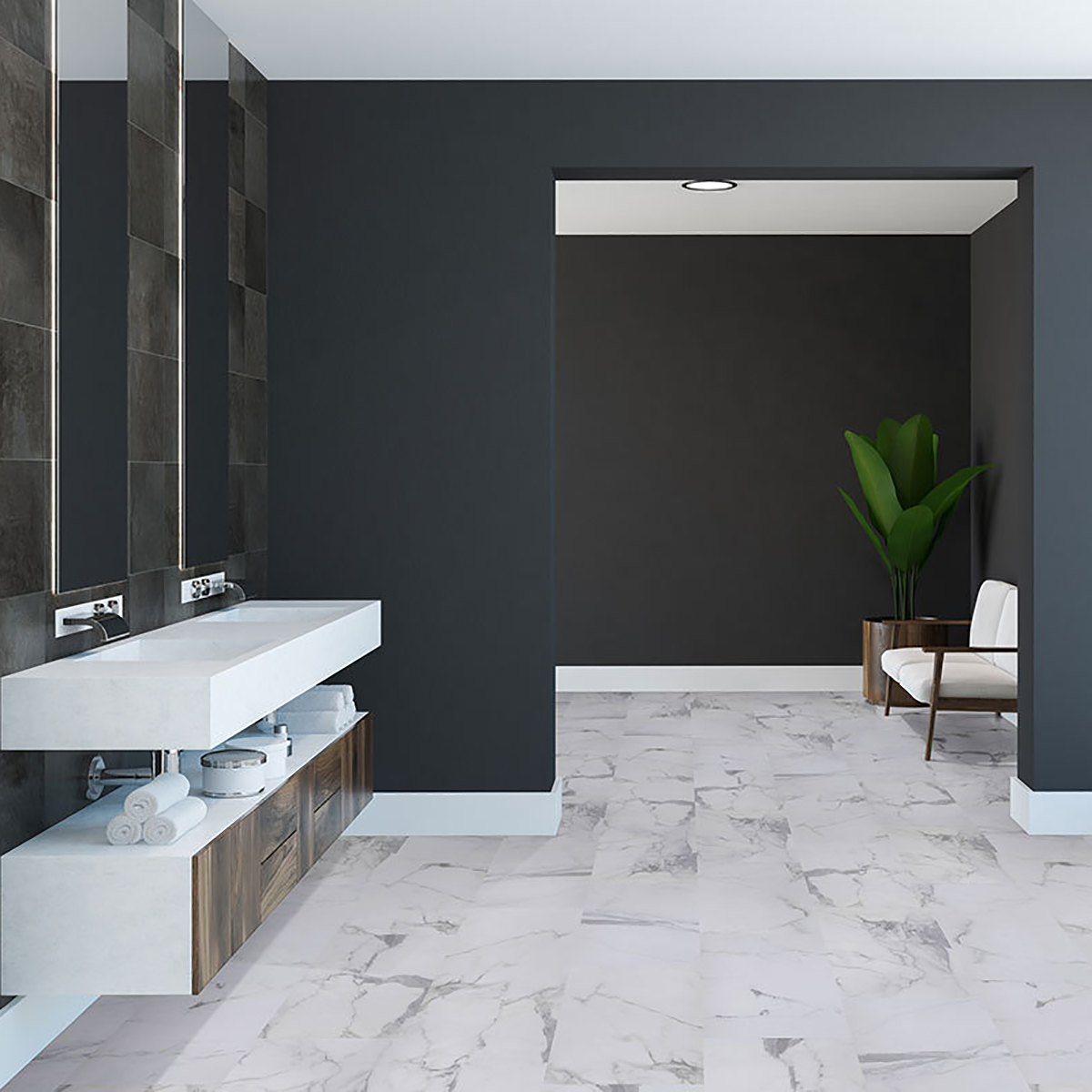 Among the stone look LVT types trending in a big way for 2022 is marble. A great example is the on-trend yet timeless MSI's Calacatta Legend™ Luxury Vinyl Tile. This marble-look vinyl brings a room alive with its classic swirls and veining.
Another trending stone look LVT is limestone. You don't need to pay for the real thing when you can capture the look of this luxurious stone in a low-maintenance vinyl tile that won't break the bank.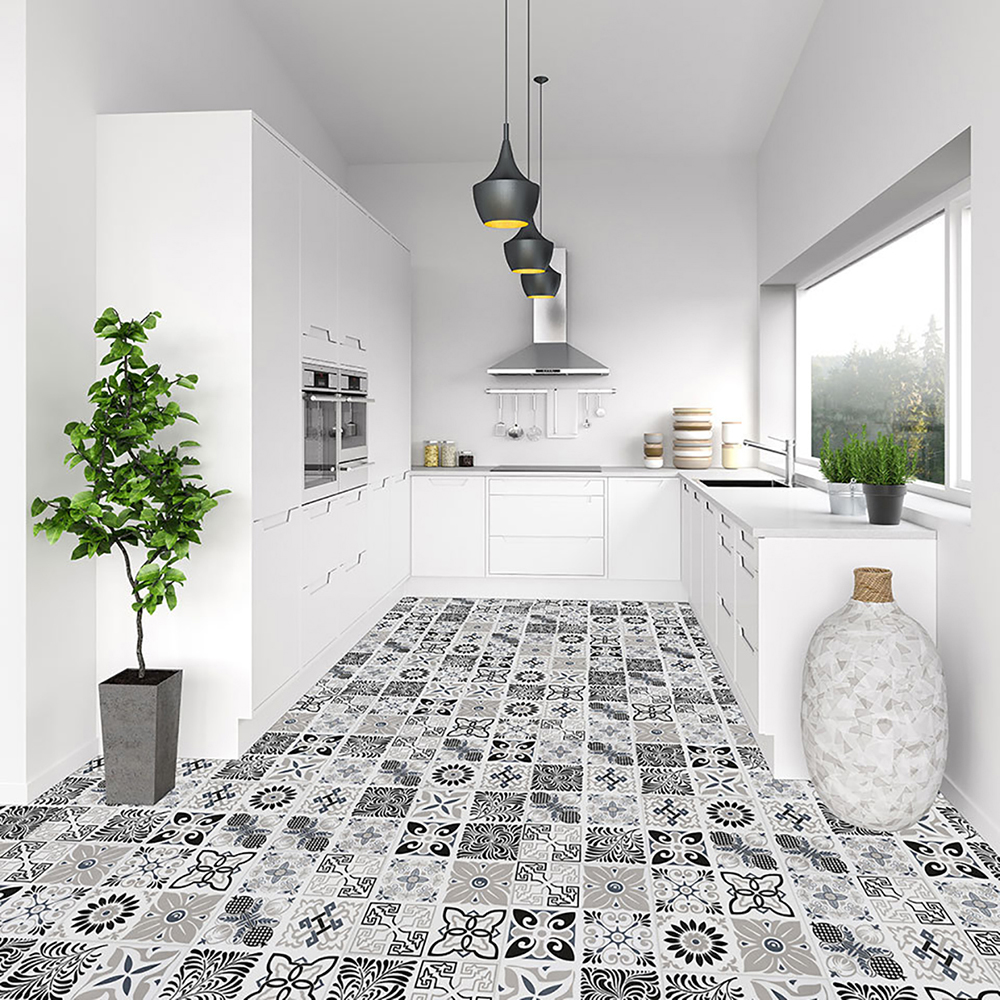 Pattern vinyl tiles are currently turning a lot of heads. To get a feel for this stunning tile look no further than MSI's Windsor Isle™ Luxury Vinyl Tile with its mix of ivory, black, gray, and white floral patterns.
For trending LVT colors, you can't go wrong with white stone. Adding these tiles to a sun-drenched room will not only make it seem larger, it will make it magical.
Blue is also making big waves in the world of LVT, especially with geometric patterns. If you keep the blue light enough, you'll retain some of the benefits of a lighter colored tile, such as making the room feel more expansive.

For some time now, concrete floors have been wildly popular. But why go through the hassle of having concrete laid and/or sealed in your home when you can capture the same look with concrete look LVT? It delivers the same glossy, on-trend, contemporary look without all the steps and maintenance.

As you can see, there is much to be excited about in the LVP and LVT world in 2022. Equally exciting is the fact that MSI has these premium, trending tiles in stock, and they're itching to find a forever home. Take a look at our luxury vinyl flooring videos to learn more, and don't hesitate to contact us online or by phone. We love matching folks like you with the right premium surfaces to make their design dreams come to life. Happy 2022! We cannot wait to see what statement-making selections you'll choose!
Learn More About Luxury Vinyl Flooring
Create A Seamless Luxury Vinyl Flooring with Coordinating Stair Treads, Trims, And Transitions
How To Choose A Luxury Vinyl Flooring Style And Color That's Right For Your Home
Get The Look and Feel of Real Wood with Waterproof Vinyl Plank Flooring
Why You Should Choose Vinyl Plank Flooring Over Laminate
Visualize Luxury Vinyl Planks, Backsplash Tiles, And More with Our Bathroom Visualizer