Current Obsessions: Quartz Countertops – The Cure For The Common Kitchen
March 31, 2017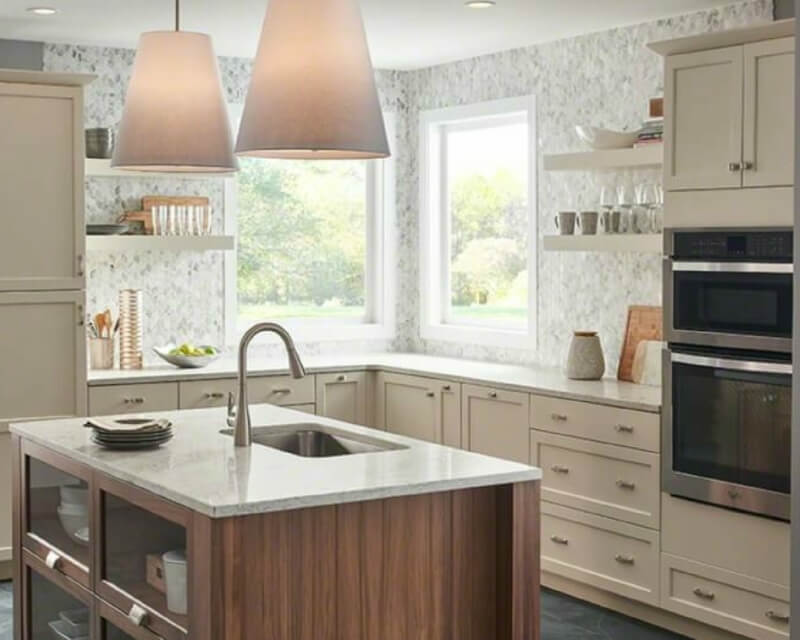 If you want to transform your boring kitchen into something truly extraordinary, engineered quartz is a great choice for you. This man-made surface has the ability to perfectly mimic natural stone or a modern marvel—sometimes both at the same time—but it offers many benefits in addition to its beauty.
Not convinced? Read on for all the visual proof you could ever need! These astonishing kitchens are the quartz countertop cure for the kitchen blahs.
Fossil Brown
Instead of the typical black-and-white kitchen, this design features a warm earth tone instead—brown. Fossil Brown Quartz is a mid-tone brown with light veins and subtle shading. It contrasts with the mostly white kitchen, while the drawer and cabinet pulls, pendant lights, and bar stools tie the look together.
Because quartz is a man-made product, it is perfectly consistent in color and texture. You'll have peace of mind with quartz, knowing that the look you fell in love with at the showroom is exactly what you'll get for your kitchen.
Pacific Salt
Many people mistakenly think that quartz only comes in solid colors, but nothing could be further from the truth. MSI offers a number of quartz options that look just like natural stone, but without the maintenance hassle.
This traditional kitchen includes Pacific Salt Quartz, a durable beige quartz with dark gray and tan veins. It mimics natural granite with its high movement and artistic flair. And when it's time to clean up, warm water with a soft sponge or dishcloth will do the trick. Even stubborn messes are easily removed by adding dish soap or a gentle cleanser to the warm water.
Lagos Azul
One way to make your kitchen stand out is with an oversized waterfall island! This contemporary kitchen puts a spotlight on Lagos Azul Quartz, a solid brown quartz. This gorgeous slab anchors the space, creating the perfect preparation and gathering place.
Whether you're baking up a storm with the kiddos or chopping veggies with your hubby, you can feel rest assured knowing that non-porous quartz won't harbor germs.
Carrara Grigio
If you have your heart set on marble, then keep your mind open to Carrara Grigio Quartz. It's the closest thing you'll get to this luxurious natural stone, but is a much more durable and maintenance-free option.
In this modern kitchen, sleek white cabinets are topped with Carrara Grigio Quartz, a chic, white quartz countertop with marble-like swirls. The elongated island provides much-needed prep and storage space, and makes the most of this ocean view! Unlike real marble, you'll never have to spend time sealing, polishing, or reconditioning your quartz countertop surface.
Shadow Gray
Add interest to your kitchen by contrasting your island base and countertop with your cabinets and cooking surface. This island is topped off with Shadow Gray Quartz, a deep, dusky graphite gray with onyx, pewter, and iron flecks. A darker surface helps hide messes, but no matter what color quartz you have, your surface will resist staining from culprits like fruit juice, tea, coffee, and even food coloring. And you can set your island up with family-style favorites and delicious desserts for an at-home buffet you can carry on with confidence!
Quartz offers much more than just a pretty surface. Now that these kitchens have given you the inspiration you need for your common countertop cure, check out MSI's countertop visualizer. You'll have even more fun testing out the 12 most popular countertop edge profiles.