Popular
Our Favorite Looks Of 2018
December 18, 2018
In the world of surfaces, twenty-eighteen was a beautiful year. From travertine stacked stone fireplaces to quartzite countertops to arabesques and encaustic tile to wood look LVP flooring – there's no shortage of swoon-worthy spaces lighting up Pinterest, Houzz, and Instagram. Homeowners who launched these looks into must-have trends deserve a little love this holiday season. We're oh so impressed that you tried something new and created all those beguiling rooms we're all focused on.
For those planning a remodel in the year ahead, get ready for some eye candy. Our design team's favorite looks are heading your way. We hope these imaginative spaces inspire you to step up your game in 2019 and have a little fun!
Bright & Breezy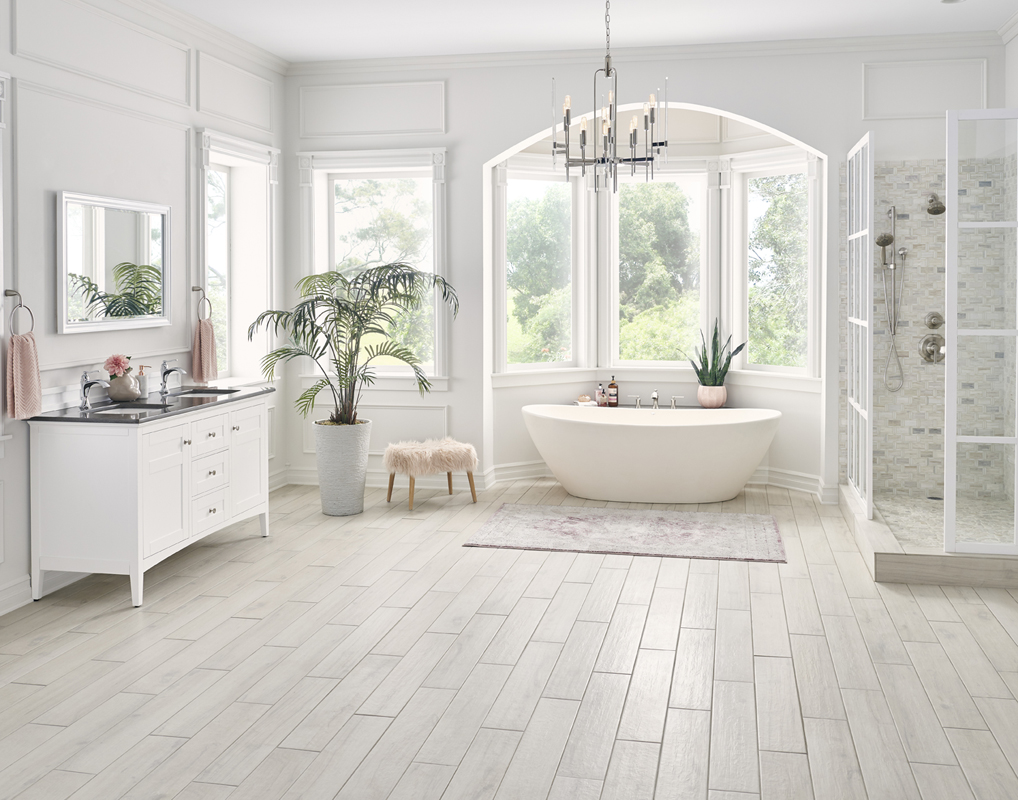 It's official, the search for our dream bathroom is over.
There's nothing we don't love about this bright and airy look – starting with its generous size. Who wouldn't want to begin and end a daily routine in a room like this? Our design team recommends adding pops of color and lots of texture to balance out the brightness and keep the space from looking flat.
Steal the look: Palmetto Bianco Porcelain (floors), Babylon Gray Q Premium Quartz (counter), Angora Framework Subway Tile Polished (shower).
Geometric Tile Crush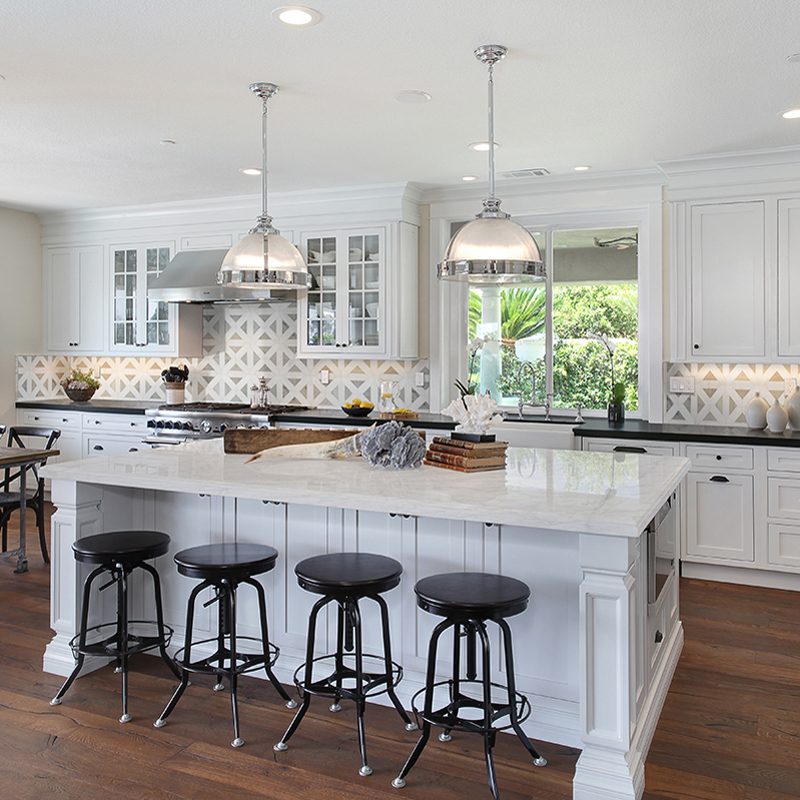 The design gods are smiling on this kitchen – um, we are too.
Classic white surfaces with geometric tile - two of our favorite looks come together in this stunning kitchen. Whether it's a subtle graphic punch or a high drama floor-to-wall treatment, we can't get enough of these shapely, modern statements – hello hexagons, octagons, and trapezoids.
Steal the look: Use Bianco Dolomite Geometrica on the backsplash, two-tone countertops, a mix of white cabinets, and stainless steel appliances.
Sophisticated Farmhouse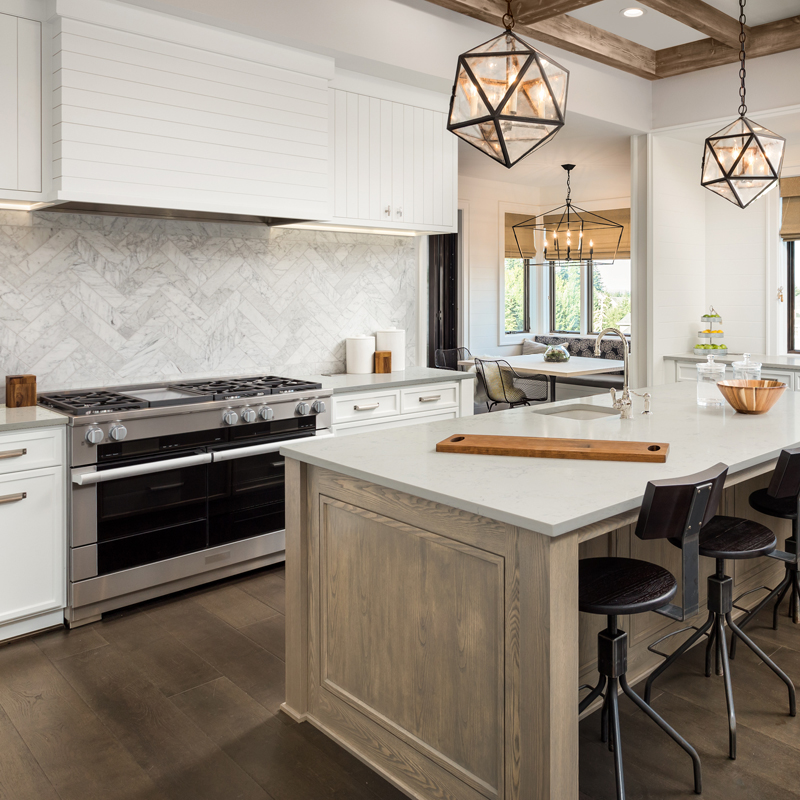 Look up. Pan down. The timber look on floors and ceilings have our full attention – especially when balanced with white.
The modern farmhouse looks popular on HGTV are just as irresistible to us. And we're loving how the look's sleek and matte surfaces combine with classic and rustic accents to create warm and inviting kitchens like this.
Steal the look: Calacatta Vicenza Matte Quartz from our Q Premium Natural Quartz countertop collection, wood look tile, and 4 x 12 marble backsplash tile set in a chevron pattern.
Pattern For Days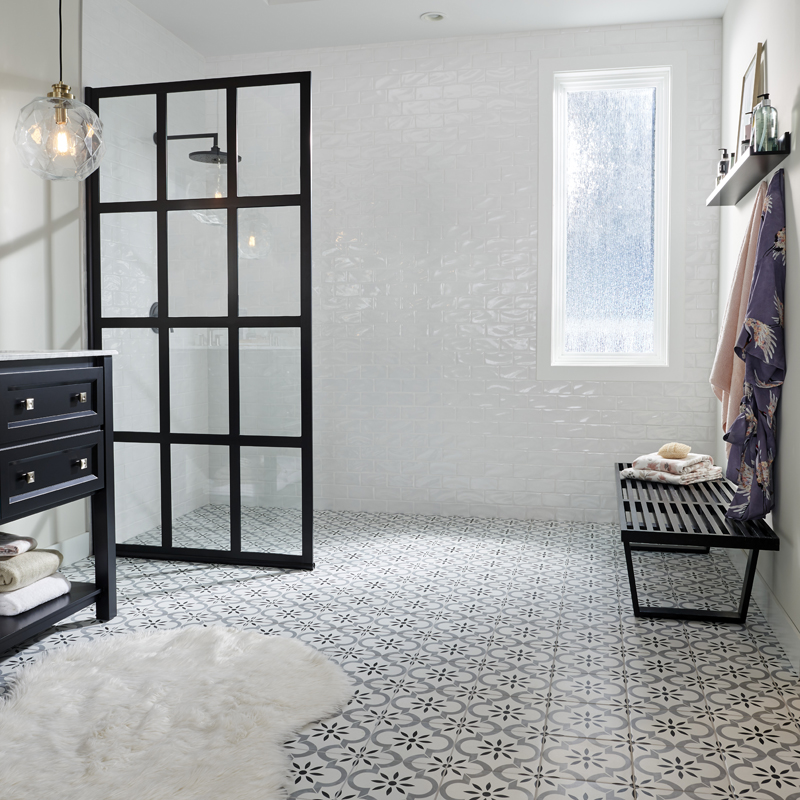 Black and white never fails to look fresh and timeless.
Indoors and out, pattern tile has never looked hotter. From the black and white color stories that transcend all typecasts to the florals in faded blue, we love how patterns brighten up both modern and traditional spaces with the same striking results. This ultra-inspired bathroom proves that you can install classic pattern tiles like encaustic and subway and the aesthetic remains clean and contemporary.
Steal the look: Whisper White Subway tile on the wall, Kenzzi Azila underfoot, with black cabinetry and a black metal door.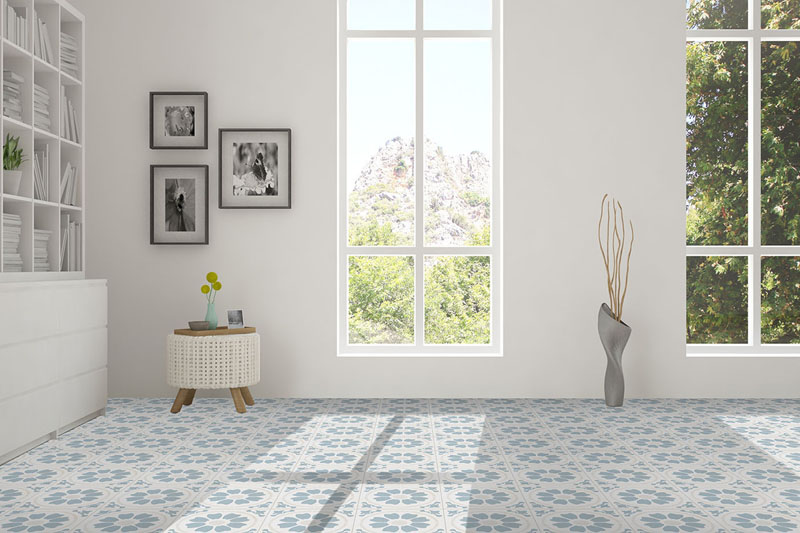 Prefer a softer-looking pattern? We love how the oversized windows allow light to flood in over the Tamensa Porcelain Tile (Kenzzi Collection).
Fabulous Flow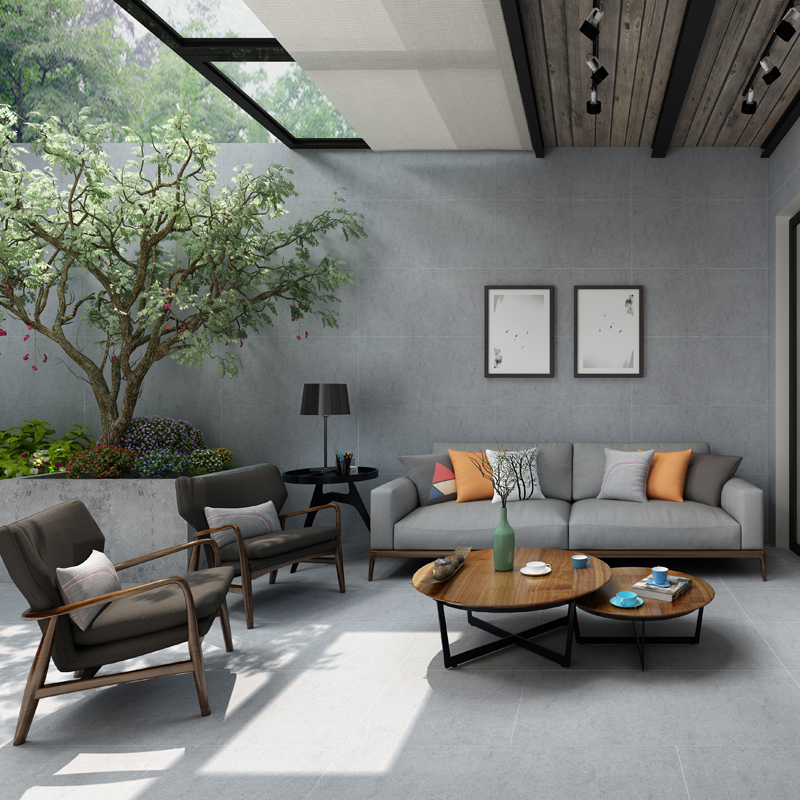 We had to include this vision of loveliness in our favorite shade of gray. Notice how tile goes up the wall and onto the interior floor.
If we had our way, we'd never leave this alfresco oasis. Some of our favorite spaces take the open-concept layout further with an indoor/outdoor flow. From the front door to the back terrace, interior tile with matching patio pavers create a fabulously fluid flow. Achieve seamless sightlines with the uniform aesthetics of our Arterra Porcelain collection and our Praia and Caldera Livingstyle Porcelain Tile and Pavers collection. Affordable luxury in a low-maintenance package - what's not to love?
Steal the look: Bi-folding glass doors and all-weather furnishings combine with the concrete-look of our Caldera Grigia Porcelain Pavers (floor and wall) from Arterra.
Dark & Moody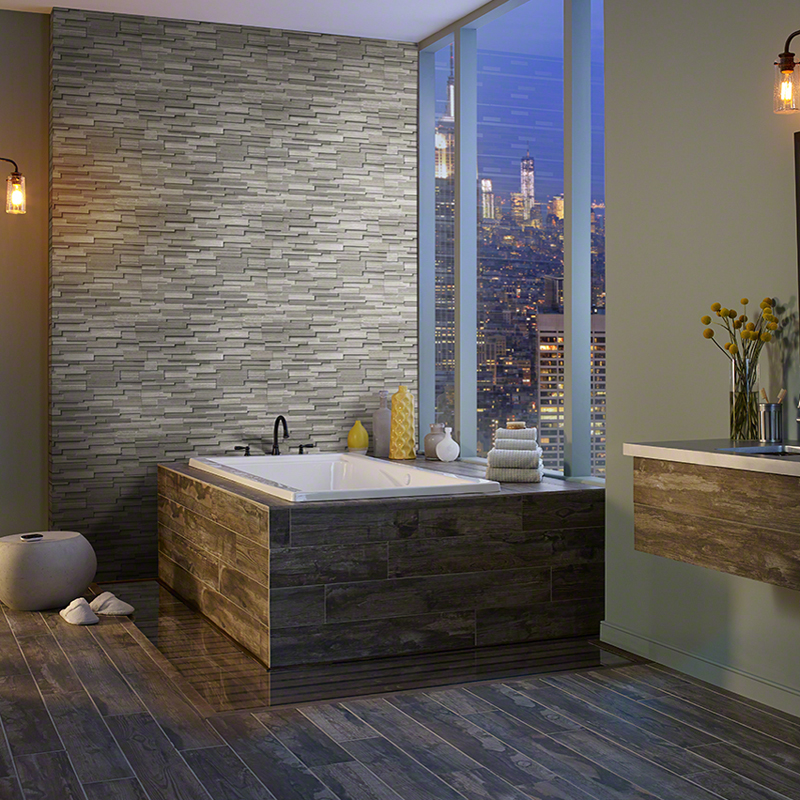 We want to be soaking in this tub, with a glass of wine, and some holiday tunes.
Chic. Moody. Cozy. There's a hint of intrigue in deeper tones that make us want to settle in and get comfortable – especially in wintertime. A contrast to all the bright spaces we've shown here, this masculine bathroom works because the stacked stone feature wall adds plenty of texture, depth, and character. Also, the white ceiling helps emphasize the room's height, keeping it from feeling too closed in.
Steal the look: Use Gray Oak 3D Honed Stacked Stone for the accent wall and bring porcelain wood look tile from the floor up around the tub and sink.
An Enviable Entryway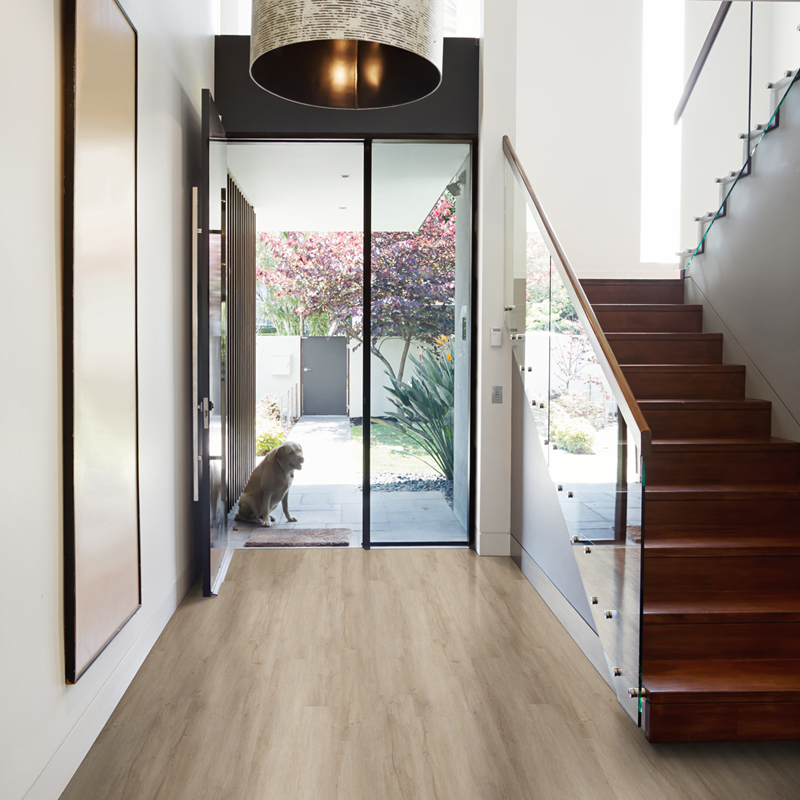 Modern meets sophisticated; this entry has a clean, gallery-like feel. (We'll take the dog, too!)
From textures and materials to color palette and lighting, a well-designed entryway, like this one, helps set the tone for the entire house. (Um, we'd like to see the rest of this beautiful place!). In high-traffic zones where kids and pets run inside with muddy shoes, snow boots, and wet, sandy toes, floors need to function as good as they look. The solve? Waterproof Everlife Rigid Core (RC) LVT Collection. The easy-install locking system clicks in place so you can lay down the LVT yourself. Watch our latest Everlife LVT video for more deets.
Steal the look: From the tall metal door to the glass stairwell wall to the Sandino Luxury Vinyl Tile, this is design at its best.